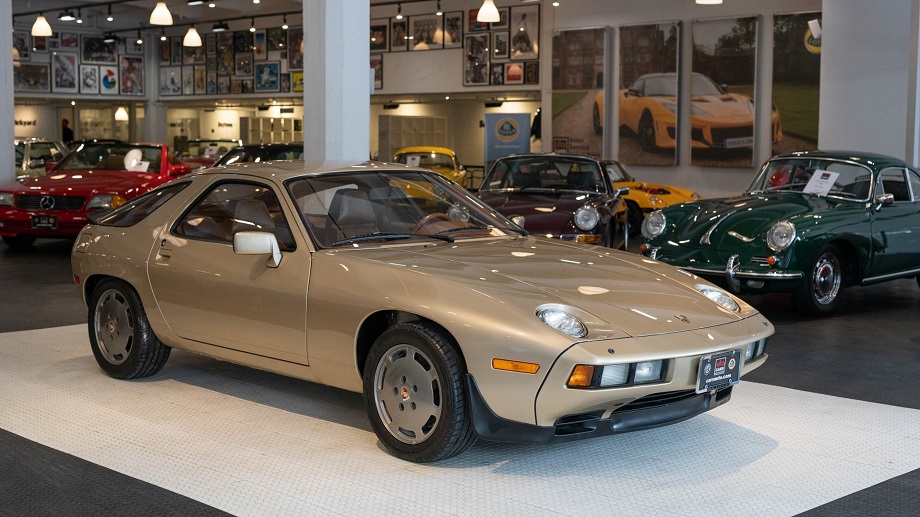 This is one of those holy **** cars. Here we have a 1982 Porsche 928 Weissach Edition. I will admit before looking at this one I did not know much about the 928 Weissach Edition. I've seen plenty of the 911 Weissach Edition, but not the 928. Like the 911 Weissach, the 928 was intended to celebrate Porsche's Motorsports department located in, you guessed it, Weissach, Germany. It was the 20th anniversary of the groundbreaking at the site. And we know that Porsche likes to make special editions.
Like many Porsche special editions, the 928 Weissach doesn't hit you with a bunch of performance upgrades. It's all cosmetic, but while the 911 made do mostly with interesting colors, the 928 turns the luxury dial up with its additions. The most obvious of these additions is the leather. The Weissach came with medium brown leather and if you could touch it, then it probably was leather. You also received a matching leather 3-piece luggage set made by Seeger. Because who would dare travel in their Porsche Grand Tourer without matching luggage? The exterior is Hellbronze Metallic, which is a nice color and furthers the theme of elegance. Other items were included as well: upgraded stereo, electric sunroof, forged alloy wheels, and front and rear spoilers. The overall impression though is straightforward: the 928 Weissach was for the buyer who wanted their Porsche luxury cruiser to be even more lux and more exclusive. The package cost $5,940 so you definitely had to want it.
Porsche said they'd make only 205 of them. That's almost half the number of the 911 Weissach built so they're pretty rare. I don't know how many of those were equipped with a manual transmission (a 3-speed automatic also was available), but this one is a manual. It also has a stupid low 14,030 miles on it. Hot damn!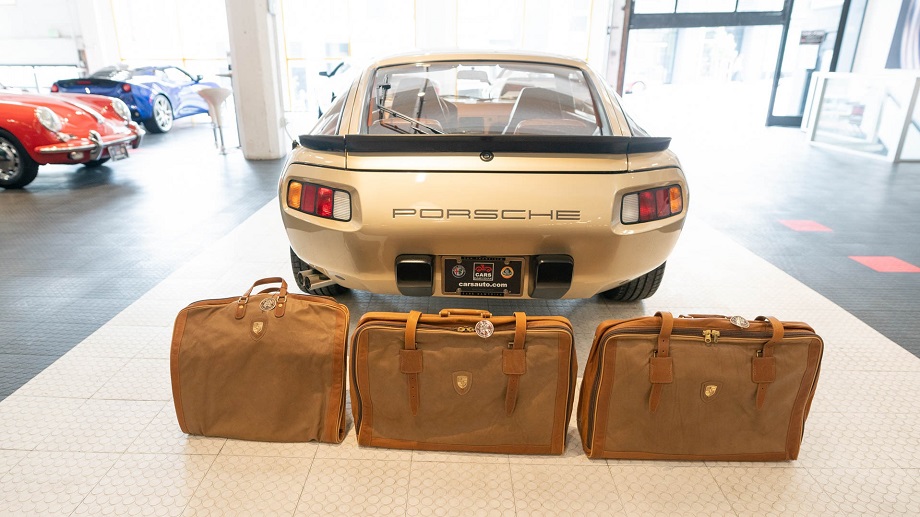 Year: 1982
Model: 928
Engine: 4.5 liter V8
Transmission: 5-speed manual
Mileage: 14,030 mi
Price: Reserve Auction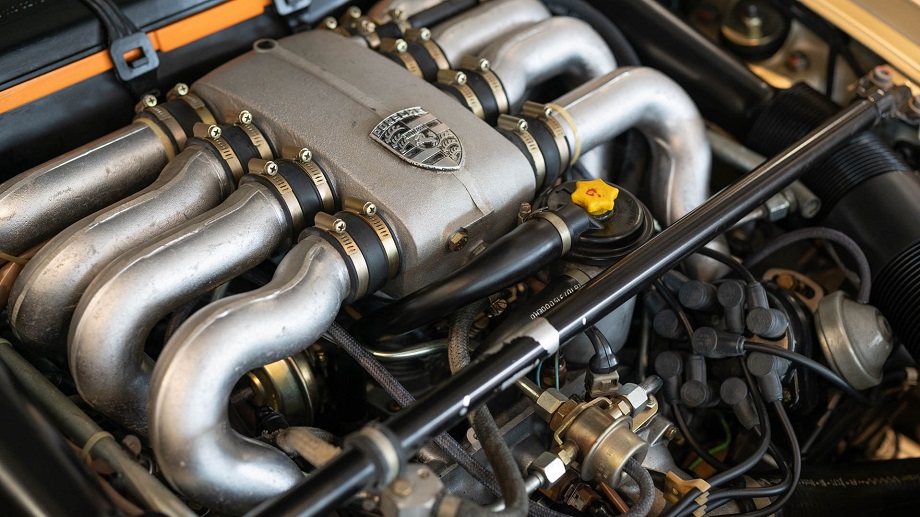 THE VEHICLE SHOWN IS AN ORIGINAL CONDITION, 14K MILE, ONE-OWNER EXAMPLE OF ONE OF THE RAREST FRONT-ENGINED PORSCHES BUILT: A 1982 928 M462 SPECIALMODEL 82 OTHERWISE KNOW AS THE UBER-DELUXE, ULTRA RARE, AND RIDICULOUSLY EXPENSIVE
WEISSACH EDITION. THE WEISSACH EDITION WAS BUILT TO COMMEMERATE THE 10TH ANNIVERSARY OF THE OPENING OF PORSCHE'S WEISSACH R&D FACILITY AS WELL AS THE 20TH ANNIVERSARY OF IT'S GROUNDBREAKING AND WAS LIMITED TO 205 UNITS. EACH UNIT WAS INDIVIDUALLY NUMBERED AND ISSUED A CERTIFICATE OF AUTHENTICITY AS WELL AS GOLD PORSCHE CREST FOR THE DASH. BOTH ITEMS ARE PRESENT WITH THIS EXAMPLE, THE CERTIFICATE STILL HELD IN IT'S ORIGINAL GOLD LEAF ENVELOPE AND THE CREST (NEVER INSTALLED ONTO THE DASH) IN IT'S PLASTIC SLEEVE. THE WEISSACH PACKAGE WAS A $5,940 OPTION IN 1982; EQUIVALENT TO THE PRICE OF A NEW HONDA!

THIS WEISSACH WAS NUMBER 46 OF THE 205 UNIT PRODUCTION RUN, WAS PURCHASED NEW IN THE BAY AREA AT PORSCHE OF BURLINGAME, AND HAS NEVER LEFT THE BAY AREA. THERE ARE NO SIGNS OF CORROSION OR HAVING BEEN DRIVEN IN WET CONDITIONS, AND PORTIONS OF THE FACTORY COSMOLINE ARE STILL PRESENT ON THE UNDERSIDE. THE 4.5 LITRE V8 ENGINE IS DRY AND SHOWS NO SIGNS OF LEAKAGE, AND THE RARE 5-SPEED DOGLEG MANUAL GEARBOX SHIFTS FLAWLESSLY AS IT SHOULD. THE VEHICLE IS FINISHED IN THE WEISSACH EXCLUSIVE HELLBRONZE METALLIC WITH TWO-TONE BROWN FULL SPECIAL LEATHER WITH HANDSTICHED LEATHER DASH, PANELS, CONSOLE, LUGGAGE COMPARTMENT, ETC. FURTHER WEISSACH EXCLUSIVE OPTIONS INCLUDE THE MATTE BRONZE FINISHED ALLOY WHEELS THAT APPEARED LATER IN THE DECADE IN A SILVER FINISH ON THE 928S, AS WELL AS THE AERO PACKAGE THAT WAS ALSO FOUND ON THE 928S, ELECTRIC SLIDING ROOF, BLAUPUNKT BAMBERG QTS DIGITAL RADIO WITH AMPLIFIER SYSTEM, AND A PORSCHE LUGGAGE SET BY SEEGER MATCHED TO THE INTERIOR OF THE WEISSACH. ALL FACTORY OPTIONS ARE STILL PRESENT INCLUDING THE IMPOSSIBLE TO FIND MATCHING LUGGAGE THAT IN THIS CASE IS STILL IN NEW CONDITION COMPLETE WITH THE ORIGINAL SEEGER TAGS AND PAPER STUFFING. ALL PANELS STILL SHOW TO BE FACTORY PAINT, AND THE INTERIOR IS FREE OF DAMAGE OR WEAR AND IS COMMISURATE TO A 14K MILE PORSCHE. ALL RECORDS ARE PRESENT FROM NEW AS WELL AS ALL MANUALS, CERTIFICATES, AND THE ORIGINAL FACTORY WINDOW STICKER. THIS 928 IS SHOWS ALL ORIGINAL EQUIPMENT WITH THE EXCEPTION OF A STAINLESS STEEL PERFORMANCE EXHAUST THAT WAS DEALER INSTALLED JUST AFTER THE ORIGINAL TIME OF PURCHASE.

THIS IS TRUELY A COLLECTOR'S GRADE PORSCHE THAT IS NOT ONLY EXCLUSIVE AND RARE, BUT INCREDIBLY PRESERVED, IN ORIGINAL CONDITION, AND FULLY DOCUMENTED. IT WILL SURELY NOT DISAPPOINT IN ANY WAY, AND IS MORE THAN LIKELY THE CLOSEST THING TO A NEW WEISSACH IN EXISTENCE OUTSIDE OF THE PORSCHE MUSEUM IN ZUFFENHAUSEN.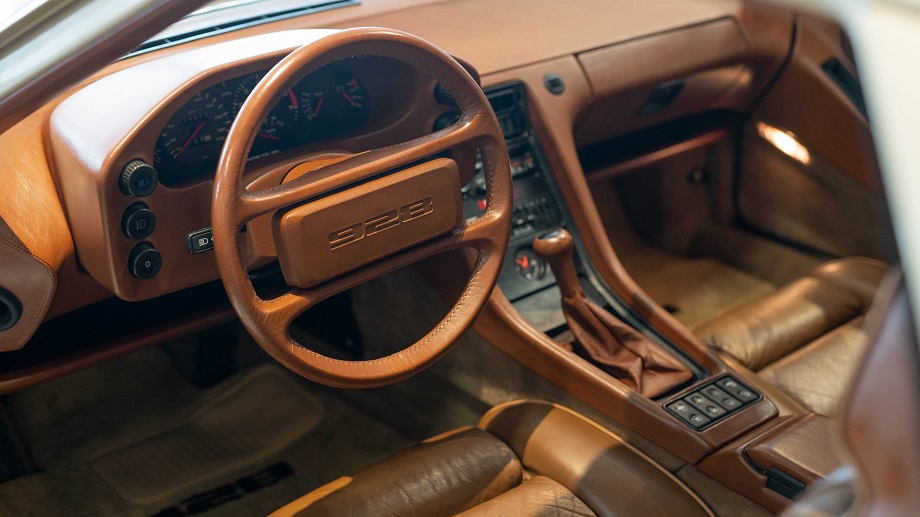 Naturally, we would hope that an ultra-low-mileage special edition Porsche like this would look immaculate and come with all of its original parts. Here we are not disappointed. The condition of this 928 looks really good. The exterior looks almost as if it's in new condition. The generous leather appointments in the interior show the sort of rich supple character you'd expect. Very little wear is apparent on any surface and the engine bay looks very nicely detailed. It even still comes with its matching luggage. 928s from this period don't always look like they've been cared for properly, but this one has been. And it isn't restored. This one is said to be in entirely original condition. Wonderful.
On eBay this is set up as a reserve auction and bidding sits currently at $29,100. If we venture over to the seller's website we'll see that the asking price is $89,900. So there's a bit of a gap. We obviously expect bidding to increase quite a bit and with 8 days remaining there's plenty of time. But $90K? That's getting into GTS territory and way more than the price of any non-Weissach 928 from the period. Of course, the mileage has a lot to do with the premium being asked here so we must factor that in, but I'll be very curious to see where bidding goes with this. I don't know that there's a better 928 Weissach out there. You get rarity and exclusivity within an already exclusive world. You also could get a 928 and a 911SC for this price. So I don't know. The luggage would have to be really nice.
-Rob