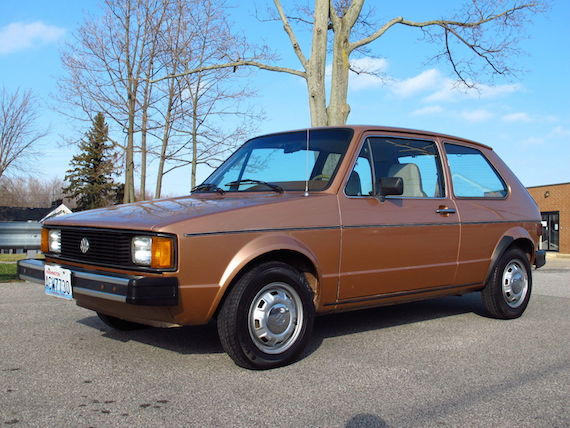 By the end of the 1960s, the writing was on the wall for the original Volkswagen Beetle. It was slowly being outpaced by its rivals but still had its group of ardent fans. VW toyed with many ideas to replace the Bug and in the end, one design stuck: the Golf. With crisp lines by Giorgetto Giugiaro and a water-cooled four cylinder engine up front mounted transversely, it was the antithesis of the Beetle. The Golf would be known as the Rabbit upon arrival in the US, a name which would be resurrected for the fifth generation Golf in this market. This clean 1982 Rabbit Diesel comes from our reader John, who featured his 1983 Porsche 911SC Targa with us a few months ago.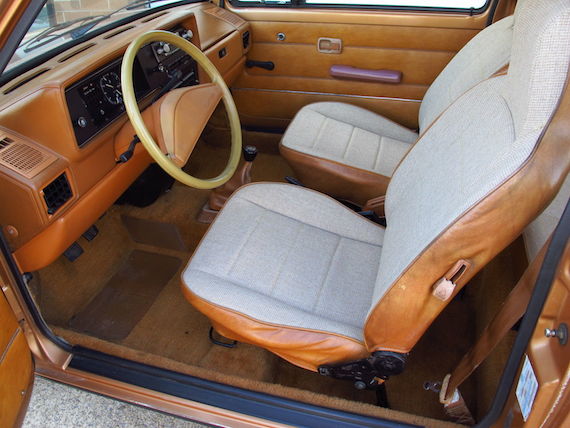 Year: 1982
Model: Rabbit L Diesel
Engine: 1.6 liter inline-4 diesel
Transmission: 4-speed manual
Mileage: 275,083 mi
Price: No reserve auction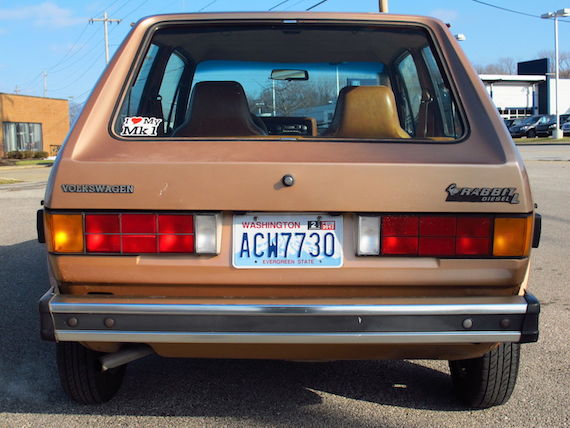 THIS IS A NO RESERVE LISTING.

This is my outstanding, enthusiast-owned 1982 Volkswagen Rabbit Diesel hatchback. I believe this is the nicest original Diesel Rabbit for sale in the country. This is a rare, collectible and hard-to-find car in this condition.

This car belongs in the hands of a collector, VW enthusiast or automotive hobbyist- it is really, REALLY nice.

This car has never seen road salt since it has been new. This is a totally RUST FREE car. This car spent the first part of its life in Dallas, Texas, and then it made its way to the Washington State in the Pacific Northwest (near Portland, OR). Neither Texas nor the Pacific Northwest sees any significant snow, and in neither place do they ever use salt on the roads. For this reason, the body of this car is as perfect and pristine as you will find anywhere in the country.

This car was just shipped to my garage in Ohio in November and it has not been out on the roads, rather it is kept clean and dry in my heated garage.

I have seen many of these Mark I Rabbits over the years (not so many lately), but I have NEVER seen one as clean as this one. I would stack this car up against any Rabbit anywhere, in originality, cleanliness and lack of rust. You cannot believe how superbly clean this car is in every respect- this car is totally amazing.

I bought this car from a gearhead Volkswagen enthusiast who worked as an automotive mechanic. He was a fanatic about his cars, and in addition to this one, he owned a Volkswagen Rabbit pickup (Caddy), a GTI, an R32, an Audi A3 and several other unique Volkswagens. This Rabbit was always garaged, and always cared for impeccably. He is a VW service tech, and he did all the work to the car, whenever it needed anything. Therefore I can say with relative confidence that this car has no mechanical problems- it runs and drives great.

This is the 1.6L Diesel, and it will get 50 MPG or better. It is a manual transmission, and the car has power brakes and air conditioning.

As I mentioned, the body is outstanding. The paint appears to be all original and it carries a good shine. The body is totally, 100% completely rust-free and pristine. PRISTINE. There are no major cosmetic flaws, and even the steel wheels, the engine bay, the underside, EVERY NOOK AND CRANNY of this car is pristinely clean. The only notable fault is that the paint on the hood and the roof is sun damaged and flaking from the Texas sun.

The interior of the car is excellent. The seats, carpets, upholstery, etc are all outstanding. These were not durable interiors, and it is remarkable to see an interior like this one. The car has working A/C, which is super rare for these cars.

This car starts, runs and drives great. The engine starts perfectly every time and it runs beautifully. The glow plugs work well and the car doesn't smoke abnormally even on startup. The clutch is strong, the transmission shifts well and the steering and suspension are tight. This is a dependable, reliable, great-driving car. Even the tires are nearly new. I would trust this car to drive across the country and back without any worry. The only things you could fault is that there is some minor suspension noise over bumps and some vibration at idle (diesel+worn motor mounts).

This has got to be the nicest condition Diesel Rabbit for sale anywhere, no joke. It is gorgeous.

This car is the result of the combination of a perfectionist owner and a non-corrosive climate. You will not find a nicer diesel Rabbit for sale anywhere. Please keep in mind however, that this is a 32 year old unrestored car and as such it has normal wear and tear and issues consistent with its age. This is not a new car.

This car is kept in my warm heated garage in Willoughby, OH.

You can fly in to Cleveland (CLE) and drive this car home. You can also have the car shipped, for a shipping quote please call Angels Moving Autos at 530 245 0481.

Questions, email me or call/text me at 440 339 4341.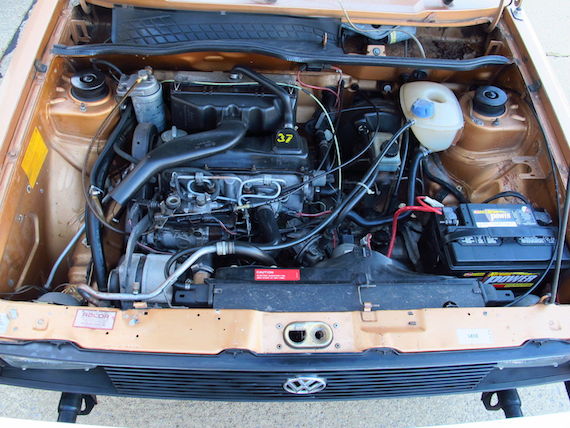 It's not just the Mk1 GTI that is grabbing collectors' attention these days, as clean, original Mk1 Rabbits and Golfs are bringing decent sums in the marketplace. The diesel version like we see here would be great for someone in need of a high MPG local commuter or for the VW collector that just wants to grab attention at the next local meet. Offered at no reserve, there's some decent bidding action early on and will probably bring strong money in light of where Mk1 prices have been headed as of late.
-Paul