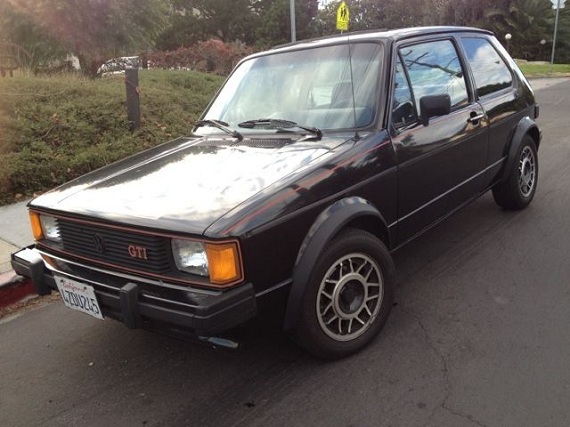 It truly does seem like every time we claim that you don't see a particular car much for sale anymore, they all come out of the woodwork. Perhaps inspired by high prices we've now seen four great condition GTis in the past few months, the most recent last week's reasonably priced black 1984 GTi. One thing that seems to be in common with all of the listings is a general lack of great photography, but today's listing takes it to a new level. Starting with what is reported to be a more or less fully restored GTi, we get hoarder-like photographs I'd be expecting to see on TLC as I indulge my secret "Hoarders" watching habit. But as we've seen with other GTis, if you can get by the poor listing, perhaps there is a diamond in the rough, so to speak. Is this the one?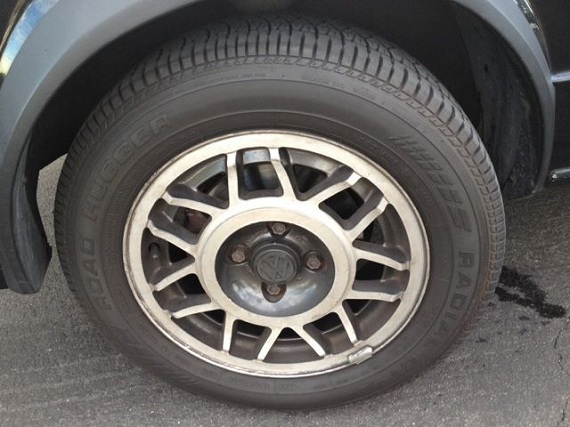 Year: 1984
Model: GTi
Engine: 1.8 liter inline-4
Transmission: 5-speed manual
Mileage: 75,00 mi
Price: $8,500 Buy It Now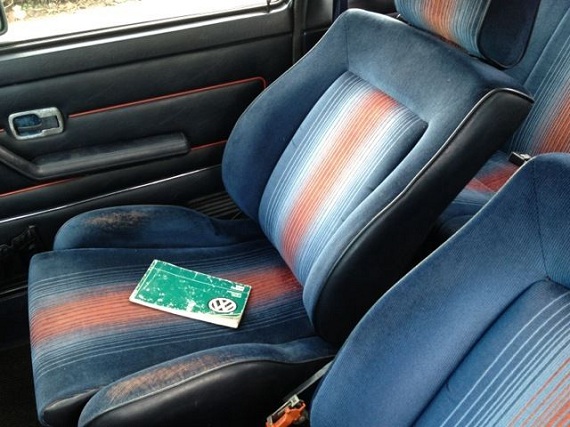 BEAUTIFUL 1984 MK-1 RABBIT GTI FOR SALE

THIS CAR HAS BEEN RESTORED TO ORIGINAL SPECIFICATIONS WITH ALL PARTS PURCHASED FROM VOLKSWAGEN DEALER.

BODY PARTS REPLACED:

FRONT FENDERS, NEW EXTERIOR MIRRORS, ALL INDICATOR LIGHTS AND TAIL LIGHTS.

NEW TINTED WINDSHIELD, ALL NEW WEATHER STRIPPING AT ALL WINDOWS, PASSENGER DOORS AND REAR CARGO HATCH. NEW DOOR HANDLES AND LOCK SETS. NEW WHEEL ARCH COVERS. NEW FRONT GRILL WITH NEW GTI BADGE. ALL NEW EMBLEMS THROUGH-OUT.

ENTIRE CAR PAINTED WITH BLACK HEIS SPECKOR PAINT, HAND POLISHED.

EXISTING ORIGINAL BUMPERS AND SUPPORTS PAINTED MATTE BLACK AS PER ORIGINAL SPEC.

MECHANICAL PARTS REPLACED:

TIMING BELT, WATER PUMP, BOSCH ALTERNATOR, ALL FUEL INJECTORS, RADIATOR, FUEL PUMP AND FUEL TANK. ALL CV JOINTS AND AXLES, MASTER CYLINDER, FRONT STRUTS WITH EXISTING SPRINGS. COMPLETE ORIGINAL EXHAUST FROM DOWN PIPE – CATALYTIC REAR MUFFLER AND ALL ASSOCIATED HANGERS

INTERIOR PARTS REPLACED:

ORIGINAL DASH WITH ALL GAUGES IN WORKING CONDITION, NEW BLACK DASH COVER PLATE, NEW HEATING CONTROL, NEW HEATER CORE, ORIGINAL DASH AND GLOVE BOX DOOR REPAINTED TO MATCH ORIGINAL DASH COLOR. ORIGINAL CONSOLE REPAINTED TO MATCH ORIGINAL COLOR. HEADLINER INSTALLED TO MATCH EXISTING COLOR AND FABRIC, THEREFOR THE HEADLINER IS NOT STOCK VW, and EXISTING STEREO IS A FM/AM CASSETTE (PERIOD CORRECT) WITH POLK SPEAKERS IN THE REAR AND SMALL SPEAKERS MOUNTED IN THE DASH.

ORIGINAL INTERIOR PARTS WHICH REMAINED:

ORIGINAL INTERIOR PANELS, DOOR PULLS, REAR SIDE PANELS, ORIGINAL INTERIOR SEATS FRONT AND REAR, ORIGINAL CARPET.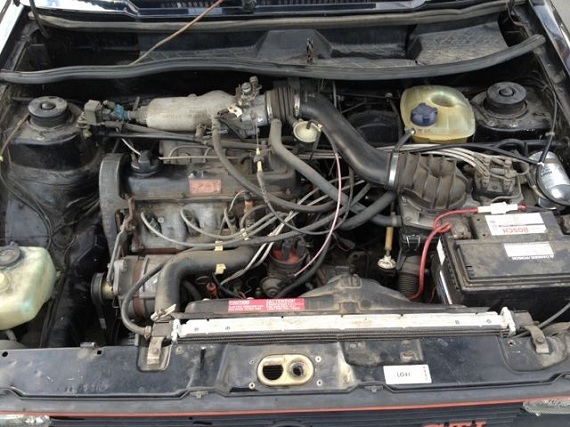 There certainly in a tremendous amount of work listed, from the full repaint and replaced factory parts and emblems to the mechanical work. The exhaust and radio appear to be the only non-stock items, but despite the claim of interior work there are no photos showing it. As I mentioned in the last GTi listing, this is the interior I'd prefer to have so I'd love to see what it looks like. Miles aren't too high and condition is restored original rather than resto-modded, leaving the next owner to either keep it as a great condition driver/show car or take it to the next level. Pricing is higher without better photos or more detailed listing of work completed, but not outside what we've been seeing clean A1s sell for. The critical rust areas should be inspected before forking over this amount; I'd like to know why the fenders were replaced, for example – accident or rust? That may change whether this is the car to buy.
-Carter