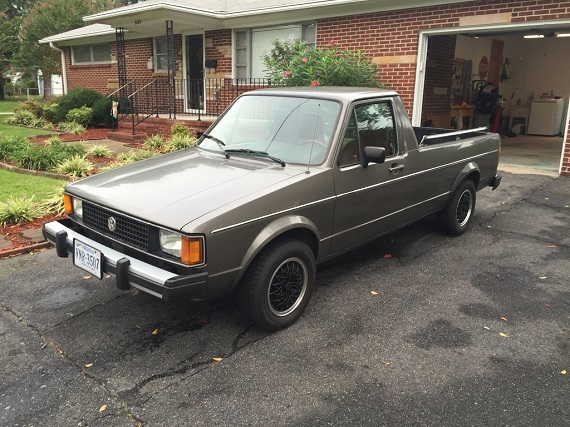 The advertising tag line for the 1982 Volkswagen Rabbit Pickup was "So American, it's not available in Germany". Since the mid 1980s, though, the opposite has been true as the truck range of Volkswagen was removed from the U.S. lineup. In some ways, that's a bit strange since the small truck market was so strong in the mid-to-late 1980s, but starting in the 90s and culminating in the early 2000s, the small truck market evaporated as the crossover to large trucks became so easy and prevalent. But big trucks have gotten very expensive, and smaller trucks (which really are the size of 1980s full sized trucks) are experiencing a minor resurgence – so much so that VW is rumored to be thinking of bringing the Amarok starting as early as next year. So, let's take a look back at where the VW pickup began:
Year: 1982
Model: Rabbit Pickup
Engine: 1.7 liter inline-4
Transmission: 4-speed manual
Mileage: 188,000 (TMU) mi
Price: No Reserve Auction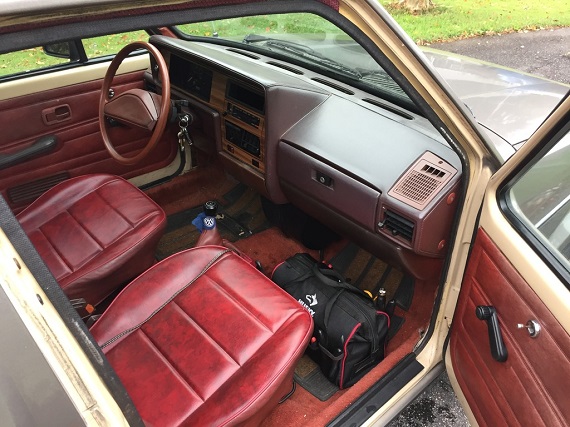 Very clean Rabbit Pickup for sale. You don't see them in this good original condition often. I purchased it from a gentleman in his 80s. He decided it was time to let go of some of his toys and I was happy to have it.

It had been re-sprayed some time in the past in dark gray. Its a pretty decent paint job. The original color was Mojave Beige and it can be seen in the interior and engine bay. The older gentleman didn't use it much so I replaced some fuel system parts to get it to run better. I also installed new front struts and mounts. The AC wasn't functioning so I removed it and installed a mk3 alternator and serpentine belt setup. Other than that, Ive just been having fun driving it.

It starts, runs, drives, and stops well. Its equipped with the original 1.7 gas engine and 4 speed trans. Odometer is broken so mileage is unknown. Occasionally, it will puff a bit of smoke from the tailpipe. The original CIS injection may need tinkered with or maybe its burning a bit of oil. I have never gave it much thought because the smoking is so minimal. I have an engine, wiring, header, and 5-speed from a newer VW that can be sold with the Pickup for an additional cost. The engine has new seals and gaskets. These parts are NOT included in the auction price but can be purchased for a ADDITIONAL $500. Its a common engine swap for Rabbits and pretty easy(as far as engine swaps go)

2 sets of wheels will be included. The original steel wheels with all center caps. These came on the truck when I bought it. The tires have great tread but show signs of old age. The other is a set of Enkei Mesh wheels that I painted and polished up. They come with 2 new tires. The other 2 are decent.

Ive owned about 10 Rabbits and several pickups. The body on this one is way above average. The paint job still shines well but is probably 10 years old. The hood and roof are a tiny bit faded and show a few darker spots(size of a nickel) in the paint. Im nitpicking the paint to make sure there are no suprises. There is no rust in the towers, floors, rockers or anywhere else structural. Ive included photos of 3 small rust spots. There is also a pic of a crack on the driver door. Im assuming they used bondo to fill a dent

The interior is in quite nice original condition. The headliner has been replaced and looks good. Some of the plastics have faded to different degrees. if you know Rabbits, then you know that it happens to them all. The seats have no tears and the dash has no cracks.

I would feel comfortable driving this truck anywhere. There is NO RESERVE on this auction. The opening bid is set for what ratty rusty trucks sell for. I have the truck advertised elsewhere so I may end the auction if I find a buyer.

$500 PayPal deposit is due withing 48 hours of auction end. The balance will be paid upon pickup via cash, cashiers check, or wire transfer. The balance will NOT be paid via paypal. I can deliver the truck to a shipping terminal but the buyer must make all arrangements and payments.

Contact me with any questions before bidding. I want to make sure the new owner is happy with the vehicle.

Thanks for looking, Bill

On Oct-09-16 at 18:26:26 PDT, seller added the following information:

EDIT******* Several people have stated that they want better photos. Here is a link to an album of 41 photos that you can enlarge. Copy and paste this to your browser.

s205.photobucket.com/user/btee78/library/Pickup

On Oct-13-16 at 18:31:29 PDT, seller added the following information:

***** Im not sure my responses to questions are getting delivered. I keep receiving error notifications. Please call me if you have questions about the truck. Thanks. Bill 757*513*0880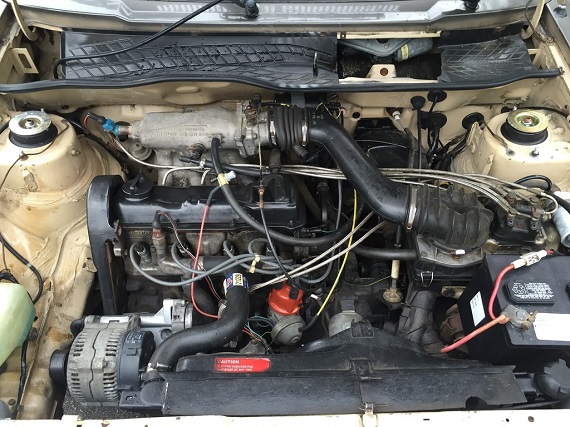 Quite a few things got me excited about this listing – first off, the gray over burgundy interior with original wheels looked great in the cover shot. So many of these pickups come in a mostly-dilapidated state that it is just plain rare to find a nice one today. When I opened the listing, I was a bit disappointed to find out that it was a respray although overall it still looks good. The photos included shots with black Enkei wheels which I personally don't think look great, but the seller is including the originals. Further sifting through the listing photos off eBay, and up popped the image of an ABA 2.0. Whoa, what? Back to the listing I went, and there's a mention of a newer engine and harness for an additional $500. Get beyond the fact that this isn't a show truck, and what you're left with is a far above average condition pickup that is a great driver with character, and for a modest investment you can make into a much more fun to drive package with the 2.0. On top of that, it's a no reserve auction, though several bidders have taken notice and we're already past $3,000. If it stays under $5,000 as an entire package including the spare engine, it looks like a fair amount of utilitarian 1980s fun!
-Carter