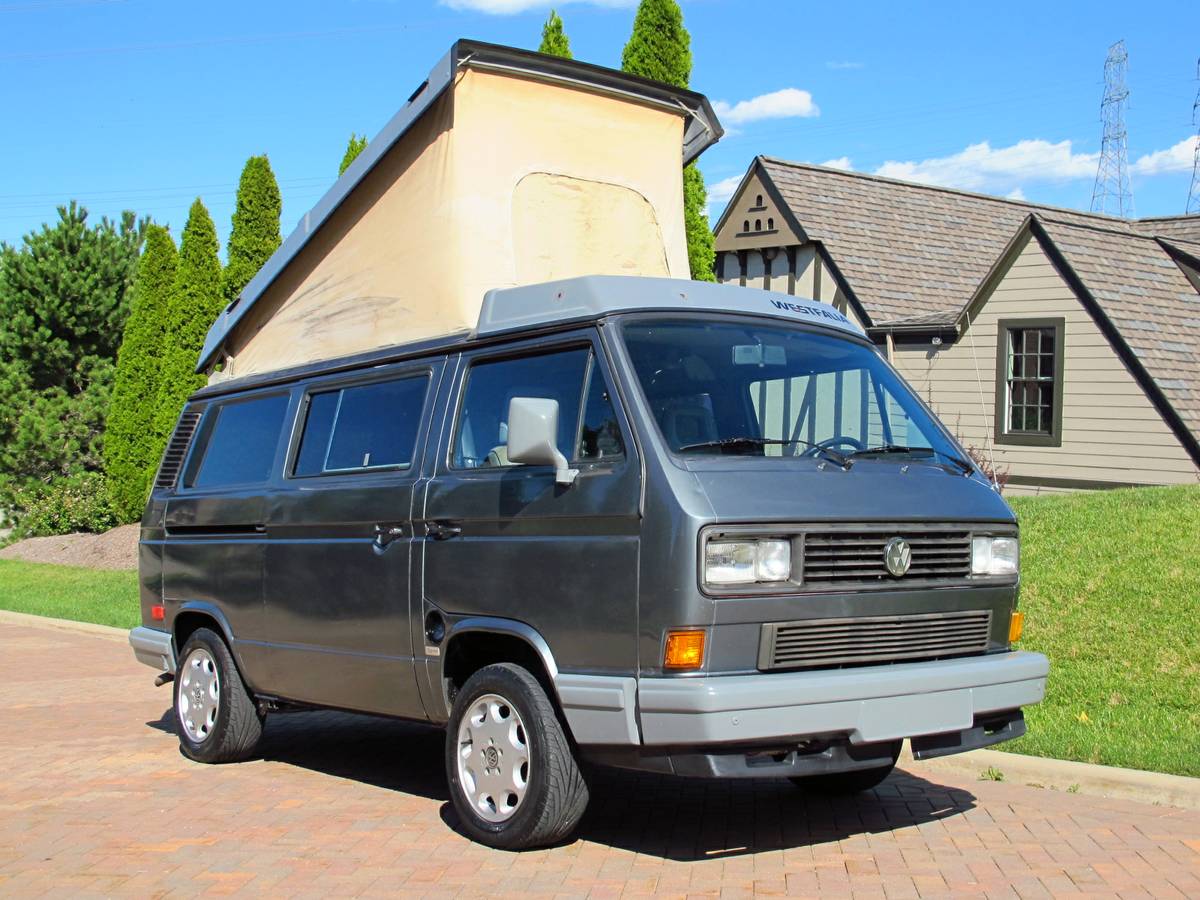 While our author Nate has been on sabbatical, I have to admit we've had a dearth in coverage of his favorite subject – the Vanagon. Slow, boxy and rust prone, there is plenty to poke fun at every time a Vanagon comes to market. But to me what's amazing is the package that the Vanagon offers. There's a simplistic utility to the model which belies its near-universal appeal and recognition. And it's hard to argue with the adventure aspect which comes with ownership, but also opens new possibilities to life. Over the past few years my wife and I have discussed touring the country and visiting the National Parks with an Airstream. They're seriously vintage-chic these days, so buying a good condition one can be prohibitively expensive to being with. Then, you need a vehicle to tow it with, quite literally doubling the complexity of your journey. This makes the Vanagon an interesting alternative for many adventure seekers, as you get a different version of camp couture in a package capable of bring you to the next site on its own. Today's 1989 Vanagon Westfalia is just that sort of package: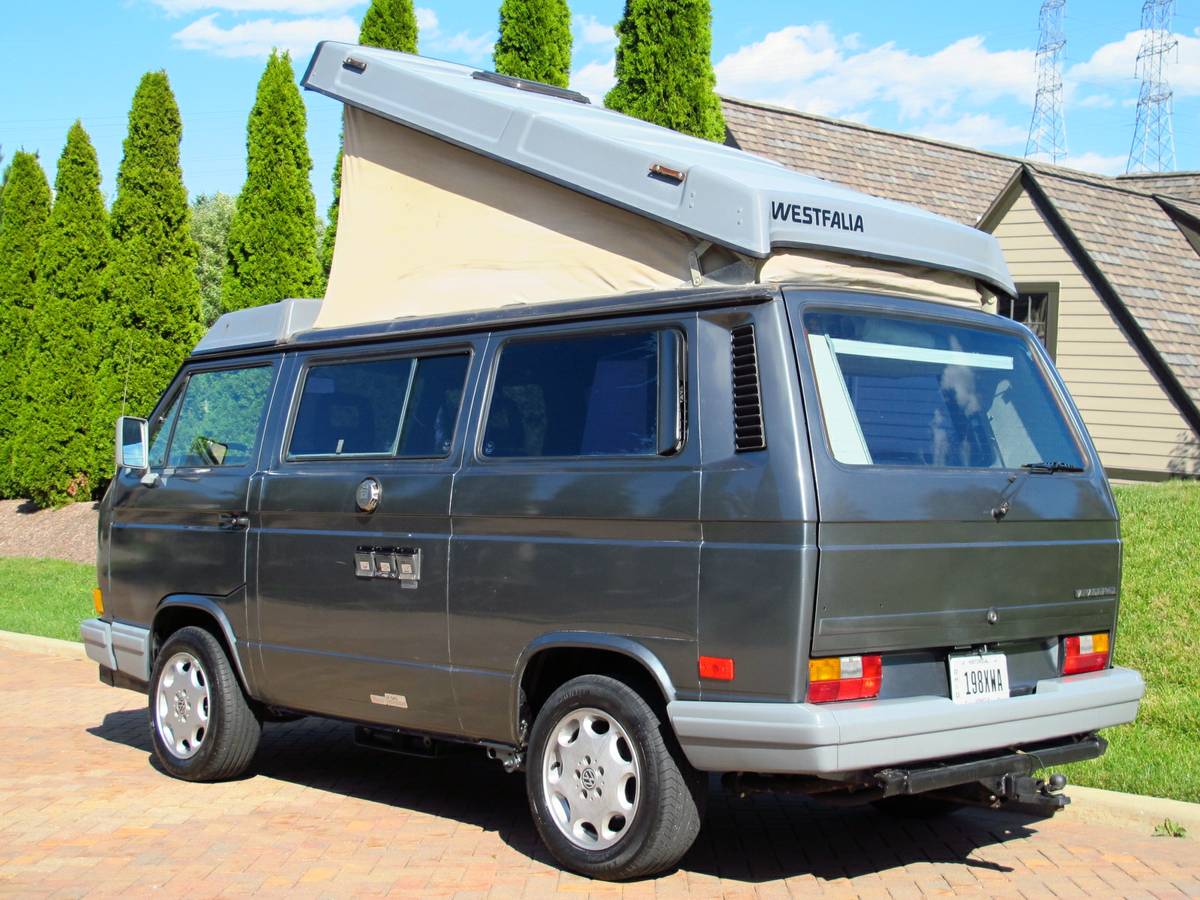 Year: 1989
Model: Vanagon Westfalia
Engine: 2.1 liter -4
Transmission: 4-speed manual
Mileage: 152,000 (TMU) mi
Price: $12,500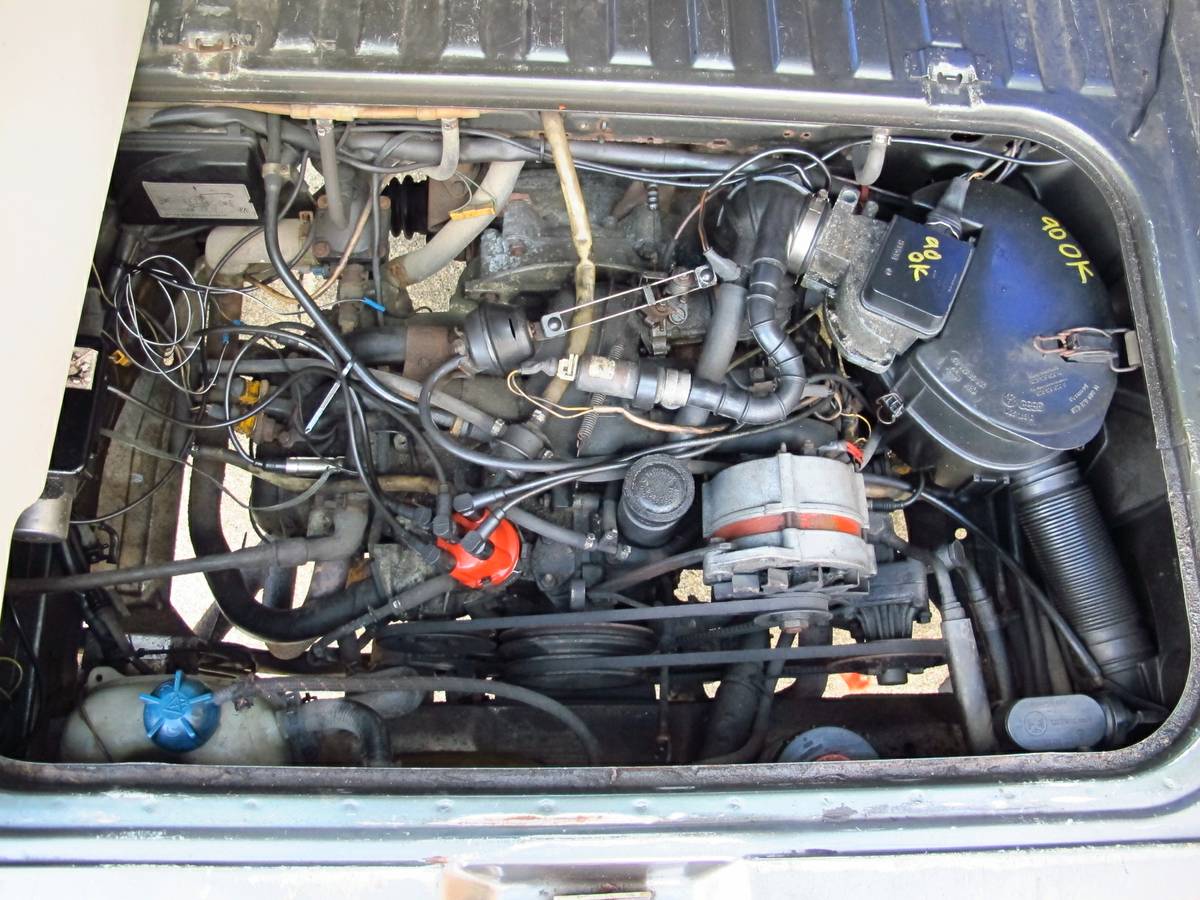 Pictured is my 1989 Volkswagen Vanagon with the Westfalia full camping package and pop-top canvas tent.

This Westy runs and drives very well. The engine and transmission are excellent and this is a turn-key, great-driving van that I would trust to go anywhere. There are no fluid leaks and the engine starts and runs perfectly. The transmission shifts very well and the clutch is strong.

The previous owner of this van runs a local VW restoration shop. He bought it from a customer of his who is a big Westfalia fanatic. This owner is said to have purchased a GoWesty rebuilt engine and transmission and installed it in this van. I do not have paperwork for this, but this information came from the previous owner who is reputable and well-known locally in the VW community.

This is the best-running, best-shifting and best-driving Vanagon I have encountered in a long time. The engine starts up perfectly and it doesn't hesitate or smoke. The engine makes great power and this van will do 75mph on the highway easily. The clutch is strong and the transmission isn't sloppy or vague and it shifts great. The brakes stop well.

The wheels are 16″ GoWesty Mercedes-style aluminum wheels. The tires are older but have good tread remaining.

The camping equipment is all intact and original. This camper has the two-burner stove, propane tank, sink, 3-way refrigerator plus pop-top camper. I have the owner's manuals, ice cube tray plus two dining tables (front and rear). The cushion over the engine compartment for the lower bed is missing.

The paint and exterior are very presentable. This is not a show-quality van, but it has no body rust and the paint is of decent quality and it shines nicely. The canvas is older but it is still in decent shape.

The interior is original and in good condition. The seats and cushions aren't ripped or torn. The camping equipment hasn't been used by me; it was said to be in working order by the previous owner, but I can't promise this is true. The seat cushions and upholstery are well-worn and show their age, but they are still intact. The interior overall shows normal and expected wear and tear for a nearly 30-year old vehicle.

The odometer reads 152,xxx miles. The title reads that the mileage is non-actual. The odometer, speedometer and all gauges are working properly.

This is a solid, clean and very presentable Westfalia. Again, it isn't perfect nor show-quality, but it is one of the nicer ones I've seen in a long time.

This van is kept inside my garage in Willoughby, OH.

Clean title, no accidents.

Email me or call/text me at 440-339-4341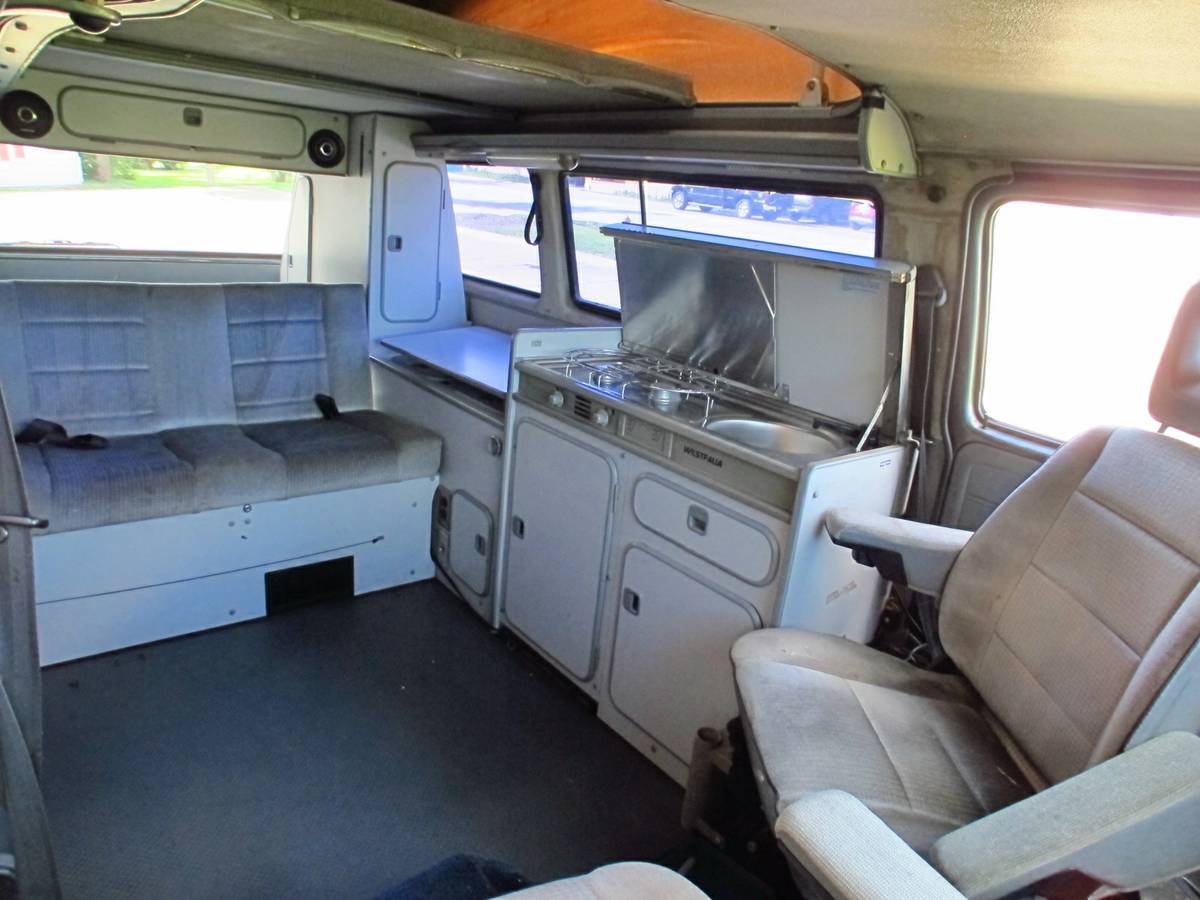 It should come as no surprise that if camping is in vogue today, that these types of vehicles have become very expensive. Tick the right options and upgrades, and asking prices towards $100,000 aren't unheard of. Expensive, too, are the replacement Eurovan campers, though they offer more engine choices than the T3. I have fond memories of just such a camper – towing a pop-up for a family trip in the Smokey Mountains, the 4-cylinder mill really struggled up some grades. But it got us to the camp site, and as an adolescent of the 80s the transforming nature of the insides was too cool. Suddenly you had multiple beds, a stove, a refrigerator, a table top to enjoy dinner. The front captain's chairs swivel to make a living-room feel. In short, part of the price for admission is justified in the unique package offered by the Westfalia.
This example has some reported upgrades from GoWesty, including a rebuilt motor. Though the documentation is lacking unfortunately, the look of this camper is still great overall and generally appears to be above average. As this does not appear to be the higher-trim Carat model, the alloys replace what would have been aero wheel covers in '89, and while I like the look of the original Carat wheels a bit more the GoWesty Mercedes-inspired units give a much beefier look. 88 up also had the larger color-coded bumper covers and the lower front valance which made them look slightly more modern. If you want affordability in this package currently, it's here where not having an absolutely perfect specimen is advantageous and keeps this Volkswagen on budget. It's still very presentable and does all the camping adventure work you'd need, but forgoes the show-quality finish for a package which is more utilitarian. That was always the point of the Westy, and to me that makes one like this a compelling example.
-Carter