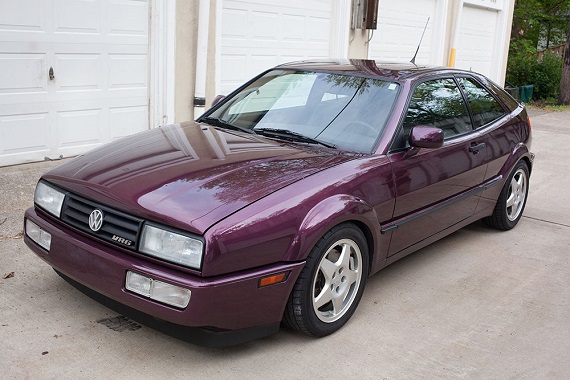 Following up on the 10,000 mile 1993 Corrado SLC from two weeks ago, today I have a lovely trio of Corrados to take a look at. Covering the model years and changes from 1990 to 1994, these three are low mile, impeccable condition and it's a stroke of luck to see them all at the same time. As the expensive Corrado sold rather slowly on these shores, numbers have always been a bit short and now that the first models can be registered as antiques in most states they're firmly into collector territory. As the Corrado is pretty well known on these pages, I won't go into extreme model history today as we're looking at three examples. For an excellent look at the history of the Corrado, take some time to read the Hemming's take on it back in 2013. The previously mentioned 10,000 mile Corrado failed to meet its reserve despite shocking bidding which ended at $27,400. Clearly, there's a market for these clean examples, so is any the match for the 1993?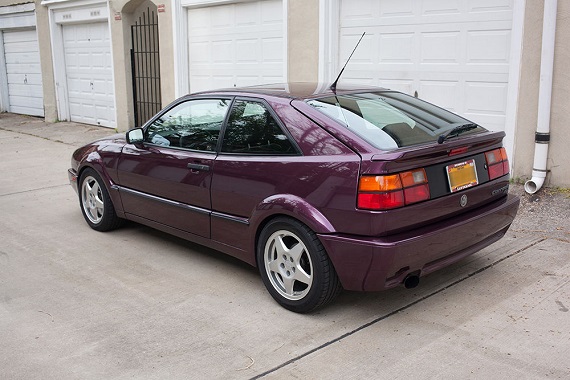 Year: 1994
Model: Corrado SLC
Engine: 2.8 liter narrow-angle VR6
Transmission: 5-speed manual
Mileage: 63,300 mi
Price: $14,000 Buy It Now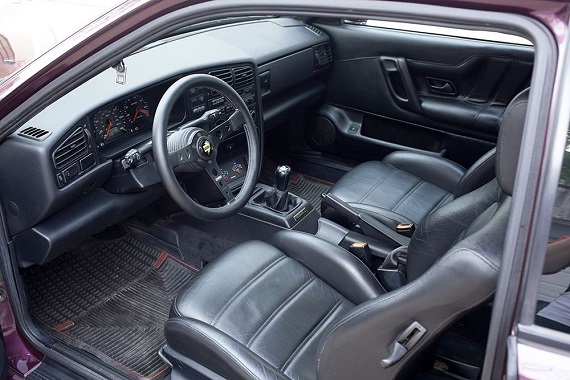 Very rare 1994 Bramble Metallic LK4Z aka Blackberry with perfect black leather interior. 63,300 miles. Everything works, I mean everything. Sunroof, spoiler, windows, AC, automatic seat belts, heated seats, etc. This car is better than new as far as mechanicals and performance goes.

VIN : WVWEF4500RK001476

Mods / work done in the last 1200 miles. All work done by NGP Racing. I have receipts totaling $4700 not including what I paid for the KW V3 coilovers, Wavetrac diff & ARP bolt kit.

NGP mechanically refreshed the car when I had the cams and diff installed.

New 4 bar fuel pump
New coil pack with phoenix engineering phenolic spacer
New plugs and wires
2.9 euro manifold and throttle body ( I have the stock mani and tb to go along with the sale )
New KW V3 coil overs ( have OEM struts / shocks with new H&R springs too )
New motor mount
New strut mounts for front and rear
New front strut bearings
Alignment
Techtonics 268 cams
Lightweight cam followers
Techtonics HD Valve springs
New Sachs 228mm clutch kit
New clutch slave and master cylinders along with braided stainless steel slave line
New rear main seal
New Low temp thermostat and fan switch
New water pump
Cooling system flush with proper coolant
New electric coolant after run pump
New chain guides and tensioners – not needed but replaced as a while you are in there peace of mind.
Timing chain cover gaskets and O – Rings
Brake fluid flush
Oil change
Synthetic gear oil for diff / transaxle
GIAC cam chip
WAVETRAC LIMITED SLIP DIFFERENTIAL. ( by far the best mod for a front driver)
MOMO Prototipo steering wheel ( have OEM wheel )

Upgrades on the car when I bought it from APTuning for $11,000

New OEM roof rails
Euro chin spoiler
11.3 DE calipers and rotors
front and rear Stainless steel brake lines
New Techtonics 2.5" stainless cat back exhaust
New OEM foglights
New OEM clear turn signals
APTuning also did head gaskets, injector O- rings, and a host of other work before selling the car. I was told it was almost $2k in total. I have not seen the email with the invoice yet.

EXTERIOR

Excellent. I would love to call it mint but the car was repainted by the dealer in 1995 due to hail damage on the lot. They did a proper job and it has held up fantastic over the last 21 years. It is very shiny and has no swirls. The only blemishes are a ding on the drivers door ( can be removed by paintless dent guy ) a small ding on the roof near the rear hatch and the clear coat on the leading edge of the drivers fender facing the engine is peeling. The paint is a solid 9 out of 10 otherwise. I was going to get the dent removed and have the fender painted but now I have decided to sell I am leaving it. The factory speedlines have a few specs of brake dust and minor scuffs but no curb rash. The tires have less than 2,000 miles on them.

INTERIOR

The black leather is almost perfect. The only flaw in the interior is some seam splitting occurring on the back passenger head rest. I have conditioned the entire leather interior 3 times in the last 3 months with lexol. It is soft, supple and CLEAN! The shift knob / boot has no wear and neither does the MOMO steering wheel or the OEM wheel which is included with the car. The head liner is perfect with no sagging, tears or stains. The all season matts have kept the carpet in perfect condition too. You would be hard pressed to find a Corrado with a better interior.

OVERALL

The car is a 9 out of 10 ( 10 being 100 % OEM, museum grade ) it is ready to be enjoyed and driven without any reliability issues. I built this car to be reliable, fast and fun. Almost everything on it is new or as new from the factory. With the wavetrac limited slip differential and KW V3 coilovers ( compression and rebound adjustable ) it is the most fun one can have in a front wheel drive sports car. If you enjoy driving then this Corrado is for you.

Thanks for looking and feel free to contact me with any questions or concerns.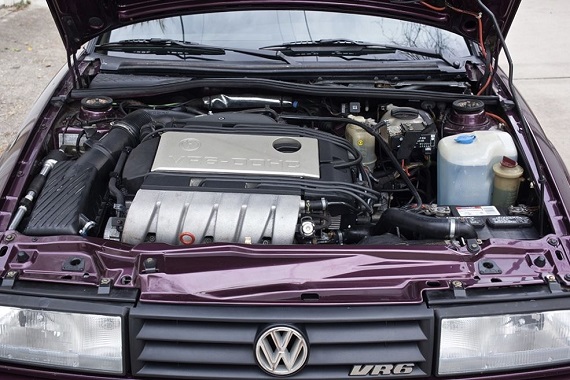 If you're looking for a collector example, this Bramble Metallic '94 is borderline because of the numerous modifications from stock. However, nearly all are fairly easily reversible and would just take time and money to undo if you wanted the car stock. That said if you want to enjoy a Corrado, this car is very well built and subtly modified to enhance the driving experience. The only bit I find really out of place is the steering wheel, but the seller includes the original. As, frankly, they should given the $14,000 "Buy It Now" price – but the condition, low miles, good modifications and rarity of the package (especially the color) mean it's a very much in line with the market.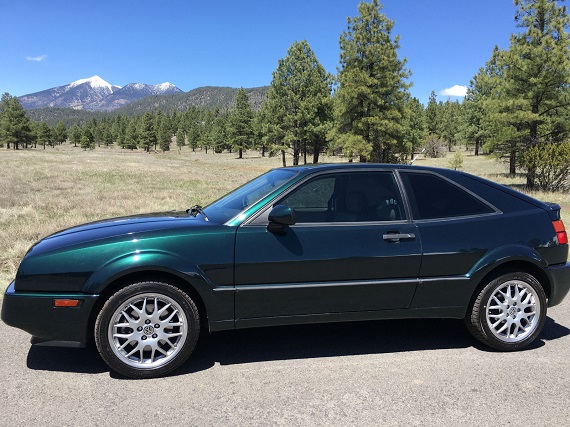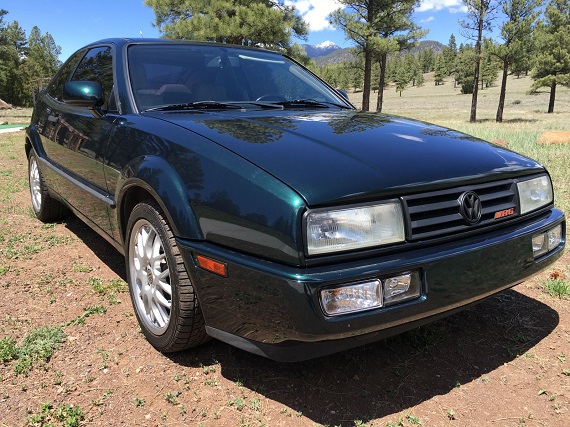 Year: 1992
Model: Corrado SLC
Engine: 2.8 liter narrow-angle VR6
Transmission: 5-speed manual
Mileage: 49,901 mi
Price: $18,500 Buy It Now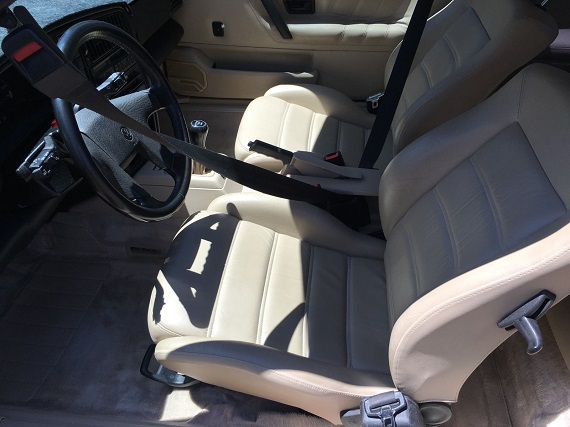 For auction is my 1992 dark green with tan Leather interior VW Corrado SLC VR6, 5 speed, mint condition, fully optioned, and babied since I bought it brand new , I am a retired Porsche-Volkswagen master mechanic, from Germany. This Car has an incredible love and service care history, and it is a sad moment in my life to sell my beloved Corrado. I have all records, original bill of sale, all the magazine articles, original window sticker and more. The Corrado has always been garaged and never driven in rain or snow. It has always been in Northern Arizona, where the air is clean and the humidity is low. I sold the Car to friend and bought it back.
Since the car is 24 years old, I replaced the water pump, serpentine belt and tensioner, all service items, Bilstein touring shocks and struts with mounts & bearings. Updated the A/C with brand new OE 134a compressor. It has Arizona legal window tint. The car is not modified, except for newer turn signals and fog lights, and the BBS wheels which are 16″ instead of the original 15″ with brand new 205/45/R 16 tires.
If you have questions, please ask.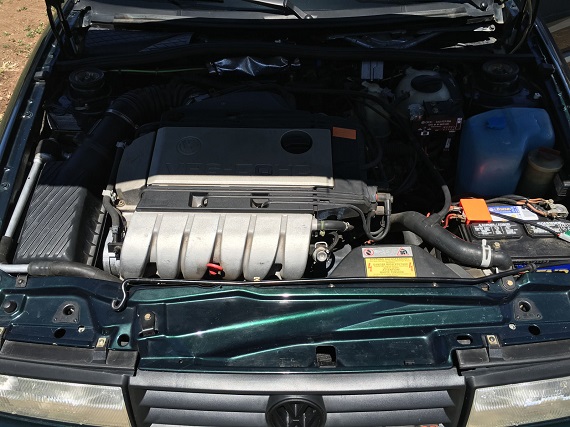 Classic Green Pearl seems to be the most common color on the later SLC cars, but it often seems to suffer from clearcoat failure. That's not the case here, as this shining low mileage example looks near new. Though the photos aren't as good as the Bramble Metallic '94, it's clear that the condition is, and minus the somewhat cheap-looking front lens replacements and subtle but great BBS RXII Jetta Wolfsburg package wheels it's fully original. This is really much closer to a collector rather than driver example, and the seller has priced it higher accordingly. While not Concours quality, this car is among the best that come to market.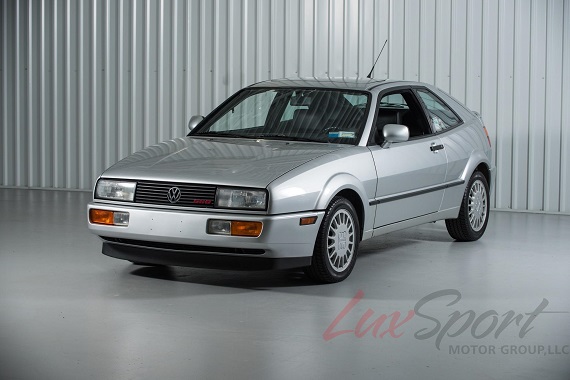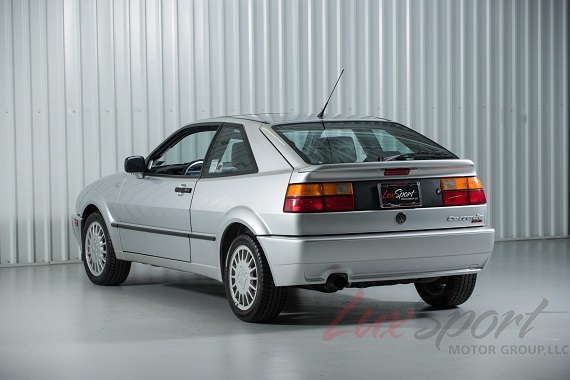 Year: 1990
Model: G60
Engine: 1.8 liter supercharged inline-4
Transmission: 5-speed manual
Mileage: 12,000 mi
Price: $19,995 Buy It Now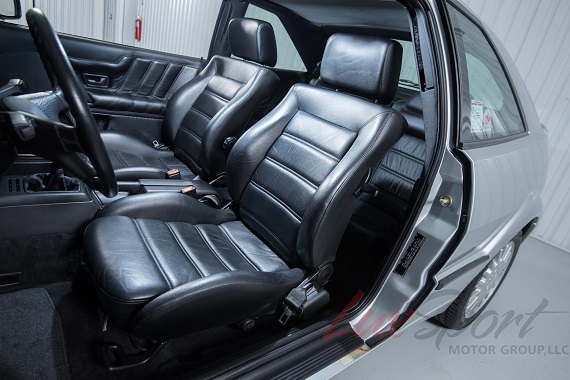 1990 VOLKSWAGEN CORRADO G60 COUPE RARE SATIN SILVER METALLIC/BLACK LEATHER WITH ONLY 12,000 ORIGINAL ONE OWNER MILES 5-SPEED IN ABSOLUTELY PRISTINE COLLECTOR GRADE CONDITION 100% ORIGINAL PAINT EXTREMELY RARE FIND!!!

LUXSPORT MOTOR GROUP, LLC IS PLEASED TO PRESENT THIS ABSOLUTELY STUNNING AND EXTREMELY RARE 1990 VOLKSWAGEN CORRADO G60 COUPE 5-SPEED MANUAL COUPE IN STUNNING SATIN SILVER METALLIC PAINT WITH BLACK LEATHER INTERIOR. THIS EXTREMELY RARE ONE OWNER VEHICLE HAS ONLY 12,000 TRUE DOCUMENTED ORIGINAL MILES WITH THIS IS TRULY A ONE OF A KIND FIND. ZERO MODIFICATIONS OR UPGRADES THIS CORRADO IS 100% STOCK AND NEVER MODIFIED. THIS CAR HAS 100% ALL ORIGINAL PAINT, ZERO ACCIDENTS OR STORIES. ENTHUSIAST OWNED AND STORED IN A CLIMATE CONTROL GARAGE MOST OF ITS LIFE. HERE IS YOUR CHANCE TO OWN ONE OF THE LAST LOW MILEAGE UNABUSED VOLKSWAGEN CORRADO'S WITH SUPER LOW MILEAGE AND 100% ALL ORIGINAL PAINT!!!

OPTIONS AND FACTORY FEATURES INCLUDE:

OPTIONAL ALL ORIGINAL FACTORY SATIN SILVER METALLIC PAINT

OPTIONAL LEATHER INTERIOR

ORIGINAL OEM 15″ FACTORY WHEELS WITH NEWER TIRES

FACTORY SUNROOF

FACTORY CORRADO FLOOR MATS
 


WE PURCHASED THIS CAR DIRECTLY FROM THE ORIGINAL OWNER AND THE CAR HAS BEEN PROPERLY MAINTAINED AND SERVICED ON TIME. THE CAR IS IN ABSOLUTELY PRISTINE CONDITION WITH ABSOLUTELY NO ACCIDENTS OR STORIES. THE BODY IS IN IMMACULATE CONDITION WITH NO DOOR DINGS, ROCK CHIPS OR DENTS. THIS CAR HAS 100% ALL ORIGINAL PAINT AND THE PAINT HAS BEEN VERIFIED WITH A PAINT METER. THE INTERIOR IS EXTREMELY CLEAN WITH NO UNUSUAL WEAR ON THE SEATS OR CARPETING. THE DASH IS IN PRISTINE CONDITION WITH NO CRACKS OR WEAR. ALL OF THE MAJOR COMPONENTS OF THE CAR WORK AND THERE ARE NO COMMON ISSUES. ALL OF THE ORIGINAL VIN STICKERS ARE ON EVERY PANEL. WE RECENTLY SERVICED THE AIR CONDITIONER AND SUNROOF. WE HAVE ALL OF THE BOOKS, MANUALS, KEYS, TOOLS AND AVAILABLE SERVICE RECORDS. THIS IS A NO EXCUSES CAR FOR THE TRUE VOLKSWAGEN AFICIONADO. HERE IS YOUR CHANCE TO OWN ONE OF THE LAST OF THE VOLKSWAGEN CORRADO'S DESIGNED TO BE THE POOR MANS PORSCHE. THESE CARS ARE GETTING IMPOSSIBLE TO FIND AND MOST OF THEM HAVE BEEN HEAVILY MODIFIED, RACED OR ABUSED. A MAJORITY OF THESE CARS ARE ALSO BEING EXPORTED BACK TO EUROPE, AS THERE IS SIGNIFICANT INTEREST IN THEM BACK THERE. WE SHIP WORLDWIDE AND OFFER COMPETITIVE FINANCING AND LEASING RATES. WE ALSO ACCEPT TRADE-INS
/ 


PLEASE CONTACT US DIRECTLY AT LUXSPORT MOTOR GROUP, LLC AT
(516) 921-7800 FOR MORE INFORMATION.

PLEASE EMAIL US AT INFO@LUXSPORT.COM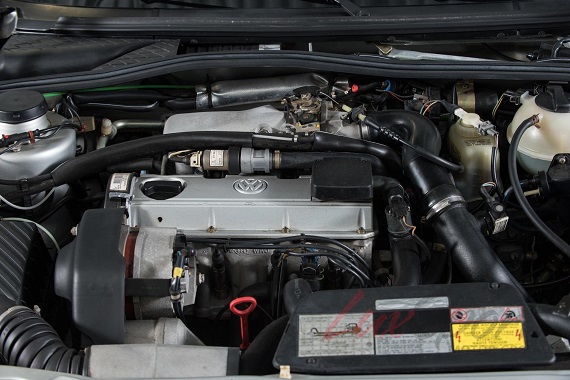 Part of the same collection as the stunning twin Corrado Magnums from Tuesday, this G60 is in amazing condition. Twice the seller claims the car is Satin Silver Metallic, but I'd like to see proof since that color wasn't available until later in the run. More likely than not, it's Diamond Silver Metallic, though I'll agree that's probably semantics and relatively unimportant. Aside from some very minor details like the shift knob, this car is the closest of the three to Concours level with astoundingly low 12,000 miles and in near perfect original condition. The G60 model generally isn't considered as valuable or desirable as the later SLC models, but this one is undoubtedly one of the best original Corrados available anywhere.
Is it worth $20,000? Viewed in relative terms and compared to where the bidding on the '93 ended, it doesn't seem unreasonable but obviously the right people need to be in the room and those people need to be looking just for a perfect Corrado, and not specifically a VR6 model. Personally, of the three I'd take the beautiful driver-oriented '94. I might change some details to make it closer to stock, but it represents the best value to quality to driver-enjoyment ratio of the three to me. Which would you take?
-Carter