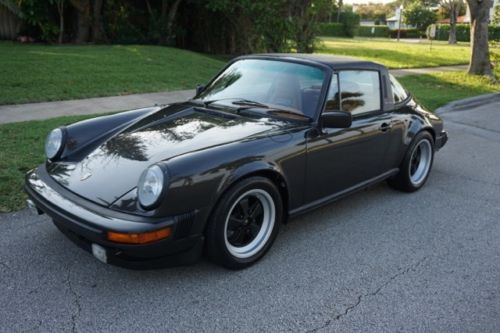 Another day, another crisp SC Targa found down in Florida. This one is a real head turner as it is covered in rather rare Schwarz Metallic paint. The ad says it can appear Slate Grey in certain light, black or even brown at other times. I think I saw  a 911 with this paint a few years back at a meet but didn't realize it was so special at the time. Also could have been my eyes playing tricks on me, hard tellin no knowin I suppose.
Anyhow, I thought this '79 Targa deserved some attention as it features not only a unique exterior but a very clean, very pretty Cork interior. This is certainly among my favorite color combinations for a 911, I think it works particularly well on this era. The leather on the dash and on the front seats is new and the Targa top has been reupholstered with OEM material as well. From a visual stand point this vehicle appears to need nothing and the mechanical side of the equation also seems to be balanced. Brand new tie rods and steering rack boots were recently installed, the seller notes that the A/C squeals at bit at start up but from what I've read that's both rather common on these cars. Whether or not it is an easy fix is beyond me but if it was my car, I would keep the A/C off and the top popped to keep cool.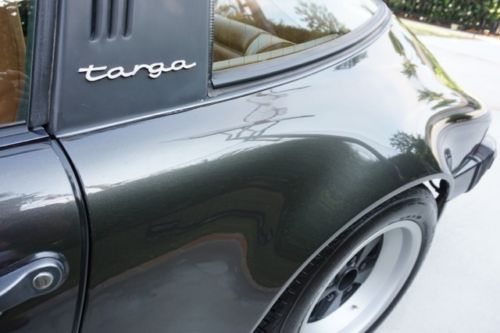 Year: 1979
Model: 911 SC Targa
Engine: 3.0L flat 6
Transmission: 5 speed manual
Mileage: 61,464 mi
Price: $37,500 Buy It Now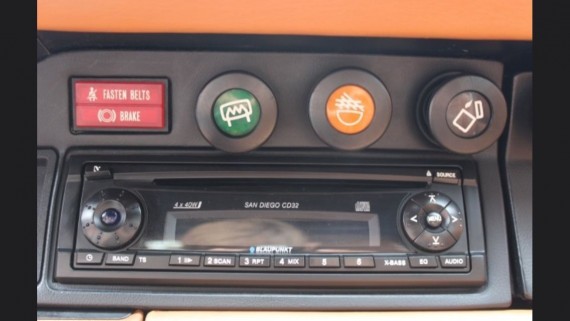 Matching numbers 1979 911 SC Targa in a very unique Schwarz Metallic (708 9-3). Depending on the light can appear Slate Gray, Black or even Brown contrasted by the beautiful Cork Interior. Only 61,464 miles. Upgrades include:
3 Spoke Leather Wrapped Steering wheel
Blaupunkt San Diego CD32
Rennline Stabilizer Bars
MSD Ignition with Magnecore Wires and coil
Ungo Box with Users Manual
Weltmeister Carbon Intake Box
Factory Short Shift Kit
A53 Power group from Factory
New Front Glass and Seals (pulled dash at time)
New Leather on Dash
New Leather on Both Front Seats
Overall, this Targa runs and drives great. Has Euromeister Fuch Replicas with 7″ front and 8″ rear by 16″ with new Continental rubber on all 4.  Tires were replaced less than 100 miles ago including Alignment. Brand New Turbo Tie Rods and Steering Rack boots.The paint is in great condition with a full respray at some point, some minor rock chips in paint. A/C blows with slight squeal at first. Complete with original Warranty and Maintenance books including stamps. Targa top was just reupholstered with OEM material. All work Documented.
I also have a Fabspeed 911RS exhaust with twin outlets and the valance and seal to match if desired. Will entertain Reasonable offers as looking for quick sale, just purchased a project car.
Please email me if you would like more pictures as I have a drop box with over 40 additional pictures. Thanks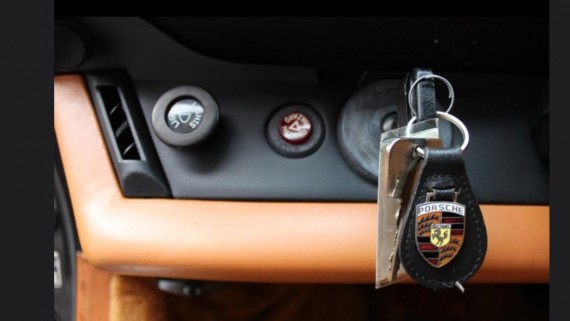 The overall appearance of this car is right up my alley, I absolutely love the Cork interior, it's just so damned classy. In fact I think the overall vibe of the Targa is one of class. Maybe it has something to do with the idea of open top motoring but the car really does seem less hardcore than its coupe counterpart. Of course if you were to take up the seller of this example on his offer to let the twin outlet Fabspeed 911RS exhaust go with the car, I think that'd transform this thing into a pretty hardcore 911 just based on the sound it'll make. After all, it already has Rennline stabilizer bars, a Weltmeister Carbon Intake box and factory short shift kit, add in a badass sounding exhaust, I'd say you're at least on your way to Luftgekuhlt driving bliss. Targa prices are all over the map just like all the other classic 911s so its hard to say what this car will go for. Personally I'd offer the seller around $34k and go from there. Might seem like a lowball offer to some but hey, ya never know, maybe the seller is a reasonable sort of person. Maybe they'll realize that while this example looks great, it looks great because it was resprayed, reupholstered and doesn't run in the same circles as those all original garage queens. If you've got the money, can't hurt to make an offer, the worst that'll happen is the seller says no.
Cheers,
-Andrew