Despite my general love of all-things-Audi, even I have a hard time coming up with good condition examples of the marque from the early 1980s. For U.S. fans, there just isn't a plethora to choose from. For example, when you search eBay for Mercedes-Benz, Porsche or BMW models and sort by age, you'll find usually several pages of examples before you get to the 1980s, where inevitably there will be a flood of models. When you switch to Audi, you'll find three cars – and this is a good week. Fortunately for Audi fans, one of those three cars is the daddy – an original Audi Quattro. Few of these quite expensive turbocharged all-wheel drive Coupes made it to the U.S., and even fewer remain today; as I mentioned in the Coupe Week 1983 Quattro post. There was an excellent example of a low mile Quattro that had been repatriated to Europe, a trend which seems increasingly popular for the model which has more respect in the Fatherland than amongst U.S. enthusiasts. In fact, recently on our Facebook page one of the Quattros I posted prompted an enthusiasts to remark that the boxflared-fenders were reminiscent of the E30 M3 – without any acknowledgement that the Audi came on the scene well before the DTM star. So here's your opportunity, Audi faithful, to keep one of the better examples of the limited-run Quattro on U.S. shores with this excellent 1983 Mars Red example:
Year: 1983
Model: Quattro
Engine: 2.1 liter turbocharged inline-5
Transmission: 5-speed manual
Mileage: 56,422 mi
Price: Reserve Auction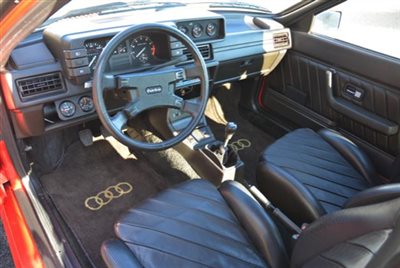 ***Due to the recent activity of fraudulent second chance offers on eBay, we strongly urge you call us at 914-217-4817 to verify any second chance offer.***

For more than a quarter of a century, Hunting Ridge Motors and Mark Starr have built a reputation as one of the country's premier new and pre-owned luxury and exotic automobile dealers. It began in 1980 when Mark began importing Mercedes Benz, Porsche, Ferrari and race cars from all over Europe, and has now expanded to include many other makes such as Land Rover, BMW, and Audi.

A proud and well respected member of the Lotus community, Hunting Ridge Motors has become one of the most respected performance car dealerships in the Northeast. The organization's reputation for providing quality vehicles and top- notch service is the reason why Hunting Ridge Motors continues to be at the forefront of the automotive enthusiast and collectors market.

You deserve only the best should not expect anything less. We promise to provide you with the best buying experience available. Feel free to call one of our sales associates with any questions. We are here to make your automotive dreams come true.

1983 Audi Ur quattro Coupe finished in Mars Red with Dark Brown full leather.

The Audi Ur quattro (Ur, German for original or first of it's kind) were manufactured from 1980 until 1991 with imports coming to our shores only from 1983 until 1986. It was the first production car to use Audi's race winning full time four wheel drive system and a Turbo charger in the same vehicle.

With only 664 units being imported to the US, the Ur quattro is not an easy car to locate let alone find a two owner example with only 56k documented miles.

This car has been owned by the same factory trained Audi mechanic since 1992 and used sparingly during his ownership.

The car has been modified with tasteful period correct improvements including later model deep dish Ronal alloy wheels, bigger brakes, smaller and less obtrusive European front and rear bumpers, European headlamps, Koni shocks and stiffer springs, upgraded instrumentation, performance cam, fully operational sun roof and much more.

We have just run it through the shop where it received a full major service and an extensive detailing. The interior is all original and has never been resprayed. The car shows incredibly well and is without a doubt the single best example we have seen in years. Included in the sale is the original spare tire which has never been mounted, jack, service manual with stamped books and the original owners manual.

The Ur quattro Coupe is totally exhilarating to drive and is hugely under rated. It will undoubtedly become a highly desirable vintage car with significant historic value that will soar in price.

A Short Wheel Base Group B version recently sold at a Scottsdale auction……… http://www.rmauctions.com/lots/lot.cfm?lot_id=1071873
All serious inquires should call Mark Starr 914 217-4817.

In the spirit of the auction process, we do not disclose our reserve price. We have been selling cars for many years and price our cars fairly. As a result of our low prices, they sell quickly. Therefore, PLEASE DO NOT ASK OUR RESERVE PRICE. Please feel free to contact us to learn more about huntingridgemotors. We will consider all reasonable offers and will end the auction early if we can reach an agreement. We reserve the right to end any auction early for due cause. If you have questions about any of our auctions, please do not hesitate to contact Mark Starr at 914-217-4817. Cars shown by appointment only.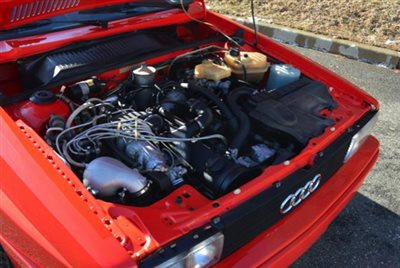 As with the previous model, the upgrades are subtle but notable; the 8″ Ronal wheels are such a natural fit, you'd be forgiven for forgetting they weren't the original stock. This car also features the flat face Euro lights which are period correct; some opt for the later sloped lens lights and grill to update the look, but those are really reserved for the '85 up models so this is the right look. Completing that look is the European bumpers which introduce fog lights and a much better look than the U.S. bumpers we saw tucked on the Alpine White example. The seller also claims some other upgrades; the camshaft and brakes, for example. While they're not named, you can bet if those things were upgraded that the boost has also likely been turned up a bit – witness the plethora of additional gauges in the auxiliary pod on the dashboard. The Koni shocks with upgraded suspension will undoubtedly eliminate some of the body roll the Quattro was notorious for and sets the ride height aggressively without being too low. Inside you get the striped chocolate leather which appears to be in great original shape. While there are things that you'd want to check on a pre-purchase inspection (rust under the fenders and the electrical connections, notably), this example certainly seems to be amongst the best that we've seen. As such, it's priced right at the top of the market and above what we've seen similar examples sell for – and unsurprisingly, it's gotten no bids at the $38,000 opening bid with the reserve still on. At that point, you could buy a lesser example and restore it to this level – though it would be difficult and time consuming. The seller also seems to justify the price in part by referencing one of the short wheelbase Sport Quattros in the auction; respectfully, quite a different beast and worth considerably more than the standard Quattro is currently. But if you want to avoid the headaches, trouble finding the parts and difficulty locating another Quattro at all, increasingly the trend is that you'll have to pay; otherwise, we'll continue to see the supply of these legends dry up in the U.S..
-Carter