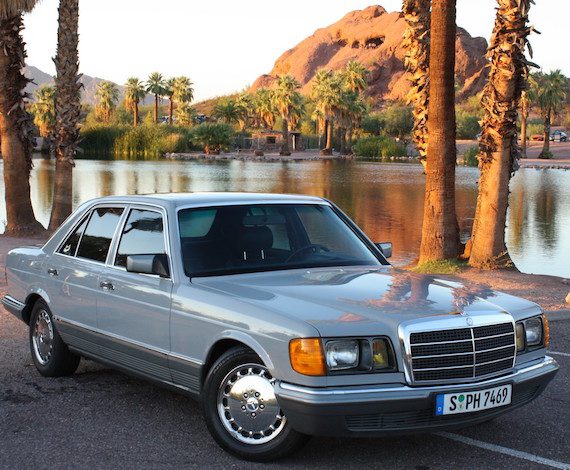 Powered by the legendary five cylinder OM617, the sort of motor for which Mercedes-Benz earned their reputation as manufacturers of "million mile engines," the W126 300SD was a classy and reliable ride, offering a frugal option for S-class owners not perturbed by a clackety-clack sound coming from the front end of their luxury car. This engine would be replaced in 1985 by the OM603 six cylinder unit (later enlarged to 3.5 liters) that, while offering more power, was susceptible to a number of very serious problems (a fault with the trap oxidizer – part of the emissions system – that could ruin the turbo, cylinder heads prone to overheating and cracking, bent rods and head gasket failures). So those looking for a diesel W126 would do well to consider an early, first generation car like this one.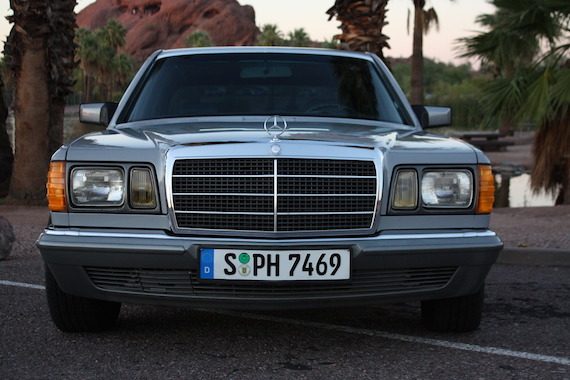 Year: 1983
Model: 300SD
Engine: 3.0 liter turbocharged inline-5 diesel
Transmission: 4-speed automatic
Mileage: 111,515 mi
Price: No Reserve Auction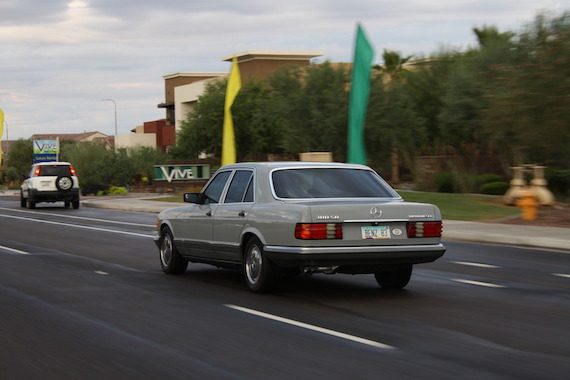 Turbo Diesel
Only 111k Miles
EURO Body
All Original Interior and Paint
Rare Color Combo

First off, I'm not gonna do what dealers do and give you the whole history on the W126 for 17 paragraphs and how it impacted the auto industry, blah blah blah, and then have 2 sentences about the car. Annoying. If you're here, you are here for a reason, it's because you already know that this was Mercedes at the top of its game. You know that there was practically no development budget limit, unlike today's cars where the accountants run the show. We may never see the likes of this quality ever again, as today's cars are throwaways. These are just going up in value and feel like they are chiseled from one piece of metal.

I'm also not going to end every sentence with seven exclamation points like you see dealers do. Nor will you see me put 300 pictures of the car but nothing of what has been done to it recently or any kind of documents. So annoying.

HISTORY:

This car was built on February 28th, 1983 and sold on April 18th, 1983 at Mercedes Benz Forth Worth for $40,045.

Service advisor always was Bruce Reineke.

Has always been in rust free Texas and Arizona and garaged its whole life. The previous owner told me that it was kept in the family and registered under their family members in Texas, and then under their other family members in Arizona. So in kind of way, I'm the second owner.

Body is straight no dents (see pics)

Paint and interior are original.

Paint is the Rare Ascot Grey code 751 with original Dark Navy 345 interior code. The Dark Navy looks almost black. It isn't the medium kind of "crayon" blue interior on other Benzes that most people don't prefer. See if you can find another Ascot Grey one out there with this color interior! Go ahead and Google Image it. No really, I'll wait………………………………
Yup. Two on the whole Internet that you and I know of with the Ascot Grey. But how many with this Dark Navy interior? So this color combination, especially in a Turbo Diesel is rare.

It has Euro bumpers which are very hard to find in perfect condition, expensive, and are what Mercedes truly intended to have on the car. The U.S. Department of Transportation needed to have their regulations met so they put the oversized ones on that look like an underbite. (See the picture of the before and after with the U.S. bumpers and Euro bumpers). Some people prefer the U.S. bumpers, and if so, they are way easier to find if you wanted to. The car does not have them.

I didn't upgrade to the Euro headlights, as the clear look all the way across on a car this color just seemed bland to me. Something about orange markers and yellow fog lights on this color car looked better in my opinion. Again, Ebay has Euro headlights everywhere if you still want.

Also installed are H&R springs that give it a lower stance, (see comparison pictures). The car handles much better as well without loss of comfort of the ride, but doesn't look like a 'low rider' either, looks more like today's cars. Not sure why they had the front end up so high on the diesel models.

The Transmission was rebuilt this year officially by Mercedes and is perfect.

The wood is shiny with no scratches. The wood on just the two front doors has cracks in the clear on the wood but no fading. Wood pieces are easy to find on Ebay.

Even the speedometer needles are bright and not faded like you usually see, and the speedometer glass isn't yellowed or scratched.

The windshield has no cracks. Has a Mercedes inspection sticker that the cars came with from the factory.

The tail lights and markers in front including fogs are all original, and are glossy and non-faded and swirl-mark free as new.

The following are those things that are usually broken on most W126's of this age:
Most have radio broken
Most have antenna broken
Most have sunroof broken
Most have dash pods broken
Most have clock broken
Most have cruise control broken.

All huge expenses. On this car they all work, because someone took care of it.

It has the original radio rebuilt by the original manufacturer Becker in Nov 2016 (have records) and they added a cable for your phone or MP3 player but still keeping the original look. The cassette desk works. The original antenna still works perfectly, has 3 positions, off, automatic up and down depending on signal, or full up.

Sunroof works…

Clock works with perfect accuracy and has been repaired with new capacitors that will go another 35 years.

Cruise Control works as the circuit card has been resoldered and repaired.

The A/C is cold and all the vents work when you switch from one to the other as they should.
This car even has rear AC.

Power Windows work

Power Mirror works

Door Locks including trunk and gas lid work

All gauges work

I get about 28 mpg freeway.

The car tracks straight, brakes straight, and the steering is tight with zero slop. This thing is really made for the Autobahn, and I'd trust my life with its handling.

All dome lights, license plate lights, trunk light, and courtesy lights in the doors and ceiling are white LED like the new cars. (see pics)

The interior is all original and the leather is still soft and supple, not like cardboard like most of these out there. Always garaged. The rear cloth dashes are usually faded, this isn't.

Best part about this car is no computers, you can do everything yourself if you are so inclined.

The anodizing gold colored coating is still present in the engine bay.

The door panels have been removed, window tracks greased, and soundproofing added to the interior door panels. This is the quietest W126 out there in terms of road noise. Of course the engine noise of a diesel is louder at speed than the gasoline models.

The pictures have an intentional range of lighting, from daytime all the way to dusk and night. I wanted to reflect the car in all different times of day. Sorry if some of the nighttime ones are more fuzzy, I'm not a professional photographer.

WORK DONE:

Hood Cable Replaced 83k, November 2007
Oil/Filter 83k, November 2007
Air Filter 83k, November 2007
Diesel Purge 83k, November 2007
Fuel Filter 83k, November 2007
Fuel Primer and Pump, 83k, November 2007
Alternator 83k, September 2007 $200
Engine/Motor Mounts 83k, February 2008
Engine Shock, 83k, February 2008
Valve Adjustment, 83k, February 2008
Oil Separator O-Ring, 83k, February 2008
Turbo drain O-Ring and Seal, 83k, February 2008
Fuel Injectors 83k, February 2008
Window Tint in 2010
Emissions Pass April 2013
Valve Adjustment 106k, February 2014
Vacuum Modulator 106k, February 2014
Battery 107k, April 2014
Rear Sway Bar Link/Arms 107k, October 2014
Fuel Filter 107k, November 2014
Glow Plugs 107k
Differential Fluid Change 108k, March 2015
Valve Adjustment 108k, November 2015
Engine Shock Bumper 108k, November 2015
Oil Filler Cap Gasket 108k, November 2015
Valve Cover Gasket 109k, March 2016
Oil Change, 111k, November 2016
Transmission Fluid Change 111k, November 2016
Fuel filters 111k, November 2016
Brake fluid change 111k, November 2016
Differential fluid change 111k, November 2016
Adjusted valves 111k, November 2016
Wheel Bearings front 111k, November 2016, $500
Brake Rotors and Pads front 111k, November 2016
Transmission Seals Leaking After 30 years, so it was Rebuilt by Mercedes Factory 111k November 2016, $1,600
H&R Springs 111k, November 2016
Radio Rebuilt by Original Manufacturer 111k, November 2016
Two new front tires, as before we realized it was really the wheel bearings, we tried tires.

PROBLEMS: All these problems are shown in the pics and the YouTube video:

Aesthetically:

– Battery acid made a drip on the right front quarter panel (see pics and video)
– The paint is cracked (lacquer crack) on the right rear quarter panel (see pics and video)
– The wood on the two front doors has hairline cracks in the clearcoat (see pics and video)
– Dashboard is cracked, there is a molded dash cover on there now which no one would ever know it was a cover. (see pics)
– Paint on roof has some deep swirl marks that most likely will come off with heavy rubbing compound buffing (see pics and video)
– Drivers seat has a spot where it looks like someone may have repaired a rip (see pics and video)

Mechanically:

– Shop verified that #3 fuel injector or prechamber is making it knock/tap and shake slightly, and if it is the prechamber said to not worry about it for another 100k miles. The car shakes only at idle and smokes only at startup in the morning because of that fuel injector or prechamber. See my videos, you can tell it's not shaking itself to death. Upon ANY throttle increase it smooths right out and the knock disappears. The thing cruises perfectly and and is very responsive and powerful as you can see in the video.

FEATURES OF CAR:

3.0 Liter, Inline 5 cylinder Inline Turbo Diesel Engine with 123hp and 181 ft/lbs torque
4 Speed Automatic Transmission
Power Windows
Power Seats (8 way)
Power Door Locks
Power Steering
Power Brakes (Disc all around)
Power Side Mirror
Electric Antenna
Cruise Control
AM/FM Radio with cassette (and now with MP3/Ipod input)
Visors with Lighted Vanity Mirrors
12v Power Sockets up Front and in Rear Doors.
Analog Clock
Analog Speedometer
Analog Tachometer
Analog Oil Pressure Gauge
Analog Temperature Gauge
Automatic Climate Control for Both Heating and Cooling
Rear A/C Vent
Rear Folding Arm Rest
Rear Reading Lights on Pillars
Lighted Glove Box
Courtesy Lights in all Four Doors
Low Battery Warning Light
Low Coolant Warning Light
Low Brake Fluid Warning Light
Low Washer Fluid Warning Light
External Bulb out Warning Light
Wiper Washer Squirter
Green Heat Insulating Glass
Crumple Zones to Absorb Impact of Accidents
Seatbelt Pre-Tensioners (seatbelts that have motors that pull you back into seat during accident)

CELEBRITIES KNOWN TO OWN:

Stan Lee (see pics)
Ayrton Senna
Hugh Hefner
Johnny Cash
Johnny Carson
Sylvester Stallone
John Gotti
Lionel Ritchie
Willie Mays
George Harrison
Michael Jackson (see pics)
Lucille Ball
Paul McCartney
The Pope
Joe Dimaggio
Clint Eastwood (see pics)
Willie Nelson
Nigel Mansel
Gary Busey (see pics)
Cheryl Tiegs
Arthur C. Clarke
Flea from Red Hot Chili Peppers
Mc Hammer
Malcolm McDowell

If it is good enough for all of them, it is good enough for me. And it has been. I got rid of my late model year weekend car to have this one for weekends and I'd do it all over again. I also liked the feeling that it is widely associated as a movie bad guy/villain car. People really do get out of your way with respect when you are behind them. Unfortunately, I'm moving and won't have a garage so it has to go.

$500 deposit due within 48 hours via PayPal. Remainder of payment in full within 7 days. If you'd like an inspection, it will be at your expense and before you bid, not after you auction as this is sold as-is. If you have questions please ask, at 33 years old it isn't absolutely perfect. I reserve the right to end this auction at any time in the event someone buys it from me locally.

Local pickup or buyer arranges and pays for transportation.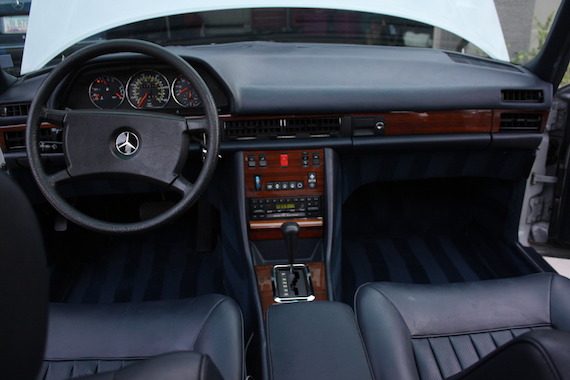 This particular 300SD looks lovely in the very unusual color of Ascot Grey over a dark blue leather interior. Some cosmetic flaws are listed in the ad, but the photos and video depict a very clean car that presents very well overall. The odometer shows a mere 111k miles (a very slight figure for a MB diesel of this vintage), the car benefits from the addition of slimmer, European bumpers (a subtle but welcome upgrade) and it sits a little lower than stock on upgraded H&R springs (the seller is right to point out that early model diesels had stock suspension that made them sit unusually high).
All accessories are said to work and a good amount of maintenance history is listed in the ad, indicating that this car has been well cared for. The only significant mechanical issue is an an unresolved problem with a fuel injector that appears to give the car a slight shake at idle. The cracking paint on the quarter panel is pretty unsightly (the image is buried way down in the listing) and quite surprising given the condition of the rest of the car.
I'm a little surprised that the bidding is already at $8k, which is strong money. In light of this, I suspect this car will sell for around $9-10k. That's certainly no bargain, but it's not too bad for a clean and attractive MB diesel that will dutifully serve its next owner for at least a couple more decades.
– Craig