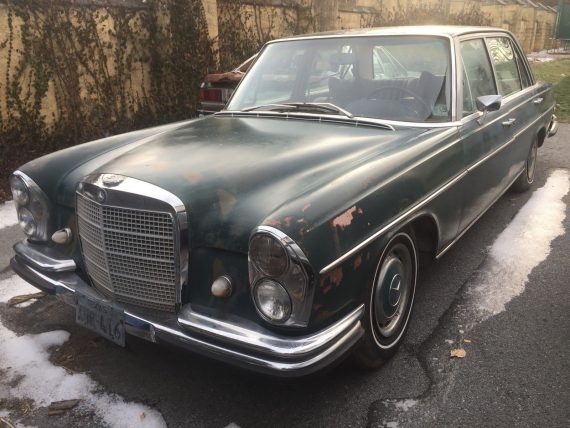 Every time I see a car that is usually expensive, selling for a price that is inexplicably inexpensive, the gears in my head start turning. Could I buy this one on the cheap, fix it up and perhaps not lose money on it? Better yet – could I buy it, not do a thing, let it sit and probably not lose money on it? Thank goodness I physically can't fit another vehicle in my garages and driveway because when I see cars like today's, those damn gears start moving.
The W109 300SEL 6.3 has quickly become a collector car that everyone in the Mercedes circles are rushing to snag up. Prices have been going up at an alarming rate thanks to folks like Jay Leno proclaiming his love for it.  I understand where he's coming from because the 6.3, in my opinion, is one of the finest sedans Mercedes has ever made. It's also generally considered one of the first "super sedans" – the prototype for not only later AMG models, but cars like the M5. Sticking the M100 V8 into the handsome W109 body and building it to a standard of above average durability and reliability made this car a winner the day it left the factory. The only problem was all the greatness is that it costs a lot of money upfront and even more to maintain at a reasonable level. This is where some solid math skills and judging your mechanical ability come into play when deciding whether to take the plunge on a project like this 1969 6.3 up for bid in Eastern, Pennsylvania.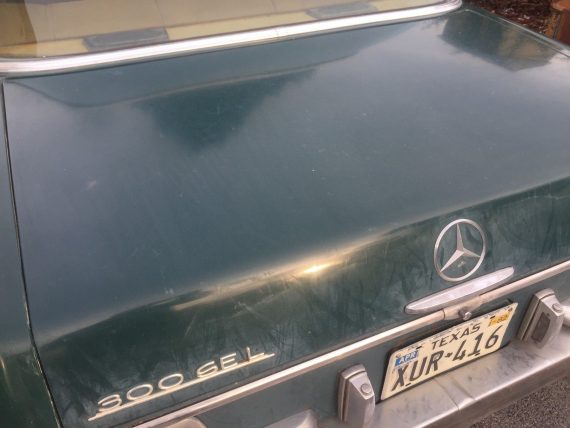 Year: 1969
Model: 300SEL 6.3
Engine: 6.3 liter V8
Transmission: 4-speed automatic
Mileage: 16,064 mi
Price: Reserve auction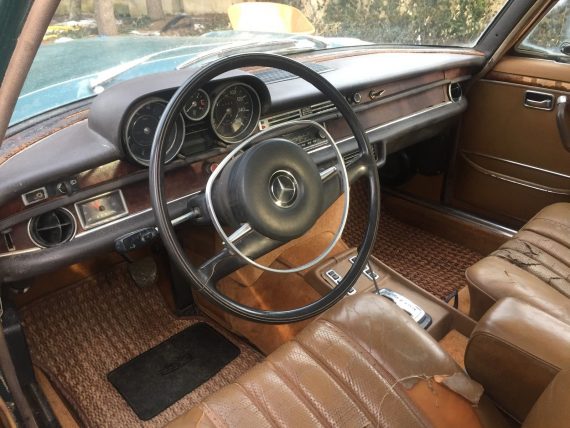 1969 Mercedes Benz 6.3 Liter Sedan Running and Driving
1 -owner

Entirely Rust Free Texas car!
Full Books and ownership Docs.
Factory manuals
Factory spare & jack
Original paint and interior. Excellent Patina , entirely original from 1969.
All glass is perfect no cracks and factory fitted.
Motor starts and idles nicely.

Work Recently Completed:
Complete fuel system flush, rebuilt fuel pump, new plugs and cleaned injectors.
Fuel tank dropped and cleaned and new lines.
Brand new battery with warranty and new brake pads.

All exterior lights work and complete without cracks, aside from passenger side front "bullet turn signal" which has been ordered and will go with the car, or can be fitted before pickup.
Factory grill star with the car and with the car in the trunk
Original Kangol seatbelts intact
Original radio still intact and works!
Dash gauges all function!
Tires are good tread but older dates, will need replacing for daily driving
Cars are only original once. This car is a true survivor! Don't miss out on this beast of a car! 6.3 power plant same as the flagship 600!
See Photos for a Solid Rust Free, Original Example. No Patches Anywhere!
Magnet Metal test on every 6″ of this body. No filler!

Do Not Miss This Rare 6.3 Example , Original and Driving!

Over 100 Photos can be seen at :
http://www.dropbox.com/sh/66cbph42qkupftl/AAAeXiFLmxGDQIEYLfhJ7Jkda?dl=0#f:P1030503.JPG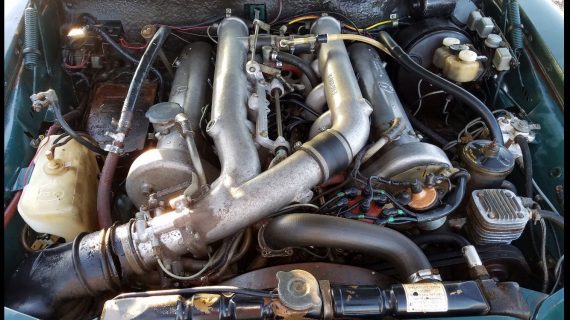 Looking at the photos and auction description, the car is a true barn find. A testament to their durability, despite looking like it hasn't moved in decades, this car runs and drives. So put some new tires on it and head on down the road in your new cheap 6.3, right? Not so fast.
I admit, I'm not an expert in M100 powered cars because those cars are a little out of my ballpark for something I might only drive a 1,000 miles a year. I haven't exactly spent the time studying every aspect of these cars either. Luckily in the small W116 (a car I do own) community there is a someone who does know every aspect of these cars. Aaron Householder is the proprietor of DAS Auto Shoppe in Knoxville, Tennessee where he restores and repairs classic Mercedes-Benz. He also owns a W109 6.3 and the legendary 600 (another M100 powered car) so I did the logical thing here and sent him the link to this car to get his quick thoughts from what he could see. His response is as follows:
Well, at 116,000 miles, (likely more since they are notorious for breaking) it'll need front end work. They didn't mention anything about the condition of the air suspension, either. If it's mechanically sound, that's great, but it'll still need timing chain and tensioner, and maybe a valve job. The transmission is likely leaking, and the rear axle will definitely need re-bushed.

The interior carpet, leather, wood, and horse hairs (if needed) will set you back 10-15k alone. A good paint job with proper paint will run around 10k. Cosmetically, 25k sounds reasonable.

It's really hard to say what the car will end up auctioning off for. If I had to guess, it'll likely sell for 10-20k, maybe a little more. Assuming it sells for 20k, and you spend 25k on the cosmetics, you'll be in if for 45k. We both know that it'll end up needing more than cosmetics. What exactly? I don't know. My point here is to point out that when it's all said and done, you'll have much more in the car than it'll ever be worth, but if you're ok with that, then enjoy it! I don't think you'll be sorry in the least.

It's really hard to ask for mediocre work when it comes to cosmetics …there just isn't an "in between" when it comes to things like paint or wood and leather work. It's either awful or nice.

Ask the seller for some pictures of the underside of the car and under the trunk mat. It definitely looks to have good bones, and the color combination of dark green and cognac leather is absolutely stunning. That color paint is even prettier when it's new. If I had the money, and didn't already have a 6.3, I'd most definitely be interested in it. Also, it's an early 6.3, so it'll have more horsepower than the later ones.
So there you go. You can reasonably spend $45,000 on this car barring any surprises and realistically have a car that you couldn't sell for $45,000. That price isn't at a level of 18th green on Pebble Beach either. The market has been a little softer for 6.3s of late with another 1969 struggling to crack $20,000 despite being listed mutiple times being listed on eBay. Things aren't looking great for the 600 either with a nice 1965 selling for $65,000.
Aaron really hit the nail on the head here. You'll have a car that you have sunk way more into it than it'll probably be worth in the short to mid-term, but you won't be sorry that you did it.
– Andrew