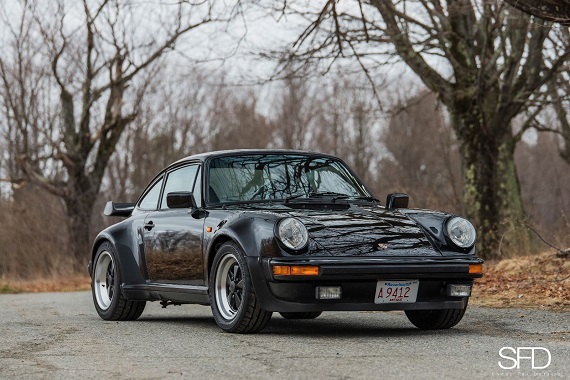 I'm going to get back to basics today with this Black 1983 Porsche 930, located in Boston, with 48,997 miles on it. A Black 930 is a frequent resident of these pages and even for someone like me who really enjoys brightly colored cars these still possess their own singular allure. Of course, the 930 itself is far from basic machinery and provides a combination of performance and luxury rivaled by few cars in its day. While they are eclipsed by modern supercars in each regard they possess a raw ferocity that commands a driver's attention and rewards those who master their sometimes difficult dynamics. A heavy does of rear power will do that. This particular 930 was never available in the US market due to Porsche ceasing to send them over from 1980-1985. But examples from those years can be had now and this one looks in nice shape.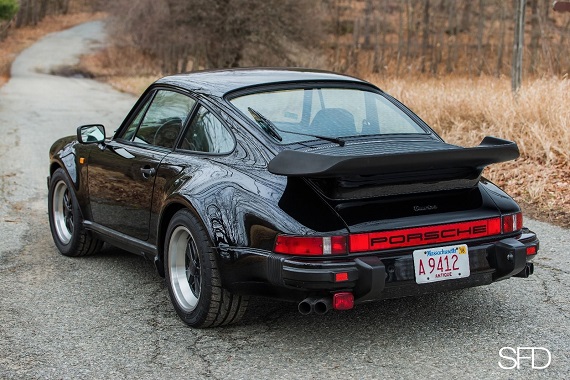 Year: 1983
Model: 911 Turbo
Engine: 3.3 liter turbocharged flat-6
Transmission: 4-speed manual
Mileage: 48,997 mi
Price: $130,000 Buy It Now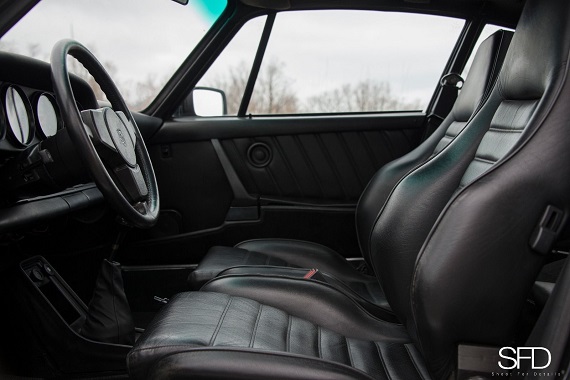 1983 Porsche 930 or 911 Turbo 2nd owner, meticulously maintained, comprehensive service records, low mileage, excellent original condition, matching numbers, COA, VIN #WP0ZZZ93ZDS000873, original color black with black interior, excellent example of original car including Blaupunkt stereo, paint in pristine condition – interior and exterior 9 out 10. Best way to describe car is STUNNING!

2nd owner purchased car 18 years ago. Euro/ROW car that was imported into U.S.
Mileage 48,997
Stored in garage under car cover, never left in sun or driven in rain, original paint looks like new
Highly documented car – have all records since I have owned car since 14,900 miles
Has been a well maintained car that is very reliable – it needs nothing and ready to drive or garaged
Recent comprehensive service in February 2016 to ensure car is in perfect condition before sale
New tires only have a few hundred miles on car
Car is original condition (stock engine, rebuilt original turbo few hundred miles ago, original intercooler)
Rebuilt engine with only 6k miles since rebuild
Interior is 100% original and in very good condition
Exterior is original paint and excellent condition – glossy and smooth (only imperfection is minor bubbles under rubber by front left of hood – see photos) – the paint in my 1983 930 looks better than the paint in my 2007 GT3 RS
Hood was repainted a couple of years ago as had minor road rash that was bothering me – not the car is simply stunning
Accident free car
Installed aluminum well crafted battery cut-off switch as allows for long-term storage without draining battery
Selling package includes owners manual and pouch, original first aid kit, road hazard, spare tire, tools, 3 keys, and car cover
Selling car as it is rarely driven (2k miles in last five years); also need garage space

I will miss this car as it has been a part of the family – as a classic and sports car enthusiast, there are very few cars that give you the exhilaration when the turbo really kicks in– it is something you must experience.

If you have any additional questions, Please call Aubrey (I'm the private seller) at 617 462 five four zero four or email aubreybout@yahoo.com with any questions. I'm more than happy to talk about my 930 – it has received lots of TLC over the last 33 years. Not only is this car a long-term investment, it will give you many years of joy and will become part of your family as it has been part of my family.

The car is located west of Boston, MA. Happy to arrange for an inspection for interested parties.

I will consider all reasonable offers.

Winning bidder would need to put a $500 deposit via Paypal.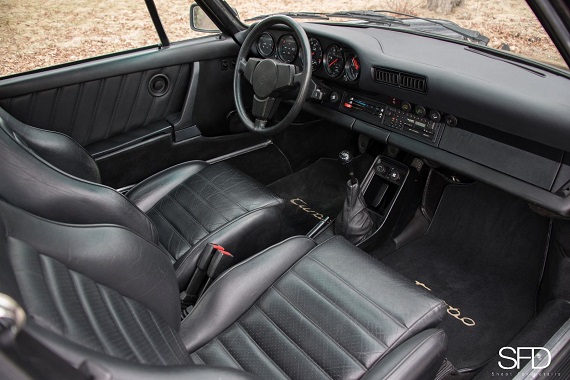 For some reason the "Antique" license plate seen here makes me chuckle. A 930 just isn't what springs to mind when I think of an antique car. I know these designations are determined by age rather than model type, but I still find it funny. Anyway, this 930 presents quite well and looks to be a very nice example of a low-mileage original car and while the color combination isn't rare by any means it remains a combination desired by many. I will admit I'm having some trouble figuring out the 930 market. Or at least I'm having trouble correlating many of the auctions I'm seeing with some reported values. According to Hagerty, this 930 is probably a bargain at $130K. However, I'm not really seeing the prices quoted by Hagerty reflected in the auctions I've followed. This is especially true for 930s produced in the '80s. Early examples, particularly the 3.0-liter cars, seem to be pulling these high numbers, but once we get into the '80s things begin to diverge. I don't have an answer as to why that is. As such, I don't have a good sense of where this 930 should be valued. My instinct tells me it's priced at the high end of the market for an '83 930. Perhaps I'm mistaken and Hagerty is correct, in which case someone should buy this immediately. It's something we'll continue to have our eye on and I'll watch this one in particular.
-Rob