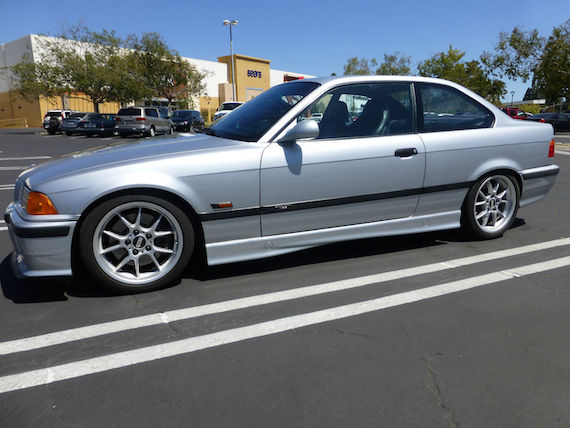 I've been seeing a pristine white E36 M3 coupe on perfect Style 22s, looking like a wonderful mix of stock daily driver that gets pampered in the garage every night. Even though history has shown it to be the most banal M3, there are still so many things right about this car. It's sized right. The simple but aggressive lines perfectly support the car's ethos. Just as I imagine that white example is cared for, the E36 M3 is the perfect car to dote upon, drive every day, and enjoy the hell out of.
This one-owner silver 1995 coupe is not quite the same stock-queen as the local white one, but it's has just 90k miles and a host of well-chosen modifications. Suspension upgrades, chip, brakes, exhaust, and wheels complete the standard modification lineup on this now two-decades-old M3 that brings a few nice stock options like the slicktop sunroof delete and Vader seats. For just $10,500, it's the perfect representation of why the E36 M3 is in the running for best performance value available.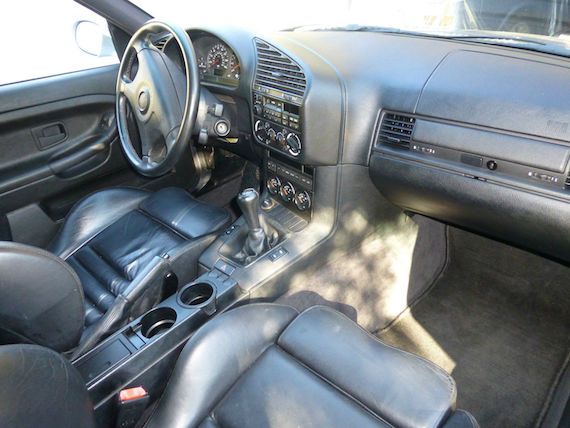 Year: 1995
Model: M3
Engine: 3.0 liter inline-6
Transmission: 5-speed manual
Mileage: 91,137 mi
Price: $10,500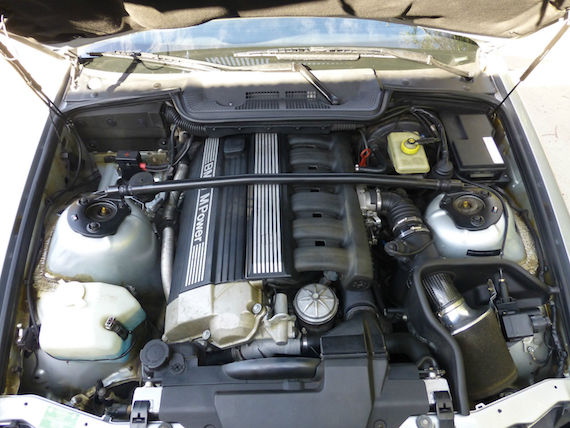 RARE 1995 E36 ///M3 SLICKTOP (RARE SUNROOF DELETE). THE ONLY YEAR WITH THE S50 ENGINE AND OBD-1

NON-SMOKER OWNED. GARAGE KEPT. NEVER DRIVEN IN THE SNOW.

– AIR CONDITIONING BLOWS COLD
– VADER SEATS (MANUAL)
– 11 BUTTON ON-BOARD COMPUTER w/BAD PIXELS
– CRUISE CONTROL (OPTION)
– HIFI LOUDSPEAKER SYSTEM
– M LEATHER STEERING WHEEL
– ANALOG DUAL CLIMATE CONTROL

PERFORMANCE PARTS

– TURNER PERFORMANCE CHIP
– CONFORTI COLD AIR INTAKE
– EURO HFM
– ALUMINUM RADIATOR
– ALUMINUM THERMOSTAT HOUSING
– WATER PUMP WITH METAL IMPELLER
– FUEL PUMP UPGRADE
– UUC STAINLESS STEEL EXHAUST
– B&M SHORT SHIFT KIT
– MOTORSPORT X-BRACE
– MOTORSPORT FRONT STRUT BAR (RARE)
– T C KLINE REAR UPPER SHOCK MOUNTS
– KONI SINGLE ADJUSTABLE SHOCKS
– H&R SPORT SPRINGS
– SWAY BARBARIANS FRONT/REAR ANTIROLL BARS
– MOTORSPORT TWO PIECE FRONT BRAKE ROTORS
– STAINLESS STEEL BRAKE LINES
– 7.5X17 BBS RK WHEELS (INCLUDING SPARE)
– VDO 3-GAUGE CLUSTER
– NEW OEM Floor Mats
– NEW COWL COVER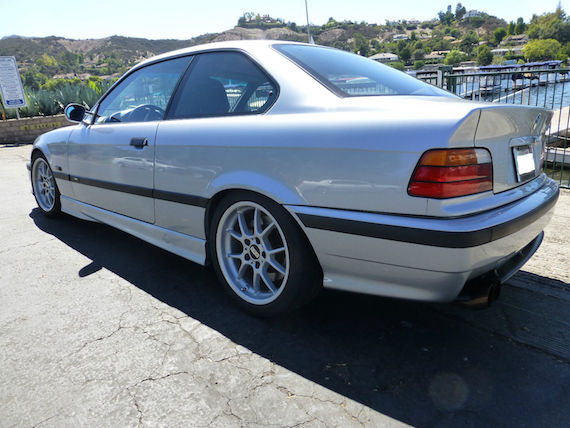 Personally, I'd raise it up from its current position of framerails resting on the concrete and find some Style 22s to replace the expensive and popular but too-aftermarket BBS RKs. The interior looks like it has been used by less-than-gentle butts, but some leather-care products and gentler use from here on out can keep this E36 looking great. Even with a little stockification in the looks department, the modifications are going to do their job and make this acclaimed driver's car handle even better. As nice examples of the E30 325is climb towards five-figures, why not just rock the people's ///M and spend a smart $10k here?
-NR