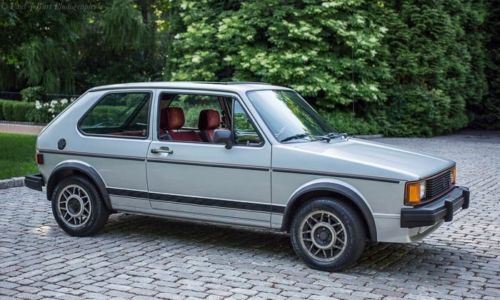 While it's awesome to contemplate museum-quality classics from the 1980s, the reality for most enthusiasts is that they're quickly being priced out of the market. And let's say you do drop some semi-obscene amount on your weapon of choice – what then? Are you going to drive it to the market, knowing that every trip means a chance at being run over by a cellphone wielding driver who was much more impressed with their Snapchat convo than your Snap-on collection? Some will, but more than a few cars will be tightly wrapped in their protective blankets, seldom to see the light of day for fear of falling residuals. It's therefore a bit refreshing to see a clean example of a classic that isn't absurdly priced or ostentatiously presented, a driver-quality car that can be improved upon and enjoyed. This 1983 GTi is just such a ride; clean overall but not perfect and not claimed to be, the seller has opted for a no reserve auction. Yea!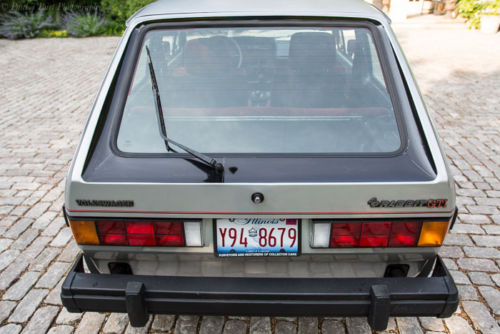 Year: 1983
Model: GTi
Engine: 1.8 liter inline-4
Transmission: 5-speed manual
Mileage: 88,900 mi
Price: No Reserve Auction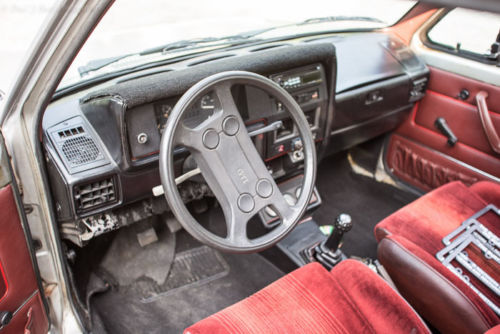 You are bidding on a 1983 Volkswagen GTI. The original hot hatch.

I purchased a 1984 GTI brand new. It was my first new car and what a thrill it was to drive. Despite her 90 horsepower engine – she was considered quick. Still feels quick today. Why? She weighs only 1,800lbs.

You can toss this GTI into corners with aplomb – floor it in every gear (without discernible torque steer) and average 30 mpg doing so.

If you are reading this listing, you already know iconic nature of this car. GTI's have their own cult following. One that I espoused. Sadly, I must let mine go. I am restoring three other cars currently. She deserves to be with another enthusiast that will restore her (or drive her as is). She is certainly a dependable daily driver.

Driving the MKI GTI reminds you why these hot hatches were so darn successful. There is no ABS, traction control or other electronic aids, just light weight and ample power to put a huge grin on your face. And everyone seems to know what this car is – judging by the number of thumbs up and smiles I get when I take her to town.

Features:

88,900 original miles (due to age title may say mileage exempt), thus cannot guarantee mileage

Silver over red interior

Manual crank sunroof

Five original GTI rims

Front and rear seats in very nice condition

Starts on the first turn of the key

Shifts excellently

Runs great, does not smoke

Brakes work very well

Emergency brake works well

Glass is in fine shape

Aftermarket Alpine Radio

Many extra parts included (see pictures)- red dash (no cracks), two additional used rims, rear wiper container (not cracked), one additional used setback, additional red console with gauges, additional electronic parts

Tires in great shape

No A/C

Rust free!!!

Membership into the GTI cult is free, btw. Parts for the Rabbit are plentiful on Ebay.

Here is a great blurb about the collectability of the car written by Curbside Classics:

When the GTI did debut in the US for 1983, it had several significant enhancements from the base Rabbit. Foremost was the 1.8-liter 90-hp fuel injected engine that featured redesigned cylinder heads and a higher compression ratio. In addition to the engine (bored out and 22% more powerful than the standard Rabbit's), GTIs received a close-ratio 5-speed transmission, a free-flow exhaust, and a suspension featuring recalibrated struts, stiffer springs, and front and rear stabilizer bars. Clearly, this was a serious effort at a performance car.

The GTI could reach 60 mph in about 10 seconds – not noteworthy today, but impressive by 1983 standards, and the fastest Volkswagen made until that time. However, the car's most compelling performance attribute was its handling. The un-boosted steering provided exceptional feel, and the suspension components produced a rare combination of high capabilities and reasonable comfort. GTIs were literally cars that could be raced on the weekend, and then driven to work in perfect comfort the next day.

Everything meshed together in this car's performance attributes, and its driving experience could be summed up in one word: Fun. After a decade of steadily vanishing fun, fun was back in cars, thanks to the GTI.

Visually, the car was still 90% Rabbit, but details suggested it was something more. A front air dam, fender flares, and 60-series tires on snowflake-pattern alloy wheels (from the Quantum) gave the car a more aggressive stance. Black-painted bumpers and trim, and subtle red GTI badges (the grille-mounted badge is missing on our featured car) completed the package. 1983 GTIs were available only in white, red, silver or black.

Inside, some GTIs received eye-poppingly vivid red (called cordovan in VW literature) upholstery, while others had a more subdued midnight blue interior. Less noticeable features included a newly designed steering wheel, full instrumentation, and a unique dimpled shift knob.

This is, remember, a no reserve auction. The last bidder wins.

Now for the legalese: This is a no reserve auction. The car is not new, it is used and sold as-is, where is. We encourage email questions and inspections. My rating is important to me, as is your satisfaction. But, although she can be driven as is, I envision a restoration for the new owner.

Methods of Payment …

Certified check, Bank to Bank wire transfers, or 3rd-party financing. All funds must be in US dollars only. Please be sure to have full payment and/or approved financing in place before making your final bid. Please call us with any questions or additional information. Due to the difficulty of Foreign Currency/Bank Transactions, purchases from clients outside of the United States, must pay by Wire Transfer only. Please call with any questions or explanations.

Deposit Due …

The successful high bidder will submit a $500 NON-REFUNDABLE Deposit due immediately following the close of the auction. This $500 deposit is good towards the purchase of the vehicle and will be deducted from the total amount of the purchase. We accept PAYPAL only for the initial deposit only. If the vehicle cannot be picked up or paid for completely within 7-days from the close of auction, Deposits and fees are NON-REFUNDABLE if the vehicle is not paid for.

Balance of Payment Due …

The buyer agrees to pay remaining balance due (plus applicable fees and taxes) within 7 days of the close of the auction. All financial transactions must be completed before delivery of the vehicle.

Vehicle Titles …


I have a clear title in hand and ready for delivery. If payment is made other than wire transfer (ie: certified check), I will hold the title for 5-10 business days or until ALL funds have cleared. Please call if you have any questions regarding our titling policy.

Vehicle Shipping …

I can assist with shipping. Storage fees will apply if the car stays with me after 7 days of the auction close, unless otherwise agreed upon.

Buyer Inspections …

Every effort has been made to accurately and fairly describe this vehicle to you. I have tried to disclose all information known about this vehicle for you to make an informed decision. I have posted many pictures, especially those that show flaws. Please be advised that used vehicles will have typical scratches and dings inherent for their year and mechanical parts are subject to fail. I welcome and recommends a buyer's inspection. If you plan to have a buyers inspection, please make sure you inspect the vehicle prior to the auction ending. Buyer is responsible for any inspection charges and fees. Buyers Inspections MUST be completed prior to 24 hours before the end of auction.

Warranty Information and Extended Service Contracts …

Unless otherwise stated in the vehicle description, this vehicle is being sold "as is". No representations or warranties are made by seller, nor are any representations or warranties relied upon by bidders in making bids.

Notice to Bidders …

I reserve the right to cancel all bids and end an auction early should the vehicle no longer be available for sale. It is agreed by all parties in relation to any transaction involving this vehicle that the proper venue for any legal proceedings will be conducted in the state of Illinois. Miles posted in this listing may vary slightly due to local test driving, in-transit repairs, or road testing. Vehicles that are older than 10 years and/or have more than 100,000 miles will be sold as miles exempt. These are pre-owned vehicles and they are sold as 'As Is' condition.

The buyer is responsible for ALL SHIPPING COSTs.

Vehicle Condition …

This car is NOT brand new. It is personally owned by me. Please expect a certain amount of wear, use, and flaws, as is standard on ANY pre-owned vehicle that has been driven. All pre-owned vehicles including this one may have dings, nicks, chips, scratches and any other marks that are associated with use consistent with age and mileage of the vehicle. Any known obvious defects that are not normal wear and tear will be noted in the listing.

If you have any questions in regards to this, please do not hesitate to call. We will be happy to answer any of your questions.

Bid Retractions …

Bid retractions are not allowed nor will be recognized within 12 hours of auctions end. Seller will not be obligated to sell in the event of a late retraction.

Negative or ..0.. Feedback Bidders …

I do not allow bidding from negative feedback bidders. New bidders with zero feedback rating should email us or call us prior to bidding.

Successful Bidder …

The winning bidder will be contacted via email after the auction closes or he/she must contact me. within 24 hours to proceed with payment and delivery arrangements.

Non-Paying Bidder …

If your deposit is not received within 1 Day of the close of auction or if the balance is not paid in full within 7 days following the close of auction, we reserve the right to re-list the vehicle or sell the vehicle to the next highest bidder or another qualified buyer. Venue for any legal action such as claims, motions, litigation, settlements, or any legal action associated with this sale from either the buyer or seller is to take place in the State of Illinois. Placing your bid on this auction constitutes your agreement and acceptance of these terms and conditions. In addition, all non paying bidders will be held liable for a $500 re-listing fee that if not paid, WILL be filed with all 3 major credit bureaus. You are entering into a Legal Purchase that should not be taken lightly. No-Excuses of any kind will be accepted for non payment

On Jun-15-16 at 13:33:59 PDT, seller added the following information:

Please email me if you would like pictures of the parts.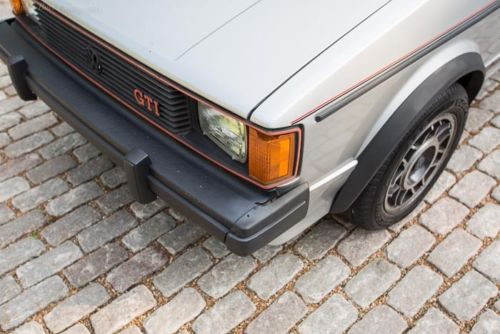 There's a lot to like here, but most important is that this car isn't a wreck and is being offered at no reserve, so we can drop the pretenses of claiming it is or isn't worth a certain dollar figure and watch what happens in the auction. And plenty of people are watching, with 40 bids having already pushed the current bid past $4,000. While we've seen really good examples trade north of $11,000 – sometimes, even over double that amount for the right car, I would tend to believe this one won't make it there. For a little less than perfection, you get a more affordable driver that can be improved upon at a much more reasonable rate.
-Carter