You don't see these come up for sale very often, especially in the U.S. Check out this with 4 days to go: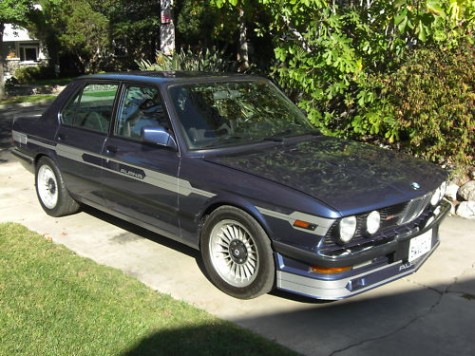 quote from seller's listing:
For sale is one of only 236 Alpina B7 Turbos made in the E28 body style, VIN WAPB7TL014B710051. It is one of only 5 known to be in North America. It is an authentic, original Alpina, very rare in the US especially, and has all of the parts that Alpina installed on these cars when new. The adjustable-boost turbocharged engine puts out 300 horsepower. It has a 5-speed close-ratio ("dog-leg") transmission. It has a limited-slip differential. It has 16×7″ Alpina open-lug wheels on the front and 16×8″ wheels on the back, with good tires. The paint is fairly new, and is the "Alpina blue" color that Alpina paints many of its cars. It was repainted from graphite, but done professionally so no graphite remains. The wide silver deco set (stripe kit) is new, from Alpina. It has an electric sunroof, a stock cassette deck, power windows and door locks. No A/C, as the turbo takes up the place where the compressor would go. It also has the rare digital extra gauge cluster in the A/C duct on the dash. We have all the documents necessary to register the car here in the US, and will assist the buyer in doing so.
And for those who aren't familiar with the model, a quote from the Unofficial Alpina Site:
This is the second-generation B7 Turbo, introduced in April 1984. Once again had a car with the name B7 Turbo the title of being the fastest 4-door car in the world. The production ended in July 1987 and a total of 236 cars were built.

[…]

The engine is based on BMW´s 3,5 litre unit, which in standard version produces 218 bhp. Alpina have made many changes to the engine such as a reprogrammed Motronic system, a modified cylinder-head, lighter mahle-pistons, a new camshaft, a special exhaust manifold and of course a KKK K27 turbocharger. The engine has higher compression than the old B7 Turbo so Alpina have decreased the turbo boost to 0,7 bar, because they didn´t want the B7 to have more than 300 bhp. That´s exacly what it has, 300 bhp and a torque of 501 Nm. The catalyst-version had 320 bhp and a torque of 509 Nm. The gearbox is a five-speeder from Getrag.
I absolutely adore Alpina's of this era (I know, who doesn't?!) and this is a great chance for a collector to get a car that normally would involve a spendy importation. Being a 1984 model, this should be pretty easy to register.
dc