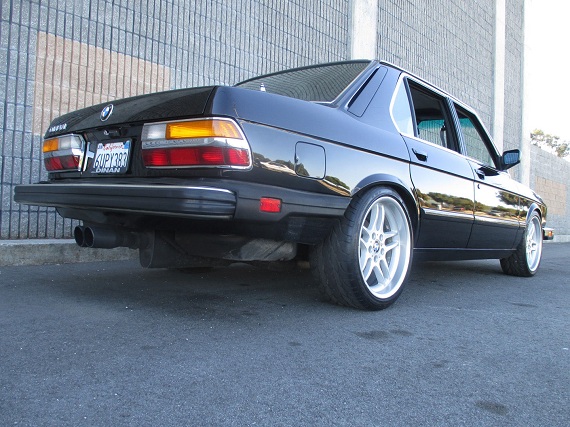 When I was a younger lad, my father was looking for an upgrade to his BMW 635CSi for a track car, and we were scouting out E28 M5s. He finally picked one up, and we headed to the track – these were the days when, short of a modified 930, there wasn't much faster on track than an E28 M5. We were at Lime Rock park, and I excitedly waited for him to come blowing down the front straight, decimating his competition in a wave of speed, power and sound. Yet, when he did appear on the front straight, his arm was out the window – pointing by what appeared to be a fairly unassuming 535i. My 15 year old self couldn't really contemplate what had happened; how could a 535i possibly be faster than an M5? The answer was under the hood, where a Dinan Turbo kit subtly hid; with a reported 400 horsepower on tap at full boost, the M5 was no match for this supercar slayer. That power figure may well have been exaggerated by the owner, but it was no slouch, so I was excited to see a similar 533i 3.5 Dinan Turbo pop up in our Self-Service Classifieds: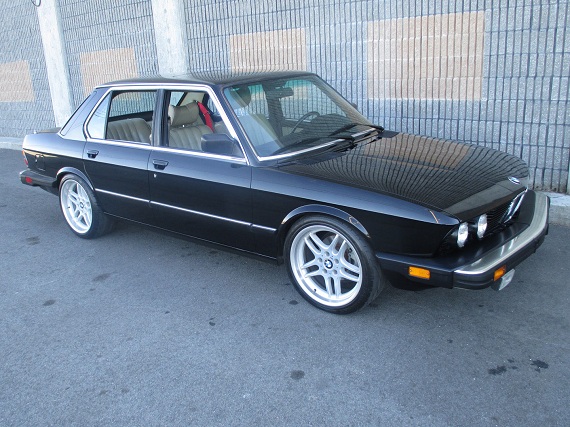 Year: 1984
Model: 533i Dinan Turbo
Engine: 3.5 liter turbocharged inline-6
Transmission: 5-speed manual
Mileage: 191,000 mi
Price: $13,984 Buy It Now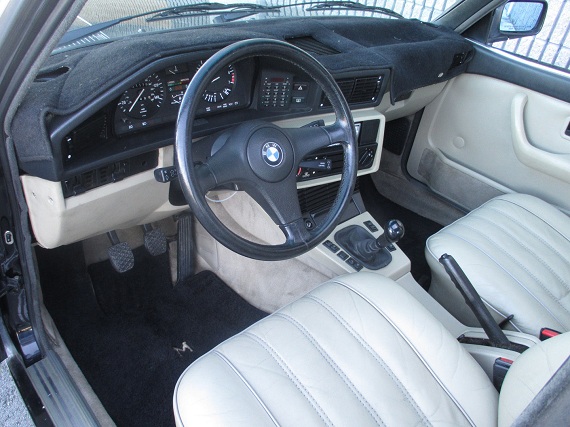 THE OVERVIEW
Offered for an appreciating new owner is this rare one-of-a kind 1984 DINAN BMW 533i 5 Speed!
Finished in original color Shwartz black over tan leather, this 99.9% rust-free always California and Arizona E28 sedan features a DINAN turbocharged and intercooler built 3.5 liter inline six cylinder engine pumping out 385 horsepower with equal torque numbers. It sports the 5 speed manual transmission, 18″ genuine M parallel wheels, lowering springs, Bilstein shocks, electric windows and sunroof, CD stereo, turbo boost gauge and cold air conditioning. It is being sold with clear and clean California title, current smog certificate for CA. residents along with current California registration. And yes it is absolutely California smog legal with all correct legit Dinan and other stickers. It is also being sold with a comprehensive maintenance file AND included with the sale the new owner will receive tan leather E28 M5 front and rear electric seats and a few other interior bits. This is a great find for the Bimmerphile or someone who wants a safe, comfortable and fast sedan in the BMW tradition of ultimate driving machines…for about the cost of the sales tax alone on a new, quickly depreciating M5!

PLEASE CALL 650-307-2251 FOR QUESTIONS, TEST DRIVES AND/OR MECHANICAL INSPECTIONS.

PLEASE EMAIL ME FOR LINK TO MANY MORE PHOTOS AND A TEST DRIVE VIDEO!

THE BODY AND TRIM
The exterior of this thirty year-old classic E28 is in very good to excellent 99,9% rust-free condition overall. It received one high-quality repaint in the original gloss black color about 14 years ago. The paint has held up very well with a still deep lustrous shine. There is one small dent on the driver side rear door, another just under one taillight along with some various rock nicks and other minor blemishes. This is a still a very handsome sedan with a beautiful stance and a great presence!

THE INTERIOR
The interior of this E28 DINAN 5 is in very good to excellent overall condition with nice original carpets, door panels and headliner, some light heat cracking on the dash, restuffed leather front seats, nice original back seats. All gauges and controls work as they should. PLEASE NOTE: The new owner of this car will also get an E28 interior consisting of the electric leather Recaro front seats, rear seats, door panels and other bits.

THE DRIVING EXPERIENCE
This Dinan 5 is an absolute hoot to drive! With a power-to-weight ratio better than and E28 M5, an E34 M5 OR an E39 M5, this car has exhilarating thrusty acceleration even with the current 10 pounds of boost. The braking is straight and true with the steering and suspension components being tight and rattle free as well.

THE DETAILS AND $$$$$
1. This 1984 BMW DINAN 5 will be sold with clean certificate of title. The car will be sold "AS IS" with no written or verbal warranties expressed or implied. I welcome prospective new owners to come see, drive, feel and inspect this car in person. There will be no post-sale inspections to determine whether you actually want to purchase this car. So………. PLEASE bid thoughtfully!
2. Zero feedback bidders please contact me prior to bidding or bids will be cancelled immediately. This car is also being advertised in other venues and I reserve the right to end auction at any time at my discretion.
3. I will assist with shipping arrangements [buyer pays costs]. I recommend Chris at Kelly's Auto Transport at 951-845-6224
4. Winning bidder please call 650-307-2251 or email me thru ebay within 24 hours of auction close.
5. A $500 non-refundable down payment via Paypal w/in 2 days of auction close. [Buy-it-now requires immediate $500 payment]
6. Balance of purchase due via CASH in person, bank wire transfer or certified funds within 5 days of auction close thank you.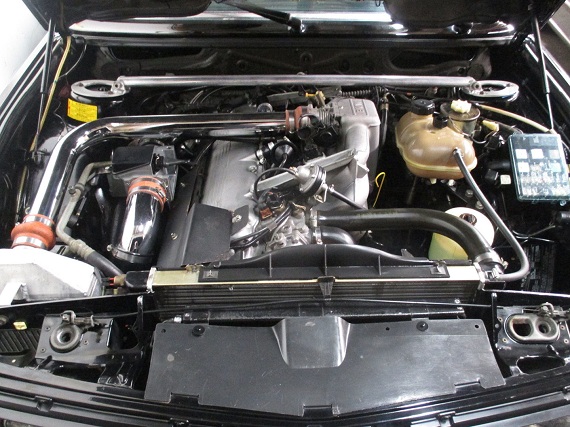 This car certainly seems to shrug off its many miles. The car overall is fairly unassuming – just like my memory – minus the oversized M-Parallel wheels. I think they're a little too big personally, but you could easily recoup the money if you wanted to get rid of them. The interior isn't as great looking as the M5 interiors, but luckily the car comes with a spare interior to solve that problem. Otherwise, perhaps some Euro-spec bumpers and lights and this could be a fun purchase. At about half the going rate of very nice M5s, you'll have a unique bit of BMW history that stands apart from the crowd!
-Carter