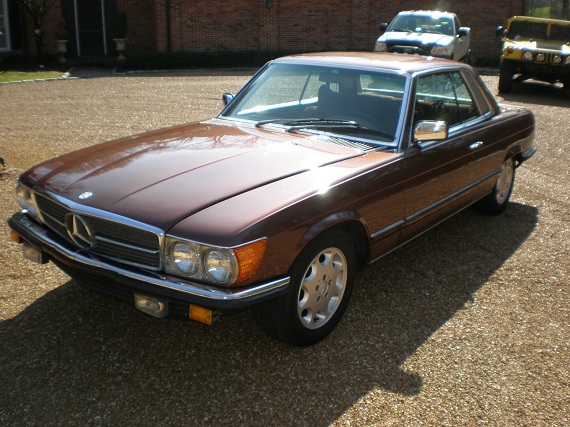 A few weeks ago I wrote up a Euro-spec 1979 Mercedes-Benz 350SE; often overlooked in favor of their larger capacity brothers. That's unfortunate for the reputation of the smaller V8, but it means for enthusiasts you can grab a great deal if you're willing to take the lesser car. Today there's an even more appealing version on Ebay – a 1977 350SLC with low miles, but more importantly a manual transmission!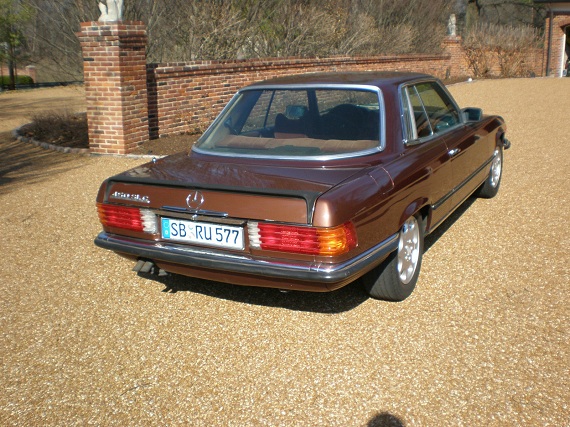 Year: 1977
Model: 350SLC
Engine: 3.5 liter V8
Transmission: 4-speed manual
Mileage: 24,507 mi
Price: No Reserve Auction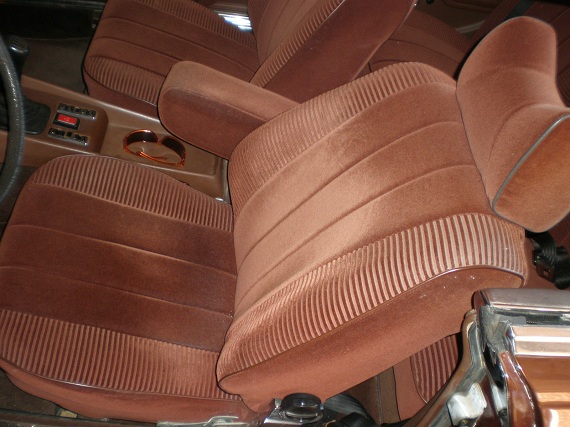 Hello, You are viewing my NO RESERVE, 1977 Mercedes 350slc (badge as a 450slc), European model, with a very rare, 3.5 V8, 4 speed manual transmission with only 24,507 miles.

This Mercedes is believed to be a 3 owner car that was first delivered to Saudi Arabia, and then brought back to the United States in 1986, with 17,113 (I have documentation).

The 2nd owner drove the car and put only 2,798 miles, and stopped driving it when her husband died (it was kept in a climate controlled garage until 2011, I have documentation) .

The 3rd owner purchased car in 2011, and had the car mechanically serviced, and brought back to perfect running condition and has driven the car 4,589 miles until 2014 (I have documentation and maintenance receipts).

Options include cold ac,working power sunroof,windows and locks. The only thing that is not working is the original radio, it does power up but no sound.

The metallic brown paint is in excellent condition with a great finish/shine. There are some small scratches and small dings. very solid under carriage.

Glass, chrome and stainless are also in very good condition. Also has the euro bumpers.

The velour interior is in excellent condition with no rips or tears. The dash (no cracks), headliner,carpet, door panels are all in great condition.. Again this car has only 24,507 miles that has been properly stored, and the condition reflects that showing very little wear.

Mechanically the car is excellent!!!!!!! Engine is very smooth.(quite and no smoke) transmission and clutch shift perfect (no grinding or slipping) Strong clutch and brake pedal. This car is very original down to the hose clamps

The only thing that the car needs is new tires, the old ones are dry rotted. The original bundt wheels will also come with the car.

Items also included with the car, original spare tire (still has the sticker on it), books, jack and tools.

The car is sold in "As Is Condition".

I DO ENCOURAGE AND WELCOME PRESALE INSPECTIONS.

If you have questions, please send me your # and I will give you a call.

I ONLY ANSWER EMAILS WITH A PHONE NUMBER ATTACHED.

Please bid if you are serious and have available funds to complete this transaction. Thank you.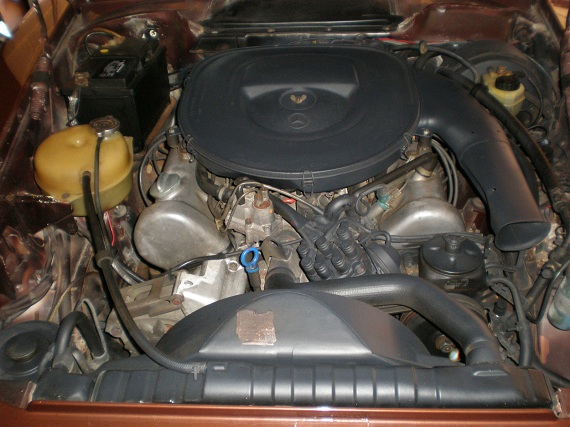 The condition overall is very impressive, but there are a few question marks – first, it appears that the car has changed over to U.S. spec lights; not horrible, but I'd prefer the Euro units. The original wheels are also gone, but a chromed set of OEM units is included. For me, I'd probably sort a set of the forged wheels that came on the recent CLK; they look period correct and would set the car off. The newer alloys just don't fit to me. The color combination isn't the best, but it's period correct and appears to be one of the better examples we've seen lately. But the last question is that rear deck – it's not mentioned in the ad, but from what I can see it's labeled "450 SLC" and has the 5.0 spoiler on it; it makes me wonder if someone swapped the aluminum unit on there! Either way, it's a great example that's quite reasonably priced for a classic Benz with a rare to see manual transmission.
-Carter