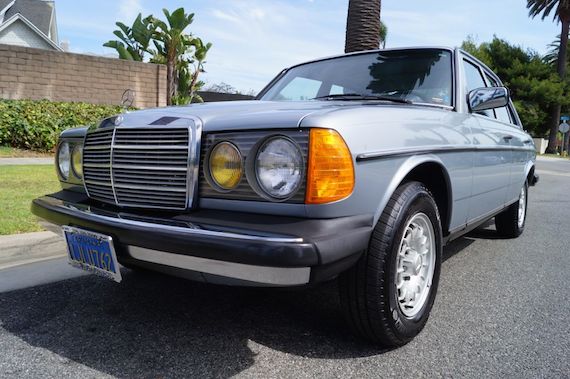 About eight years ago, I had the chance to visit the Mercedes-Benz Museum outside of Stuttgart, Germany. Of all the exhibits, the one that intrigued me the most was a car transporter with models from the early 1980s on it, including a W123 230E sedan in the same metallic blue as we see here on this well-preserved 1984 300D. We've poured over the qualities that make these mid-sized Mercedes sedans, coupes and estates great throughout the years, but rarely do they come as showroom fresh as this one for sale in California.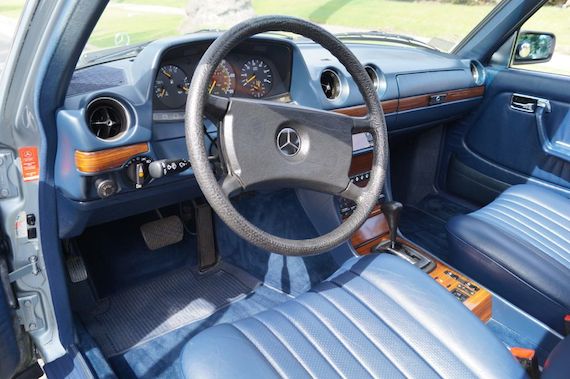 Year: 1984
Model: 300D
Engine: 3.0 liter inline-5 diesel
Transmission: 4-speed automatic
Mileage: 63,800 mi
Price: $19,500 Buy It Now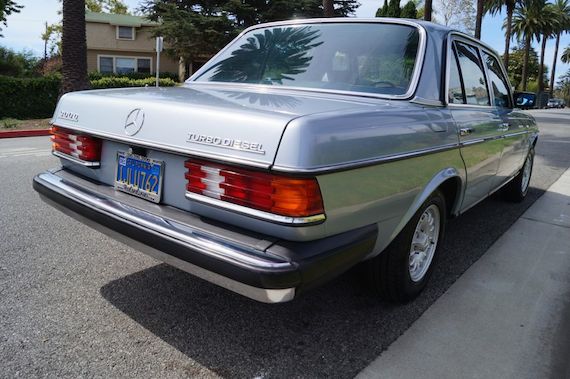 West Coast Classics are proud to present an absolutely exceptional and virtually flawless example of this original southern California owner 1984 Mercedes-Benz 300D 3.0L 5 cylinder 4 Door Turbo Diesel Sedan in its original factory 'Silver Blue Metallic' color paint with a striking and virtually flawless matching 'Dark Blue' color MB-Tex interior, original Mercedes Benz factory 'Bundt' style alloy wheels, original 'Becker' radio/cassette and only 63K original miles!

Purchased and originally serviced by original and only southern California owner at 'Palmer Import Motors Mercedes-Benz', the Mercedes-Benz dealership of Long Beach, California on 1/10/1984. The car will be sold with its original owners manuals, dealer stamped service booklet, Protecto-Plate and tools. The car was initially serviced under warranty at 'Palmer Import Motors' and since 1988 at 'South Bay Autohaus', the Mercedes Benz dealers of Torrance, California where it was serviced regularly and on schedule until the present day.

The Mercedes-Benz W126 is a now legendary series of flagship vehicles manufactured by Mercedes-Benz until 1991 and was a successor to the earlier W116 series and was offered in a straight six, V8 and the now renown diesel models. The 1981-85 diesel models are now considered to be one of the most reliable engines ever produced and one of the key reasons for Mercedes popularity around the world today as the ultimate long distance and durable touring car with many models still being used around the globe as taxi cabs boasting many hundreds of thousands of miles on the clock. They offered a unique combination of luxury, exclusivity, economy and reliability that could not possibly be matched by any other brand making it the vehicle of choice by countless diplomats, executives and other such entities. These luxurious cars still command a strong demand internationally, especially low mileage and well maintained and unabused examples such as this particular example.

This particular car was always garaged by its original and only southern California owner and the original factory 'Silver Blue Metallic' color paint is in absolutely beautiful condition and the original and matching 'Dark Blue' interior is also in absolutely gorgeous shape with virtually no signs of wear with the original dashboard and the wood veneer in beautiful original shape (always garaged and covered from the California sun and elements).

The car's factory options include 5 cylinder Turbo Diesel engine, automatic transmission, power assisted steering, power assisted four wheel disc brakes, tinted glass, cruise control, electric window lifts, electrically heated rear window, fully independent suspension, power assisted four wheel disc brakes, anti-lock brakes, automatic antenna, automatic air conditioning with climate control, central locking and desirable factory 'Bundt' alloy wheels.

The car drives exactly like such a well maintained and serviced Mercedes-Benz Diesel with only 63K original miles (ultra low mileage and extraordinarily rare for these notoriously hard driven vehicles and virtually just broken in for this legendary engine) should and must be seen and driven to be truly appreciated! The engine is extremely strong with no noticeable oil leaks and the temperature always remains cool. All the power options are working as they should including the original 'Becker Europa' stereo cassette and the optional sunroof (an expensive factory option in 1984).

Without a doubt, this is one of the finest built cars ever made by Mercedes-Benz, now becoming more desirable (with only 25 MPG city and 30 MPG highway) than ever before – certainly you will look long and hard to find a finer head-turning example of this original southern California owner example with such low original and dealer serviced well maintained miles and with every option working as it should available anywhere else! This particular model was obviously always garaged by its original and only owners with no accidents and boasts a clean CARFAX report confirming both the original mileage and consistent service history since new. The car has had no accidents and has all its original parts and absolutely no rust whatsoever!

For further information contact West Coast Classics through EBay or on 310-399-3990 during regular California business hours.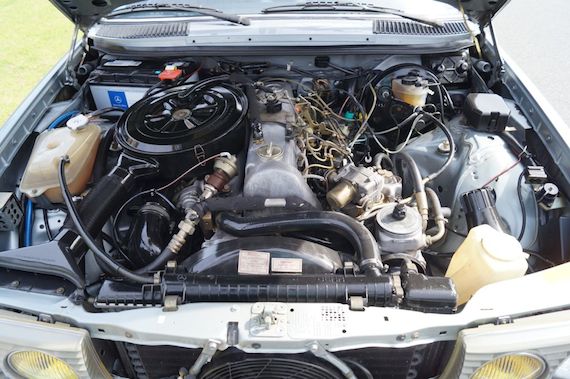 It's no secret that prices for good W123s are strong. We've seen a few bring over $20,000 and in one case for a low mileage estate, over $30,000. The price of this one is a bit high, as the coupes and estates tend to bring more money than the sedans in good condition. If this one was priced closer to the $13,000 to $15,000 mark, it would probably find a home in relatively short order.
-Paul