Warning!
This post is in our archives. Links in this post may have been updated to point to similar cars available to bid on eBay.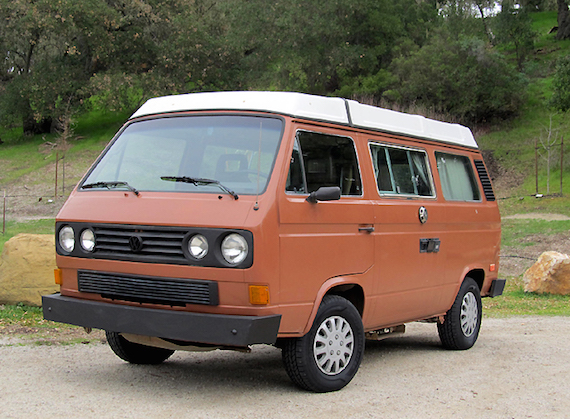 While the insane VW vans available these days are a fun fantasy, I much prefer finding the undervalued drivers that have significant upsides. This Campmobile model has a few foibles that should be addressed before it's a really great self-contained adventure machine, but the low price gives plenty of room for some redemptive reconditioning. In brown, it's nicely average and original, save the well-chosen South African grill and less attractive wheel covers.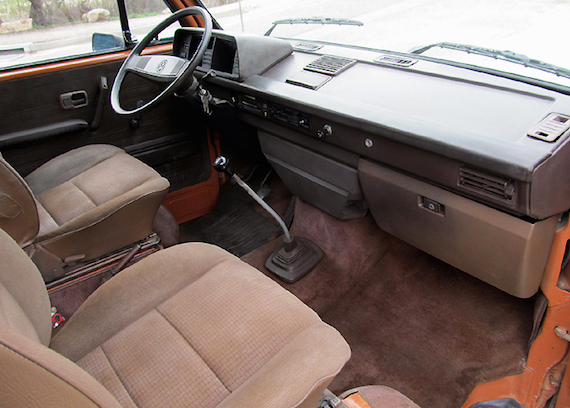 Year: 1984
Model: Vanagon Westfalia
Engine: 1.9 liter flat-4
Transmission: 4-speed manual
Mileage: 155,943 mi
Price: $10,250 Buy It Now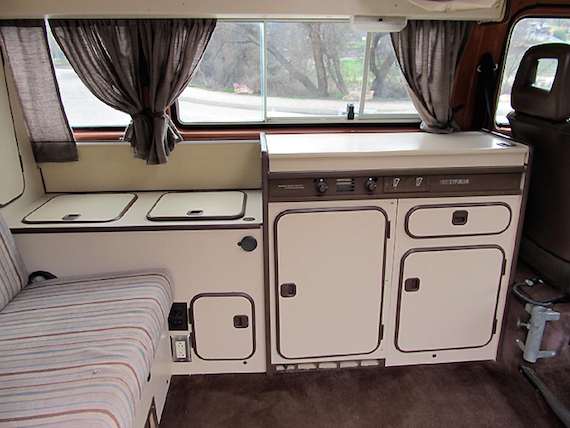 Start Planning Your Next Adventure!
1984 VW Westfalia Vanagon

Presented For Sale is the next generation VW Campmobile to the "bay window" style. This particular example features the aggressive "South African" front end bumper and European light treatment. Motor runs great and offers good power and reliability. Camper includes several amenities such as upper/lower beds, stove, table, curtains, plus many closets and compartments. Interior is in nice, original condition. Pop-top canvas is in good condition, with zip-out window and net. The Vanagon needs a little TLC, but it's a nice example that's original and hasn't been abused.

This VW Vanagon is on consignment. The current owner purchased it awhile back with the intention of enjoying it, but now has decided to sell.

I've driven the bus, and it runs fine. It has had some mechanical work recently done such as new clutch, flywheel, and slave cylinder. Tires are brand new. It starts right up and idles smooth. Freeway driving is no problem. The trans has a couple little quirks. Going from second to third, there is a little grinding sound most of the time, unless massaged into gear or by using some finesse. I had trouble downshifting from 4th to 3rd and was unable to do so. The other gears are fine and operate with no issues. There's no popping out or strange noises.

Seats and upholstery are in good shape. Carpeting is original and is in nice condition. Steering column plastic piece is missing near ignition switch as well as door panel on the slider.

The appliances have not been tested, but they look to be intact. The owner has not operated them, either, so he is not aware if they are all hooked up or in working condition. He is not sure how the aftermarket A/C system under the rear seat is rigged, or if it works.

Canvas for the poptop and padding for the rear seat/bed (top & bottom) are very nice and clean with no tears, etc.

The body and underneath are very good. I don't see any rust, either. The paint has been redone in the past, and there are some scrapes on the rear quarter panels.

The odometer shows around 155K, but the speedo and odometer aren't working. The original engine has recently been replaced with another 1.9L, the same as the original. The engine is quiet, starts right up, and idles smoothly. There is a discharge in the electrical system. If the van sits overnight, the battery loses charge.

Pop-top opens easily, offering walk-around versatility and fresh air when out camping. Canvas is in excellent condition and features zip out window and screen. Very cool, indeed.

This 1984 VW Westy is a great driver that shows a lot of promise. It's not perfect, but this could be just the right one for somebody who's always fantasized about owning a Volkswagen Westfalia and living the dream.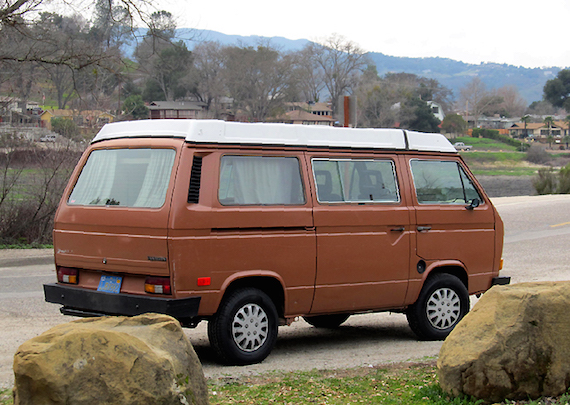 The buyer will have to be ready to put in some time and effort, but ten grand for a Westy this clean is a great deal in today's market. Electrical problems aren't ideal, but at least they shouldn't be too hard to deal with in a car from 1984. Once you sort that and the transmission, this is a great van that could go for much more. It's the kind of Vanagon where, if you can deal with a little road rash, you're going to be able to have a lot of adventures without spending more than $20k.
-NR