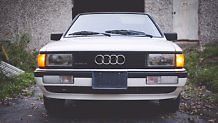 I had a serious amount of nostalgia when I came across this listing; if finding 1980s Audis has become somewhat rare these days, finding ones in good nick has become even more so. But in this case the nostalgia stems from this particular model in this particular configuration; an Alpine White with Brazil Brown sport cloth 1985 4000S quattro. The reason why is that it's about as close to the first car I owned as you can come. I had this car in this configuration, but a 1986 "CS" model. Outside of the "C" on the rear, the only other change was the addition of the third brake light at the base of the rear window. I didn't start out looking for an Audi at all, and to be honest when I was 18 the B2 was virtually unknown to me. I tried – and failed – to buy a decent 2002 tii; an exercise that ultimately led a car-selling friend of my father's to take me under his wing. He claimed he'd find the perfect car for me, and shortly thereafter I found myself paying for a 4000CS quattro without any real knowledge of it. It had about the same mileage as the car shown here, and generally was in good shape. Over the next few years, it would carry me on many adventures; long highway cruises to see friends, trips to the mountains to ski, my first track event, countless drives sideways through the snow – it became as much as friend as a vehicle. Despite that, the day came when I had to move on; owning both a Coupe GT and the 4000, I chose the former as the car to keep and the 4000CS quattro drove away. I've often dreamed of finding another in the shape mine left me in. And though it requires quite a bit of squinting due to the unreasonably small photos in this listing, I think this car just about fits the mold: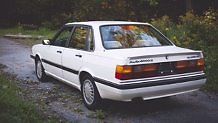 Year: 1985
Model: 4000S quattro
Engine: 2.2 liter inline-5
Transmission: 5-speed manual
Mileage: 104,000 mi
Price: Reserve Auction
I had been searching for a winter vehicle to conquer the treacherous CNY roads when I stumbled upon this gem in mid 2012. I previously owned a Quantum synchro wagon 15 years ago which maneuvered inclement weather effortlessly. Needless to say, when I found this particular vehicle advertised as a California car – no rust, clean interior, appropriate repairs made, kept in storage, etc, I purchased it without hesitation.

Well the car had been in storage for a long eight years….and though the previous owner had replaced the fuel pump, fuel distributor, fuel filter, and flushed the fuel, the thing barely ran off the transport. I had my fair share of repairs to make, everything done is listed as follows

Engine: New timing belt, belt tensioner, water pump, thermostat, valve cover gasket, flush cooling system using G12 coolant, replaced
aftermarket fuel distributor with OE assembly, fresh oil and filter.

HVAC: Replace leaking A/C line and changed system with R12 refridgereant so the system functions properly.

Drivetrain: Replaced both differential vacuum actuators.

Electrical: I ended up replacing the headlight switch- occasionally you would have to turn the switch on & off twice before the lights would illuminate

Exhaust: Replaced center section with resonator due to small leak from said resonator.

Suspension: Four KYB struts and strut mounts, four wheel alignment.

As far as the rest of the vehicle :

Tires: Factory aluminum wheels (in excellent condition ) no curb rash or bends – tires currently on vehicle are old and dry rotted, I will have your choice of tires mounted and balanced

Lighting: Have Euro headlight setup not
installed, they will come with vehicle.

Radio: Factory radio in working condition.

Now that I've completed these repairs, I cannot bare to subject this fine car to the salty, snowy roads, It kills me to admit it will not get the drive time it deserves so in will be sending it along to (hopefully) greener pastures. Any additional questions you may have, feel free to ask.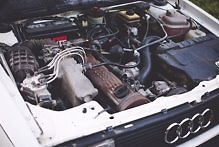 While you'll be very disappointed if you really love a shove in the back when you hit the loud pedal in a 4000 quattro, in every other measure these cars are legendary. They have incredible longevity if properly cared for; 400,000 miles isn't uncommon. Memorably at Tim O'Neil's rally school one year, the mechanics talked about how many hours at redline they figured the JT inline-5 cylinders were good for – it was a number that people used to 40 hour race motors wouldn't even conceive of, because it could be measured in months, not days. Despite that, they also have a fair amount of little niggles that will annoy you; for example, if the temperature drops below freezing and you're interested in actually driving your excellent-in-snow vehicle, be prepared for one – or many – of your light-metal doorhandles to break. One trip to Sugarloaf in sub-freezing weather killed three out of four doors on my car, resulting in a trip back home with several bungee cords holding the rear doors together. But that's the character that makes these cars shine and differentiates them from the typical E30 crowd. This car appears to be a survivor that has missed most of the poor treatment a fair amount of these cars experienced, and with recent maintenance you should be reasonably worry-free for some time. As a semi-quirky alternative to the typical E30 crowd, these 4000s are fantastically special, but they are still relatively unappreciated. There have been a few really select cars that have broken into 5-figures, but I'd assume this car should be a higher single-digit car at best – at least, until there are better pictures available! For now, the pictures remain a bit fuzzy much like my memory of my 4000, but the fog of time hasn't dulled my appreciation for how great the 4000 quattro is.
-Carter