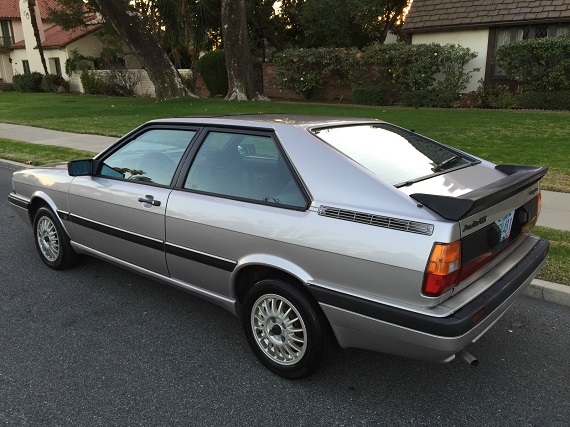 To me, the Audi Coupe GT is probably the most unappreciated German car of the 1980s. That crown could really be shared by many Audis that suffered the stigma of poor reputation left over from the 1970s problems and the late 1980s scandals coupled with mid-80s Volkswagen-era build quality, which admittedly wasn't the best. Although the Audi products were generally engineered to a higher standard than most of their VAG counterparts, the company connection in the public's mind leaves a scarlet letter on the Audi nameplate. Even though compared to contemporaries the Audi Coupe GT fared well in testing, the general attitude towards the model is that it was an underpowered, overpriced and heavy Scirocco. But those that know the model share the joy of a hidden secret; a fine handling GT, a composed tourer on the highway that is equally at home being flung around twisty backroads, a trusted companion with startling longevity that never failed to bring smiles on a regular basis. If you like the Audi Coupe GT, you probably like doing things a bit differently. And to pay nearly $7,000 for a nice condition one, you'd have to really want it and nothing else – but the chance to stand apart may be worth the price of entry: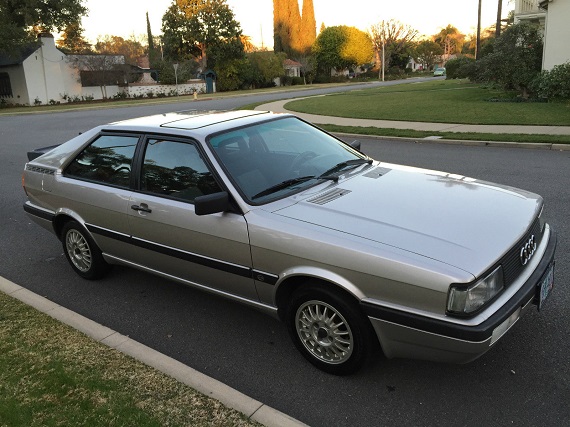 Year: 1985
Model: Coupe GT
Engine: 2.2 liter inline-5
Transmission: 5-speed manual
Mileage: 190,000 mi
Price: $6,800 Buy It Now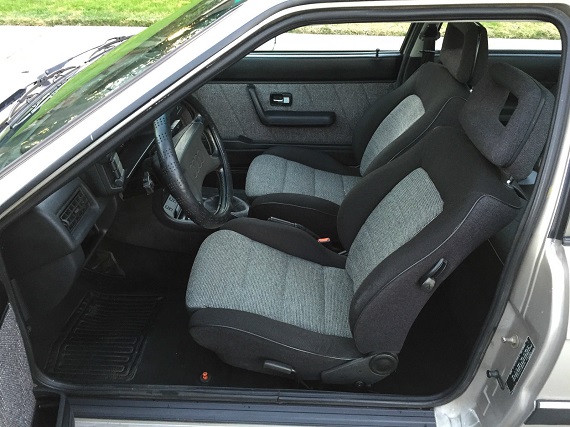 AMAZING ONE OWNER RUST FREEE 1985 AUDI GT COUP FINISHED IN SILVER WITH BLACK/GRAY INTERIOR. THIS CAR IS IN VERY GOOD CONDITION FOR ITS AGE AND IT RUNS AND DRIVES BEAUTIFULY. THIS IS A ONE OWNER CAR WITH COMPLETE SERVICE HISTORY AND ORIGINAL WINDOW SICKER AND BILL OF SALE DOCUMENTS. ALSO I HAVE ALL OWNWER MANUALS,BOOKS AND TWO SETS OF KEYS PLEASE SEE PICTURES. IT HAS A MANUAL TRANS AND A MANUAL REMOVABLE SUNROOF. ALL SERVICES ARE UP TO DATE AND THERE ARE NO FLUID LEAKS OF ANY KIND AND A/C BLOWS ICE COLD. PLEASE FEEL FREE TO CALL OR EMAIL WITH ANY QUESTIONS THANKS JEFF (626)482-0776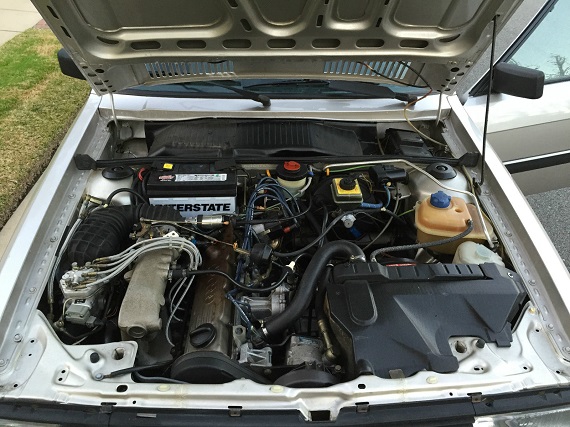 It never ceases to amaze me when these good condition Coupes pop up. It's fairly infrequent, but we do see them come from time to time, and from my memory this is the 5th or 6th very nice Coupe I've written up in the past few years. Compare that to the good condition E30s you can find any day of the week, and you start to understand the significance of finding a car like this one. This 1985 wears the updated and more aerodynamic updates that the Type 85 received in 1985; per our discussion on the 4000 quattro post from the other day, you'll see that this car has the "nut" center caps shared with earlier models, and 1985 Coupes also shared the earlier right hand side of the trunk "fuel injection" badge that was dropped for 1986. Inside there were no significant differences between the 85-87 Coupes outside of the electronic dashboard some '86s and '87s were equipped with. This car has the rare to see two-tone interior which is incredibly clean, as is the car overall. Outside the Zermatt Silver is backed up by awesome and necessary European lights that make it possible to drive the car after sunset. The stack of receipts from this claimed one-owner car shows the maintenance that isn't outlined in the post, but needless to say it would appear the car was well kept. Does that make it worth $6,800? Honestly, for the right car, I think it just might. It seems like a lot, but if the paint is in good condition it's just simply not possible to return a poor condition car to this level for less money. The miles may be higher, but to put it into perspective I bought my Coupe GT in 1998 with 190,000 miles and it's still going quite well. These are impressive cars that stand apart from the crowd and offer a unique take on the 1980s personal coupe, and to me I think this one might just be worth all of the asking price.
Thanks to our reader Albert for sending this one in!
-Carter