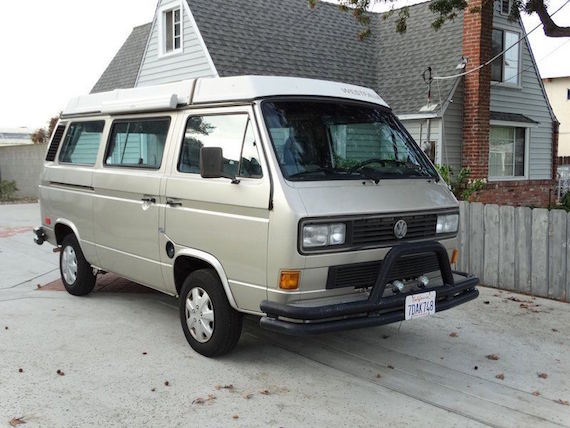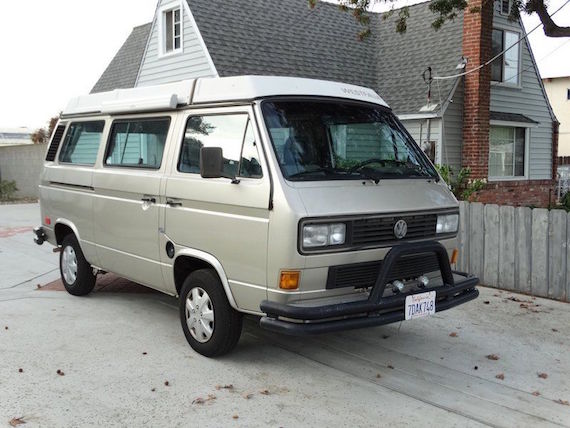 The Vanagon Weekender is a nice alternative to the full-on Westfalia treatment, lacking the fluid, electric, and gas inlets/outlets, but still possessing great campability with a pop-top, table, and folding rear bed. Today's Weekender has undergone the popular Subaru flat-4 conversion, bringing a little more power and reliability compared the old VW wasserboxer. You could see the Weekender and non-turbo Subaru engine as compromises, or as very capable options that keep costs down. That's the lens I choose to see this Vanagon through; it's not a high-powered, fully-optioned and mega-expensive model, but it has the right bits to get the job done.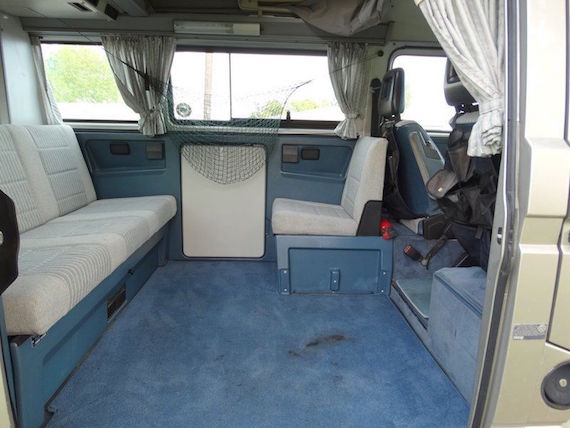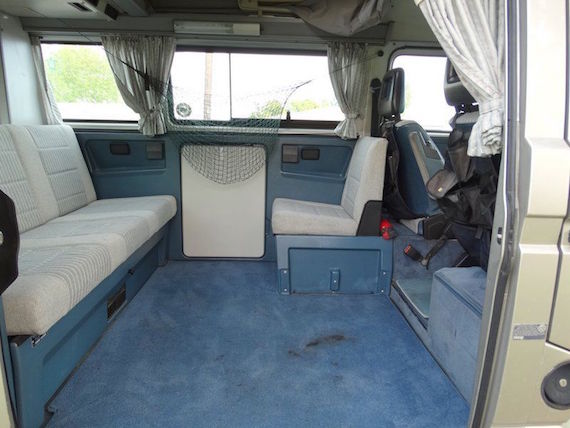 Year: 1987
Model: Vanagon Westfalia Weekender
Engine: JDM Subaru 2.2 liter flat-four
Transmission: 4-speed manual
Mileage: 120k mi on engine, 280k mi on chassis
Price: $15,000 Buy It Now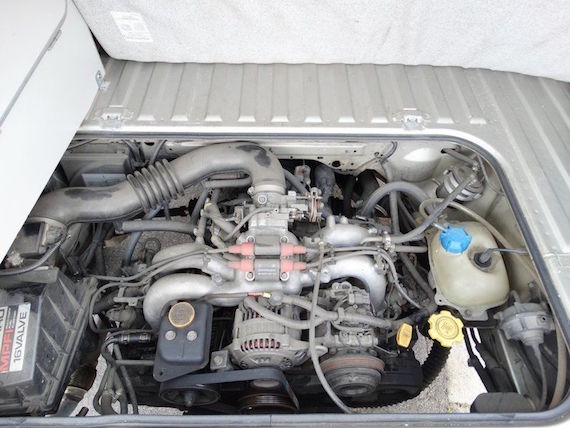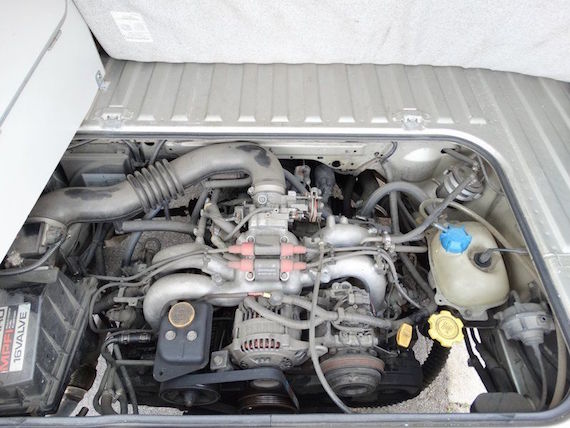 NOT FOR SALE IN CALIFORNIA!

ALTHOUGH THIS IS A CA LEGAL CONVERSION, THE VAN HAS NOT BEEN THROUGH REFEREE AND I DO NOT WANT TO HASSLE WITH IT. OUT OF STATE SALE ONLY, PLEASE!

Please Note: Due to the modification, this van is for out of state sale only (No CA sales, please!). I have a 1987 Volkswagen Vanagon Wolfsburg Edition for sale. This is a Weekender model Westfalia. There is No sink or stove, but rather a rear jump seat, a full sized "z-bed" bench seat, and a closet in the back. The van has undergone a Subaru engine conversion. It is powered by a Subaru EJ 22 motor with approximately 120,000 miles on it. The conversion was done in LA by Leon Korkin, one of the top conversion folks in the country. It is clean and beautiful. The conversion was done at around 222,000 on the body. There is now 282,669 on it. The engine is a JDM (Japanese Domestic Motor) and runs as strong as the day it was put in.

The van has a host of upgrades, including:

-Shady Boy awning (upgraded with silver reflective fabric and extra poles)

-Auxiliary battery with power converter installed under the driver's seat.

-Upgraded high powered headlights (80/100 watt – Go Westy Kit) (currently has stock bulbs in place because I have not ordered higher watt bulbs in a while)

-Cow-catcher style steel bumpers installed by Van Café in Santa Cruz, CA

-PIAA Fog lamps

-Swivel Seat base installed under front passenger seat (Weekenders did not come with swivel seats like the full campers)

-Pioneer Stereo with CD player and upgraded Polk speakers

-New starting battery installed summer 2012

-Cruise Control Works!

The transmission was rebuilt and a new clutch slave cylinder was installed when the conversion was done. All fuel lines have been replaced with new high pressure hoses. The fuel tank was resealed four years ago. The coolant system included all new hoses with the conversion. The exterior is silver and it has the original grey and blue interior. There are no major tears in the seat cloth. The foam is perfect and all seats are very comfortable.

This is an amazing van but (like most Westy's) it does not come without it's quirks

They are minimal and include:

-Poptop screen – Although the cloth itself is in perfect shape, the screen is worn and could use replacing.

-Rear jump seat – The hinges need to be reattached to the wood in the seat. The screw has come out and needs to be re-drilled.

-Air Conditioning – The AC has been retrofitted and blew cold with the stock motor. When the Subaru conversion was completed, I never had the pipes cut to fit. New pipes will cost next to nothing (you could grab them from any junk yard.) They just need to be cut to fit the engine compartment and hooked up to the motor.

– There are two small area of rust that need to be dealt with (please see photos). They are both on the metal of the right front panel (just anterior to the passenger door) that was agitated by water runoff from the rain gutters. There is a small patch of surface rust on the back gate as well (see photo) This is the ONLY rust.

This model of Vanagon (they only made the Weekender for 3 years) with this clean of a conversion is a rare find. There are lots of pluses and just a few hangups to this Westy.

Why am I selling it?

I have owned a Vanagon for several years (had an '80 before this one). I have loved it, camped, lived in it, and taken it everywhere. I have over $25,000 in this van over the last 6 years. I am not suggesting that it is worth that much however…. I just bought a new car and I am just done with the time in my life where I want to devote more time, energy, and money into my project. The conversion is amazing. The engine is strong and new one's (when that time comes are ridiculously cheap… look them up for yourself). I have driven this van across the country twice in the last year with no hiccups. It has been my daily driver for 2 years without a service issue at all.
I would really just love for my van to go to a good home.
Let me know if you'd like to talk about it. More information follows. Thank you!

Details of engine conversion and other work done at 222,000:

Conversion:

-JDM low milage, fully serviced EJ 22 engine

-New cooling system based on reversed coolant manifold

-New wiring harness with diagnostic ECU board installed under rear bench seat

-New air intake, filter housing, filter

-New exhaust system including stainless steel header, dual cat. converter, -collector pipe, quiet muffler, tailpipe

-Subaru charcoal canister system installed

-New set of PS hoses

-New throttle connection

-New Oxygen sensor

Additional Overhauls:

-Cleaned coolant expansion tank, engine compartment, starter, and shifter parts

-Repaired coolant pipe ends

-New Subaru fuel filter and bracket, and all hoses replaced

-Replaced radiator, fan switch

-Replaced all band clips

-2 new CV joints, new boots, grease

-Rebuilt original Volkswagen transmission

-Replaced shifter selector lever, dust boot, bushing, grease

-Replaced clutch slave cylinder

Although a legal conversion and legally smogged for 6 years THIS VAN HAS NOT BEEN THROUGH CA REFEREE. If sold in CA it will need to be taken through referee and smogged before it can be registered. I do not want to do this (as I mentioned above I am selling because I no longer desire putting money into my van). For this reason, I PREFER AN OUT OF STATE SALE. That being said, all components of the conversion ARE CA compliant and legal.

Please email me with any questions.

Thank you!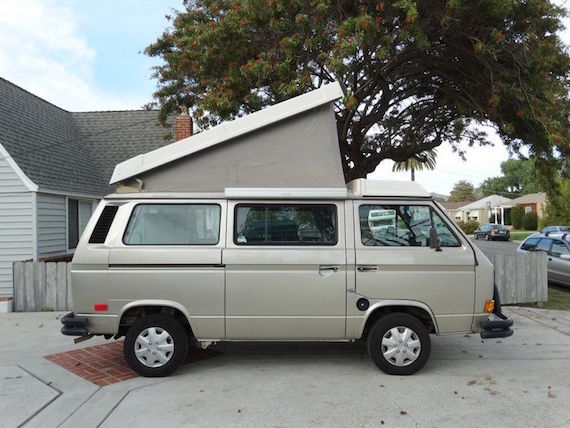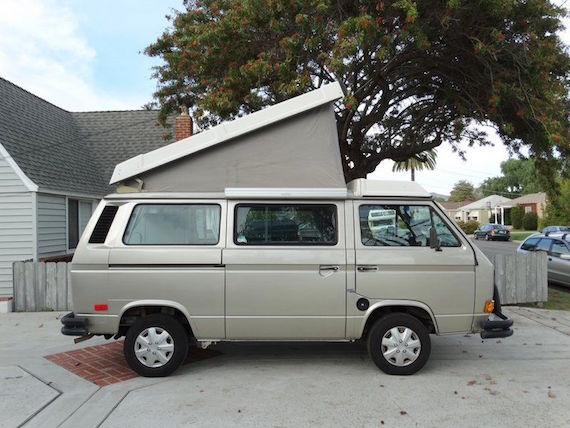 There's some work left on this project, but there always will be with older Vans. I don't know the exact rules regarding the referee in California (or other states), so check your local DMV before buying. If you're in a laissez-faire state, less than $15k is a good deal for this good starter camper for the next adventurous and handy soul.
-NR