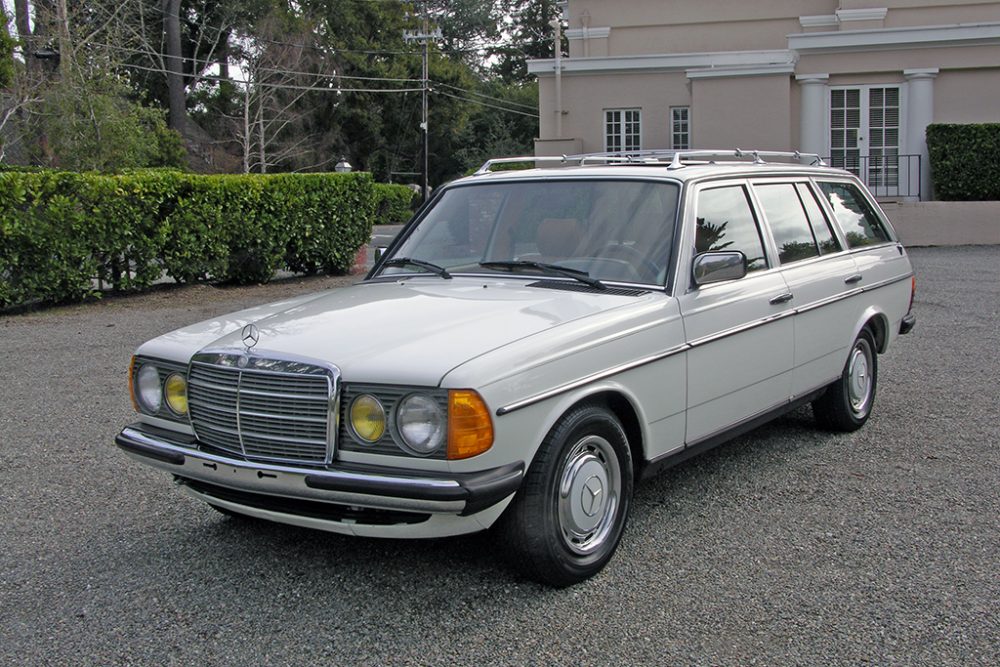 I've been using my 1983 Mercedes-Benz 240D with a 4-speed manual as my primary driver for over year now and really enjoy almost every aspect of it except for one big thing: It is ungodly slow. The North American spec 240Ds were blessed with a conservative 67 horsepower and 97 lb⋅ft of torque when new and after 35 years I'm going to guess it lost a few precious ponies. This results in me using the accelerator pedal as an on-off switch the majority of the time. Don't get me wrong, around town the car is totally fine. On the highway? I'm traffic's worst nightmare. If I am at the front of the line at a stoplight and the speed limit on the road is 55 mph, I might as well be hauling a car full of puppies to the pound because that is how people look at me. It takes somewhere in the 15-20 second range to accelerate to 60 mph depending on the grade of the road and Peggy in her minivan on her way to soccer practice has no patience for me.  Other than that, everyone loves the car. But what if the 240D was even slower? Say hello to the 240TD.
This German-import 1985 240TD up for bid in Arizona is equipped with everything my 240D has, including the same 4-speed manual gearbox, but with the extra weight of the wagon. You can see where I am going with this. Thankfully, this W123 estate is actually nice enough where you can pick and choose your 0-60 mph battles and not feel bad if you hold someone up for an extra second. Although at the current price, is it worth it?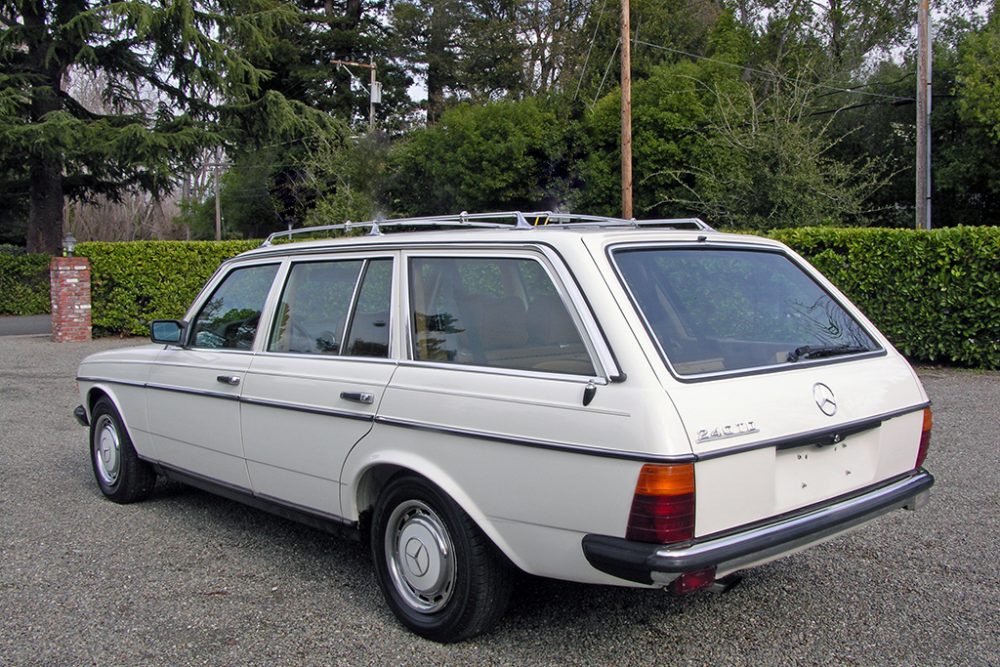 Year: 1985
Model: 240TD
Engine: 2.4 liter inline-4
Transmission: 4-speed manual
Mileage: 96,833 mi
Price: Reserve Auction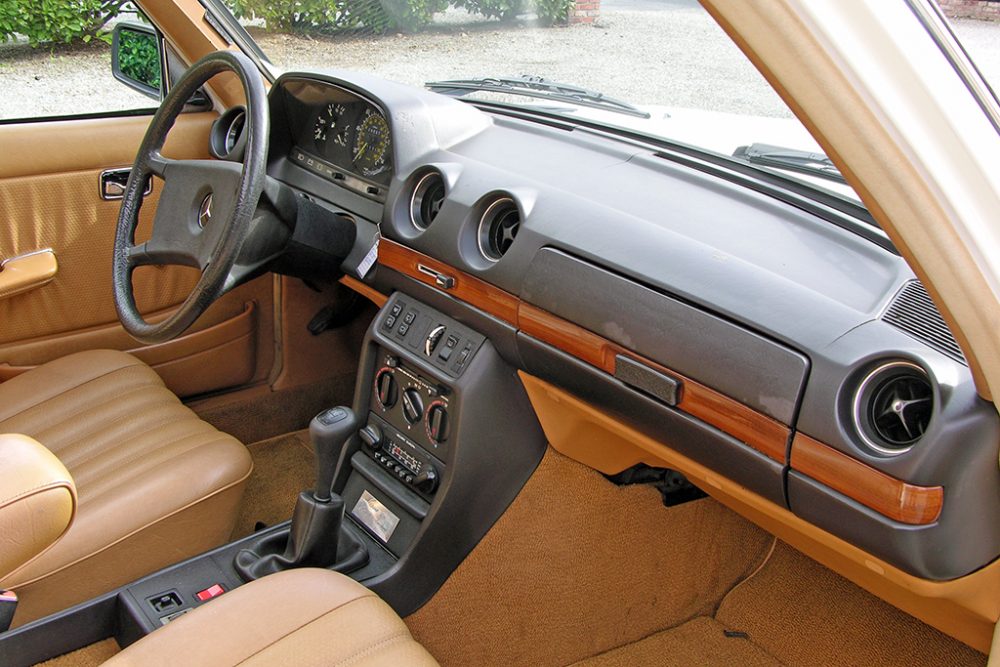 Ultra-Rare Euro model. ID# WDB1231831F049846 – Light Ivory/Palomino MB Tex.

AC – Sunroof – 3rd seat – 4 spd manual gearbox – Roof rack with original cross bars.

Imported to the US almost new. Cargo shade – Cargo net – Power antenna – Central locking – Front armrest.

Tinted glass – Factory sliding sunroof – All 6 headrests – Data Card – Clean carfax.

Manual windows – Euro emergency triangle – Tool rool – Original safety kit.

Perhaps one of just a handful of 240TD wagons imported to the US – Records essentially from new.

Imported to Arizona with approx 10k kilometers on the clock in1987.

Full handbooks – Service booklet with first two services before leaving Europe.

Enormous reconditioning over the last 30k miles – Service file on hand.

Recent (90k miles and forward) work includes: Brake pads/rotors, ball joints, drag link, steering damper, rear axles, AC compressor (Nippon Denso type), ac hoses, belts, water pump, engine mounts, PS pump, glow plugs, injectors, radiator, battery, calipers/rotors front.

New tires/alignment, correct aluminum wheels, 7 new side moldings, restored correct radio from Becker, new rear suspension accumulators, new sway bar links, new transmission mount, C-service, new PS hose, AC serviced.

Runs and drives beautifully. Nice street quality paint – Excellent exterior chrome – Spotless undercarriage

Restored cargo area in palomino velour – Nice original MB tex interior – Excellent headliner.

Nice door panels – Crisp and clean engine bay – – Very nice wood – Good glove box fit – Some minor dash cracks.

Excellent original carpet – Rt rearmost post inner trim damaged (we're still looking for a replacement).

We have never seen 240TD wagon in our 27 years of handling unique Mercedes-Benz!

The ultimate '240D'

Not for sale to a retail California buyer.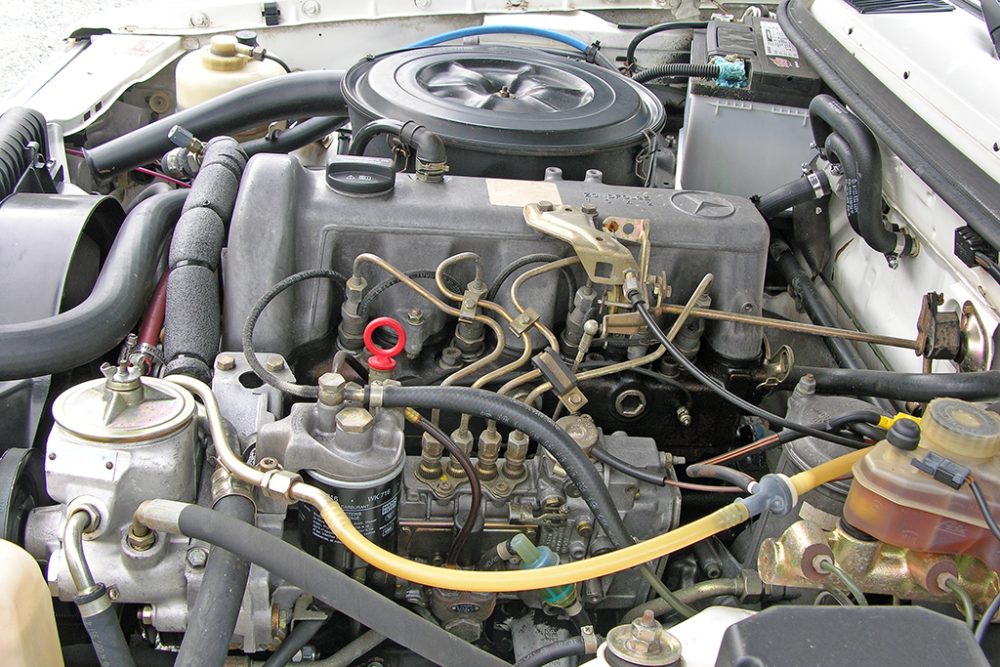 This condition of this 240TD is really odd. It is nice enough that you'd swear this car hasn't seen much use at all judging by how nice everything is, but a few things leave me scratching my head. I think the heavy reconditioning this car went through covered up a lot of the normal wear these cars see but they still left some loose ends out there. The main thing being the science experiment currently happening on the positive battery terminal. The cracked dash isn't a huge deal because it is a small miracle if you come across a W123 dash that isn't cracked by now. The carpeting in the rear hatch area must have been worn enough that it required complete replacement but don't get me wrong, it looks really good. I think ultimately this 240TD was used normally without much thought to its future value until it came time to sell and a bunch of money was dumped into it —which seems to be paying off.
Right now, bidding for this car is over $10,000 and probably won't stop there. One thing to remember here is that like imported diesels in California I've featured before, it can't be registered there thanks to emissions standards. So that entire pool of possible buyers are out of the picture. Where will this end up? I'm interested to find out. The 4-speed and OM616 in a wagon sure is tempting, but like I said before, as long as you don't mind holding up traffic, I have no complaints with it.
– Andrew