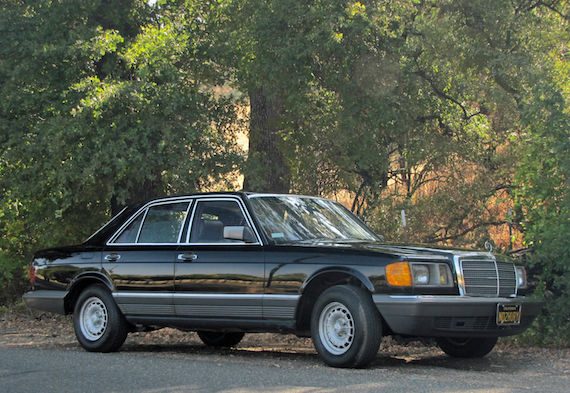 Another day, another old diesel Benz. I know, I know. But when I saw this one I couldn't resist. Yesterday I wrote up an '87 300SDL. While that car presented very nicely, in truth the better W126 diesels are either the early, short wheelbase models ('81-'85), like today's car, or the very late ones ('90-'91), during which time the short and long wheelbase diesels shared the same engines. As noted yesterday, the diesel motors in the cars in the period in between had a few design faults that could potentially affect their longevity (quite unusual for a Mercedes product). This particular car is an '85, the last year in which you'd find the legendary OM617 engine under the hood.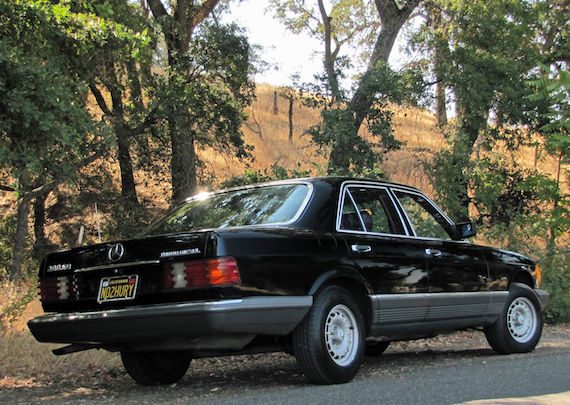 Year: 1985
Model: 300SD
Engine: 3.0 liter inline-6 turbodiesel
Transmission: 4-speed automatic
Mileage: 117,800 mi
Price:Â Reserve auction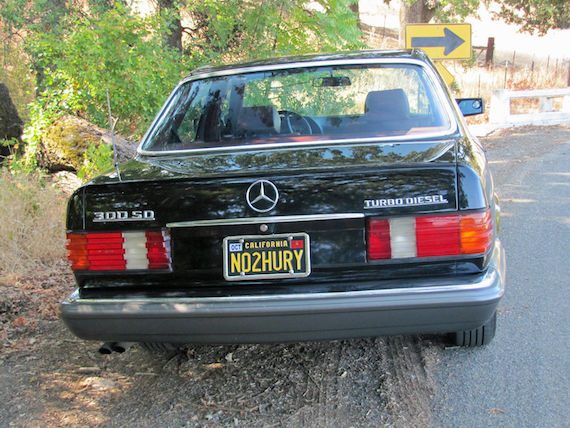 Last year of the legendary 5 cylinder Mercedes 300 SD Turbo Diesel sedan. One owner, 117,000 miles, always garaged. Gorgeous and very rare Black with Red Leather. Sunroof. Rare heated rear seat. Original spare still in it's original protective wax, never mounted. Tool kit and jack. A few minor paint nicks and only one small ding in paint and body work that is near perfect with flawless chrome and brightwork, Bundt wheels are flawless, zero rash or damage, absolutely no rust. Car was purchased in New Mexico and the original owner eventually moved to Northern California, always garage kept in a dry climate. Owner was meticulous with his maintenance but was not a record keeper so there is no paper trail, only a car that has obviously been well cared for. Amazing for a 31 year old automobile. Runs perfectly. Zero smoke on hard acceleration, smooth shifting. All systems work with exception of the AC and clock. New Michelin tires, four wheel alignment, belts, hoses and a new battery. Drives perfectly. Leather interior is immaculate including the original carpet. Ready for another 400 K miles. NEEDS: Only one. AC doesn't blow cold. Radio has been replaced with a Sony radio CD player. Original Becker cassette comes with the car as do a new set of front brake rotors that I have had on the shelf. Brake pads are at 10mm front and 8 mm rear, with lot's of life left. Clock doesn't work. Also comes with a matching set of red dash and package tray covers. You'll look long and hard to find another in this condition for this price and the color combination is extremely rare and desirable.. Don't miss out on this rare opportunity. Agreed value insurance from Haggerty Classic under $ 100 per year. All questions gladly answered. Personalized plates go with car if you're Californian, otherwise they will remain with me. I'll be happy to help coordinate with your shipper on this end. Happy Bidding…
What immediately stood out was the car's condition  – it really does look quite special in the pictures, aided no doubt by its Northern CA location – and the great color scheme of black over red leather. Other than broken A/C (an unfortunate and probably expensive-to-fix flaw), the car appears to be in remarkable, rust free shape. Since it's an early model W126 you'll have to do without airbags, but you do still get ABS brakes, power (heated, front and rear) seats, windows and sunroof - quite luxurious for a car almost as old as I am!
The car has covered a quite modest 117k miles, which means there should be a long life ahead of the 5-cylinder diesel motor. It won't win any drag races, but this would make for a wonderful and classy highway cruiser and, if maintained properly, will probably last another 30 years.
– Craig