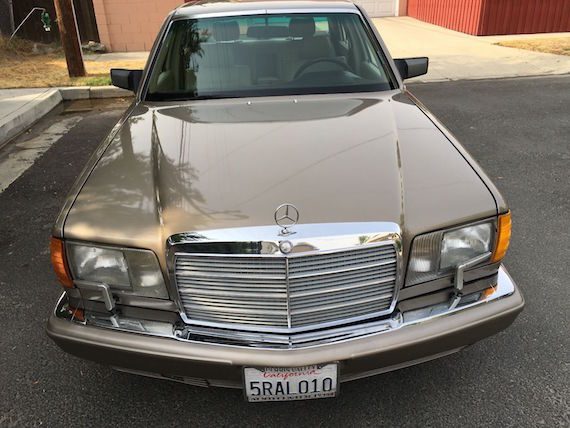 The other day I wrote about how I was getting the itch to swap out my daily driver, an E34 525i, for an older Benz. One contender for the car's replacement is a W124. But I'm also very tempted by the W126. There's something irresistible about these timelessly classy and stately cars. A 560SEL would be my first choice, but I have a long commute and a V8 is therefore out of the question. So if I were to take the plunge on an old S-class for daily duties, it would have to be diesel model. From what I've read online, the six cylinder diesel engine in the 300SDL gets pretty similar gas mileage to my 525i – around 27-28MPG on the highway – which is pretty remarkable given the size of these things.
Year: 1987
Model: 300SDL
Engine: 3.0 liter inline-6 turbodiesel
Transmission: 4-speed automatic
Mileage: 149,000 mi
Price: No reserve auction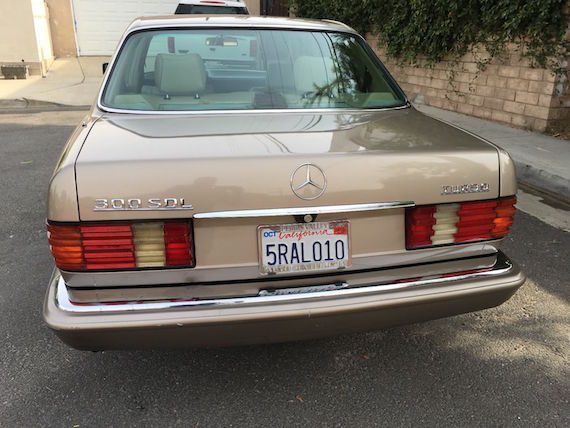 Hi everyone,

I have a Mercedes low miles 300 SDL Turbo Diesel, it is very well maintained and hard to find in such a condition. This car is known for it being a German tank with one of the best engines that Mercedes has ever built. For those who are experts know it's rare to find now days a car like this these days. In the future this car will be considered a piece of history and great investment. Their value goes up every year.
The car is in wonderful working condition, mechanically and esthetically. It is hard to believe but, the air condition is blowing icy cold. The car has regular service like: new original breaks, alignment, engine, transmission, break fluid, coolant, belts also new water pump etc.
I can proudly say that I have owned this car for about 3 years, receiving a lot of complements during this time. I am not a pro at taking pictures, they were also taken with the cellphone, but I can guarantee that the car looks much better in reality. The reason I'm selling this car is because of my medical condition. The lucky buyer won't have to spend a dime more on this car since everything has been taken care of.

Thank you and God bless!

Here is my phone number: (323) 714-4471 feel free to contact me if you have questions.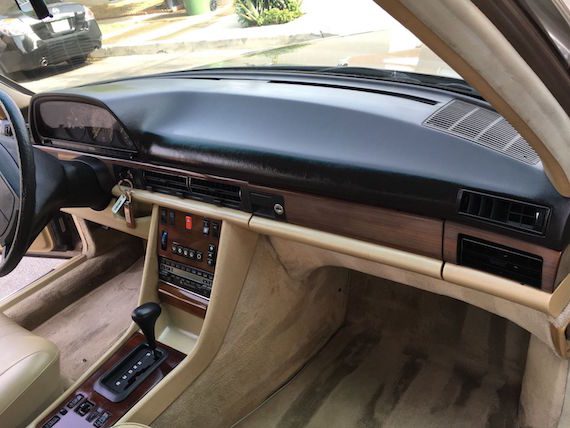 This '87 model presents very nicely in desert taupe (also called impala brown) over pebble leather with a very reasonable 149k miles on the odometer. The paint looks nice and glossy, the seats and wood trim look to be in great shape, and the seller indicates that some recent maintenance has been done. The A/C is said to blow cold but no information is provided about the state of the other electrical equipment (seats, sunroof and windows). It does look as though the plastic inside the gauge cluster is mottled with mold – the same thing happened to my W201 as a result of the humid Florida climate, and is not really a big deal other than looking unsightly.
The 300SDL is powered by the 3.0 liter version of the OM603, an inline six cylinder diesel engine. These came equipped with a diesel particulate filter, a component of the emissions control system, mounted on the cylinder head. Heat from the filter could cause the aluminum cylinder heads to crack. This fault was serious enough that Mercedes issued a recall to relocate the filters on affected cars. Those looking to buy a car with this motor today should probably have it inspected to ensure it has been done.
This particular car was listed on eBay last week and apparently sold for a highest bid of around $5,400 (a fair price, in my opinion). So I was surprised to see it re-listed this week. It makes me wonder why the deal fell through. Potential buyers this time around should probably ask some pointed questions and get a pre-purchase inspection prior to handing over any money, especially in light of the potential engine issues mentioned above.
– Craig