Warning!
This post is in our archives. Links in this post may have been updated to point to similar cars available to bid on eBay.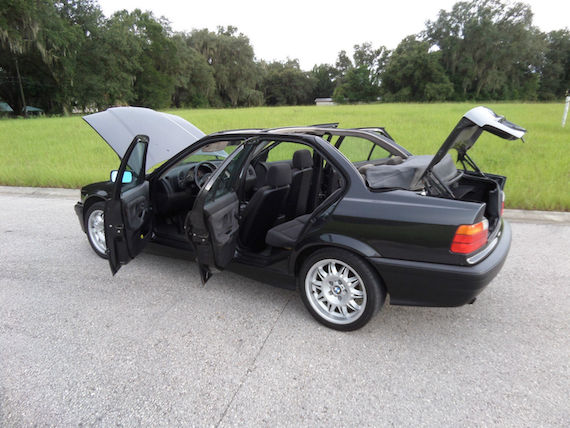 We've reached a point where the BMW E36 has probably dipped about as low as it will go in terms of value, with exception of some mint M3s on the upward tick and the exclusive M3 Lightweight. Most of us are familiar with all the different models of this range, including some of those which did not make it to US shores, like the Touring. This 318i Baur TC4, however, is a different proposition altogether. The relationship between BMW and Baur goes back a ways. Baur is a coachbuilder based in Stuttgart, Germany that has been collaborating on BMW convertibles since the 1930s. Their targa variants of the E21 and E30 3 series helped them gain notoriety, but they didn't stop there. When the E36 3 series debuted in the early 1990s, Baur decided to try something different.
What you see here is a rarity amongst modern day automobiles, the four-door cabriolet. From the side profile, you'd be hard pressed to figure out this was a convertible of some sort, with fixed door frames and a canvas roof which would fold discreetly behind the rear seats. This 318i Baur TC4 is claimed to be the first on US shores. While it wouldn't be an easy claim to verify, it is probably valid, as a little over 300 of these unique open-roofed sedans were made.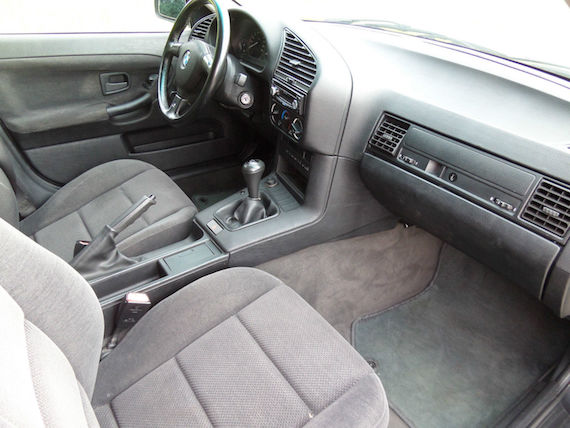 Year: 1993
Model: 318i Baur TC4
Engine: 1.9 liter inline-4
Transmission: 5-speed manual
Mileage: 182,616 km (~ 113,472 mi)
Price: Reserve auction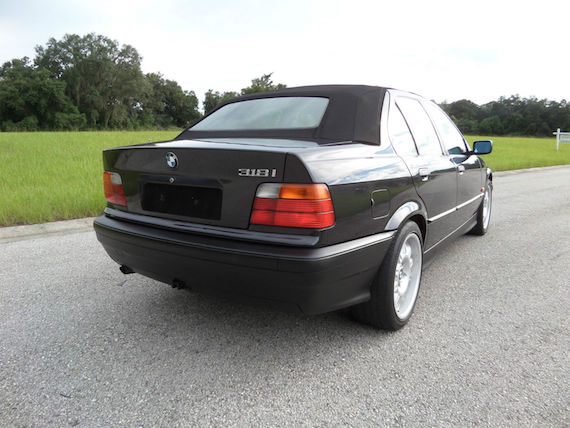 1993 BMW 318i TC4 Baur e36 Convertible Sedan

"Be the owner of the very first TC4 Baur to come to the United States"

It has finally arrived! Calling all BMW/Baur enthusiasts, car collectors, and lovers of rarities! Check out "Stunning News for Baur Lovers!" on Baurspotting for Toms enthusiastic write up of this rare BMW Karosserie Baur built in Stuttgart Germany. Only 311 units made worldwide.

113,223 Miles (Odometer in car in is Kilometers)

5 Speed Manual

Style 39 BMW wheels

VIN is listed as all zeroes due to ebay not being able to decode. The actual VIN is WBACA31040FB68988 (Baur C20126)

Worldwide and Domestic Shipping Available

Test Drives and Inspections are always welcome

Courtesy Transportation from Tampa International Airport

New ebay accounts with low or no feedback need to contact us before bidding as a courtesy to our clients

Don't miss this one. Beautiful, Rare, and Unique. Too much fun!

For a car with over 100,000 miles, this E36 appears to be very well cared for. I'm not a huge fan of the M3 wheels on an otherwise standard E36 sedan. Without the ground effects, they look lost. Wheels that are smaller in diameter would no doubt improve the looks and ride comfort here. I do, however, like the cloth interior and non-airbag steering wheel. These are features we never saw in US spec E36s. Thankfully, this 318i has the 5-speed manual gearbox, so you can make the most out of the four banger under the hood. There's no telling what something like this unique E36 could pull in terms of value in the US. The appeal for this kind of sedan could be limited, but there might be some Bimmer enthusiast out there who has been clamoring to get their hands on one of these Baur TC4s.

-Paul