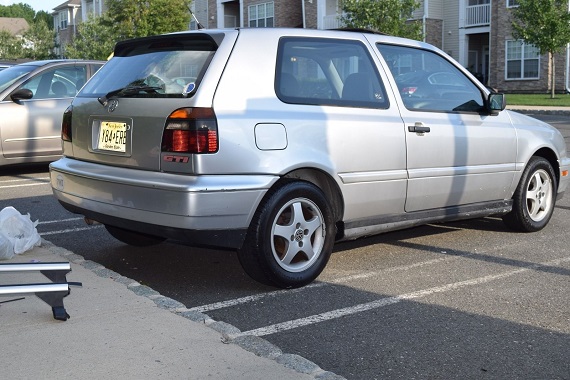 The internet has been abuzz in recent months about how horrible Mustang drivers are in aggregate. Citing the numerous video records of late model Mustang burnouts gone horribly (and sometimes hilariously) wrong, the conclusion seems to brand all pony drivers as PBR sipping, Larry the Cable Guy watching, Copenhagen chewing knuckle draggers who greet each other with "OH YEAH? WATCH THIS!" Outside of some really special models, I'm generally not a huge Mustang fan – but here's the thing. I'm really not sure it's fair to brand the entire ownership of a model like this based upon the video witness of a few yahoos. After all, the Mustang is a hugely successful model. They sold a half a million of them in the first model year alone, which wasn't even a whole year. To put in in perspective, yellow is considered one of the least popular colors on the car, yet there is an online support group enthusiast page devoted to them with over 10,000 members. Ten thousand – just yellow ones. Sufficed to say, there are a lot of Mustangs out there and odds are that most are probably pretty reasonable, non-crashing into crowds at Cars and Coffee event owners. I'll come back to this in a minute.
The reason I mention all of this is that for a long time I viewed the Mk.3 8V GTi with contempt. An avid Mk.2 fan, the Mk.3 looked fat, soft and (dare I say) a bit ugly. The 14″ wheels were dwarfed by the scale of the car and with standard suspension looked like they were ready to conquer the Dakar. And then a friend of mine bought a '97 Jetta brand new. The only non-college girl from New Jersey to do so, my feelings about the Mk.3 seemed justified when it immediately broke. And it wasn't cheap; from memory, his not-particularly-well equipped Jetta cost some $17,000. Smug in the affirmation of my beliefs about why Volkswagen wasn't a successful brand in the U.S., I rolled "told you so"s out faster than that Jetta could hit 60. Much faster, in fact, than I'm telling this story. And the 8V GTi was the worst of the bunch, because to me it was basically an appearance package on one of these fat Golfs, and they seemed to attract particularly yahooish drivers. They all seemed to think they had bought a M3 and drove they GTis like they were in a touring car race. The result was that the relatively poor quality Mk.3s fell apart pretty quickly, and it wasn't unusual to see a ragtag one on a street corner, side trim falling off, missing lights, rust creeping through and a mismatched rear wheel – even when they were pretty new.
A decade later, something weird happened. I had to replace my rapidly aging field-find 1989 Audi 200 quattro Avant. My job required large amounts of driving, and the cost of sustaining the Audi was – well, unsustainable. My mechanic pointed to a forlorn looking pink-hued Golf in the corner of the lot and mentioned it was for sale. It was a '98 Golf K2, one of the special editions I had spent countless hours making fun of – "Can you believe these *s&holes are buying these cars with a snowboard attached? YOU DON'T EVEN SKI!" But economics dictated I needed a cheap, fuel efficient car. I bought the Golf. And you know what? It was fun.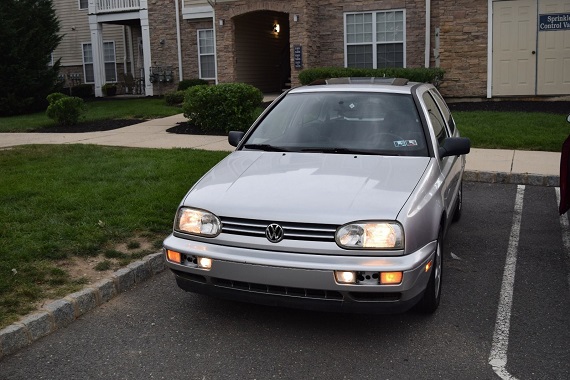 Year: 1998
Model: GTi
Engine: 2.0 liter inline-4
Transmission: 5-speed manual
Mileage: 68,156 mi
Price: Reserve Auction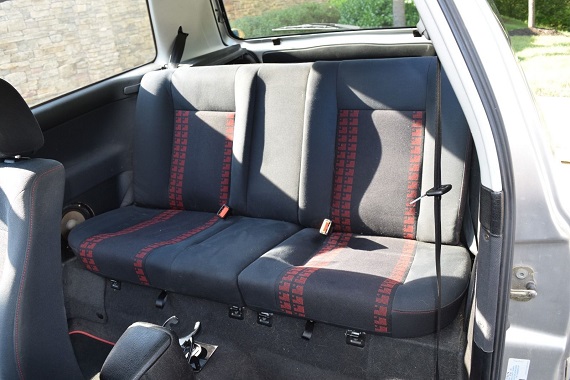 You are looking at a rare example of a well kept VW GTI 5 speed manual with only 68k miles. This vehicle has never been in an accident and is a one owner car. Everything works, A/ C blows Ice cold, there is a power sunroof, as well as the signature GTI trim package and it has plenty of space. VW Golf's are known for there reliability and excellent gas mileage 30 MPG! This hatchback is highly sought after because of its styling, sportiness, and handling capabilities, like driving a go kart. The car needs nothing besides a new driver. As a bonus a mounting roof bar will also come with the car.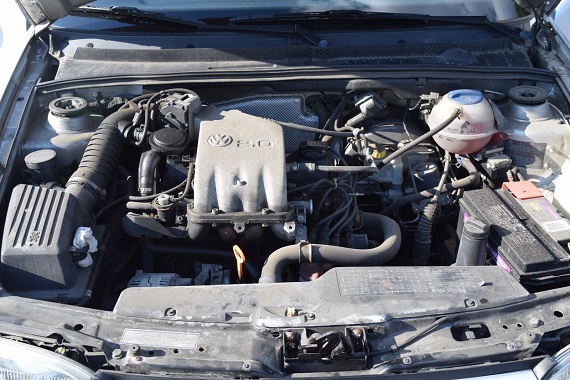 The GTi 8V was, like the Mk.2, only available as a 2-door. You got fog lights, dual-chamber headlights, a roof mounted antenna, smoked tail lights and alloy "Flyer" 14″ wheels outside. Inside, special cloth on the sport seats was matched with white gauge faces and power options. The power under the hood came from the same ABA 2.0 found in the standard Mk.3. At 115 horsepower, it was not a stunner. But it was quite entertaining to drive and with the air conditioning on it would return a minimum of 30 m.p.g. no matter what you did with the throttle. It was pretty versatile, too, with a lot more space inside than the Mk.2. And while the build quality wasn't the best, the reality was that it was an economy car with a lot more character than most economy cars. In short, my time with my Golf K2 thoroughly changed my opinion about the model and I was a fan. Instead of looking at them with disgust, I crack a wry smile when I see one like this '98. With under 70,000 miles on the odometer, it has some battle scars as most do, but it appears all original and even has the optional factory roof racks, so if you're embarrassed to call it a GTi, pop off the badge and slap a K2 sticker on there. In reality, though, there's nothing to be embarrassed about. These are very affordable, eager performers that still stand apart from the crowd. Back to the Mustang for a second – when I was around the same age as my Mk.3 opinion formed, my boss had a Fox-body Mustang LX 5.0. He was insanely proud of it, having bought it new. And he was a bit of a yahoo. But, he tossed me the keys and told me to take it for a spin, which I was happy to oblige. Yes, the ride was horrendous and the interior looked like it was borrowed from a F150 (which it may have been). It inexplicably smelled like those hanging green air fresheners, though he had never had one in it. It was bold and crass, it had poor build quality and struggled to go anything other than straight. But, it was fun. A lot of fun.
-Carter