It's no news flash that gas prices are on the rise again. If you are a reader of GCFSB, chances are you are not too thrilled about the thoughts of dancing around the environmental maypole that is the Toyota Prius. There are, however, options in the ongoing fight for better fuel economy. Diesel engines have always been my technology of choice in the hunt for better fuel economy, mainly as I come from a European family well aware of the benefits and durability of these powerplants. I'm also an advocate of buying used cars, partly because you can get more bang for your buck and partly because you aren't expending any resources to build it like the new hybrid down the block from you.
In the 1970s and 1980s, Mercedes-Benz was a purveyor of a plurality of diesel engined vehicles, such as this 1985 300SD with the OM617.951 inline five cylinder turbo diesel engine. With 123 horsepower this wasn't a barnstormer of a car, but had 181 lb ft of torque, enough oomph to help it waft about. Our reader Robert is selling his 1985 300SD, the last year for this particular model in the US market. It has been maintained to an impressive standard and has had some mild performance modifications to help off the line acceleration.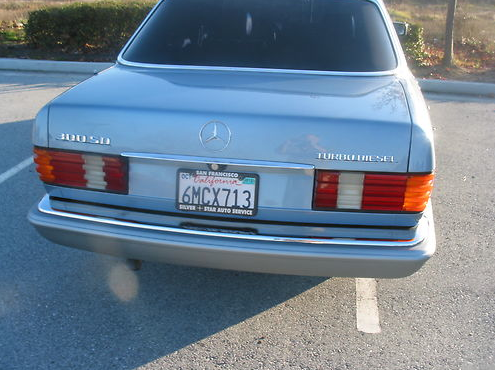 Up for auction is a truly beautiful example of a Mercedes W126 300SD Turbo Diesel. This car is an immaculate condition. I would give it a solid 9 – 9.5 as far as cosmetics are concerned. Mechanically, I would rate it a 9.7, it is that good. It only has 135,000 original miles (nothing for this type of car) and has been meticulously maintained during my ownership. Most of the front suspension is new to the tune of $1900 hundred dollars and yes I have the receipts. Anything that was worn or starting to look tired was replaced with Mercedes OEM parts. The rear shocks have just been recently replaced with factory OEM Bilsteins. The starter is brand new as well. That was in the neighborhood of $500.00 dollars.

All fluids (engine oil, transmission oil, differential gear oil, brake fluid, coolant, etc.) has been flushed and replenished. I do this even if I think the car doesn't really need it just for my own piece of mind. By the way, the only oil I run through the car is Amsoil 100% synthetic which not only includes the engine oil but the differential and transmission oil as well. I also run Amsoil diesel additive every time I fill up which keeps the injectors clean amongst other things. Did I mention the car gets 24 – 29 mpg. As I'm sure you are aware diesels of this era (even turbo diesels) are sluggish by nature especially while accelerating from a dead stop. Once they are up to speed, however, they move pretty good. I wanted this car to have just a little bit more get up and go than your average diesel so I took it to a 75 year old master Mercedes technician to see what he could do if anything. Well as it turns out he could do something and he did. He tuned the car so that the turbo comes on earlier and played with the air/fuel mixture as well. In addition, he installed a full performance exhaust system as well as a K&N air filter. I might have lost about 1 mpg from the tuning modifications but to me it was worth it for the extra performance. The car now accelerates smartly from a dead start. It is the strongest running Mercedes diesel that I have ever owned and I have owned a lot of them.

Now let's get real nick picky and point out the little flaws that the car has, which by the way, I have included a photo of whenever possible. There is small plastic piece of the front grill that is chipped. There are two dings in the chrome piping that goes around the rear outside window. The screen is partially out on the original Becker radio cassette but works perfectly other than that. There is some rust on the chrome rims. There is a small spot on the rear bumper where the chrome does not polish out. The plastic dead pedal where one rests their foot while driving is cracked. There are a couple of hairline cracks in the wood of the center console. Hardly noticeably at all. The glow plug light on the dash has a mind of its own. Sometimes it comes on and sometimes it doesn't. I may have this figured out and fixed by the time the car sells.

That's pretty much it, that is everything that I can think of. Everything else on the car works perfectly; power door locks, power seats, all power windows, sunroof, heater, ac, defrost, odometer, tachometer, etc. The interior of the car is nearly perfect and the exterior is excellent as well. The paint on the car is just beautiful, with a deep, deep, luster. Please look at the photos carefully. Why am I selling it after putting so much TLC into it you ask….I want a diesel wagon for its versatility and cargo carrying capabilities, specifically a Mercedes 300TD of the same era.
No matter the year or model, I'm a fan of all W126 sedans, this one being no exception. The mileage on this example is nominal considering the level of care afforded. Cosmetically the car is in outstanding condition for 27 years of age and with regular maintenance and care, the next 30 years or so should wear just as well.
-Paul