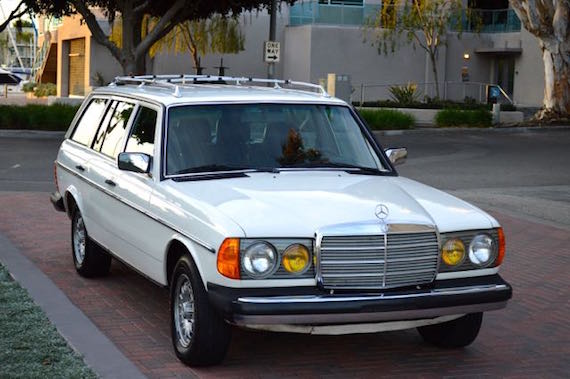 Like the 1993 Volvo 240 Wagon we featured last week, the Mercedes-Benz W123 estate is a legend due to its durability. The Mercedes-Benz W123 estate was aimed a bit more upmarket than Volvo's venerable five-door, combining luxury with utility in a package that is still popular amongst the motoring elite to this day. This final year 300TD for sale in California has crossed the 200,000 mark but those familiar with the W123 Mercedes-Benz will realize that kind of distance is trivial for one of the most legendary Mercedes-Benzes of the past 40 years.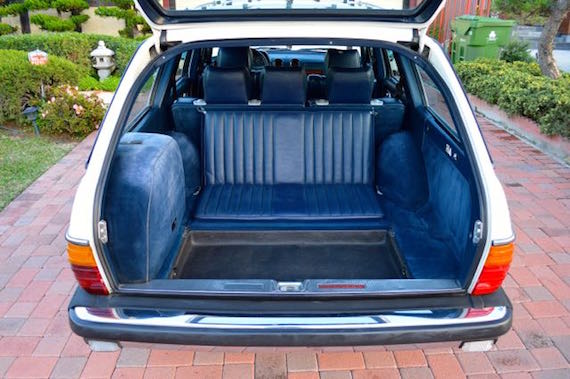 Year: 1985
Model: 300TD
Engine: 3.0 liter turbocharged inline-5 diesel
Transmission: 4-speed automatic
Mileage: 210,600 mi
Price: $12,950 Buy It Now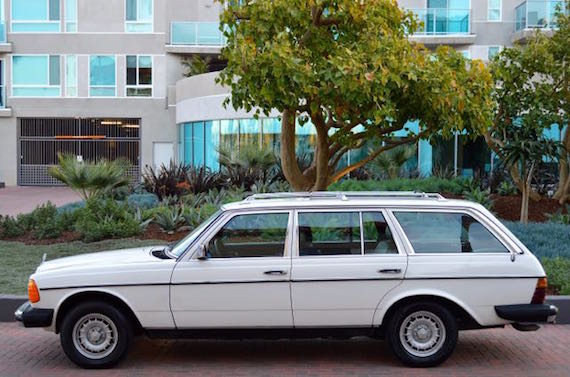 1985 was the last and best year of the W123 series. They were produced from 1977-1985 and only from 1981-1985 with the turbocharged engine. These cars were already known for being extremely durable and reliable. Now with the turbochargers they also had enough power for fun driving. My car was one of the last ones produced in March of 1985 for the American market. It was finished in "Classic White" MB color code 937 with dark blue MB-Tex interior. This is a very classic Mercedes color combination and I do get compliments on it all the time. The original paint still shines wonderful and it looks great with the dark interior. The body is in good condition as well with just minor dings or scratches from 30 years of careful use. The interior is very clean as well, as the many pictures will show. There are no rips or tears in the seats, the carpets are clean and even the wood is still in amazing shape. The car has been regularly detailed and there are no weird odors. It is a very good looking car, but the best thing about it is the way it drives. It has always been maintained well and it shows. This wagon always starts up right away, the transmission shifts smoothly and it has plenty of power. All the gauges are working well, just like all the vacuum elements.

It has been serviced about 6 weeks ago and it is ready to drive just about anywhere. I would not hesitate to drive it all the way to the east coast. These car are known to go for over 500k miles with proper maintenance. There are several Mercedes diesel of this vintage with the same engine on eBay right now with over 500k miles and still driving well. If you keep taking care of this car, it should last you a lifetime. All Parts are readily available through Mercedes or even aftermarket. This car would be perfect for somebody who would like to drive a very reliable classic car every day. It is a perfect commuter car, able to transport 7 passengers in luxury. The 3rd row backward facing seat is favorite with my 7 year old son and his friends from school. I would prefer to sell this car locally to somebody who could actually come by and see it. But I would also try to be helpful with shipping arrangements or an airport pick up (LAX) for out of town buyers. Please do all your "due diligence" BEFORE placing a bid. This is a wonderful 30 year old classic car and it will be sold "as is," "where is" and without a warranty. If you have any questions or would like to come out and see it. Please send me a note through eBay and I will get back to you quickly. I also uploaded many more pictures right after this text and they can describe this car better than I can. This wagon will be sold with a clear CA title in my name, the books and 4 matching keys. Thank you for looking at my auction and Happy Holidays.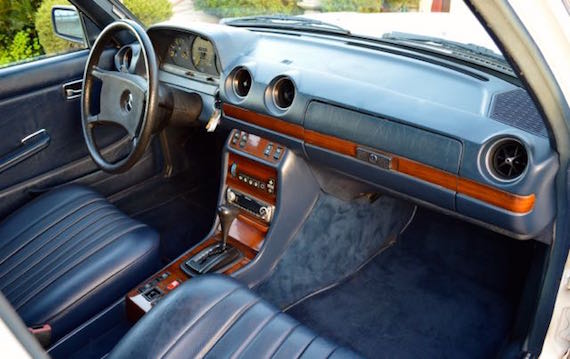 It's pretty amazing that this car looks so good at 30 years of age. These days, with cheaper interior bits and plastic bumpers, its much harder to keep a car looking fresh. But a car like this with hard wearing MB Tex upholstery and metal bumpers trimmed with black rubber helps fend off the wear and tear that comes with the rigors of daily use. Values for late model 300TD estates have stayed steady in the $10,000 to $15,000 territory, with some outliers above that range for those with exceptionally low mileage. The mileage is a touch high on this one, but considering the condition this one looks to have been well cared for. If more details can be provided on service history and recent maintenance, this one would be a solid buy.
-Paul