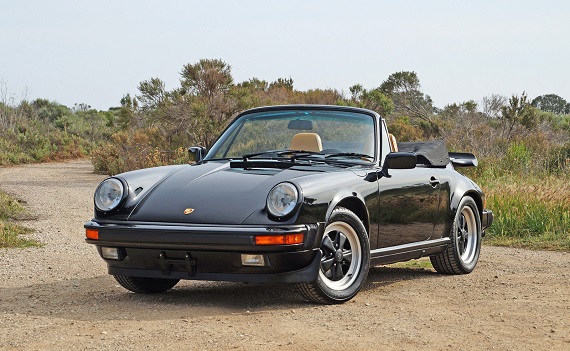 Some cars will always hook me. Through a combination of a good leading picture and a particular model that, whether I realize it or not, happens to be just the sort of thing I'm looking for, certain ads draw me in and lead to further investigation. Sometimes the joy ends there. With others, like the car we see here, it ends up deserving the extra attention. Here we have a Black 1985 Porsche 911 Carrera Cabriolet, located in California, with 53,115 miles on it. Black and Tan (or in this case, Black and Champagne) remains one of my all time favorite combinations and on a Cabriolet it works particularly well since the contrast is made more apparent once the top is dropped. This isn't a striking combination so much as it is a classic combination. And on the 3.2 Carrera it's a combination that shows really nicely. With warmer days nearly at hand now is just the time to get into an open-top car!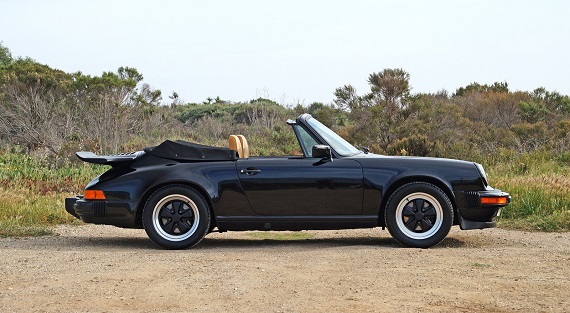 Year: 1985
Model: 911 Carrera Cabriolet
Engine: 3.2 liter flat-6
Transmission: 5-speed manual
Mileage: 53,115 mi
Price: Reserve Auction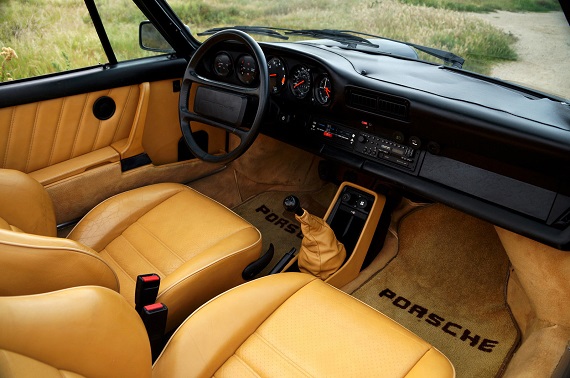 Offered for sale is a striking, exceptionally clean, well maintained and entirely documented two owner 1985 Porsche 911 Carrera Cabriolet with only 53k original miles from new. Finished in beautifully offsetting Black over a Champagne leather interior, the car is as mechanically sound as it is beautiful, a rare original example that comes with the original window sticker, every single book and manual (including the stamped service booklet), an unbroken and comprehensive chain of service records from 1985 to the present day and a clean CARFAX report, all supporting the car's ownership and mileage history. Whether you're in the market as a seasoned Porsche collector or just as a weekend enthusiast, this gorgeous and mechanically strong example absolutely deserves your consideration.

In October of 1985, Lynch Porsche Audi of Chicago, IL delivered the car to its original owner, a Mr. Mueser of Rochester, MN. By 1988 Mr. Mueser had moved to neighboring Wisconsin, as evidenced by his 15k mile service receipt in 1988. Always properly garaged and maintained, Mr. Mueser always drove the car sparingly and only in fair weather, the definition of a cherished weekend cruiser. As such, the odometer had only 36k miles on it when Mr. Mueser finally decided to part with the car, selling it in 1999 to its second owner, an investment banker from Milwaukie, WI. He would provide the same care and gentle use, continuing the first owner's fastidious maintenance and accruing a mere 17k miles in his 16 years ownership before we were able to acquire the car from him earlier this year.

The car's finish is excellent, deep and lustrous and marred only by the most negligible of imperfections (a rock chip or two, and the like), none of which are significant enough to appear in the pictures or detract from the car's considerable appeal. The beautiful and ever-imposing Black finish cloaks a body that is straight and free of dents, with excellent panel fits and gaps throughout. All of the glass and rubber is in excellent condition, the black soft top shows virtually no wear and comes with both the standard boot cover and a full tonneau cover. Warranty documentation shows that the car was delivered to Mr. Mueser with dealer-installed BBS honeycomb wheels, and while the car spent the last 30 years wearing them, we decided to switch them out for the appropriate Fuchs 7s and 8s wrapped in Michelin tires with plenty of remaining tread. That being said, we have pictures of the car with the BBS wheels still installed and if the car's next owner would prefer we switch them back, we'd be happy to accommodate such a request. Lastly, the car's undercarriage is completely rust-free, original and untouched, evidencing the car's sparing, fair-weather-only use.

The car's interior is equally as clean, the Champagne leather seats showing only nominal wear, which can also be said for the original carpets and interior panels. The door pockets retain their shape – a common problem on the more used examples of this model – and the leather wrapped dash houses the original Blaupunkt Monterey radio which still functions beautifully through the car's original sound system. Both the boot cover and full tonneau cover are in excellent original condition and, speaking of which, according to the original window sticker, the car left the factory with the following options:

Special Leather Interior (Champagne)
Steering Wheel with Raised Hub
Full Tonneau Cover
Blaupunkt Monterey Digital Cassette/Radio
Limited Slip Differential
Power Door Locks
Sport Seat Left
Sport Seat Right
16" Forged Alloy Wheels
Cruise Control
Spoilers, Front and Rear
Alarm System

In addition to the original window sticker, the car also comes with its full original tool kit, tonneau and boot cover storage bags, original "space-saver" spare tire and changing tools, original 1985 marketing booklet and correspondence from the president of Porsche North America to Mr. Mueser.

The car is also extremely tight and strong mechanically, which isn't surprising considering the amount and quality of care and maintenance it has received. The bulletproof 3.2L engine fires up without any smoke or hesitation, pulling strongly and smoothly through each of the transmission's gears. Compression is excellent, as is oil pressure, and it's easy to understand why this era of 911s is one of the most desirable: it beautifully melds efficiency, reliability and everyday ride quality with a truly visceral, vintage driving feel that is sure to provide anyone behind the wheel a wonderfully grin-inducing experience. Everything works as it should, including the Air Conditioning, which was converted to R134a in July of last year.

If you're in the market for a 1980s 911, there are very few examples that can best this exceptional Carrera. It checks all the right boxes: only 53k miles, clean and exhaustively documented two owner history, iconic and desirable livery, exceptional cosmetics and strong, thoroughly maintained mechanicals. With the market reflecting continued and rapid appreciation, this is arguably one of the best examples of one of Porsche's best creations and we expect interest to be considerable.

We want this car to go to great home and would be happy to answer any questions, so please feel free to email us or call us at 805-202-4557. You can also visit us online at GoodmanReed.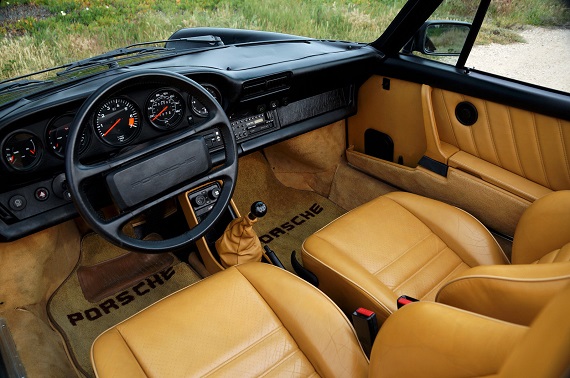 Like yesterday's 911SC, an early 3.2 Carrera (read: pre-1987) remains a pretty good value on the 911 market. This particular example, due to its lower mileage, well-documented history, and apparent condition, will certainly command a higher dollar figure than yesterday's car, but it still has enough miles that it can be enjoyed as a weekend cruiser without stretching into territory where its value will begin to take a hit. Bidding currently sits at $33,200 and I'd guess this will stretch to near, or even above, $40K before auction end. There would certainly be cheaper options out there as a driver, but long term this one offers extra incentive for an owner who will care for it properly.
-Rob