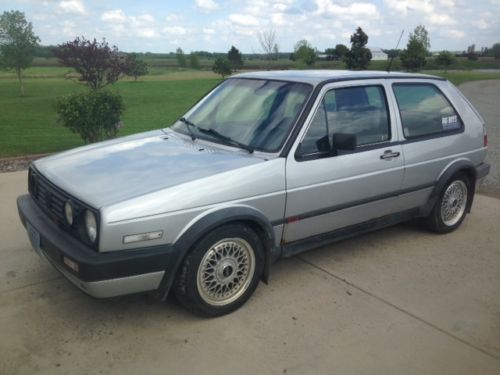 I hear the same line all the time from enthusiasts; "Volkswagen/Audi, bring (enter European specification model) to the U.S. – we'll buy it!" Well, the truth is that there are many reasons why the company doesn't bring your long-sought after model to these shores. First, they're not stupid, in general. They've done their homework and though there are inevitably many people who claim they'd rush down to their dealer to buy the car, the number of people who would actually show up with cash is quite a different story. Mostly, it seems those enthusiasts saying they so eagerly await a model really would wait until it had floated down the used-market stream a bit. Then, there are the costs associated with bringing a new model into the market; the safety tests, campaigns to launch a new model, stocking and educating dealers, parts, and training mechanics to repair them. And, when that isn't enough, there will inevitably be some small problem and they need to recall them all. Look, I'm not saying car companies aren't making money – but it's money that they're in it for, not the love of making cars (sorry, Porsche – but it's true). On top of that, the companies – believe it or else – have sales data. And that sales data reflects period when they did import the cars that supposedly enthusiasts wanted. And while some enthusiasts did buy them, more "non-enthusiasts" bought their other models more. A great example of this is the disappearance of the wagons from North America, but more poignant to this post is the relative lack of diesels. Considering all of the major German manufacturers (even, begrudgingly, those purists at Porsche who only love to make cars, not money) offer highly efficient diesels in their model ranges, it's a bit strange that they haven't offered them until quite recently over here, right? Well, again, history tells us that they did in fact offer diesels in the 1980s – but loud, noisy and slow, few people bought them. They do still survive though, so it's always nice to see one pop up like this 1985 Golf. Modified to look like a GTi, it's a spiritual nod to the upcoming and long anticipated Golf GTD TDi that, if I'm to believe my Facebook feed, every single Volkswagen enthusiasts is going to run out and buy (right after they also run out and buy the maybe-coming Golf TDi 4Motion Sportwagon, that is):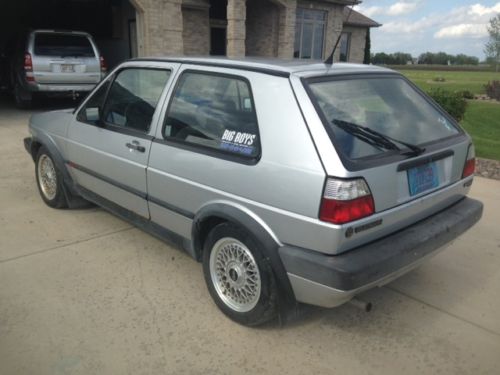 Year: 1985
Model: Golf Diesel
Engine: 1.6 liter inline-4
Transmission: 5-speed manual
Mileage: 210,000 mi
Price: No Reserve Auction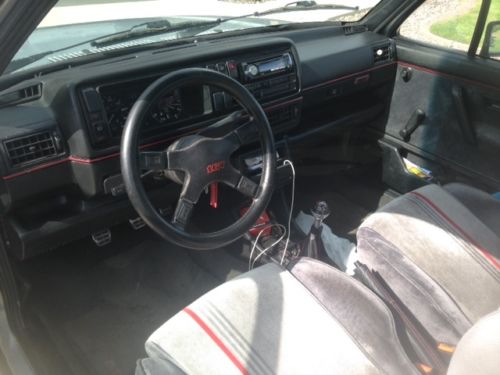 This is for sale locally. 1985 VW GOLF DIESEL….

This is also my daily driver so miles will go up. No oil leaks on car.

This is the 1.6L diesel and is a 5 speed manual..

There are some minor rusts spots but minimal for a 1985… Buyer arranges shipping if need be. But I would not be worried to drive this car across the country of need be. I will assist in help loading.

500.00 via PayPal, remaining due upon pickup

920-246-405five for questions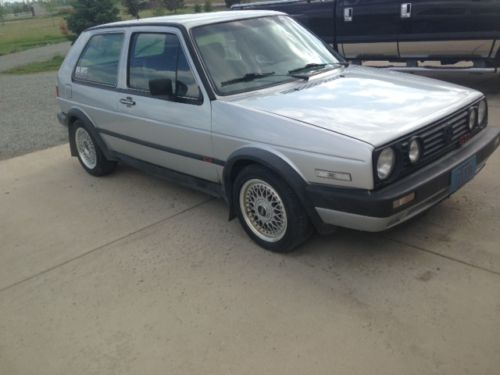 First off, you'll be forgiven for thinking this is a GTi. Externally, it looks just about exactly like a 1991/2 16V model right down to what appear to be correct BBS RMs, though the picture quality isn't great. And, we don't get any pictures of the ME-code 1.6 inline-4 diesel under the hood. The diesel, unlike today's TDi range in Volkswagen, was actually the base A2 model in 1985 on its launch – at $6,990, it was the cheapest Golf you could buy. You could not get a tachometer or automatic transmission on the diesel, and just about everything was an extra option – from the radio to the split-folding rear seat, you had to pay for them all. The color of this example, which appears to be Diamond Silver Metallic – a carry over from the A1 range – would have been available at extra cost on the base Golf, so the car many not have been resprayed, but attempts were clearly made to update the car. The original front mounted antenna has a plug; correct if the car didn't originally have a radio, but it was easy to source if, like me and this seller, you mounted a Fuba roof-mounted antenna to mimic the 16V GTis. A look inside shows there currently is a radio, but obviously not an original one. Of course, neither is the interior, which appears to be full-GTi spec right down to the dash and nifty 16V steering wheel. Originally, the car would have had a plain and quite plastic steering wheel and chrome strip trim on the dash. They even went so far as to add the matte black stickers around the rear hatch (GTi only), and though they carried that partially to the side around the windows, the GTi's black-out carried up the B pillar as well, which this seller didn't do. Minor details like this, a better description of the history of the car mechanically and better pictures haven't generated active bidding; at time of writing with two days left on the auction, this car is still waiting for it's opening bid, which the seller has placed optimistically at $4,600. As a collection of parts, there's certainly some value here – if, for example, those are correct BBS RMs, alone they're worth $1,000 or more to the right person. The same goes for everything from the interior to the bumpers and grill; but as a running car I think the seller will be hard pressed to push over $3,500 on a 210,000 mile diesel Golf with some rust at this point. Again, here's a case where I think the car would be worth more if it was in pristine original condition even if the execution of the modifications here is really top notch, overall.
-Carter