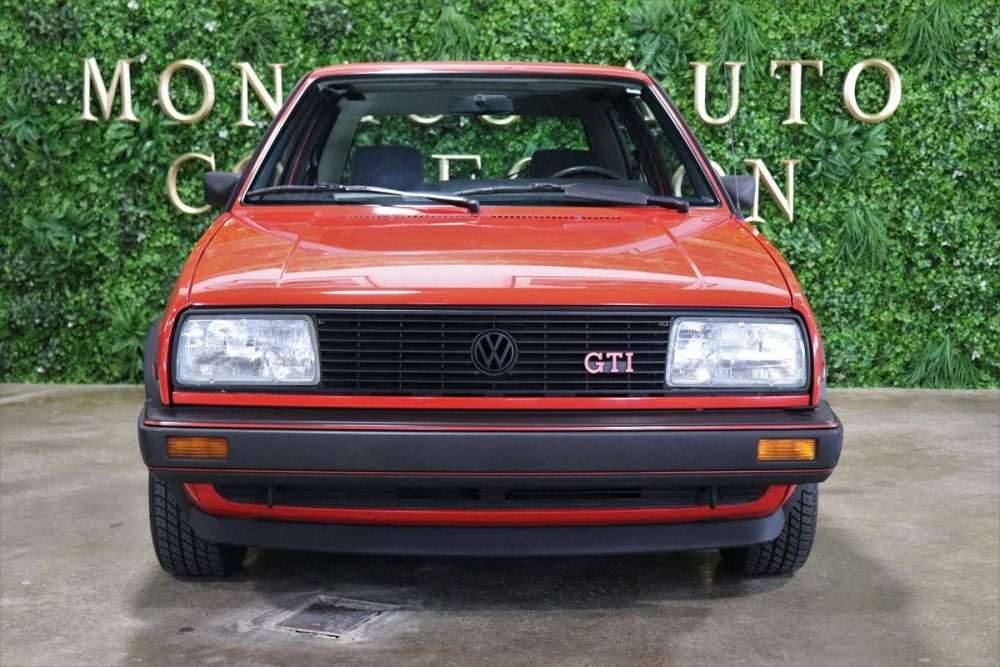 Landing squarely back into reality and our comfort zone, let's look at the 1985 Volkswagen GTI. Replacing a car universally heralded as the second coming of the automobile certainly wasn't easy for VW, but the Mk.2 chassis proved up to the task immediately. It was very much the same formula as the original with a touch more refinement, space and power. The lines of the Mk.2 were less angular and upright than Giugiaro's original design, but several aspects of the Herbert Schäfer replacement mimicked another Giugiaro design – the Lancia Delta. This was most notable in the C-pillar, which tapers with nearly the exact same angle, while early 4-door Golfs also shared the split-glass look on the doors.
For U.S. customers, the GTI continued to be a 2-door only affair and was initially only available in three colors – Mars Red, Black, and Diamond Silver Metallic for an extra charge. Customers opting for the GTI package paid approximately $10,000, which included red-accent trim outside, 'Bottlecap' 14″ alloys and blacked-out fender trim, a rear spoiler above the window and aerodynamic headlights. Dynamically, the GTI received the new 100-horsepower 'HT' high compression 1.8 liter fuel-injected inline-4, which was solely mated to the front wheels via a close-ratio 5-speed manual. GTIs also sported 4-wheel disc brakes for the first time and front and rear anti-sway bars to go along with the sport-tuned suspension. The driver got special striped fabric in either gray or red over their sport seats, and a leather-wrapped steering wheel and digital computer display were all standard. Buyers could, of course, opt for a sunroof, air conditioning, power steering, cruise control and an upgraded stereo if they chose.
Despite the upgraded spec and new model, Golf sales continued to slide in the mid-80s from their height (as the Rabbit) in the late 1970s. Coupled with their spunky nature, affordability and less-than-stellar build quality, very few Westmoreland-built A2 GTIs remain around – certainly not in the condition of today's example: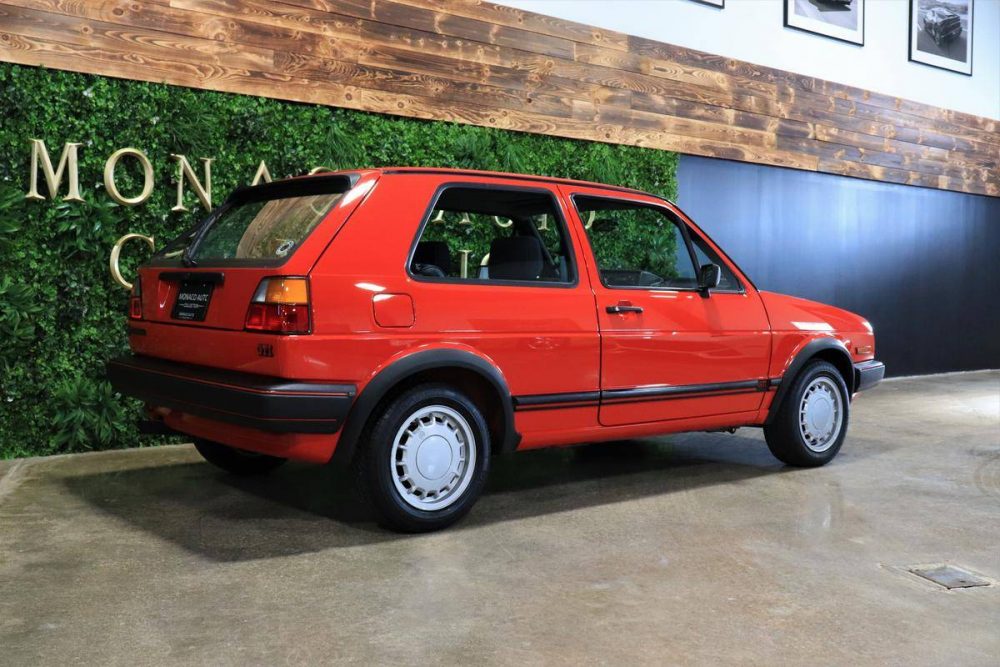 Year: 1985
Model: GTI
VIN: 1VWDB0174FV037343
Engine: 1.8 liter inline-4
Transmission: 5-speed manual
Mileage: 34,515 mi
Price: $24,495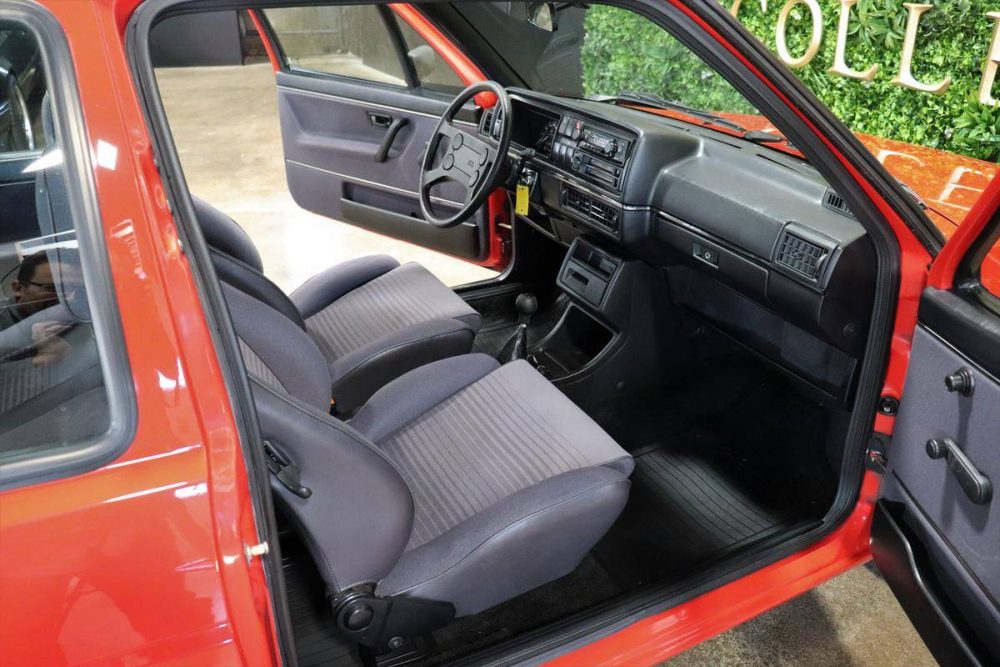 Just in to our inventory is this unicorn time capsule 1985 Volkswagen GTI that comes in very desirable Mars Red with Grey/black interior. This car only has 34,515 miles and is truly a survivor. Most of these Mk2 GTI's by this time or even 10 years ago either have rusted out, been thrown away because of deteriorating condition or have been highly modified. Here are some highlights of this outstanding Mk2 Volkswagen GTI.

– 1 owner for the first 33 years
– No modifications, even has the stock Blaupunkt radio and the original shift knob
– Desirable base no frills model, No AC or Power Steering or power windows
– Service records and original owners manual and even the original owners card
– Cadmium plating still visible on engine hardware
– Original genuine rubber floor mats from 1985
– Zero rips, tears or rub marks on the seat bolsters
– Still retains the original "Motor Trend car of the Year" sticker
– Even parts like the battery cover are still intact, missing on 99% of all MK2 GTi's
– Did we mention 34,515 miles!

This is truly a one of a kind example. In our 30 years of being in the car business the only time I remember seeing one like this is when they were new and within the 1st 5 years of ownership. Most of them were driven daily and almost all of them that are left have some modifications done on them, this unicorn example has zero modifications on it and it never had them on it.

Trade-ins are welcome and we can offer financing and extended warranties on almost anything we sell. This GTI is in our Wadsworth showroom and comes with a clean title.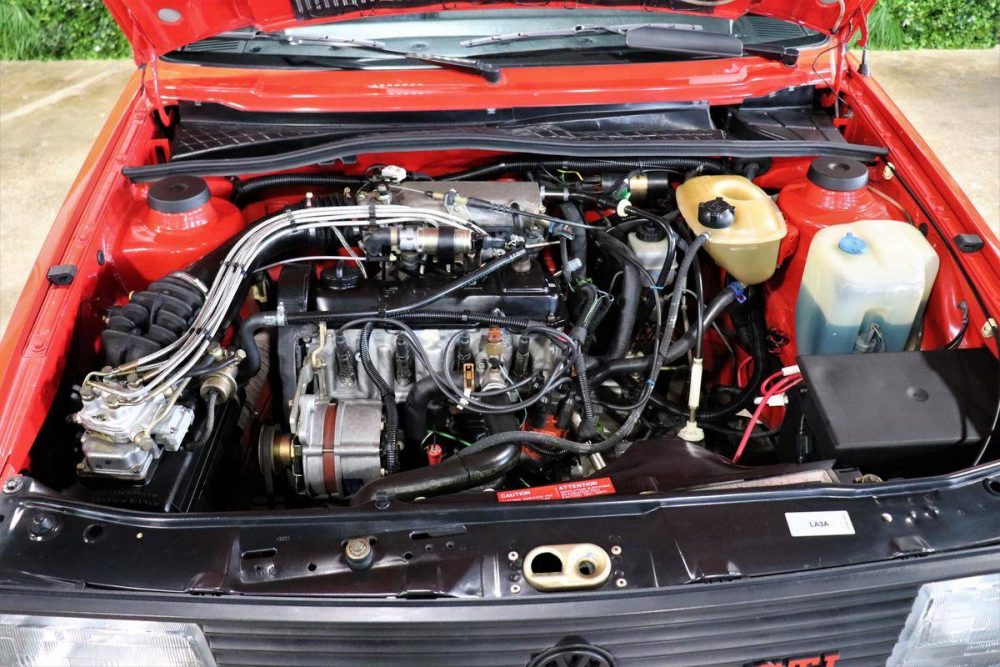 Throughout this car is impressive, from the still zinc-coated engine bay bits to the unmolested bolsters on the sport seats. Period details like the Pirelli P600s and even the Motor Trend 'Car of the Year sticker add to the distinction. It is virtually faultless, with all documentation from what appears to be day one. Options are pretty low on this one; no air conditioning, no power steering, no sunroof here. But if anything that makes this very basic GTI all the more pure and even more desirable.
Is this a $25,000 car today? We've seen Mk.2s head towards that amount, though it's usually been the Callaway Turbo equipped models that bring big bucks. Recently, though, someone was able to score this 34,000 mile Callaway '85 for only $11,499:
Tuner Tuesday: 1985 Volkswagen GTI Callaway Turbo with 34,000 Miles
Obviously you have to be in the right place at the right time, but I continue to believe that clean Mk.2s will keep surfacing as prices rise. The problem is that you're taking a gamble that another will come up and it will be less expensive, which is not a guarantee. If you want the cleanest, most original '85 GTI out there right now (and, likely, in the foreseeable future), here's your chance.
-Carter