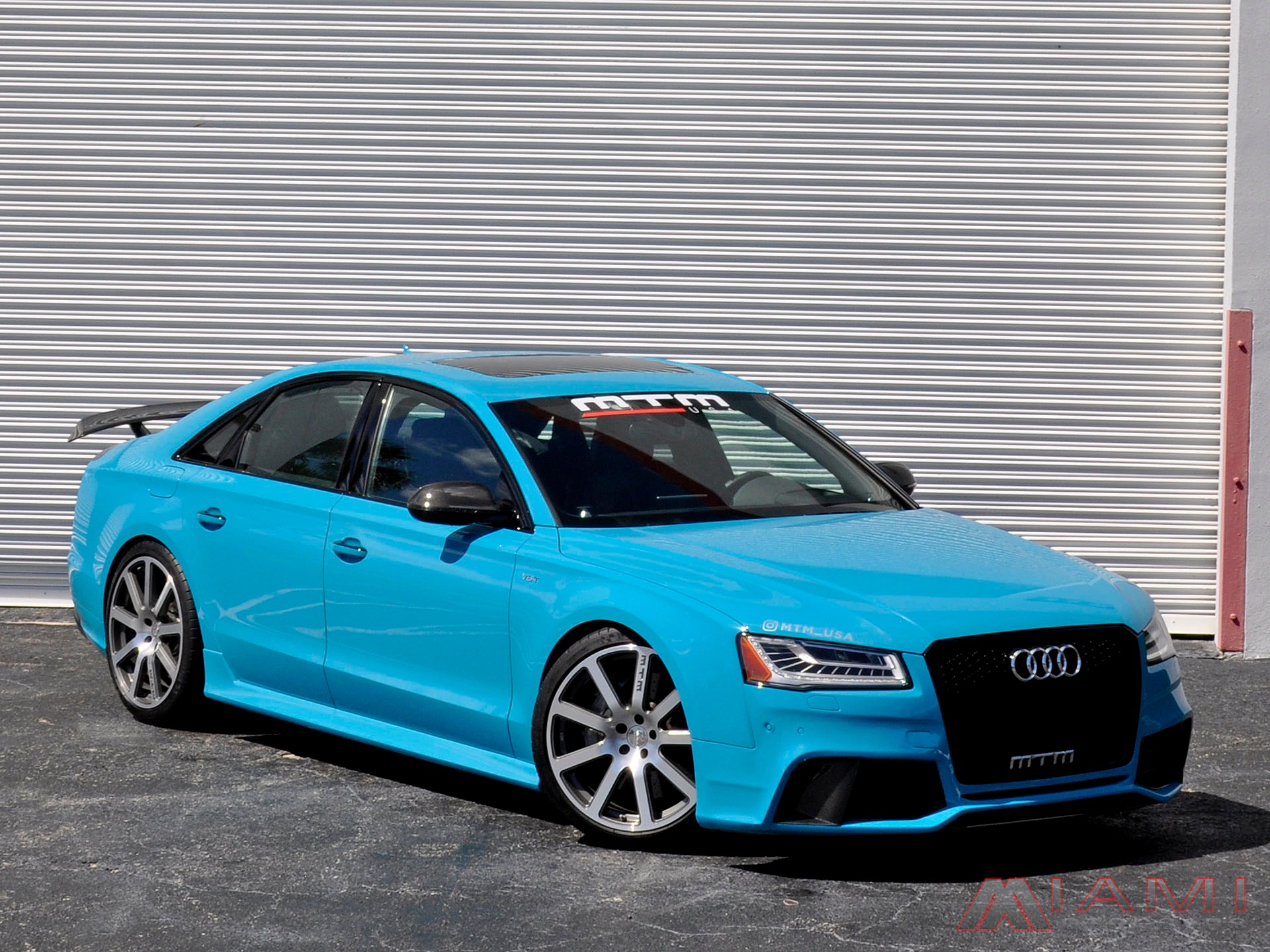 There's no denying that I'm a huge fan of the equally huge Audi S8. However, if I'm completely honest I must admit that the last two generations of S8 haven't done all that much to impress me. Are they faster than the original? Without doubt. Are they more luxurious, too? Certainly. But to me the D2 S8 was just the right combination of punch, style and presence which somehow has been lost on the newer generations. But that doesn't mean that I don't pay attention to them.
Hard to believe though it may be, 2019 marks the year of the introduction of the 5th generation of S8. The new one will undoubtedly carry some time-warp inducing drivetrain just like the fourth generation did. The 4.0T may appear in a bunch of Audis, but when equipped in the S8 – especially the Plus model – it creates a large executive capable of altering physics. With 605 horsepower on tap driven through the predictable ZF 8-speed automatic to all four wheels via the most clever iteration of quattro, Audi claimed a 3.3 second 0-60 time and an electronically-limited 190 mph top speed. This is a 4,700 lb. sedan, mind you, full of all the most beautiful leather, wood carbon fiber and piano black treatment one could stuff into an electronics suite. This thing, stock on street rubber, will do a standing quarter-mile in 11.6 seconds – .3 seconds faster than a Ferrari F40, for reference.
But for some people, even the Plus edition of the S8 wasn't enough. Enter Motoren-Technik-Mayer, better known as MTM. Roland Mayer, the eponymous founder of the company, has been at it since the beginning of quattro, and they're generally considered one of the best when it comes to turning up even already fast Audis. So what did they do to the S8? Well, they named it after a place that calls itself 'The Palace of Speed' – Talladega. Does that give you a clue?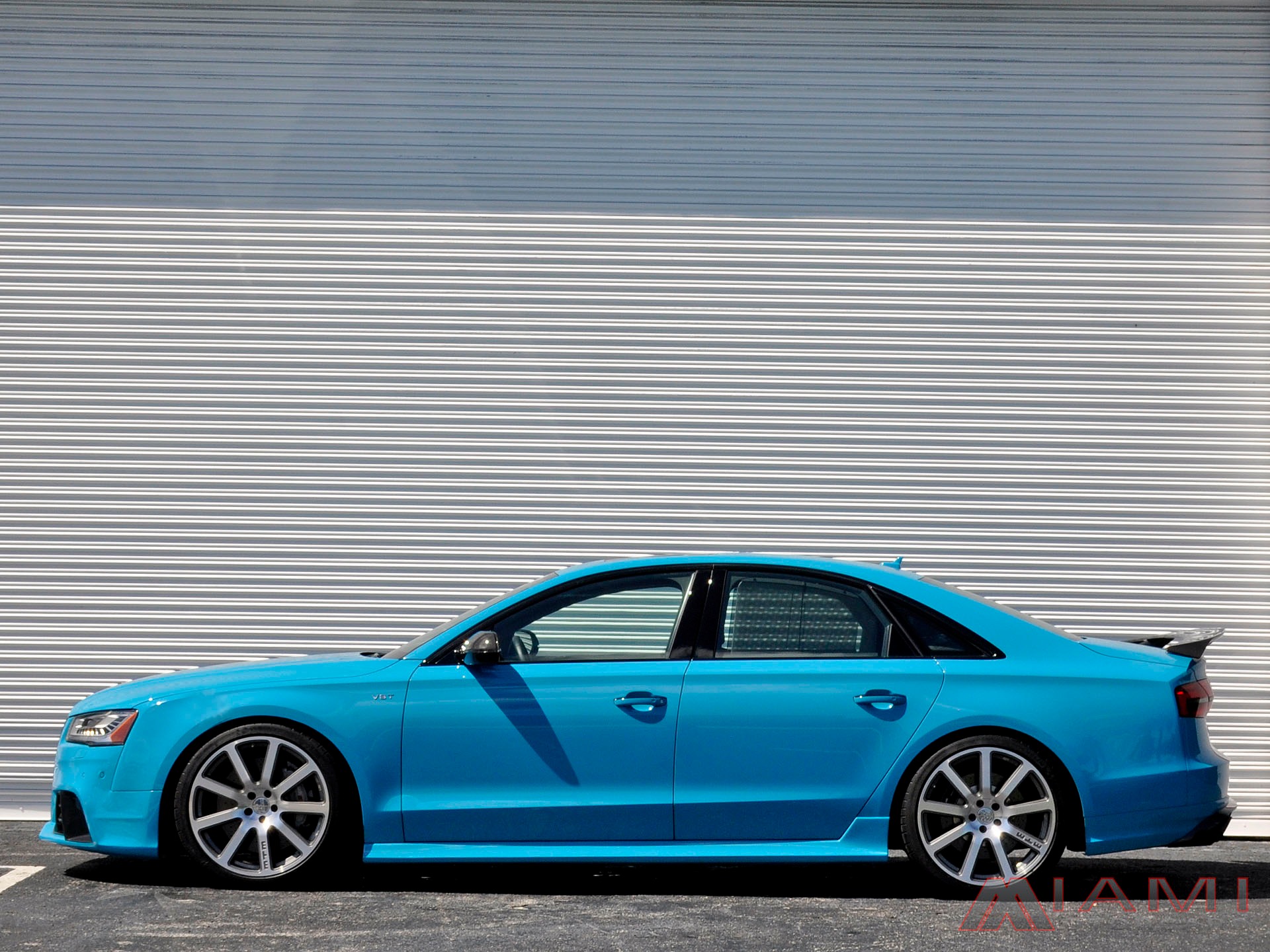 Year: 2017
Model: S8 MTM Talladega R
VIN: WUAJ5AFD7HN900661
Engine: 4.0 liter twin-turbocharged V8
Transmission: 8-speed automatic
Mileage: 5,900 mi
Price: Reserve Auction ($189,999 on seller's site)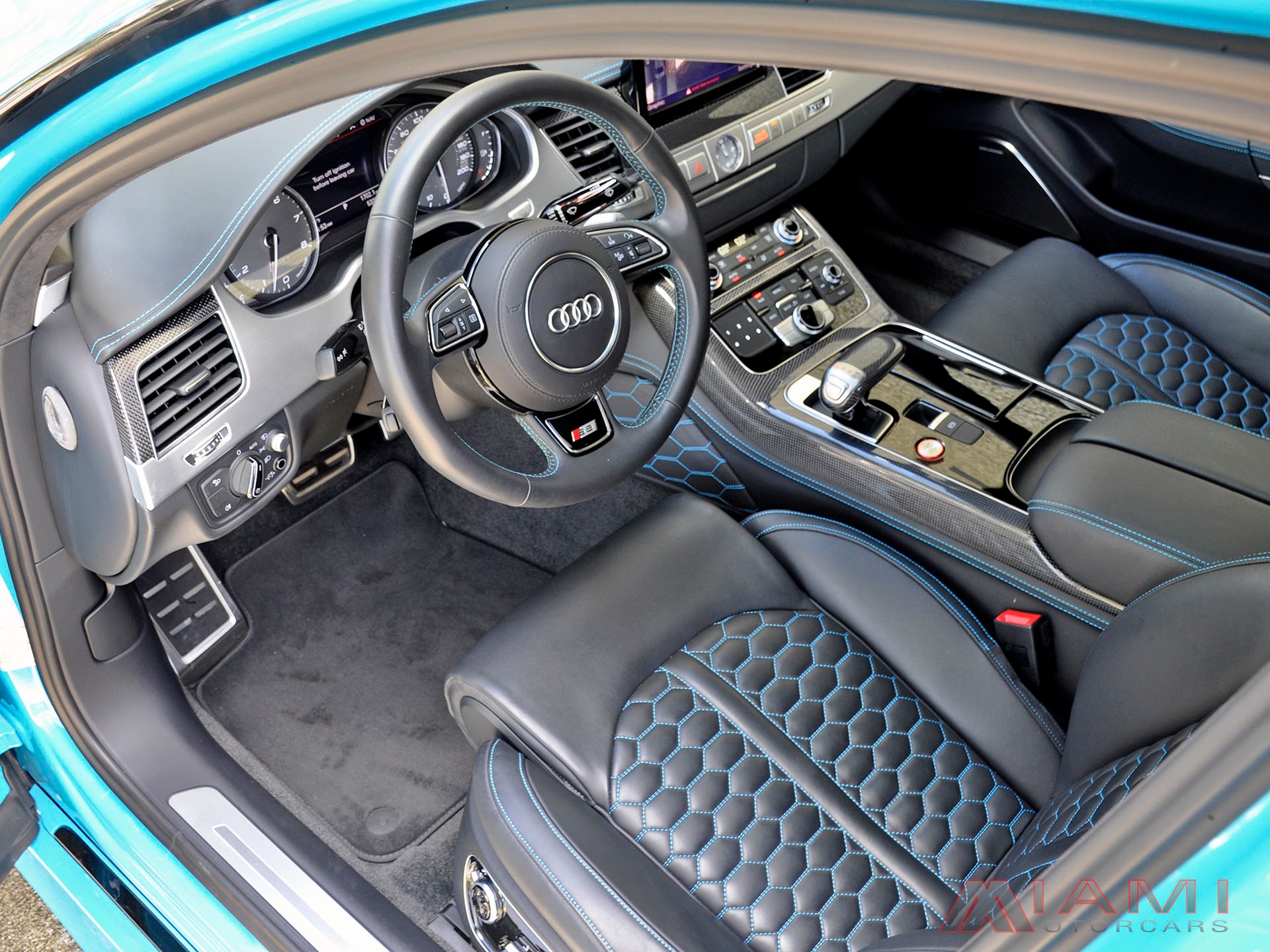 This Audi S8 Comes In Rarely Seen Factory Color Miami Blue! Carbon Fiber Everywhere!! Built By The Most Exclusive Audi Tuner MTM Into The Most Radical S8 Ever Imagined!!As New Condition!!Loaded With Options and Features As:$138,050 Original MSRP:Audi Exclusive Color ($3900)Dynamic Package ($11,000)Carbon Fiber SpoilersSport ExhaustCeramic BrakesFull Carbon Interior PackageBang & Olufsen Advanced Sound ($6,300)MTM Talladega R Build:802HP Kit!!!!! ($110,850)MTM Turbocharger With Full Turbo Back Stainless Steel ExhaustMTM Full Aerodynamic Body KitFront Spoiler With Inlets, Side Sills, Carbon Rear Diffusor RS-Style Tail PipesMTM Full Interior Sport PackageRS Style Front & Rear Seats With Miami Blue Stitching And MTM Seat Badging. RS Door Panels With Miami Blue Honeycomb StitchingMTM Carbon Fiber Style PackageMTM Bimoto Wheels With Michelin Pilot Sport TiresMTM F-Cantronic For Air Suspension AdjustmentMTM RS Style GrilleONLY KNOWN MIAMI BLUE S8 PLUS WITH 800+HP ON THIS PLANET!!!Call (305) 423-9009$250,000+ MSRPCertified Clean CarfaxRATES START AT 2.79% CALL TODAY TO GET YOUR ULTRA FAST APPROVAL/FUNDING!!`This Audi S8 MTM Talladega R Is The Most Radical Sedan Ever Created!! Do Not Miss It!! Please Feel Free To Contact Our Sales Staff With Any Questions You May Have AtClick Here To Call 1-954-410-1868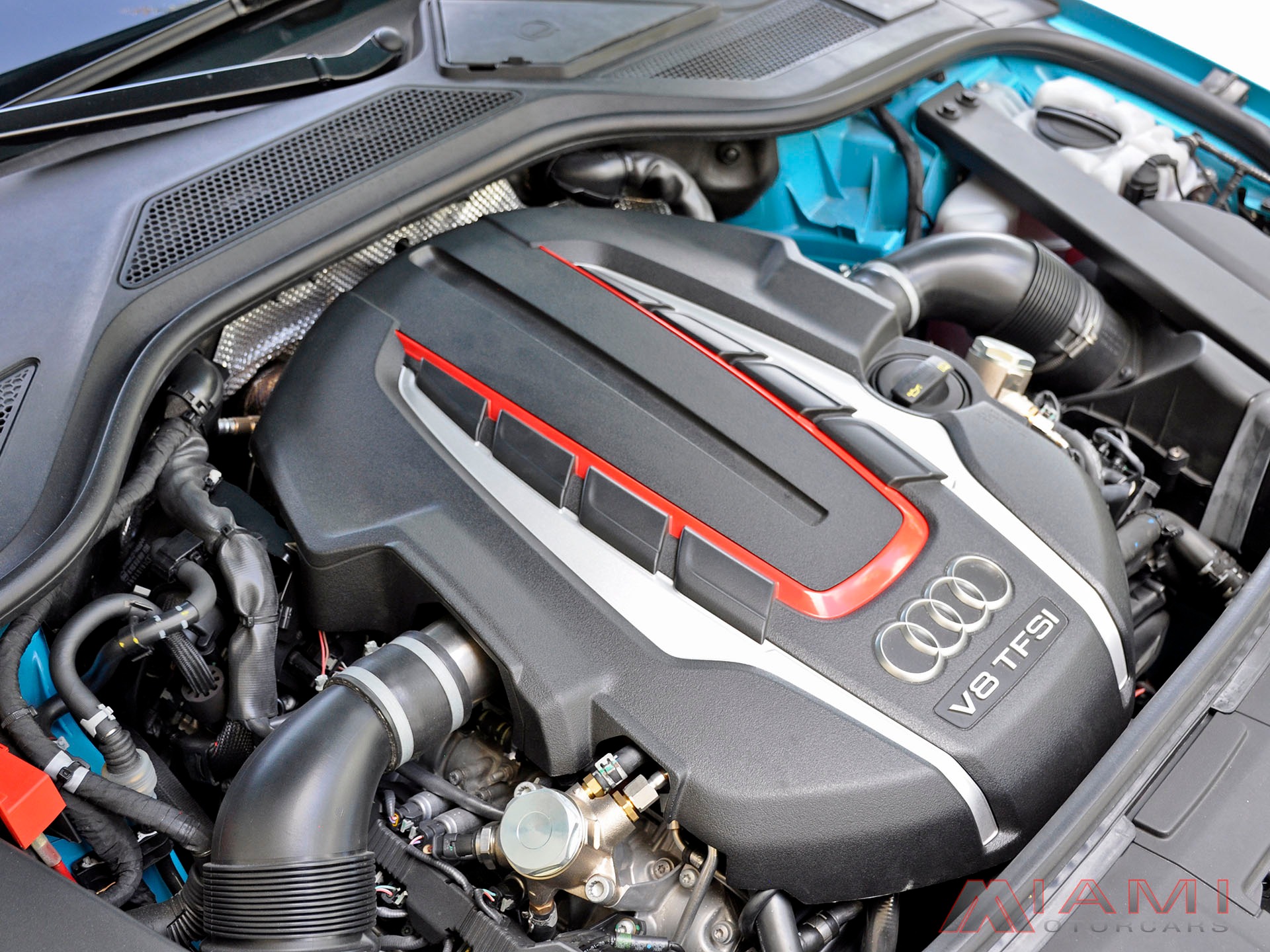 The Plus model stickers at an already hard to swallow $116,875 without options. MTM's modifications on the Talladega R if taken in full, raise that price to approximately $243,000. What does all that scratch buy you? MTM fit its own front spoiler, rockers, and diffuser along with special mirror caps and a rear spoiler. You also got MTM's special 'Bimoto' wheels cast in 22″ size with 265-30-22 Michelin Super Sports fit. Behind the massive wheels, carbon cermaic brakes helped haul down the monstrous output the revised 4.0T was cranking out. After fiddling with most of the bits and fitting their own software, power was up nearly 200 (!!!) to 802 at 6,000 RPMS and 698 lb.ft of torque (145 more than the stock S8 Plus). Despite all this extra push, the Talladega R wasn't a lot faster off the line than the standard Plus – not that it was exactly pokey to begin with. MTM claimed 0-60 in 3.1 seconds, .2 better than Audi. But in the mid-range and top end, MTM's creation really shines – 0-124 mph (200 kph) was 10 seconds flat – 1.6 faster than the standard car, and the Talladega tops out at 217 mph – some 27 mph faster than your dealer can claim. For comparison's sake, Mark Donohue's famous record in the 1,200 horsepower 917-30 Can-Am car was 221 mph at – you guessed it – Talladega.
Of course, MTM also fit a special interior, but then this particular S8 has gone a few steps further. Equipped in Porsche's Miami Blue with color-matched stitching accents on the honeycomb pleated leather inside, it is certainly the most extreme S8 I've seen. Obviously what caught my attention was the unusual exterior color which, at first, I mistook for an expensive wrap, but then that the car is a fully-spec'd MTM is equally impressive. In fact, this car appears to have been the show model for the Talladega R bits from MTM for our shores. Does all of this translate into desirability? Well, considering it's already lost ~$50,000 worth of value in a year, probably not as much as the seller is hoping. And, of course, that's only if it sells for asking price, which is still substantially more than a brand-new Porsche-powered D5 S8 will be when it launches later this year. I also think that Miami Blue, while I really like it, looks a lot better on the Porsches it was intended for. This car would have been a lot cooler in Sport Quattro spec Malachite Green, I think, and it would have been a nice nod to the past at the same time. In a world of newest and flashiest, I don't think anyone will want to be spotted rolling around in a 3-year old bright blue used car but I could be wrong. This example is so far removed from the 5000S quattro I looked at, it's hard to contemplate – and that means as neat as the spec is, it's also that far removed from me, too.
-Carter