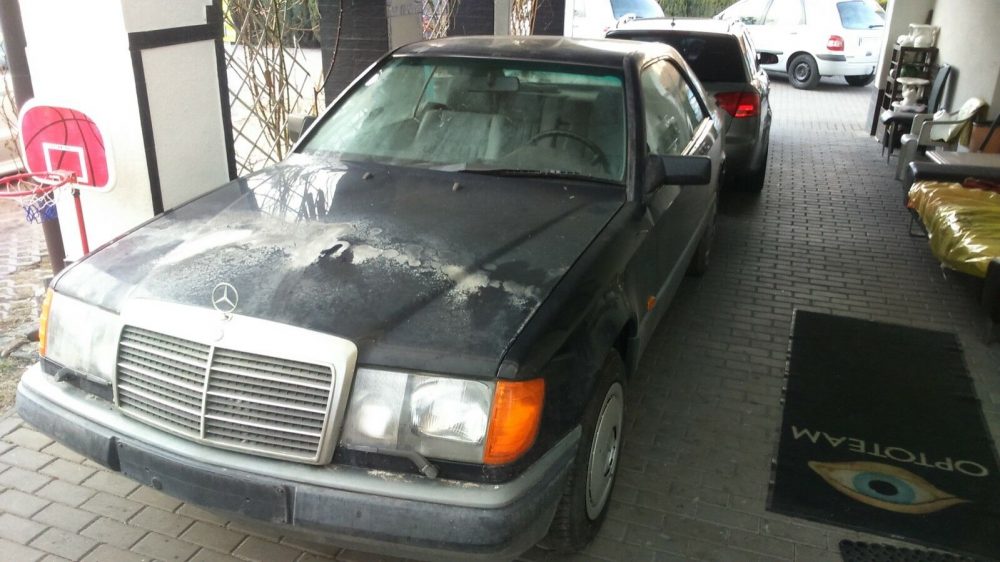 It seems like every so often a car pops up that somehow has completely fallen off everyone's radar – including the owner. Usually it is some story about how they were bought for a business but shut down suddenly and everything was left as-is, or how an owner bought the car and suddenly passed leaving the car sit while the family had other things to deal with. Sometimes you might hear about how someone bought a car and stashed it away thinking it'll be worth big money sometime in the future. As a result, most of these cars have but a few thousand miles – maybe somewhere in the hundreds – but I can't recall seeing too many cars with this few miles.
This 1988 Mercedes-Benz 300CE up for sale in Poland has just 98 kilometers on the odometer. For those who live their lives in miles, that is roughly 60. That's it. How did this happen? I don't know. The seller says that this car was originally sold in Sweden where it sat in a barn for the past 30 years before somehow ending up in Poland. It has never been washed and everything is included from when it left the dealer's lot. Problem is, this C124 isn't exactly a time capsule as you might have noticed by the photo. On second thought, it maybe is a time capsule, only one of those that wasn't sealed correctly and when they dig it up to open it, everything inside is ruined from water damage. Yes, that's more like it.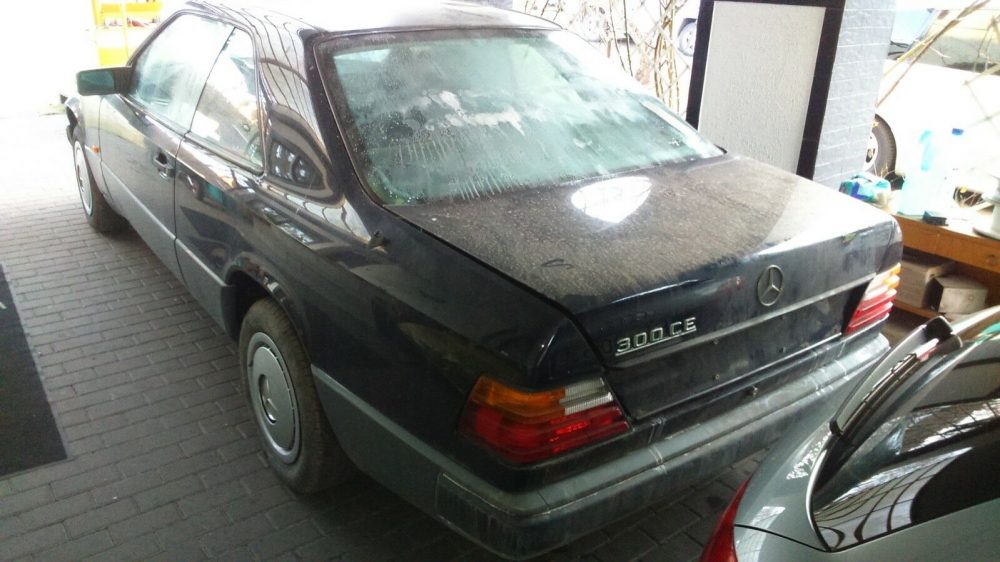 Year: 1988
Model: 300CE
VIN: WDB1240501A596604
Engine: 3.0 liter inline-6
Transmission: 4-speed automatic
Mileage: 98 km (60 mi)
Price: $40,000 Buy It Now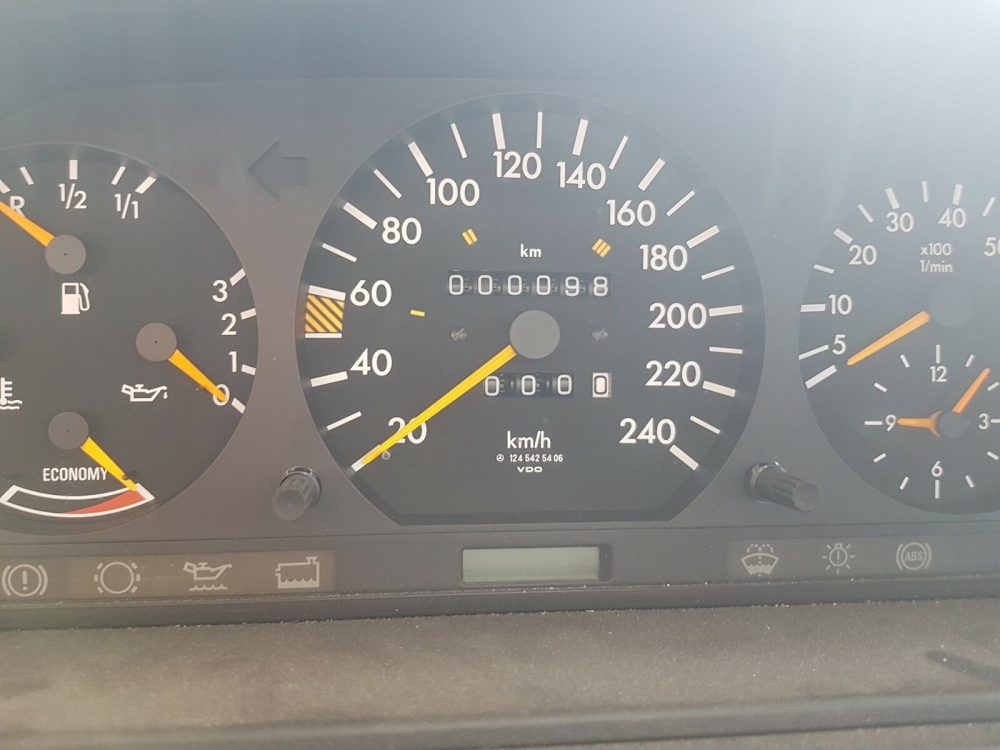 Unique opportunity to buy this Mercedes Benz 300 CE with unbelievably low mileage of 98 kilometres (60 miles). The car was brought from Sweden, fully operational, with the steering wheel on left-hand side. At the moment, the car is kept in Poland. It is a truly museum/exhibitory model. It has been kept in a barn for the last 30 years. While kept in the barn, water was dripping onto the bonnet of the car and it resulted in limescale build up. Descaling is an uncomplicated process, yet it has to be done by a specialist using special chemical products (I haven't tried to remove it myself). The car has never been washed from the day of purchase. I would also like to add, that the barn this car has been kept in is very well ventilated which provided best conditions for this car to be kept in. This car requires minimum work and effort to bring it back to the perfect condition. I have the name and address of the company this car was purchased from, as well as all the paperwork, a set of keys, vehicle service book and vehicle manual, in general all the paperwork you would get when buying a new car from a car salon. All the paperwork is intact, in impeccable state. I am able to present the car's history from the moment of purchase in 1988 until today, all supported with appropriate documents. There has only been 141 498 copies of this model of the care manufactured. Everything is genuine and in perfect condition. A real treat for car collectors. It is probably the only, 100 per cent original, intact model of this car with such low mileage of 98 km. I am open to offers. If you are interested, please contact me at 00447724290468 (uk number) or dawid909-84@o2.pl . If I don't answer, please send me a text message. I look forward to hearing from you.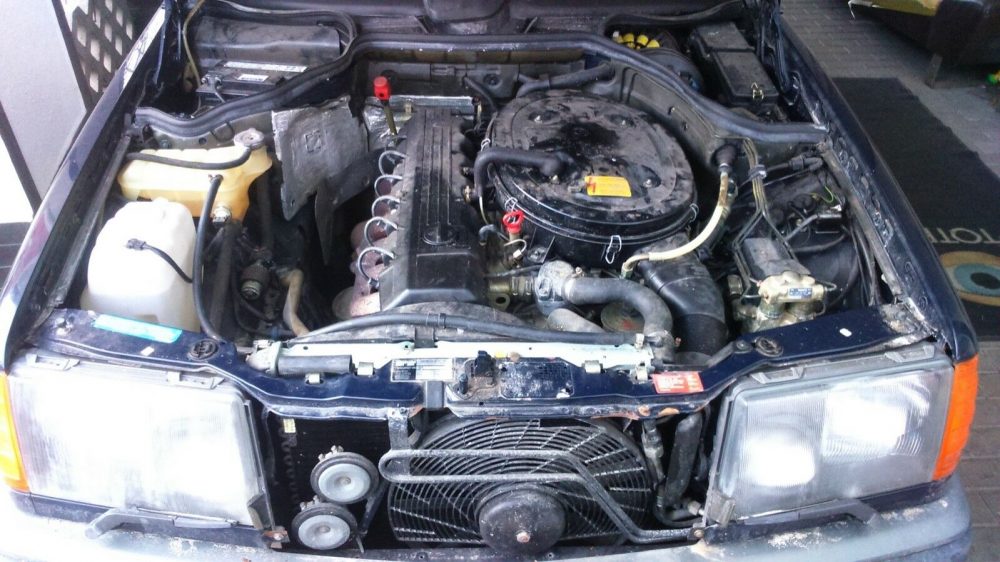 I don't know what to make of this one. The seller says that water was dripping on the hood, which I can understand, but the rest of this car is really rough for just 60 miles. If it hasn't moved in 30 years, it doesn't explain why the core support is dented and rusted. It looks like water was dripping over the entire car, just not the hood, because the deck lid is really oxidized along with the rear glass. You can see in the one photo that the edge of the trunk has started to rust pretty well too. Maybe this barn didn't have a roof? Sadly, the interior hasn't fared much better. You can see that mold has started to grow everywhere and it is probably at the level where the entire interior needs to be removed and cleaned. Giant spores on the seat belts are present in some photos which isn't a good sign. I came in thinking this was going to be a time capsule, but in reality it is worse off than a car with 300,000 miles.
The seller is asking $40,000, which I suppose I can't blame him for. There likely isn't another W124 out there with these kind of miles that isn't in the Mercedes museum, but the problem is that this car needs a ton of work. Which has me asking, is it even worth it? Most of the amazement and perceived value from these time capsule cars is their "lost in time" condition and the feeling of what a new example was from 30 years ago. But when the car looks like any other beat up example, does anyone even care? You need to disassemble most of this interior and it does need body work as well as a bunch of mechanical stuff, so that originality is all out the window. This isn't some rare Ferrari that will be worth millions either. This is a W124 coupe that made a lot of. For my money, give me another example with slightly more miles but with much better care. Those examples are still out there for a better price.
– Andrew