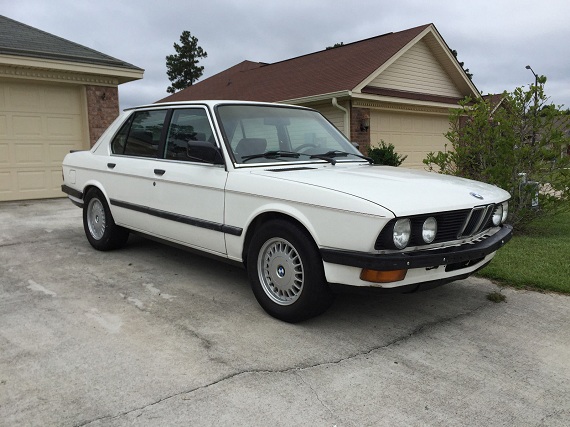 I know not everyone agrees, but I think that the U.S. mandated 5 m.p.h. bumpers that were fitted to many of the 1970s and '80s import cars were just horrible. Some manufacturers had sorted it out by the mid 1980s; Mercedes-Benz and Audi, for example, had managed to integrate the new bumper designs well into their updated large and small sedans so that by 1985 there were only minor differences between the ROW models and U.S. models – and importantly, the bumper covers didn't look like an afterthought. But BMW seemed to stand in defiance, refusing to update any of its models until nearly the end of the decade. The result of that was that by 1987 BMW's lineup looked quite dated in comparison to the competition. While switching those BMW models to the ROW bumpers doesn't necessarily update the look, it certainly refreshes all the models and brings them closer to their original design – something I'm personally a big fan of. While all of the 1980s BMWs benefit from this, one of the most popular to swap European trim onto seems to be the E28 5 series. A classic since new, the great package that was the E28 is lightened and tucked in Euro guise, making an already good looking design sportier and more compact in just the right ways: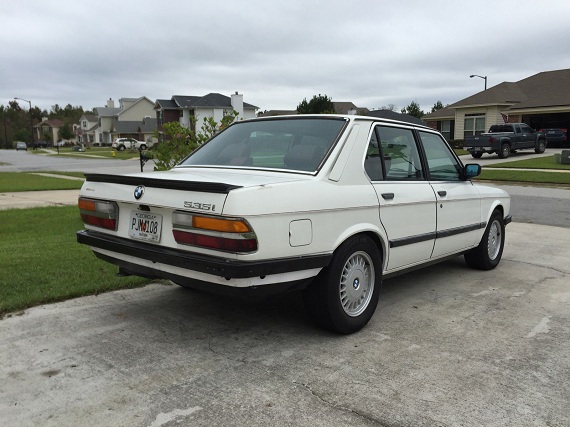 Year: 1985
Model: 535i
Engine: 3.4 liter inline-5
Transmission: 5-speed manual
Mileage: "87,000" mi
Price: No Reserve Auction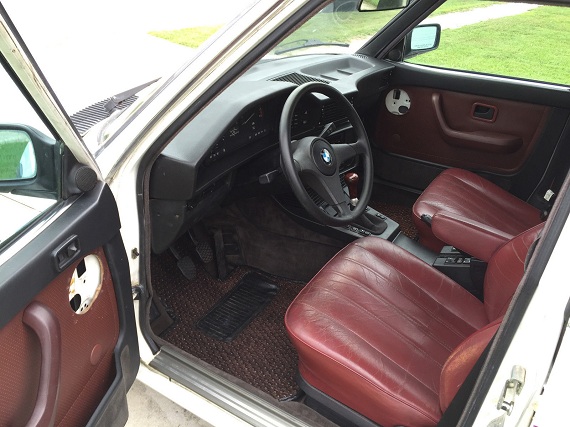 1986 BMW 535i 5 speed

ONLY 87K Miles!

I have for sale a 1986 BMW 535i with some rare euro goodies. The car was found in a barn in southern Georgia and was not driven for years.

The car has original 87,000 miles on it. I started to restore her but ran out of time and money. My loss is your gain.

The car is in pretty good shape with some dings and scratches on the hood and one of the fenders. The paint is still in pretty good shape, but considering it has

the original single stage paint on it, it could use a good buff to bring out the shine! There is minimal rust on it from what I could find. I have owned quite a few e28s and e30s

and have seen much much worse. What is on there could easily be fixed.

When I started to restore it I found a REAL euro M535i that was imported over to Georgia and then was totaled out in a front end collision. I was fortunate enough to grab a few

euro goodies off the car. I took the rare Euro Getrag 265 transmission which was never available in the US Market. I also took the M535i dashboard which includes the center vent

on the top which was never functional in the US cars. Since the original 1986 cluster did not work, I also took the M535i M5 cluster. This is why the cluster says 128k miles, but rest assured the car has only 87k miles on it. See the picture of the title.

There are plenty of other parts on the car which is listed below.

The Bad:

The car runs and idles fine, but for some reason when the clutch is engaged the engine wants to die. I think this could be a simple solution being a vacuum line or bad MAF. I

don't have time to tinker with it as I have quite a few other projects. For this reason the car will have to be towed or trailered back to your location. Needs a catback exhaust as well. This is unfortunate but the amount of rare parts on the car will make up for it. This is your chance to get a nice E28 at a bargain price!

Parts on the car:

Interior:

-Cardinal comfort seats

-Cardinal Door cards (front door card has cut outs for speakers. speakers are included but I did not want to cut into the door. Your choice)

-M5 cluster

-Almost crack free Rare Euro M535i dash w/ center vent (dash has one small crack about a half inch long. SEE PIC)

-Rare Euro rear headrests

-Complete tool kit with microfiber cloth

-Sport Wheel

-Black M5 headliner

-Euro front seatbelt retainers (SEE PIC)

-New Cocoa twill floor mats

-Rare Euro spare wheel (Only available in Europe)

Exterior:

-Euro Lights & grills

-Euro Bumpers (black rubber trim not included)

-Mtech rear spoiler

-Euro Turn signals

Engine/Drivetrain

-Getrag 265 manual Transmission

-New rubber intake boot

-Newly remanufactured drive shaft with new gumbo and center support bearing from Beyer Drive shafts (SEE PIC)

Brakes:

-E32 Big Brake kit upgrade

I would love to see this going to a good home and fully restored to its glory. I feel like there are a lot of great parts on the car, and it just needs a little more love from someone

that has a little more knowledge of the M30 engine.

Happy Bidding!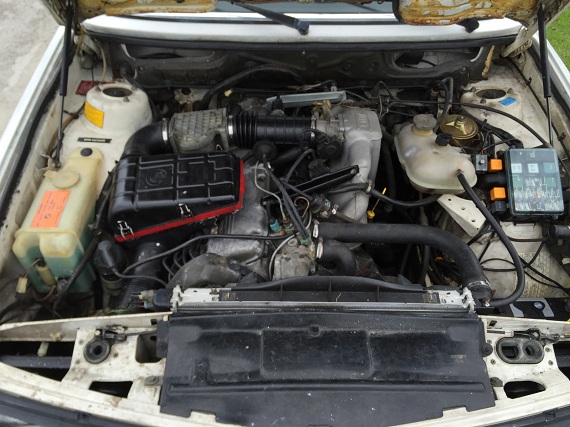 This car really is a great assembly of some desirable items; the rare M535i bits coupled with the Euro bumpers in Alpine White with Cardinal leather is not only appealing but stands in stark contrast to the U.S. spec M5. The M30 won't motivate you in the same way as the S38 will, but then maintenance and upgrades are similarly toned down in pricing. To me, the E32/34 wheels are an odd fit for the car even if they're reminiscant of some European market wheels that were available for the E28 – personally, I'd sport for something like these Alpina 17″ wheels to fill out the arches.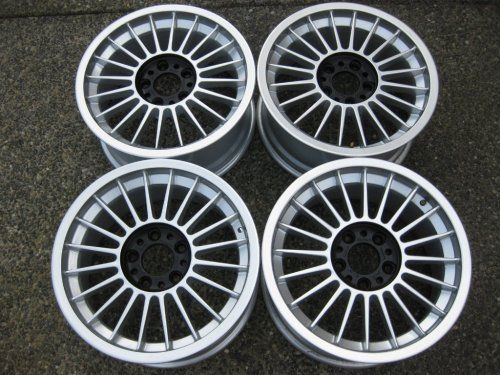 Outside of that, I think this is just a slick car with the right amount of uniqueness to stand out from the crowd. This car isn't perfect, but at only around 20% of the price a decent M5 would set you back today, this car offers enough of the M5 experience to make it a worthwhile purchase as a fun driver. Black out the tail light chrome bits, swap on some new wheels, sort the motor and correct the rusty bits and this car will serve you well on a budget for many years to come.
-Carter