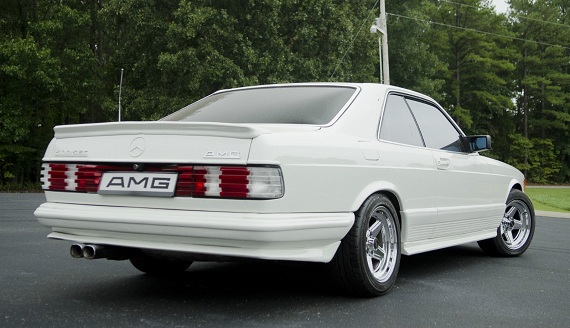 Following up on our trio of AMG-equipped cars Tuesday, a W126 500SEC AMG that I wrote up last year has resurfaced on eBay. Last time around the car sold for $13,100 – but there's a twist this time, as it appears that the current seller (who, it should be noted, has zero feedback) is offering the car at a discounted $10,000 with a non-running engine after having driven it less than 1,000 miles. Condition appears to be equal to December's auction with some better photos this time around. I'm still not a fan of the chromed wheels, but refinish them in graphite with polished lips, tone down the tinting and in my opinion this car would be a stunner. Is it worth the rebuild? I hope someone thinks so!
The below post originally appeared on our site December 17, 2013: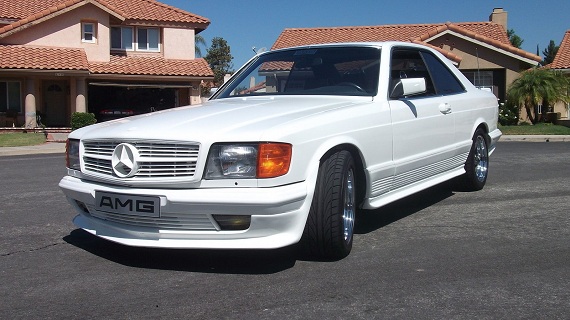 Back in October, I wrote up a Euro-market Mercedes-Benz 380SEC AMG that was a bit of a poser, but in great condition available for a relatively low price. It looks like no one was really interested in that particular model, though, as it still remains available today. Perhaps that's because it lacked many of the real-deal AMG components; well, to rectify that I enter into evidence Exhibit B. Today's near twin of that car appears to be the real deal, complete with AMG suspension, ATS "Penta" wheels, the full body kit and some nifty drive line components. With only a few hours left to act, will this period-correct Bahnstormer be the car that you desire? Take a look at all of that white:
Year: 1983
Model: 500SEC AMG
Engine: 5.0 liter V8
Transmission: 4-speed automatic
Mileage: 87,805 mi
Price: $10,000 Buy It Now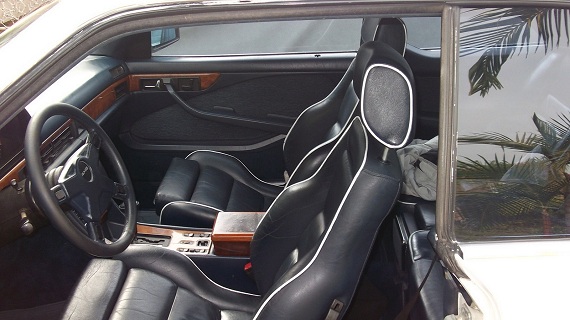 Original Listing

HERE'S A GORGEOUS 500SEC CLASSIC MERCEDES BENZ, A TRUE GERMAN AMG BUILT.

THAT WAS IMPORTED TO THE US 83 BY ONE OF TWO AMG IMPORTERS AT THE TIME.
THAT ONE WAS O' GARA COACH COMPANY IN BEVERLY HILLS BEFORE BHMA 1984.
THEY OTHER CLASSIC MOTORS AMG CENTRAL WESTMONT.

AMG 1983 MERCEDES BENZ CLASSIC DRIVES LIKE A WINNER, SMOOTH YET POWERFUL.
I PUT 500SL VIN# EBAY DON'T RECOGNIZE GREYMARKET VIN#

HAS CLEAN TITLE I HAVE A CARFAX REPORT HERE IS THE VIN# WDB12604412006032
SEND ME MESSAGE WITH EMAIL AND I CAN FORWARD THE CARFAX REPORT

LIST OF REPLACE OR FIX PARTS
NEW COAT OF 727 WHITE CLASSIC PAINT HAVE RECEIPTS
NEWER TIRES ABOUT 2K MILES ON THEM HAVE RECEIPTS
NEW GAS FILTER NEW AIR FILTER COMPLETE TUNE-UP.
NEW MERCEDES BENZ BATTERY
HAS NEWER BRAKES I REPLACE THE BRAKE BOASTER AND MASTER CYLINDER. THE SHOCK ARE BLISTER REPLACE BY PREVIEW OWNER IN 2008 I ADD THE H4 EURO LIGHTS WHEN IMPORTED THEY TOOK THEM OFF IN SOME CASES, I ALSO ADD THE AMG/FRENCH YELLOW FOG LIGHTS.NEEDS REPLACING OR FIXING A LISTED ON CONDITION DESCRIPTION.
HAS IT'S ORIGINAL TOOL BAG AND OWNERS MANUAL, ALSO HAS FIRST AID KIT.

THIS CLASSIC AMG HAS COMPLETELY NO RUST ON THE CAR ANY WEAR!!!

AS FAR AS AMG DOCUMENTS I DO NOT HAVE ANY.
SO HOW DO I FIGURE, ITS A TRUE AMG CLASSIC, FOUND IN THE INTERNET IS CLASSIC O'GARA COACH COMPANY WORLD CLASS LUXURY ADVERTISEMENT.

WHEN THE 500SEC AMG CAME TO THE US. IT WENT THROW CALIFORNIA BUREAU OF AUTOMOTIVE. THEIR IT PASS US AND CALIFORNIA EMISSION TESTS AND GOT STAMP ON THE DOOR JAM. STATING THE IMPORTERS NAME OR COMPANY NAME. THEIR IT STATES
O'GARA COACH COMPANY.

INTERIOR LIST OF UPGRADES
1. AMG RECARO SEATS
2. AMG FLOOR MATS
3. AMG SILVER ARROW STEERING WHEEL
4. AMG MOMO STEERING WHEEL HUB ADAPTER
5. AMG LEATHER WRAPPED SHIFT KNOB
6. AMG MATCHING FRONT AND BACK SEAT WITH WHITE PIPING
7. AMG BURL WOOD CENTER CONSOLE

EXTERIOR LIST OF UPGRADES
1. AMG COMPLETE BODY KIT
2. AMG CHROME ATS PENTA 8*16
3. AMG RARE TRUNK SPOILER
4. AMG A LA CARTA SOME CHROME DELETE
5. AMG CHROME TRUNK EMBLEM BADGE

PERFORMANCE LIST OF UPGRADES
1. AMG SUSPENSION
2. AMG LSD 282 DIFF
3. GTS 55 POWER CAMS
4. REMUS CAT BACK SYSTEM

pay pal only for deposit.
wire transfer
cash
cashiers check
pick only
i reserve the right to end auction early due to private sale outside of ebay.

New Description
1983 Mercedes 500 SEC AMG

ONLY 87,805 Miles!!

Remus Exhaust

VIN: WDB12604412006032

Going to be used as a project car, now offered for sale for someone else to build their dream Mercedes AMG. Car does not currently run. Please call to get all your questions answered!

(615) 512-5640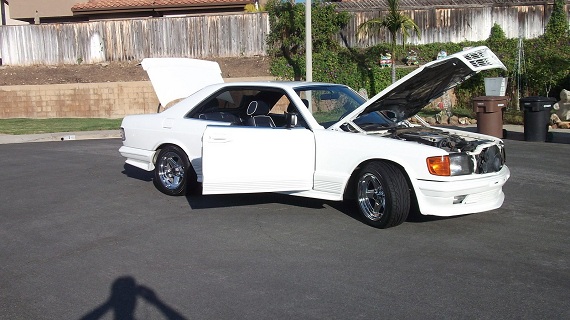 It certainly is a lot to take in, but it looks the part for sure. I'm a bit confused by the advertisement; no documentation about the AMG parts – or, importantly, whether this was an AMG-built car or a car assembled from AMG parts, is provided. I would guess that, in part, is why the bidding is so low currently, sitting below $10,000. For that amount, you get the great SEC look in a bit overdone but correct "dipped" white, some fantastic looking wheels and Euro goodies, and a host of AMG upgrades. The package is about as perfectly 80s as you can get minus Crockett and Tubbs. The white over blue is a nice combination, though I'd probably change the wheel color to either silver or matching white to complete it. I also liked on the 380 how the AMG badge was black – even if it wasn't correct. These cars aren't for everyone, but show up to a meet in this and you're sure to draw an appreciating crowd. What a neat car!
-Carter