Warning!
This post is in our archives. Links in this post may have been updated to point to similar cars available to bid on eBay.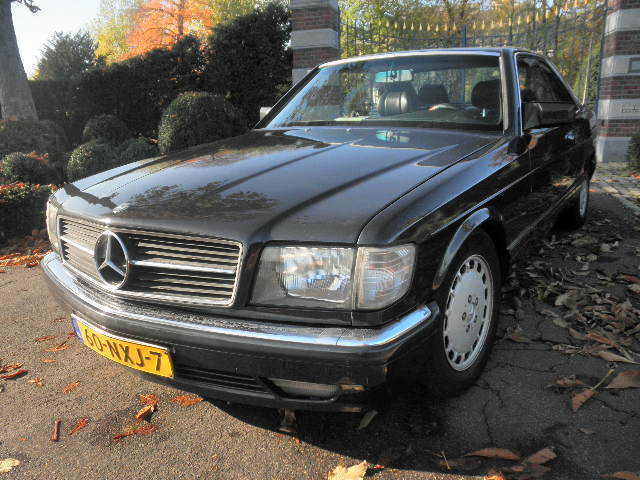 The Mercedes-Benz 500SEC diesel conversion we featured back in June is still on offer in the Netherlands. The seller, Jens, contacted us with the following information:
The Mercedes SEC diesel is stil for sale, runs fine on vegetable oil and also on diesel or a mix for more than 403,100km without any technical problems. It starts even at minus 10 degrees celsius thanks to the fuel heating filter system which first runs on battery power and later swiches to motor heat convection. I dropped the price to €6,000, because The Netherlands raised taxes to a level that is no longer interesting for me to keep this dream machine on the road. It will stay in my barn until sombody is interested. Even in ten or twenty years it will be a great car! You can contact me at jensliman65@gmail.com
There are several things happening with this car that make me unsure what exactly to think. Cool and odd at the same time. This is by no means the craziest or most odd thing we've posted, but it is unique. What we have is a nice looking W126 coupe that has had some transplant work done on it.
The 5.0 liter V8 has been tossed out in favor of a venerable Mercedes 3.0 liter inline 6 diesel. The conversion was done over a decade ago and by a garage that specializes in veggie diesel and LPG engine conversions, http://www.unicar-aachen.de. Though this probably wasn't the hardest conversion to do, having it done by folks with experience in the field and not an enthusiastic green loving backyard mechanic is probably one of the reasons the car has stayed running well for so long. Merc diesels are of course known for being ridiculously reliable, but a bad conversion to vegetable oil can kill/gunk up an engine pretty quickly.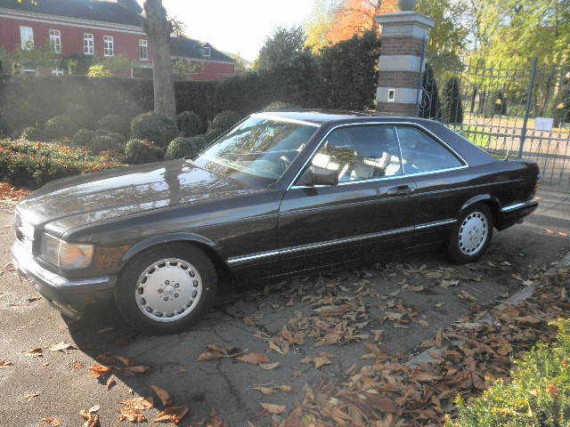 Year: 1986
Model: 500SEC
Engine: OM603 inline-6 converted to run on biodiesel
Transmission: 5-speed manual
Mileage: 400,980 km (~ 249,157 mi)
Price: €6,000 (~$8,206 USD)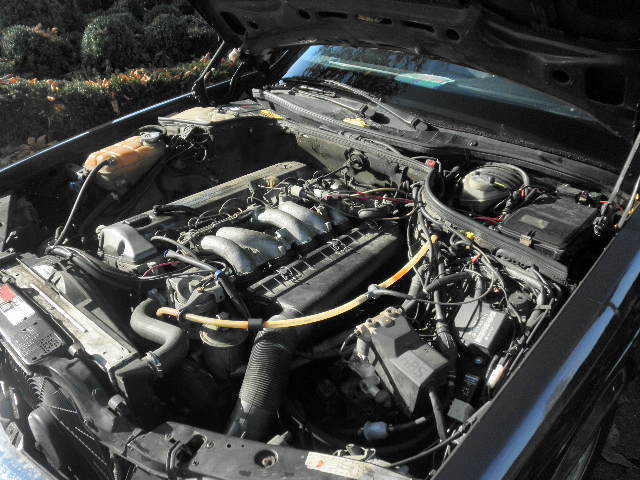 The OM603 engine used in this conversion isn't known for its reliability as much as the OM602 and OM617 5 cylinder diesel models. The 603 did produce a little more horsepower, just under 150, but that was when it was equipped with a turbo. It doesn't look like a turbo is in place here and the seller lists power down at 113. Still, it is a Mercedes diesel and one that now runs on vegetable oil so it is entirely possible that this car can provide you an opportunity to survive a future apocalypse in something far more stylish than a G wagen or Defender 90.
Converting your Benz to run on vegetable oil is nothing new, in fact the Wikipedia page for vegetable oil fuel even features a photo of a Mercedes with a custom biofuel trunk logo in Merc font. Dropping a diesel engine into a SEC, something it didn't have from the factory, is quite a bit more unique, but not unheard of, there are a few others out there. Other details on the car; the engine has had 93,000 miles put on it and it looks like the chassis has 237,000. Those aren't low numbers, but if this was a 300D that had been well maintained most enthusiasts would not be surprised to see the car go several 100,000 more miles, so that sort of puts it in perspective. The transmission doesn't get mentioned, but it is a manual. Having a 5-speed in an SEC would be fun.
The seller states that most of the functions inside work, and this being an SEC you are getting a number of things you wouldn't find in a base model sedan, such as electric headrests and the seat belt assist arm, (check the start of the second video to see this in action if you haven't been in a SEC before…don't want folks throwing out their back reaching for the belt). A new owner gets a unique ride a savings on fuel and long range on the highway. One drawback however is that you also now have an SEC that seems to sound like a Unimog at idle. A car person might hear you at a stoplight, know its an SEC and should have a gas engine and try to warn you that your engine sounds like it is about to throw something through the block.
The ask is about $12,800. I wish there were better photos with the ad. Fire up the french fryer.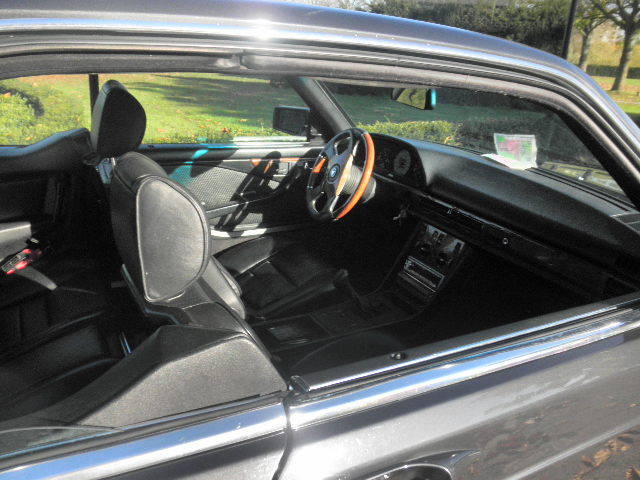 Below is the original ad translated from German:
Potentially swap with a good SLC, 1974-on with LPG conversion

Hello SEC friends.

Offered is an extremely rare, reliable vehicle that easily passed the TUV test. This Mercedes 500SEC had the V8 engine replaced professionally by an indestructible OM603 3 liter diesel engine about 11 years ago. This engine had about 150,000 km in January 2012. It was installed by the garage UNICAR in Aachen, a special filter system to run with environmentally friendly vegetable oil in a CO2 neutral manner. This helps the environment, because with a maximum of 10 liters of rapeseed oil the Benz goes 100km. Of course, the car runs on regular diesel (or vegetable oil-diesel blend).

Injectors and glow plugs have been renewed. So you can ride in comfort and be environmentally friendly yet contemporary with this classic.  This car has been well maintained, tie rods and front tires were replaced and axle aligned, replaced the brake calipers and pads. Alternator and batter replaced.

All electric options (vehicle is fully equipped) function, except for the air conditioning and heated passenger seat. Even the electric headrests, seat belt and seat belt presenter, as well as the sunroof function properly. Visually the car looks great for its age. Signs of use in this classic car is to a limited extent, but I myself have seen a lot worse models for much more money. For questions, I am happy to assist. Introduction to Germany is easy and I'm happy to help here. The price is negotiable only on a small scale. I must not give away the car.
~Evan