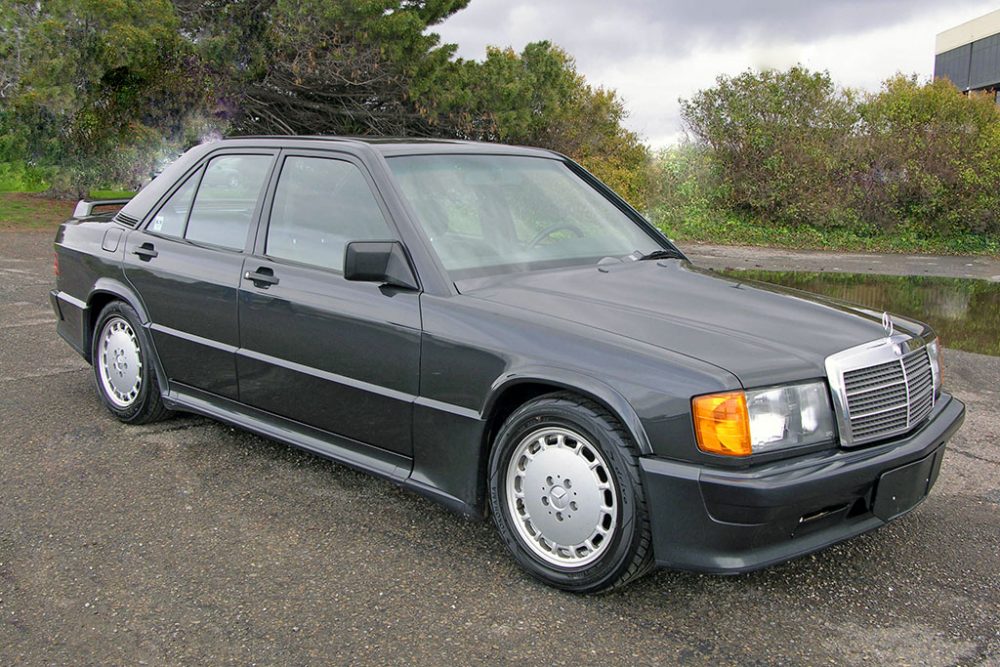 There isn't a whole lot more to be said about the Mercedes-Benz 190E 2.3-16v. We've featured them here from time to time and the general consensus is that is a real winner in terms of actual driving experience vs. the price you pay. The prices have sure shot up over the past decade on them, but there aren't a lot of cars from this era that are worth a damn that didn't. I think every one realized that the these cars are from an era that is never coming back and thus, making them collectible. I'm sure everyone regrets not buying one of these went they were $7,500 thinking they'd stay around this price for a while and they'd get one when they made a little more money or when the kids were grown, but at least it isn't like the Porsche 964 where an average car with over 100,000 miles is now $50,000.
Today's car, a 1986 up for sale in California, is an interesting example. Is isn't a garage queen, having just over 100,000 miles, but looking at the condition, you'd swear it had around half that. Naturally, you'd expect a giant price tag trying to catch lightning in a bottle from someone who falls in love with it on a whim, but believe it or not, it really isn't all that bad compared to the current market for them.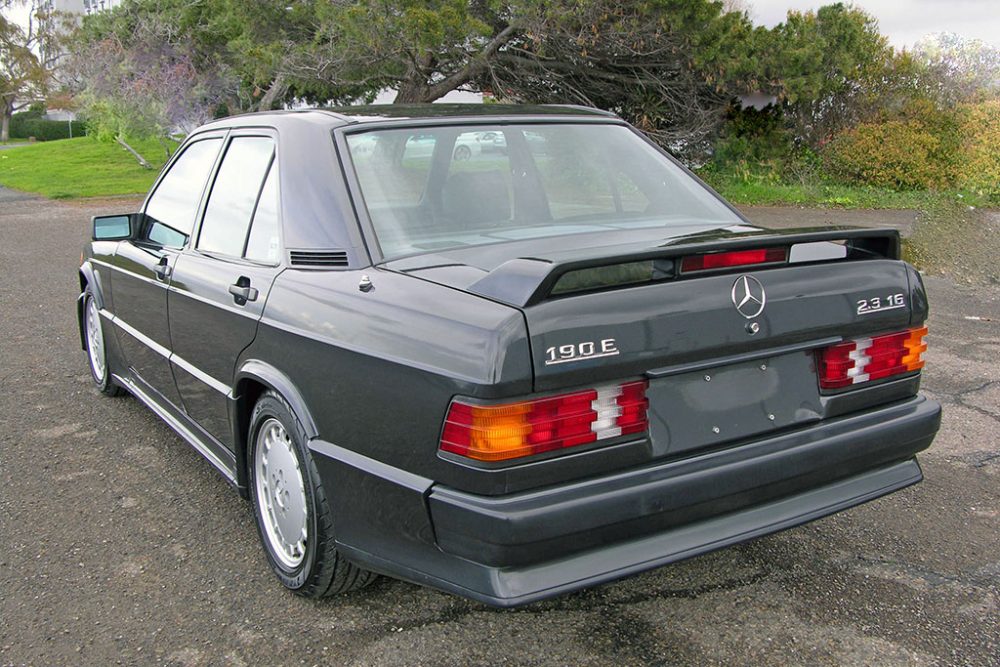 Year: 1986
Model: 190E 2.3-16v
VIN: WDBDA34D0GF174699
Engine: 2.3 liter inline-4
Transmission: 5-speed manual
Mileage: 104,000 mi
Price: $25,000 Buy It Now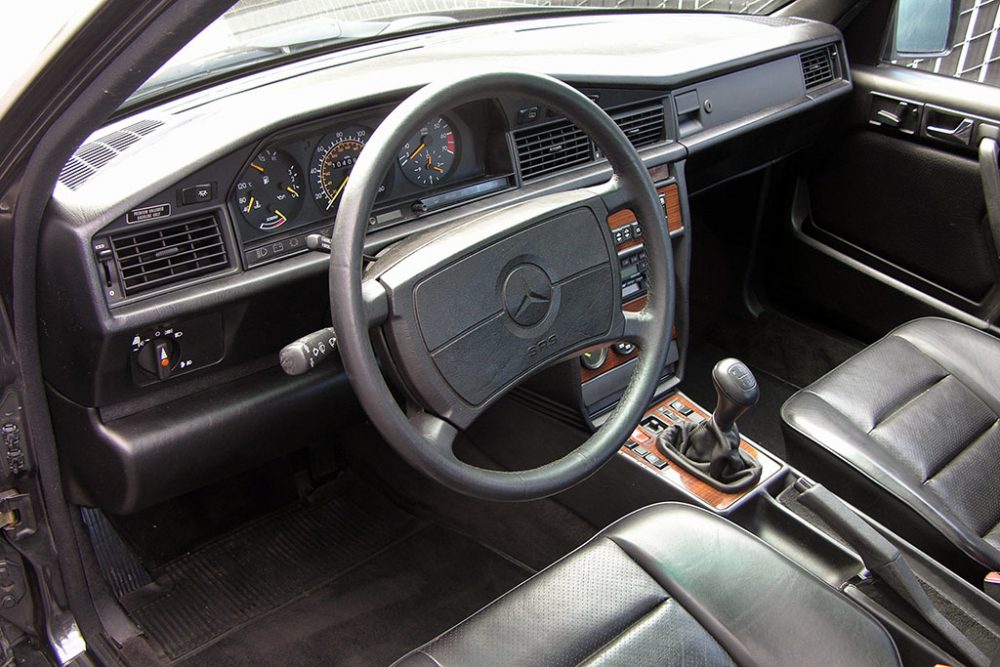 1986 Mercedes 190E 2.3 16v – ID# WDBDA34D0GF174699 – 199 Pearl Black/Black leather – 5 speed.

Sold new from Nolan Burgess Euro Motorcars in Bethesda, MD on 2-25-86.

Selling dealer serviced through 67k miles.

Acquired by noted Arizona Mercedes collector Neil DeAtley circa 1994.

Sold to Bellevue, WA in 2008 – Sold to last owner in Marin, CA circa September 2008.

Full history – 104k miles – Never apart – Tools – Lowered.

Excellent handbook package including data plate, spare tire placard.

Service binder with extensive records.

Incorrect tow hook cover (we are looking for a correct replacement).

Just serviced including: 'C' service – New tires – Brakes – Rear suspension accumulators.

Tie rods/center link – Alignment – Sway bar links – CA smog legal.

New rear suspension links – New AC compressor – AC service – Fuel filter.

New correct rear exhaust – New rotors/pads front and rear – And more…

Exceptional interior – Excellent original leather – Excellent headliner/package panel.

Excellent carpets – Excellent door panels – Zero dash cracks – Safety kit.

Call Roy Spencer 650-343-7980 for additional details.

Global shipping gladly arranged.

Global references available – Pre-purchase inspections available locally.

MercedesHeritage.com:

Providing exceptional cars to the global Mercedes-Benz community for 29 years.

This 16v 190E 2.3 can be inspected at my facility in Burlingame, CA – 5 minutes south of SFO.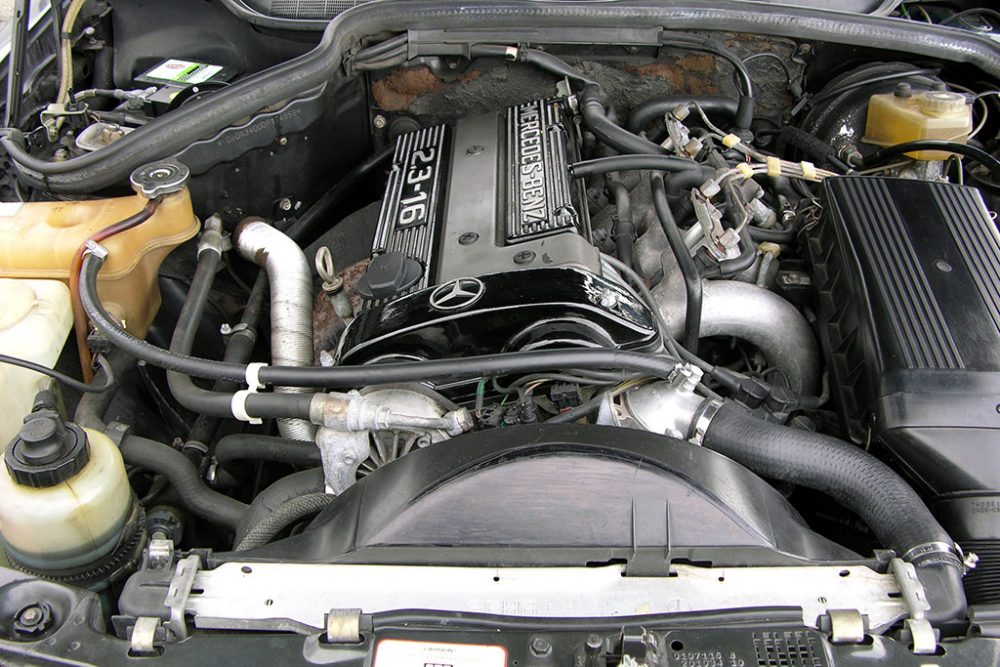 This looks like a really fine example if I've ever seen. Is it perfect? No. But when you dealing with these cars and the way their values are heading, sometimes you don't want a perfect car. This one is right in the wheelhouse of being nice enough to spend money on it without too much thought, but not so nice where you'll be killing the value of it by taking it out for a drive once a week. Everything looks great, inside and out, and those Euro-spec headlights really finish the car off nicely.
All things considered, $25,000 is a good price for this example. Lots of these have sold in this same ballpark recently and probably didn't look as good as this car. I think the market has finally settled on these, unlike the E30 M3 where people are asking six-figures for them, so I think these are a safe bet now and into the future. I just wish I had an extra $25,000 to snag this one up.
– Andrew