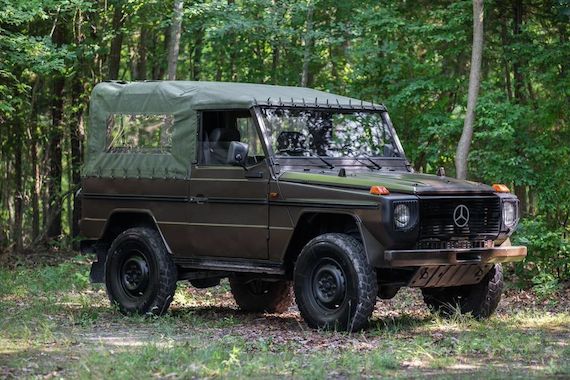 For all the glitz and glamour of the current models, the Mercedes-Benz G class was originally intended for military consumption. However, much like the Hummer H1, the jet set took a liking to this vehicle and ran with it. Now we have AMG models of a rough and ready off-roader, answers to a question it seemed no one asked in the first place. If you want an honest, back to basics G-wagen, dial back to the 1980s, as there are a few bouncing around on these shores courtesy of the importer at the time, Santa Fe Motors in New Mexico. In addition, now that we're at the point that most 1980s machinery is eligible for legal importation, interesting variants like this 1986 "Wolf," built for defense operations in mind, have started to make their way across the pond. This one for sale in New Jersey is perfect for someone who wants to take the road less travelled off-road. Literally.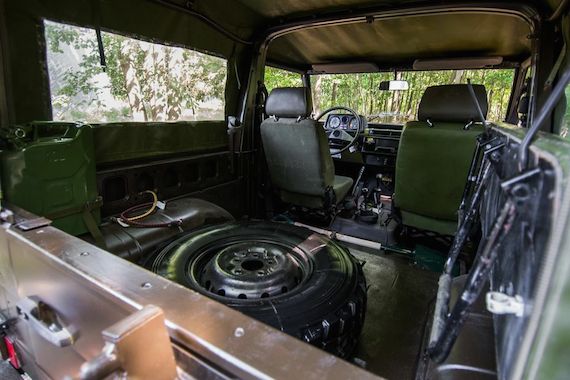 Year: 1986
Model: 240GD
Engine: 2.4 liter inline-4 diesel
Transmission: 4-speed manual
Mileage: 66,368 mi
Price: Reserve auction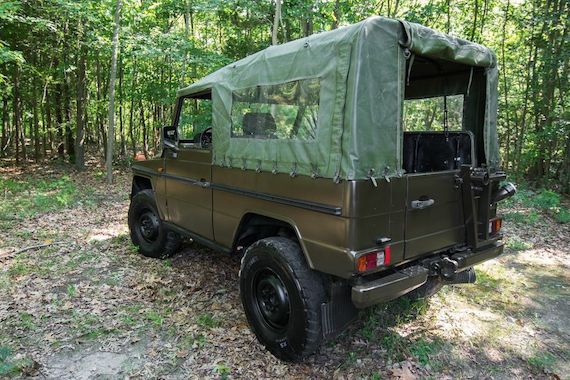 1986 Mercedes Benz G240 GD WOLF. Mercedes Benz G Class Wolf. You're looking at one of the best built 4×4's in the world to drive.

You're looking at one of the best looking 4×4's in the world. PLEASE don't compare this truck to others that you see on every block! PLEASE don't compare this truck to other military G's that you see on eBay that look like they just came back from WWII. This truck looks GREAT, runs and drives GREAT!

Looking for a fun truck for people to talk about….THIS IS IT!

Looking for a great truck to take hunting, fishing….THIS IS IT!

Looking for a great truck to take on a night on the town….THIS IS IT!

Looking for great truck to take to the beach…this is it!

You have choices….

a) 25 year old Wrangler for 10-15k, thats worthless when you're done with it

b) 25 year old Bronco for 8-10k, thats a rattle box, and probably gets 12mpg

c) 1986 Mercedes G240D that will probably run another 10 years without a problem, and increase in value as you're driving it.

Choice is CLEAR!

NOW, to pick the right one!!!

Look at whats on the market….and then, PLEASE see what you're getting below. 64368 original miles. Perfect running condition…..needs nothing!

VIN# WDB46131017049363

The Mercedes-Benz G-Wagen is a well-established light utility military support vehicle with its origins in the 1970s from a suggestion by the Shah of Iran to Mercedes. The 'G' in the name is short for Geländewagen (or cross-country vehicle / tough terrain vehicle) and was Mercedes's first venture into general four-wheel drives (although Mercedes did make some jeep-like vehicles in WWII).

The G-Class vehicle is now regularly used by more than 63 armies worldwide and this includes the German Armed Forces, Canadian Army and also the US Marine Corps. Mercedes has actually guaranteed production of the standard G-Class for use as NATO support vehicles up until 2025. The G-Wagen or G-Class is of a similar ilk to the Land Rover Defender commonly used by the British armed forces with a reputation for reliability and ruggedness.

G-WAGEN BODIES
The G-Wagen comes with a choice of three different body styles including: short-wheelbase two-door versions in both hardtop and convertible and also a long-wheelbase four-door version (more popular).

The G-Class is hand-built in Graz in Austria where the production line averages only 15 vehicles a day. These vehicles are designed to give a million miles of service for military use with nearly all of the components being fully serviceable and rebuildable. These 4x4s have three fully locking differentials, and with a low centre of gravity and solid axles are a well designed and tested military prospect.

MILITARY DESIGN
Military G-Wagen's come in three variants: the 'basic' light utility vehicles (four doors and four seats), Command and Reconnaissance (C&R) models (rotating gun-mount in the centre of the roof) and the military police version (with blue and red rotating lights).

The vehicle is not armoured but can be fitted with armour modules replacing body panels to protect against rifle fire or grenade fragments. The payload of the unarmoured vehicle is around 1,500kg but with armour this is severely reduced to 500kg.

The G-Wagen in its most modern and useful version has space for a radio that does not reduce the passenger payload. The vehicle also has a roof rack for equipment transport and a trailer hitch for if required to carry more equipment via a trailer.

"The Mercedes-Benz G-Class vehicle is now regularly used by more than 63 armies worldwide."

The C&R version has a hatched 80cm turret ring and a weapons platform that can handle C6 GPMGs and M2 heavy machine guns. The gunner is also protected by a gun shield. The C&R vehicles are three-seaters and carry a driver, commander and gunner.

The G-Wagen uses a standard 2.9l OM 612 turbo-diesel engine, which can develop 156hp / 115kW, with five-speed automatic gearbox, (other commercial versions use 5.5l petrol V8 (500hp) power units and there is a range of engines which could be used in the military version).

The fording ability of the vehicle is 600mm, the ground clearance 439mm, the side slope angle 30°, the approach angle 40° and the grade 60°.

MILITARY CUSTOMERS
Mercedes-Benz won a contract in 2007 to provide 1,100 G-Class vehicles to the Australian Defence Force (ADF). The Canadian Army is a long-time user and most recently took delivery of 1,159 vehicles that were ordered in 2003. Other users include the Croatian Army with 300 G-Wagens.

The Danish military has also introduced several versions of the G-Wagen including 1,300 of the 290 GD in 1985 and 1,000 of the 270 CDI in 2003. The Estonian army has also taken delivery of a small amount of G-Wagens as a part of a modernisation scheme.

The German Army uses the G-Class under the name 'Wolf' and more than 12,000 vehicles have been delivered to them in over 50 versions including ambulance vehicles and armoured vehicles used by the German Special Forces.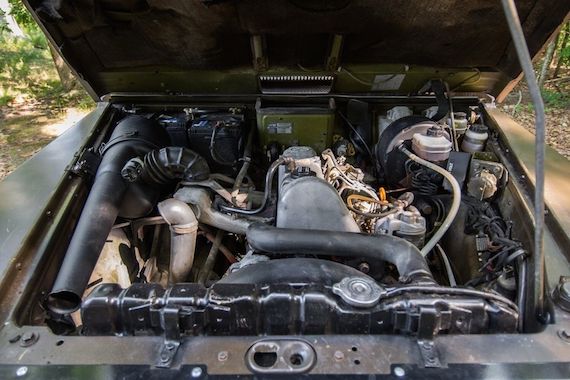 The G-Wagen was officially introduced here in 2002, and examples of that era sometimes dip into the mid to high $20,000 range with higher mileage. Expect an older, two-door variant that is well kept to bring about the same or a little bit south of that. Every time I climb in a G-wagen of the present, I think about what a shame it would be to take one on an off-road adventure, which leads a lot of them to being underused by owners. With a Spartan interior, knobby tires and a drop top, this particular G is ready for some aggressive action.
-Paul