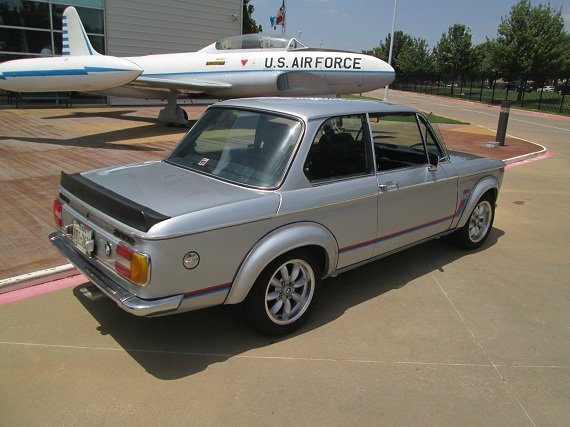 I often wonder if you need the real article, especially when discussing rare automobiles. I can think of a few cases where having the replica wouldn't bother me very much; generally, they're replicas of rare cars that are just hard or very expensive to come by. For example, I'd love to own a 917K or LH, but first off it will never happen due to monetary considerations, and secondly if I did own it, I'd be afraid to take it anywhere and drive it in anger. But Race Car Replicas make a pretty convincing replica of the 917 that can be had for around $60,000, and to me the look is good enough that I can deal with it not being the real item. The same goes for Daytona Coupes, some rare Ferraris and even some factory-built replicas; Audi's Auto Union Type C streamliner comes to mind. But what about road cars? If they're rare, difficult to come by or expensive to keep running, I think the case can be made that a replica is just fine, especially when executed well: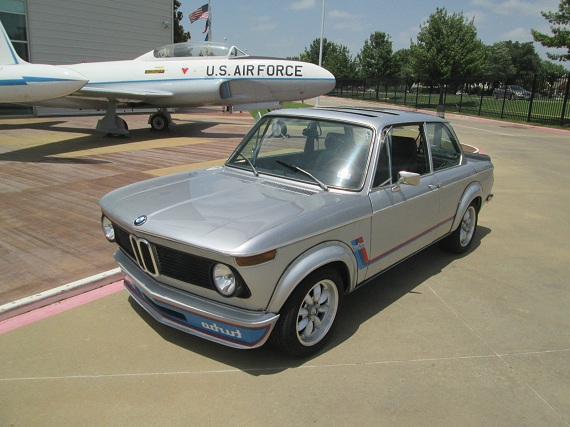 Year: 1974
Model: 2002
Engine: 2.0 liter inline-4
Transmission: 4-speed manual
Mileage: "528" mi
Price: Reserve Auction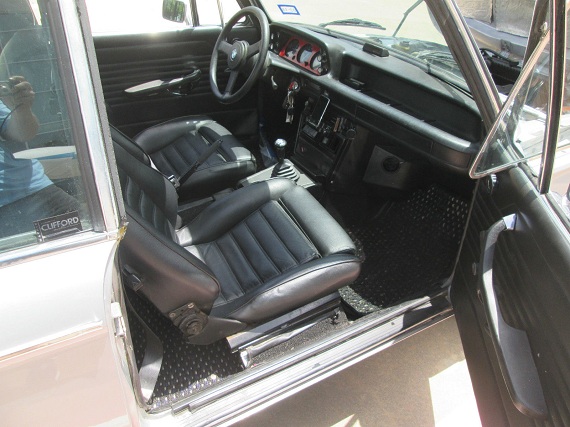 1974 BMW 2002 turbo Tribute

What can we say sometimes a tribute is "better" then the real thing. In this case if what you are looking for a fun, affordable, reliable, nearly modern ride that has the looks of a very rare BMW then a closer look is needed. If you are strictly a fan of totally original classic cars then this car might not be for you but if you live a cool ride, sorted and affordable then read on.

Here is a summary of features on car. New silver paint done in BMW Titanium Silver Metallic with BMW Turbo graphics, Original BMW 2002 Tii Recaro seats redone in leather with Turbo stitch pattern, back seat done to Turbo pattern, instrument cluster console red like original turbo, center dual ANSA center exhaust, new headliner in black with working sunroof, completely new AC system…very cold works perfectly, ipod enabled MP3 stereo custom fit into dash, custom power door locks with high end alarm system with valet mode, new 15 inch Panasport style wheels with Falken 205 50 15 tires, Bilstein shocks and struts, engine completely rebuilt with light performance upgrades, new Weber 32/36 carb, all new peripherals (radiator, alternator, water pump, distributor etc.) and full new modern ice cold AC.

This ride is ready for daily use and will draw a lot of attention

This Turbo tribute is ready for daily use AS IS . Or can add additional features / performance upgrades to give you the perfect BMW 2002. We know there are many who would like to see a Tribute Turbo with a Turbo charged engine and we can install fuel injection manifold and turbo for modest investment or can show you how to do fairly inexpensively. We also have several 1972 Tii engine blocks and engines we use to build our high performance, big cam, port and polished M10 engines. Also have 5 speed we can drop into car for modest additional charges. Note: current setup with nice M10 engine, Weber 32/36, 4 speed is excellent for in town driving and light highway driving. Very comfortable, better then stock engine performance to enjoy or enjoy while you plot a monster powerplant.

Body and Appearance Upgrades

· Silver paint done in BMW Titanium Silver Metallic (same as orig Polaris Silver but better metallic that does not wash out in bright sunlight) . That is why BMW moved to this silver and used for 30 years as has better appearance in bright sunlight.

· Custom made solid 3M vinyl graphics to match BMW Turbo graphics but brighter and with solid color fast vinyl. Including reverse letter of "Turbo" and "2002" on front spoiler.

· New Panasport style 15 inch wheels with new Kumo 205 50 15 directional tread tires

· All trim, tail lights, etc. in excellent or new condition. Front turn signals are euro turn signals for both running lights and turn signals

· Euro chrome rear bumper with euro bumper straps all new

· Rubber in doors, windows, quarter windows, trunk seal, door handles all new. One rear window rubber vertical piece may need replacement and we can do before car leaves our facility

· Original stainless belt molding in good shape. Wome pieces with some oxidation some minor damage but gives car an original feel but easily polished or replaced with new bright pieces. We can replace with new molding if new owner requests

Special H4 headlights

Engine and mechanical upgrades

· All new peripheral(alternator, voltage regulator, water pump, ignition, plug wires, new 32/36 Weber carburetor with electric choke

All electrical works, gauges, lights, turn signals… new turn signal switch etc.
High performance dual ANSA exhaust…sounds great mild raspy tone
Engine was built new 3 years ago, stainless header and upgraded exhaust and carb
Bilstein shocks and struts
Brakes all redone with ceramic pads on front brakes

Interior upgrades

· BMW 320iS steering wheel in excellent shape , horn button working with special load euro sounding air horn (load)

· All new interior door panels

· New 13 piece black carpet set

· Front seats authentic BMW 2002 Tii Recaro seats all redone in high end black leather, working perfectly

· OEM BMW cocoa floor mats in black and blue – new

· ipod enabled stereo… your ipod just plugs right in or connect with cable

· Full power door locks and alarm system using high end system with special settings to use Valet mode when you only want power door lock function without arming alarm.

· Custom cup holder custom built into center shifter console.

· Dash in excellent shape with 2 or 3 minor cracks that been been repaired. Not perfect but nice

· New black sunroof headliner. Sunroof panel has a couple of screws in it to hold firmly. We can redo if you do not like and even install new cables. All works today but have to pull mechanism out to redo panel might as well put in new cables if pulling out.

· Sunroof works but works a bit tight because of tight fitting headliner.

Other Mechanical and Special Features

· Ice cold AC all new… works perfectly. All new modern under hood components with original Clardy inside evaporator unit redone with new motor and expansion valve

· Car has been used as a daily driver for 3 + years since build and has been nicely debugged ready for new owner

· Clutch in nice shape was installed new with rebuilt engine 2 years back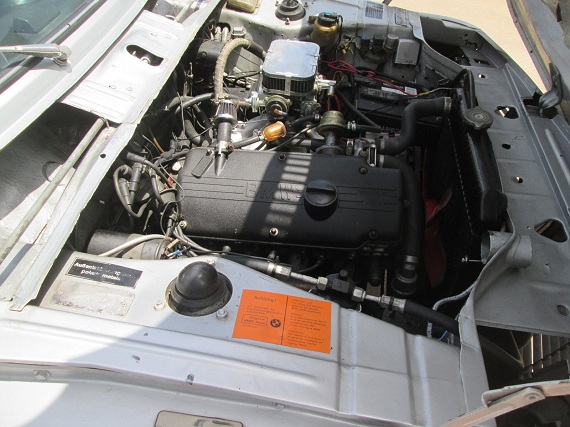 Minus the wheels, outside the car certainly looks the part. I'd probably swap the wheels out for some period wheels rather than the Panasport replicas, but it certainly looks well executed overall. Inside, the tii seats and 320is bits make for a good combination. There's a rebuilt M10 hiding under the hood, and what's really remarkable is the entirely new air conditioning system. This is a useable, unique replica that looks great. With the bugs worked out and great overall condition, there's a lot to like here. Most of all is the savings you get over a standard turbo model, top condition examples of which have been brushing $80,000. Would you get some flack for the turbo badges every once in a while? Sure, but they're removable if you're really offended.
-Carter