Another week of wheels, this time some more rarities. I love the polished look of narrow Fuchs wheels on early 911s. MOMO 5-spoke wheels were some of the best in the early 1980s, and these would be a nice alternative to the normal ATS/Ronal "Penta" wheels that often adorn early 80s Benz models. How about those great Hartge wheels, seeing that we've had two Hartge cars this week? Rather have something a bit more stock? How about the Audi Coupe-spec 15″ Speedline wheels complete with track rubber? Or if you're into Volkswagens, we have a nice set of the early Corrado "Sebring" wheels too – what's your favorite?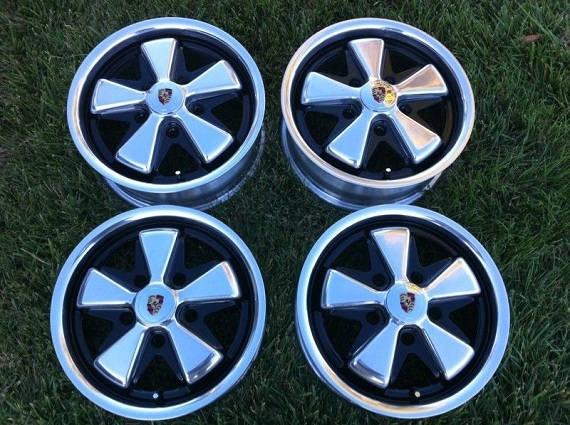 Price: $1,299 Buy It Now
Here is a super nice set of Polished and Detailed Porsche Fuchs Wheels with Hearts(aftermarket)!

These wheels are Polished and Detailed Painted with black Inserts! (CHROME AVAILABLE)

Includes Painted and Detailed center caps!! Unpainted available also!

Includes valve stems!!

These wheels will make any VW or Porsche look GREAT!!!

All 4 wheels are 5.5×15!!

5×130 Porsche Bolt Pattern!

Backspace is 4 15/16

NO curb rash or scrapes!!

These wheels are aftermarket!! Brand New!!! Empi Style!

Best looking aftermarket wheel available!! Hearts and all!!!

Don't miss out on this nice set Polished Fuch alloys!!!

THESE WHEELS ARE CUSTOM MADE TO ORDER AND MAY TAKE UP TO 2-3 WEEKS TO SHIP!!!!!!

Please ask all questions before bidding!!!

Please ask for shipping quotes out of country before bidding!!!! (HI $150)(Japan, UK, ext $350)(Australia $485)

CA SALES TAX APPLIES TO ALL CALIFORNIA SALES 7.50% – SAN BERNARDINO COUNTY 8%

Please ask all questions before bidding!!!!!!!!!!!!!!!!!!!! 714-458-0880

Good Luck and Happy Bidding!!!
Price: $1,299 Buy It Now
Lip: Machined + Clear Powder Coat
Center: "BBS Gold" + Clear Powder Coat.

One center cap has a minor crack in the plastic (shown above)

Front Side:
TYP 089001 (where everything but the "1" is raised and the "1" is recessed)
KBA 41092
8x16H2 ET11
MOMO MADE IN ITALY

Back side:
MADE IN ITALY
037
86 (and the boxes that represent the month of manufacture)

Newly PROFESSIONALLY refinished. NEVER USED!!!

Perfect for that vintage car or that vintage look!!

Will fit w114 w123 w124 w126 w107 …even big brake'd 560SLs!!

Centering rings for a 66.6 (MB) hub are included. 57mm guys, you're on your own!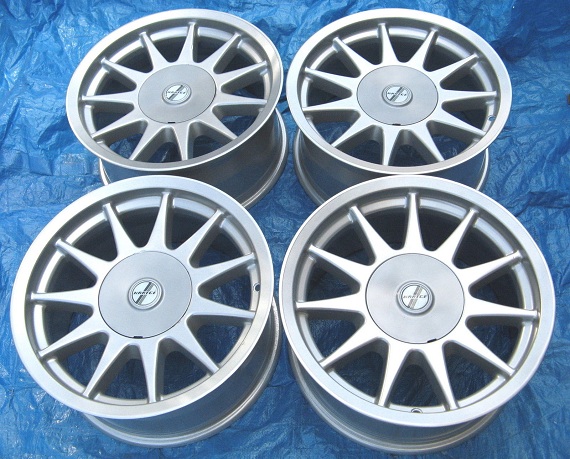 Price: $1,395 Buy It Now
Fully Restored Hartge 16×7.5 Alloys

This is a fully restored set of vintage Hartge alloys done in silver metallic powder paint. Here are the details:

Size = 16×7.5
Offset = 13mm
Lug spacing is 5 on 120mm.
Center bore = 72.5
Weight about 18 lbs
Made for Hartge by Ronal in Germany.
Fully Restored.
This included a chemical dip and a light media blast to remove all paint, followed verifying the wheels were true, and repairing some minor curb rash and flat spots/minor bends on a couple wheels. There were no cracks or significant damages to the wheels – just minor issues.
The entire wheel (minus the mounting pad) was then powdercoated with a metallic silver resin. This color coat was followed by a clear powdercoat to provide a very thick and glossy durable finish. Please see the close up photos. There are no flaws that I can find in the wheels or the finish other than some dings in the metal that were hidden under the old paint, and were not discovered until after the powdercoating was completed. See the few close up images.
Four very good used and restored Hartge caps were installed. Each cap was cleaned, sanded, and then painted with 2 coats of matching metallic silver paint (purchased from the powdercoat manufucturer), followed by 2 coats of high gloss clear. All 4 caps securely mount and are held in place with metal spring clips. There are no broken mounting tabs.
New vintage-design Hartge emblems were applied to the caps.
The 60 degree conical seat lug hole surfaces were reamed to make sure all the powdercoat was removed from these critical surfaces.
I have spun each wheel on a balancer and verified that it is 100% trued and straight.

You will be hard pressed to find a nicer set of these wheels! At least one photo of each wheel is shown below. Supersize to see the details or send me your email address, and I'll send you high res photos.

These wheels are an excellent upgrade wheel set for older 5-lug BMWs such as E9, E28, and E24 cars. They will fit E9, E3, E23, E30 M3, E34, E32, and all the 8 series cars, but please research to be sure that 7.5″ wide 13mm offset wheels will fit both the front and rear of your car. If fitted on any of these cars, there is no need for any spacer or hubcentric ring.

THESE WHEELS WILL SET YOUR CAR APART FROM THE REST!

Packaging. I ship wheels in pairs so this set will go out in 2 boxes. Each pair is double-boxed, with rigid foam material between each box. This adds some cost, but my wheels never get damaged in transit.

__________________________________________________________________________________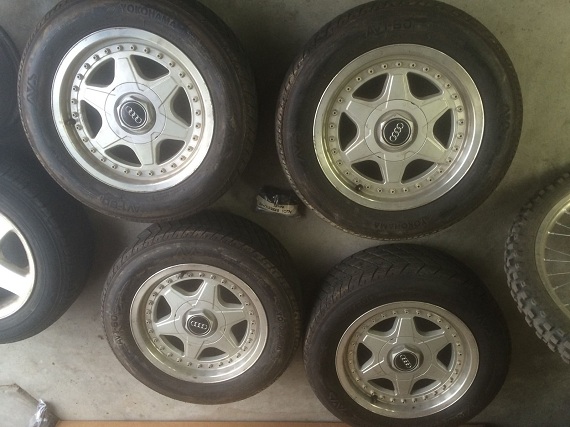 Price: $400 Buy It Now
Used but in great shape! Very nice set of wheels, high quality! These are an extra set from my Audi 90 Coupe that I won't be able to use with my 5 lug conversion. My loss is your gain!

Very hard to find! Still silver and not discolored but do have some minor imperfections, please see pics. All are straight, no bends. Come with lug nuts.

Come wrapped in Yokohama DOT track tires. 205/60/15 that are basically new! 6/32nds tread left, track tires only come with 6/32nds!

Buyer to pay actual shipping costs, will ship anywhere just ask. $lfree is set as a default. It should cost about $100 to the lower 48 states but if you would like to buy it now please contact me for an exact shipping quote
Payment due within 48 hours of auction close.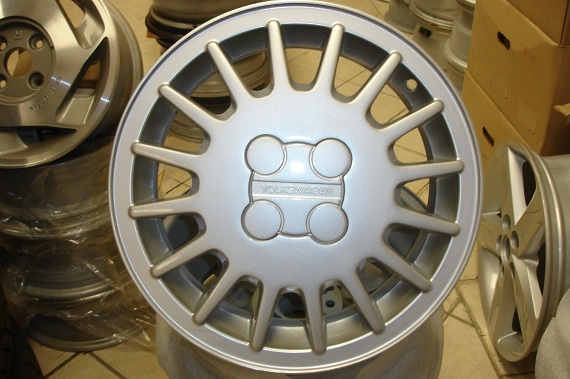 Price: $550 Buy It Now
set of (4) 15″ x 6″ Volkswagen Corrado and Jetta wheels

These are 15″ x 6″ Volkswagen Corrado and Jetta wheels covering the years of 1989, 1990, 1991 and 1992. They will be sold a a set only.

Center caps are included.

Hollander #69677

Wheels will be packed in two boxes so the shipping estimate should be doubled because it only estimates one box.

A shipping surcharge will be added to addresses in Puerto Rico, Alaska and Hawaii.

Please contact Shawn at shawn@1800hubcaps.com for fitment and compatibility for other models and makes.

The Hubcap Store, LLC. is a family owned and operated business for more than 37 years. We sell new and used original and aftermarket wheels, wheel covers, and tires, with more than 500,000 in stock.

Additionally, we offer a wide array of services, including but not limited to; mounting and balancing of tires, repair & refinishing of damaged wheels and wheel covers, buy scrap batteries and catalytic converters. We also buy sell and trade your old wheels and wheel covers.

We also have two locations to better serve your requirements;

The Hubcap Store

1134 MacArthur Rd

Whitehall, Pa 18052

And

The Hubcap Store

42 Adamson Street

Easton, Pa 18042

www.1800hubcaps.com
-Carter