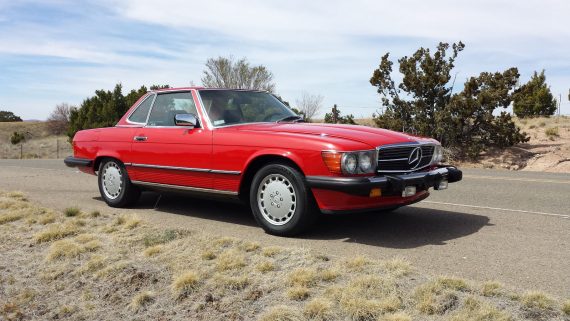 I've voiced my dislike for the R107 in the past. I think they are clichéd, the production ran way too long and are extremely expensive now for what they are. So why am I featuring this 1986 560SL today? Well, this one isn't extremely overpriced — at least not yet. Even more unique to the R107 is that this car has 284,000 miles which means it's owner(s) didn't treat didn't treat it as a part of their 401k plan. This 560SL was used regularly and according to the sellers description taken care of whenever it need be. So let's check out this 1986 in Santa Fe, New Mexico.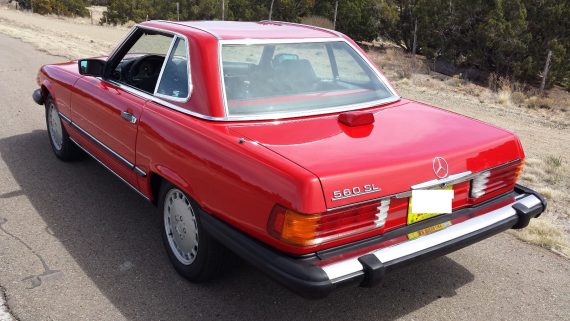 Year: 1986
Model: 560SL
Engine: 5.5 liter V8
Transmission: 4-speed automatic
Mileage: 284,000 mi
Price: Auction
Finished in a beautiful Signal Red (code 568). The Car has been professionally repainted with all trim, bumpers, lights and accessories removed prior to painting (base coat, clear coat) with the exception of the hardtop which still has the factory single stage paint The Signal Red hard top has a an excellent fit and finish. The front bumper has some minor dings to the aluminum cover and the bumperettes have a good fit, with only minor wear. The rear bumper with bumperettes has a good fit and finish with one small tear. The black soft top is original and in like new condition (The Hardtop has only been removed under a dozen times). All trim pieces are present and have a brilliant finish with no hazing. The U.S. spec headlights and taillights are in very good condition with only a small crack on the front headlight bezel.
The car has never been in an accident and has the stamped VIN on the front cross member.

Inside, the black interior has been rejuvenated seats all look great with one small hole in the driver seat. Excellent matching carpet throughout the interior. The genuine wood trim looks good with only mild fading and adds great style to the interior. The door panels are in good condition with only a few cracks in the dash. The headliner for the hardtop is in very good condition. The original steering wheel is in great condition. Also included, cruise control, automatic climate control, power windows, power locks, first aid kit, with original floor mats. All interior gauges are in full working order. A great car with no rust of any kind.

This nicely represented Mercedes features a 5.6 liter 227 hp eight-cylinder engine. Power is transferred to the rear wheels by a 4-speed automatic transmission. Driver assist features are power steering, power four-wheel ABS disc brakes, four-wheel independent suspension and limited slip differential. Silver 15 inch original Mercedes alloys with sport radial tires. Recent work has been done within the last 20,000 miles:
Front Shocks,Radiator,Motor Mounts, Transmission Mounts, Front Brakes, Air Valve, Cleaned EGR,Timing Chain, Water Pump, Fuel Pump
Done within the last 10,000 miles
Two complete Heads
R&R Transmission
Done within the last 2,000 miles
Exterior Paint (with all moldings removed), Wheels repainted and CC, and interior rejuvenation
Over $12,000 Invested; the paint alone is worth the starting bid.

She starts every time and drives beautifully.
It does burn a little oil about a quart per oil change.

What the vehicle is still lacking: I was planning on upgrading the AC system (currently nonfunctioning). SRS light on (generally a simple fix). Some minor interior repairs i.e. small lights and plastic covers. It also needs a trunk seal ($25.00) and the soft top panel cover seal ($35.00) both were removed due to painting. The plan was to also paint door jams and engine bay when I converted AC system (so that still needs to be done). The Radio is an Alpine pop out with an external amplifier (The radio operates but the LCD does not). Two new windshield washer nozzles ($15.00)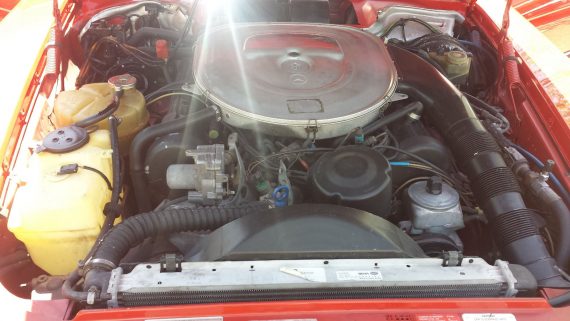 It's pretty rare that I see over 250,000 miles on a car like this. Even the W/C126 cars with the M117 engines rarely see this kind of use. When they do, you need to open up the valve covers to check the condition of the timing chain and guides are well as the oiler tubes. Otherwise, these old V8s are pretty stout. The seller mentioned that this car did have a repaint in it's original Signal Red and from the looks of it, the job is pretty good. The interior has some wear, but nothing that screams the car has almost 300,000 miles on it. It does have some defects mechanically such as the AC not working, a SRS light and some small trim items.
The starting price for this auction is extremely fair at a mere $4,000 and no reserve. I'm curious to see where this one ends up because the amount of miles is probably scaring off the majority of potential buyers but for someone who knows and understands these cars, it's a great entry point without spending $15,000+ for a car with half the miles that doesn't look as nearly as good.
– Andrew