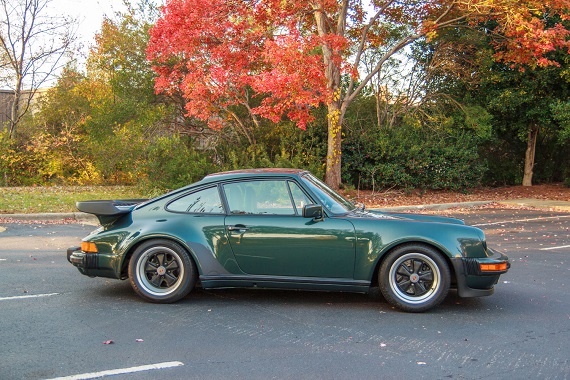 Yesterday Andy featured a very interesting and original green on green early 928. It's the sort of period-correct combination that we'd expect in the '70s. Here we're going to step out of the '70s and raise the performance bar quite a bit, but retain that green on green profile. Unlike the 928, whose lighter Olive Green interior provided some contrast, this 1986 Porsche 930 Coupe has stayed on the darker side of the spectrum for both the interior and exterior. It's certainly more monochromatic than the 928, but I'm not sure I've ever seen a light green interior I've liked so monotony aside, I prefer the combination here. The colors are Moss Green Metallic over Dark Green and, probably unsurprisingly, I can't say I've come across another like it.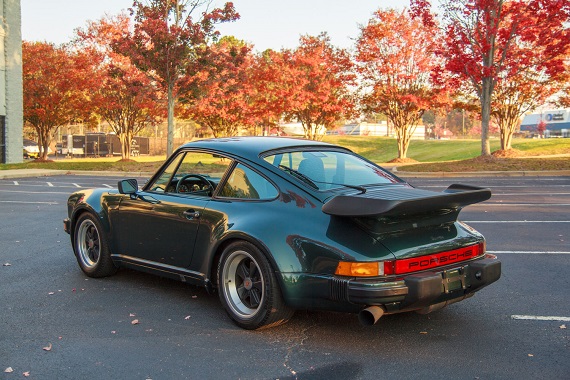 Year: 1986
Model: 911 Turbo
Engine: 3.3 liter turbocharged flat-6
Transmission: 4-speed manual
Mileage: 19,603 mi
Price: $150,000 Buy It Now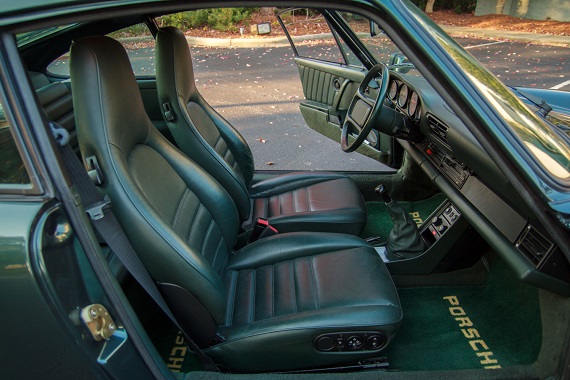 Thinning private collection – check for other 930s for sale shortly.
1986 Porsche 930 Coupe
19,603 Miles
RARE Moss Green Metallic Exterior, Dark Green/Black Leather Interior
2 Owners (Purchased from original owner in 2014)
Car has only lived in the Southeast (FL and NC) – Zero Rust
Turn-Key Mechanical Condition – Meticulously Maintained
Always Stored in Climate Controlled Facility
All Stock and Original (Factory exhaust tip was changed – additional factory exhaust included)
Factory Heated Seats
Factory LSD
Runs Very Strong and Smooth
Please feel free to call with any questions or photo requests 706-973-0169 – Patrick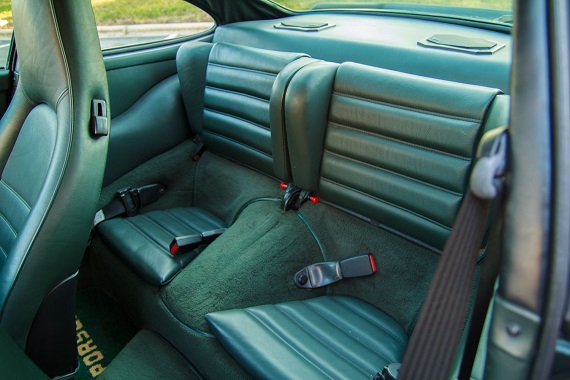 I've said before that with a green exterior I prefer a tan interior and that is no different here, but purely for rarity this combination certainly stands ahead of the prettier possibilities. The current owner is short term, but its first owner was not, having owned this 930 up to 2014. Thus, though we aren't provided much in the way of documentation here the hope would be that plenty exists. What we are told is that outside of its exhaust tip (and the factory tip does come with the car) everything is original and from what we can see that appears to be the case. And at 19K miles, it's one of the lower mileage 930s we're going to come across. Normally an '86 930 isn't what I'd look to for a higher-dollar example, but this one has enough rare attributes in its favor that the high asking price is to be expected. Even at $150K I'm not sure this one is overpriced. A year ago this 930 might have sold almost immediately, but right now it's a tougher market. Still I think the price is more than fair and while green on green isn't everyone's cup of tea it's a rare and interesting enough combination that when combined with originality and low miles should make this 930 quite desirable.
-Rob