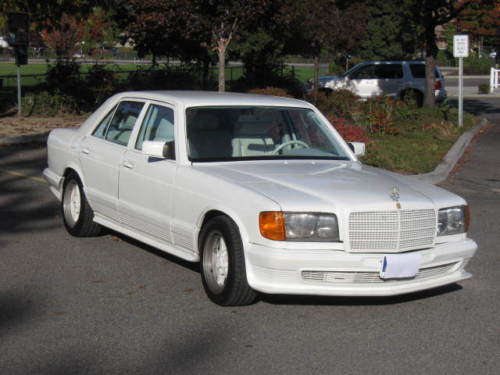 Early AMG cars are always a bit of a gamble without proper documentation, but today's example really had me stumped. The listing has a bit of misinformation and answers few questions about the history or build of this particular W126. The look of the car, too, is questionable mostly because of the poor photo quality. So, let's see if we can take a closer look and figure out any of what's here – is this car worth the gamble?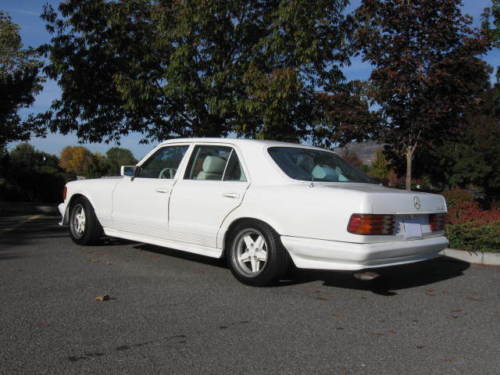 Year: 1980
Model: 380SE
Engine: 3.8 liter V8
Transmission: 4-speed automatic
Mileage: 78,100 mi
Price: $10,500 Buy It Now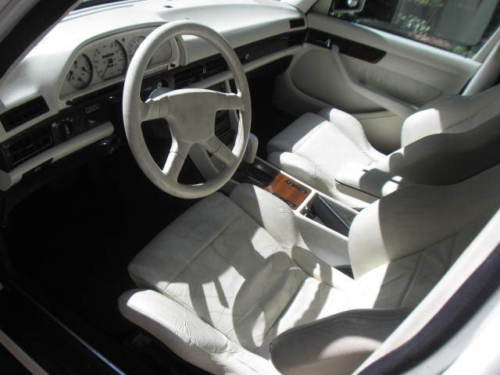 Straight out from the movie Scarface!

This 1980 AMG Mercedes Benz 380SEL has only covered 78k miles since new. It is a European grey market vehicle that was imported into the US in the 80's after it was sent to AMG in Germany for modifications. This car is a true higher performance car from the pre-merge golden era of Mercedes and AMG and it is one of a kind Mercedes Benz four doors sedan performance car.

This AMG Mercedes is powered by a healthy 3.8 liter V8 engine mated to a 4-speed automatic transmission. The car is all 'cocaine' white exterior and interior making this iconic four door sedan looks stunning. Somehow the picture of this car always shows up if one google AMG. Every other function on this car such as the lights, radio, hand brake, air conditioning are in working order except turn signal indicator light bulb on dash needs to be replaced. The car has rarely driven but maintained and rides like a typical high performance German car with a recent ~$2,500 service Oct 2016 with specialized European mechanic shop with brakes work done, etc. The four tires, Continental Extreme Contact 225/50ZR16 have about one hundred miles on them since new. It has a brand new battery installed Oct 2016.

The exterior on this Mercedes shows beautifully and it is mostly white. The exterior white paint is not perfect that are inevitable on a car that is over 30 years old. The price reflects a $3K credit for a new paint job to make it perfect. I was told by a MB shop in San Jose CA that the car was originated in San Bernardino, California and was written up in some car magazine. I bought this car in auction in San Francisco Bay Area back in early 1990s and did register in California. The car is currently registered in Southern Oregon. The interior has a genuine leather unlike most of Mercedes from this era that came standard with MB-tex synthetic leather. The interior has held up incredibly well. The two front seats are racing Recardo seats. The seats are in great condition showing only minor wear, however, there are no rips or tears present. The dash board is not cracked. There are curtains at back window. The wheel are Ronal wheels with Continental Extreme Contact 225/50ZR16 tires from TireRack.

This rare AMG four door sedan is a true example of early AMG. AMG was founded as a racing engine forge in 1967 under the name AMG Motorenbau und Entwicklungsgesellschaft mbH (AMG Engine Production and Development, Ltd.), by former Mercedes engineers Hans Werner Aufrecht and Erhard Melcher in Burgstall an der Murr, near Stuttgart. The letters "AMG" stand for Aufrecht, Melcher and Großaspach (Aufrecht's birth Town). In 1976 most of AMG moved to Affalterbach, with the racing-engine development remaining at the old location in Burgstall. At this time Erhard Melcher ceased to be a partner, but continued to be an employee at the Burgstall location.

From 1986 to 1992, interest and the desirability of AMG tuned and prepared Mercedes Benz road cars bordered on the obsessive with demand and interest far exceeding the small firm's capabilities to keep up. These facts were not overlooked by MB corporate personal and in 1993, Daimler-Benz AG and AMG signed a contract of cooperation, allowing AMG to leverage Daimler-Benz's extensive dealer network and leading to commonly developed vehicles (the first one being the Mercedes-Benz C36 AMG, in 1993). On 1 January 1999 DaimlerChrysler, as it was called between 1998 and 2007, acquired 51 percent of AMG shares, and AMG was renamed to Mercedes-AMG GmbH.[4] Racing engine development was divested and continues to exist in Burgstall under the name HWA (Aufrecht's initials). On 1 January 2005 Aufrecht sold his remaining shares to DaimlerChrysler, and since then Mercedes-AMG GmbH has been a wholly owned subsidiary of Daimler AG.

Buyer from strict smog check States please confirm if smog check is needed for 1980 vehicle despite the car was registered in CA for many years. Note the car does not need smog check in Oregon due to age. The current has current registration in Oregon.

Buyer responsible for pickup and shipping. Payment must be received and verified prior to delivery of title to Buyer. Cash or cashier check from major banks accepted. Once your bid is accepted, $500.00 deposit to hold the car must be received 48 hours via paypal.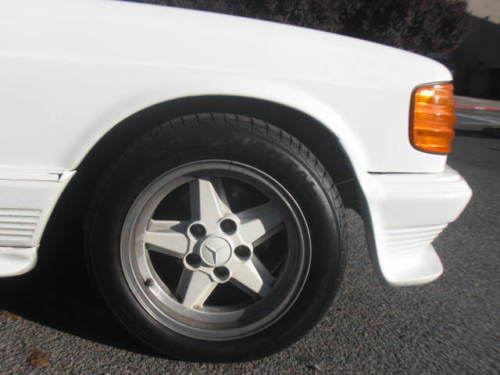 First things first; the car is portrayed as a 380SEL, but is clearly a short wheelbase car. That is confirmed by the VIN, which lists the model as a W126.032 – a 380SE with the M116.961 3.8 liter V8. This motor has the single timing row chain, one of the noted failure points on the early V8s. With low compression, they only produced about 155 horsepower, so performance won't be outlandish. The 1980 build conforms with the European specification car, since the W116 was still being sold in the U.S. until the later 1981 launch. The car does wear European lights, too. Now, how about the purported AMG modifications? The body kit does appear to be AMG related, but without closeups of the actual part numbers they could be replica pieces. Incorrect are the Ronal R9 wheels in place of the ATS or Penta period wheels. While the R9s look correct from a distance, they are not the proper wheels. The car also appears to be lower than stock, but it is not indicated if it is an AMG or other suspension that achieved this. Inside, the car has what looks to be a correct leather color-matched AMG Atiwe wheel and again what appears to be correct period Recaro seats. But, without documentation, it's just about impossible to classify this car as anything other than "period correct" for the 1980s. The seller discloses it needs paint work, making the $10,500 asking price seem steep without any history to back up the build. On the other hand, if it can be proven that this is a real original AMG build, the asking price is fairly reasonable considering the parts that are provided on what may be one of the earliest W126s in North America.
-Carter