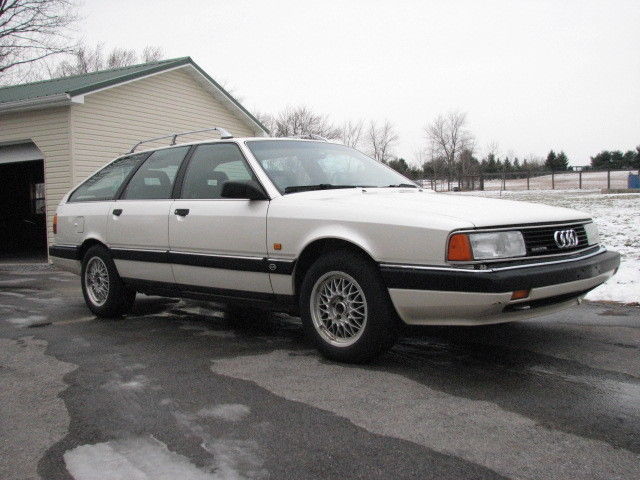 In a new location, from a new seller and with 700 more miles, the "White Christmas" Audi 200 20V Avant I wrote up in late December is now back up on the market. I included both descriptions as there was information in the original that was not present in the new advertisement. The car sold in the mid $3,000 range last time, so expect that's where the reserve is set this time too.
The below post originally appeared on our site December 22, 2013:
-Carter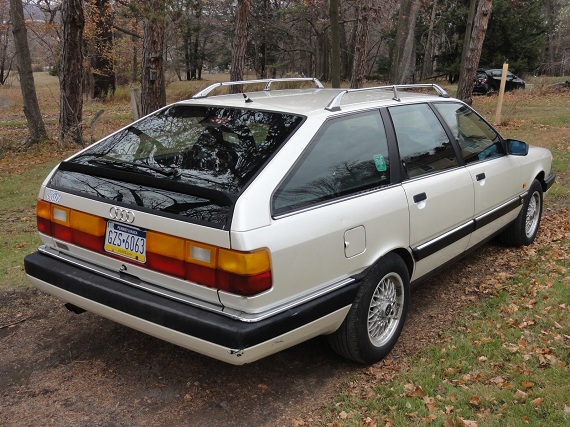 Last week's high-mile but pristine 200 20V Quattro Avant got a lot of attention, and deservedly so. It is a fantastic looking driver despite the high miles and was obviously well cared for. Today we have a car with significantly less miles but not as pristine as the Bamboo Metallic example. Will it be the car that makes your Christmas white though?
Year: 1991
Model: Audi 200 20V Quattro Avant
Engine: 2.2 liter inline-5
Transmission: 5-speed manual
Mileage: 120,853 mi
Price: Reserve Auction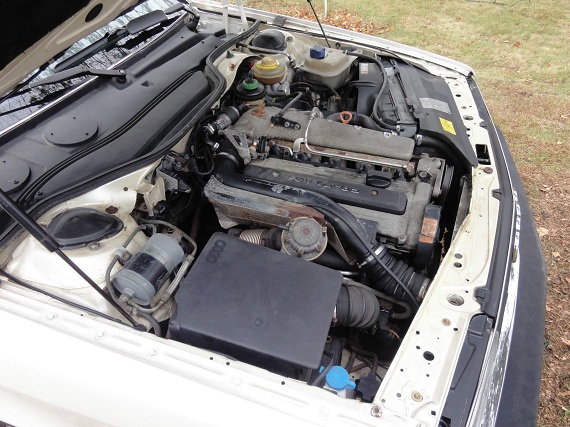 New Description:
Ok, first of all, yes this is the same car that was for sale last month. I purchased it, had it inspected, drove it for about 700 miles and it's not the car for me. So if you are looking at this auction you know this is the rarest Audi ever imported to the U.S.A., less than 200. This would be the perfect classic for an Audi enthusiast to restore or just fix the minor things and drive it. It is inspected until 1/15. The windshield has a small crack in the lower right hand corner that doesn't affect visibility. There is a small hole in the right taillight, along with a small dent on that corner. The roof has a dent and a small rust spot. It also has a small hydraulic fluid leak. The speedometer bounces around sometime and reads a few mph low. The interior panel for the sunroof is missing. The wheels could use some paint, I have all 4 center caps. I have new hatch struts and the three volume factory service manual to go along with the car. Feel free to ask any questions you have. I can be reached by text at 610-972-2820.

Old description:

The greatest station wagon ever? Might just be! I've had a lot of fun with this car over the last five years but I'm moving and will no longer have parking space for this classic. This thing is legitimately fast even today, with over 200 horsepower, but it still has a comfortable, smooth interstate ride. The mechanical Torsen limited-slip center differential works great, as does the factory push-button rear locker(!). So much better than newer/cheaper electronic traction control! The air conditioning compressor was replaced with a new unit in 2012, the tires are good, and it has had a recent oil change (Mobile 1). The pictured factory service manuals are included (almost $200 to buy new). It takes about a liter of hydraulic fluid every oil change or so (4-5,000 miles). This has been my daily driver in nice weather for the last few years and I would not hesitate to drive it anywhere! In fact, if you'd rather not pick it up I can deliver it almost anywhere in the lower 48 states or eastern Canada for $.50/mile from zip code 16866 (with payment in hand, of course)! Otherwise, I'll be happy to bring it to your shipper for the same charge. International bidders are welcome, but please understand I have no experience shipping vehicles internationally and you will have to make all necessary arrangements.

As you can see in the photos, the exterior is not in perfect condition but Audi's famous rustproofing has been doing its job. There's a small crack in the lower passenger side corner of the windshield and a chip out of the passenger side taillight but neither has been an inspection issue and the shop I take it to is particular (hence the new brakes all around with only a few thousand miles on them). I can have a fresh Pennsylvania inspection and emissions certification done for you for $60 if that's a concern. What doesn't work: rear wiper/defroster, rear hatch struts, cruise control, and radio (plays CDs fine though). Also, the speedometer usually wavers around a few mph below the actual speed and the oil temperature gauge seems to read low. I replaced the speed sensor so my guess is there's an iffy connection in the dash. I also have an extra set of steel wheels with older snow tires on them. I've never mounted these and I wouldn't want to rely on the tires but the wheels look serviceable, so if you want them I can include them for an extra $20.

This would be a great restoration candidate or daily driver. I'd also think this powertrain would be a natural fit for an Ur-Quattro project!

You are welcome to come check it out in person or ask any questions, just email me at: benmull@hotmail.com. The car is presently garaged and plugged into a trickle charger, but it will have to be stored outside after Jan.10 if it hasn't been picked up/shipped/delivered by then. Since this needs to go fast, the deposit is non-refundable and I will require payment in full within 7 days of the auction's end. Thanks for looking and good luck bidding!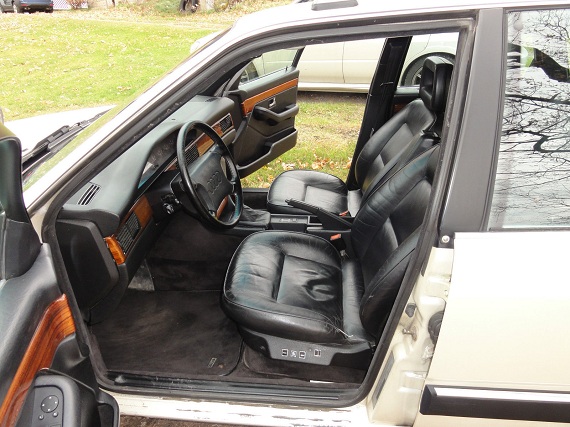 These cars are rare to come by these days, so you'll forgive me for not posting the most pristine example – and this isn't. It needs exterior and interior work, and there's a fair amount of mechanical sorting that will also be required. But the basis is there; the 200 Avant in 20V guise with that great drivetrain and power plant. With 6 days left on the auction, the price has crept over $2,200 – I'd guess it to be on it's way to between $4,000 and $5,000. While that's not a lot of change for a fast older Audi, I think your money might be better spent at $4,000 on the much higher mileage but much better condition Bamboo car from last week. When not properly cared for, these complicated cars can take a toll on your pocket book, and I'm afraid the purchase price on this car will just be the tip of the iceberg as you try to sort it out.
-Carter