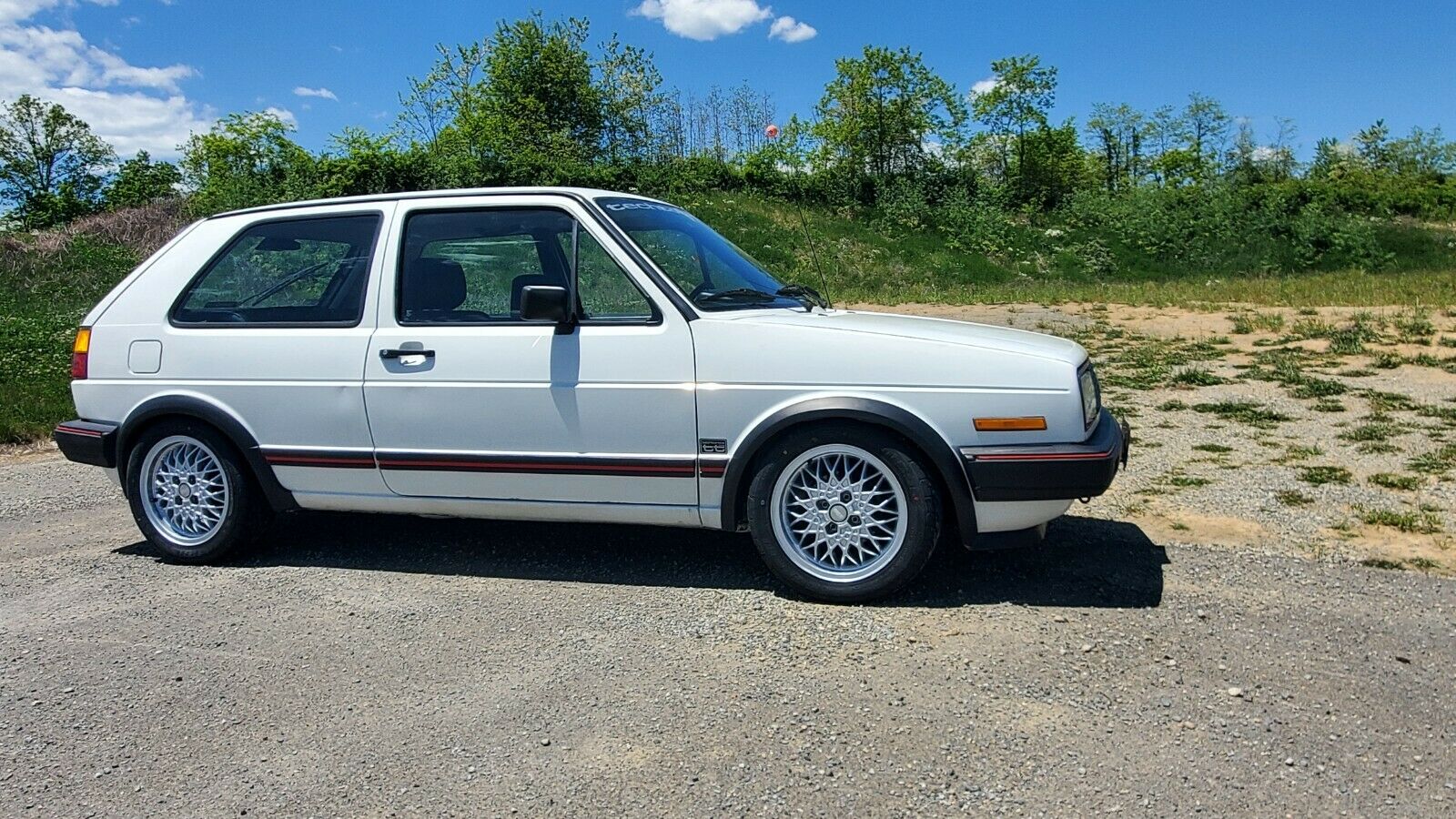 In early 1986, three models of the Golf were available in the US; the basic, no-frills Westmoreland model, the upgraded 'Wolfsburg' model with aero headlights, an upgraded stereo, wider body moldings, nicer cloth, and wheel trim rings, or you had to make the not unsubstantial jump in price to the GTI model. Replacing the basic 85 horsepower 1.8 was a high-compression HT 100 horsepower unit. It didn't sound like a lot, but that did represent a roughly 20% gain in power. Signature red-striped trim announced that this was the performance variant of the hatchback, and you also got 4-wheel discs as a first in the U.S. range. Those brakes hid behind carry-over "Avus" (Snowflake) wheels, though instead of the machine/dark gray finish the A1 had, they were now all silver and with "Volkswagen" imprinted on flush covers. Sometimes GTIs were equipped with "Montreal" (Bottlecap) alloys which were also shared with the Jetta GLI. Application seems somewhat indiscriminate. The GTI also had an upgraded suspension with front and rear sway bars and a close-ratio 5-speed manual as the only transmission. Of course, the interior was also upgraded with a leather-wrapped steering wheel borrowed from earlier GTIs, a multi-function display and specially-trimmed cloth sport seats.
In all, it was a substantial upgrade over the standard Golf, and you could of course further opt to include a sunroof, air conditioning, power steering, and a nice radio. Early U.S. Mk.2 GTIs were only available in Mars Red, Diamond Silver Metallic, black, or Alpine White as seen here. Today's example has a few mods but stays true to the simple formula: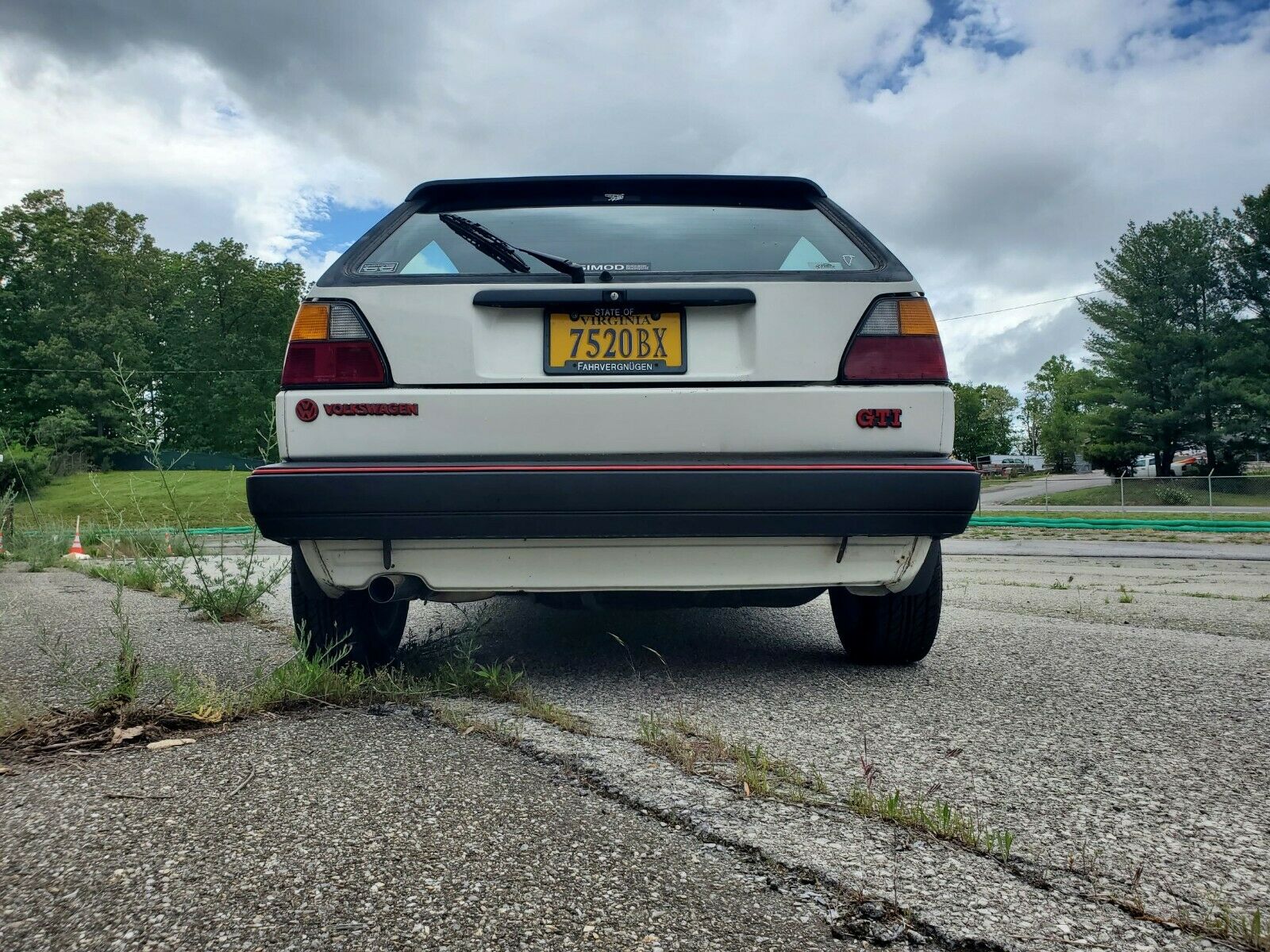 Year: 1986
Model: GTI
VIN: 1VWDB0176GV009304
Engine: 1.8 liter inline-4
Transmission: 5-speed manual
Mileage: 106,000 mi
Location: Christiansburg, Virginia
Price: $7,500 Buy It Now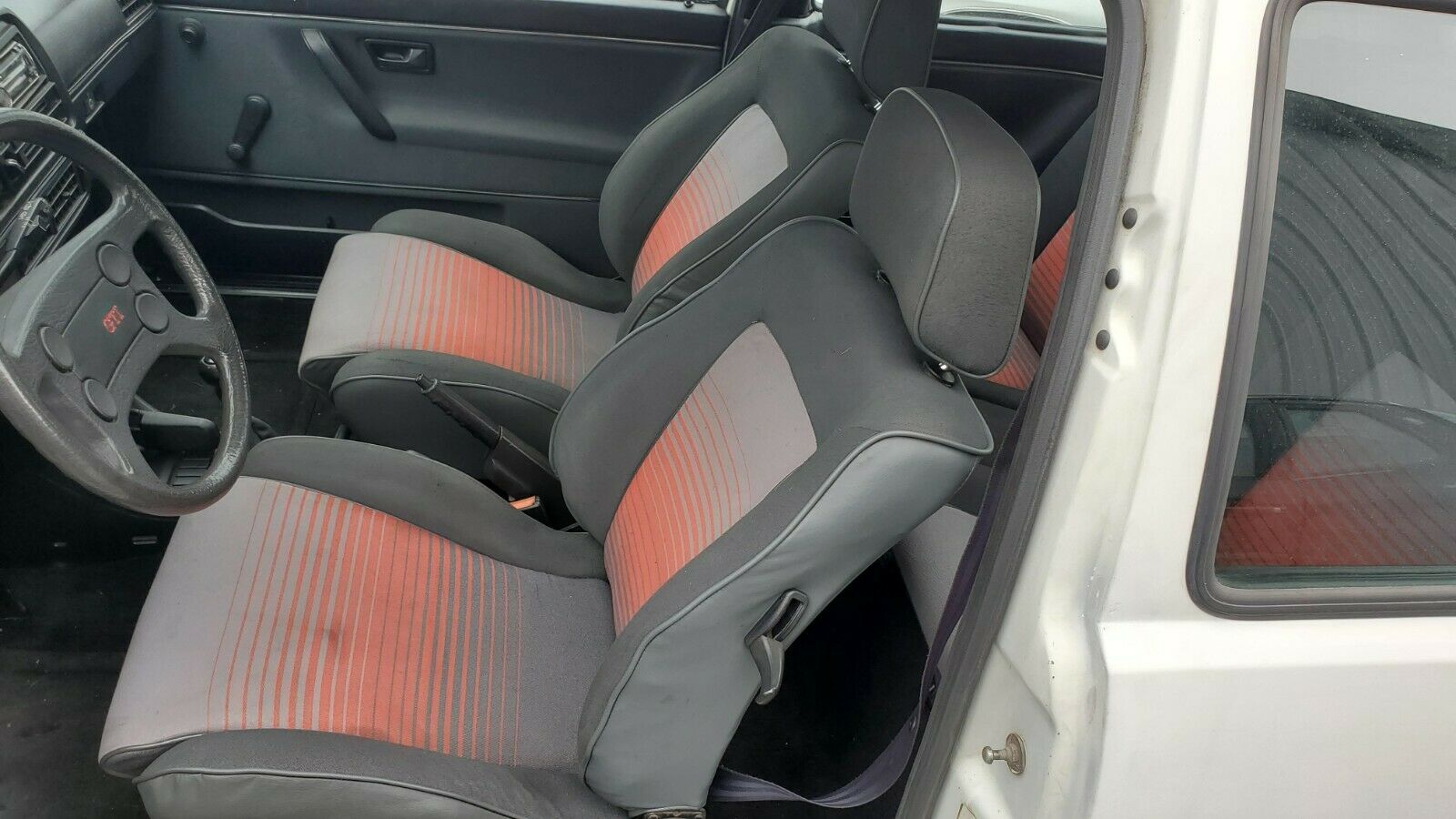 1986 Volkswagen Golf MK II GTI 8 ValveVIN# 1VWDB0176GV009304Mileage – 105889 ( goes up car is driven some to keep it working properly ) Mostly original MK II GTI 8V! Extremely rare to find an early small bumper 1985/86 GTi 8V with proper grill and light assembly. Mechanically restored and upgraded with body trim refinished, flares, bumpers, grill, mirrors, wipers, etc., wheels are BBS/VW 15×6 repainted with NEW tired 195/50-15 Federal 595 SS. All badging and red has been refinished to a later bright red not the 85/86 ornage-ish red, we prefer the bright GTI red from the 87+ GTI. Cleaned entire chassis as much as possible. Side molding was literally so hard it would not stay on. Two pieces we heated to try and get straight to install and they broke. We gave up and found as close to OEM style side trim as we could include part number and spare piece. OEM trim included with the car. Original un-cracked dash, headliner in great shape shows a little age but is not sagging or broken, carpet was removed and cleaned. Door panels in near mint condition. Uncut center console. Rear quarter panel on passenger side has one small issue on top right by B pillar. Front window trim removed and filled with silicone to try to find a leak that rusted the floor pan on driver's side. Resealed window stopped leaking. Floor was repaired with patch pieces. New windshield included with car. GTI has been garaged for last 5 years because it leaked and not driven in rain. We nick named her U86 ;o) Paint is mostly original and has a few spots that look to be repaired with a spray can (OEM spray can color included from Duplicolor). One spot on the body has filer that we found by the passenger side rear taillight. Has a few small dings here and there (in pictures) driver fender was replaced due to a deer hitting it. Fender is from a Jetta (slight color difference not terrible) and has the Wolfsburg logo, and small hole for the larger late plastic molding, has a TT sticker on both sides, we were planning on cutting another hole in passenger fender and installing euro side turn indicators which looks neat. Bumper trim on front bumper is missing and a red pinstripe was put on to mimic the bumper trim piece. We were going to put reproduction euro bumpers on and a European license plate but never did. Front corner of hood is dented has a sticker over dent spare hood comes with car in matching white. Could it use paint? Yes.. Do you want to repaint it… We determined it would be better to preserve the car and NOT do a repaint. The paint looks decent enough to leave it and keep the patina of an unrestored body. Stereo upgraded with JVC head unit, JL audio subwoofer in a box, Sony amps two, JBL front speakers rear are JBL 6.5 in parcel shelf ( uncut parcel shelf included) AC is ALL present needs new lines and a recharge. PS was removed long ago by a previous owner we left it off to save the power drag of the PS pump. Can be sourced and put on comes with most of the parts to put the PS back on missing a few pieces. Also comes with a box of spare parts, including cam belt covers – we never reinstalled the covers we planned on putting a Tectonics camshaft in for a little better mid-range and high rpm pull ( cam can be installed if purchaser would like to pay for part and labor at our shop) Turn signal canceling tab broken on steering wheel. Signal has to be turned on and off. Odometer functions. MFD works. Has ALL factory books including the window sticker and most service records and a VW recall letter! All OEM decals and stickers are still in place under the hood and fuel door. Comes with ALL my spare MKII GTI parts, spare hood, bumpers, EURO radiator support lights and single headlight grill, front and rear 87 16V seats with Jackie plaid material to put in centers are ripped, ABA 2.0 with all accessories and wiring harness no ecu, boxes of NEW ABA parts planned on putting the ABA bottom end on the 86 head and CIS to keep it looking original. I would suggest trailering the car and bringing a truck to haul all the parts off I need to clear up room and ALL my MKII parts go with it!!!!! ListEngine out clean and reseal, Valve cover gasket, oil pan gasket, main seal rear, main seal front, oil filter housing gasket, oil filter housing gasket, water neck gasket, if it was a gasket it was replaced!Stage II Tectonics tuning clutch kit – Redline MTL fluid in trans. Auto Tech adjustable cam gearTechtonics Tuning 268 camshaft Tectonics full stainless exhaust with resonator – sounds fantastic pops and crackles sound great!!!Tri Y stainless header (Super Sprint NLA replica)Plug wiresPlugsCap and rotorAir filterOil filter and oil just changed Water pumpHoses – All including all new vacuum hosesCV axles Wheel bearings all fourBrake rotors Pads – PBR Metal Master (from old stock)Stainless lines and Motul 600 fluidALL Bushings upgraded to PowerflexMotor mounts – new OEM styleMain fuel pump conversion, plastic accumulator cracked typical issue on the MK II Golf. New in tank pumpFuel filterInjectors – rebuilt ones Upgraded shift linkage – short shift kit with heim jointsRokkor Coil over kit 450front 350 rear spring rates – stiff but not terribleRelocated Battery to rear with a BMW E36 power distribution block in front. Hatch shocksHatch cover rubber straps – holds parcel tray up when hatch openHorn replaced – oem horn was badBBS/VW 16×6 wheels with 195/50- Federal 595 tires, less than 100 miles. . Interior is near mint, needs passenger side door top, crack free dash. TONS of pictures available on request.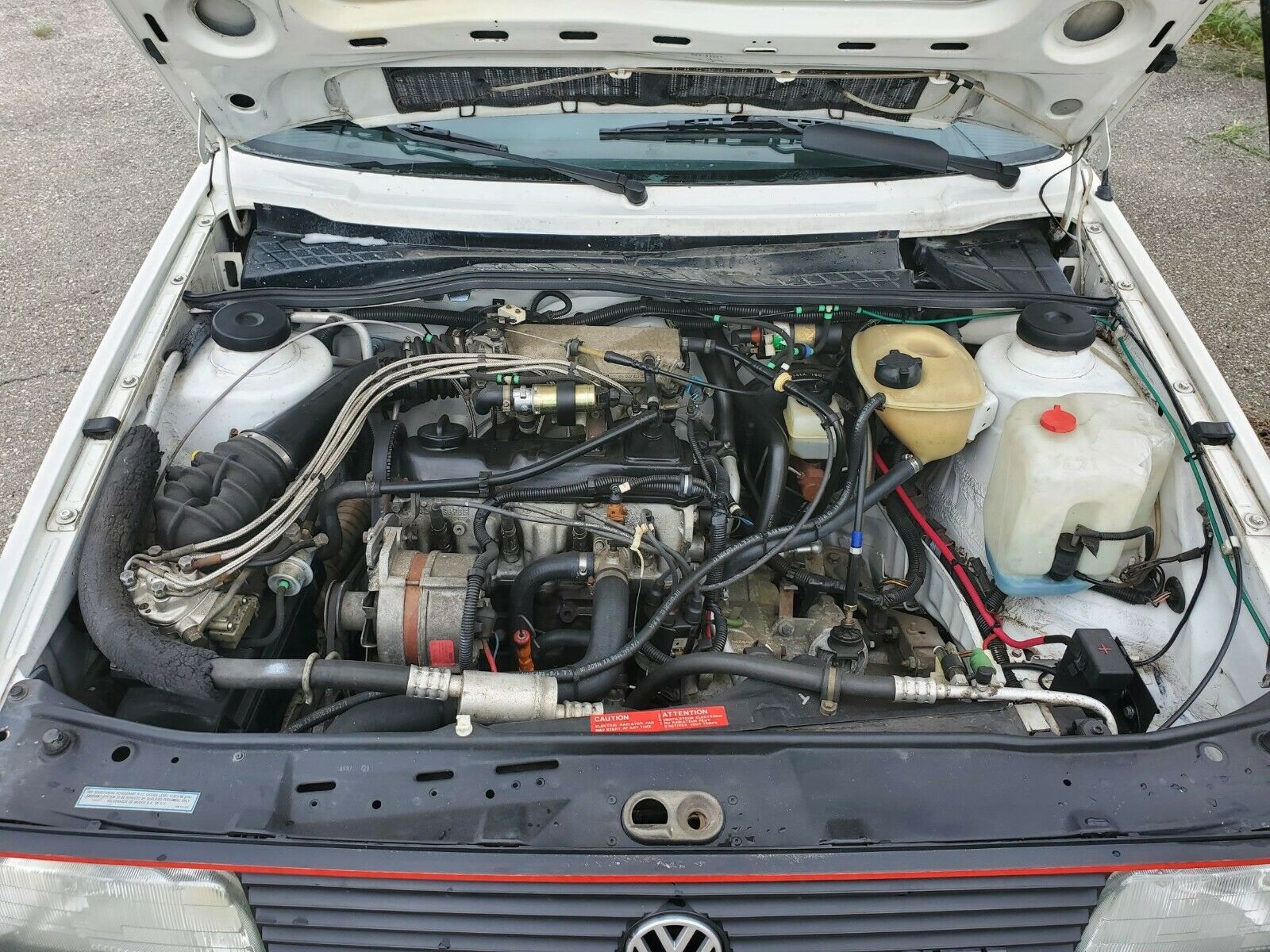 The good? Well, it's really hard to find an early and unmolested A2 GTI. This one, aside from the radio, coilover suspension, and desirable but soft-as-butter BBS RA alloys looks pretty standard, and it sounds like the seller has put some work into keeping it looking nice. It overall looks pretty clean, even under the hood – unusual to see on one of these. The asking price with what sounds like a boatload of spare parts is $7,500; which certainly sounds like a lot for one of these cars. However, an enterprising individual recently took a stock '85 I wrote up and flipped it for double that amount with some light mods on Bring A Trailer. Clean this one up a bit and snap some high-quality photos, and I think you could still come out ahead.
-Carter