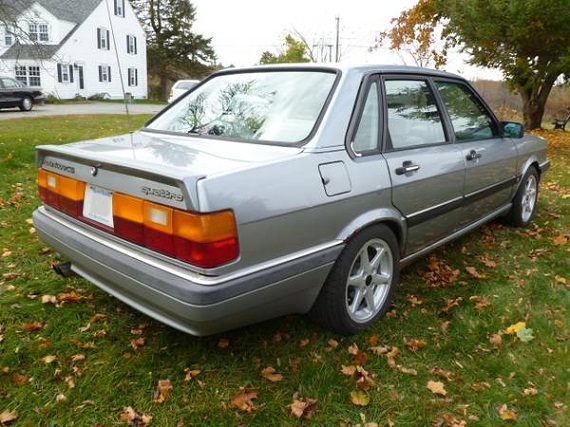 The Audi 4000 Quattro is one of those cult cars that was too good for its own good. Why? Well, they were so good in the snow and ice that they were used – hard – and put away wet. That means today that there are precious few of the 4 year run of these cars still hanging around. Especially rare are the early 1984 models, but later models that were saved are often either red or white. Occasionally you get the grey-scale models of color in with a Graphite Metallic or Zermatt Silver, but it's pretty infrequent that you see the three blues; Copenhagen Blue, Oceanic Blue Metallic, and Sapphire Blue Metallic. Today's last of the run 1987 4000 arrives in that last shade, with a host of upgrades: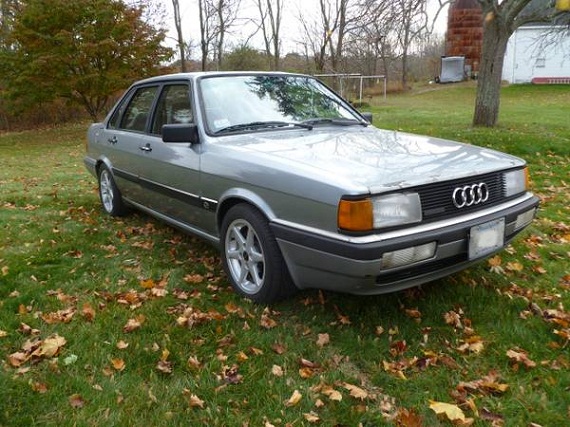 Year: 1987
Model: 4000CS Quattro
Engine: 2.2 liter inline-5
Transmission: 5-speed manual
Mileage: 224,000 mi
Price: $2,750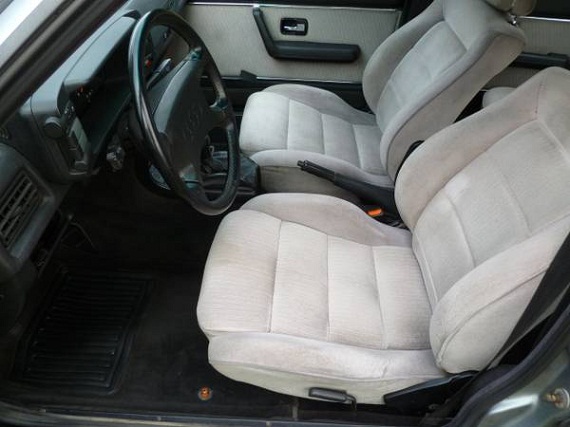 Sadly the time has finally come for me to part with my beloved 1987 Audi 4000cs quattro. This is the 5th one of these that I have owned over the years. I shipped it from Seattle 10 years ago with around 70k miles on it, now it has 224k and still going strong. Some details about the car:

kinda rare sapphire blue color with very nice gray cloth interior
very well maintained, huge stack of receipts
AC works great
has trip computer
factory wheels with snow tires

many upgrades including:
Stebro stainless cat-back exhaust (great sound and will not rust)
H&R lowering springs and Boge turbogas struts
drilled and slotted rotors, braided stainless lines, Ate super blue fluid, new rear calipers
Borbet type C 15″ wheels with great Toyo tires
E code headlights with relays

known issues:
some rust starting around the edges, solid underneath though
outer sunroof panel needs replaced (have it)
minor oil leak, as yet unknown origin
needs coolant flush (have everything to do it)
cable that switches vents to defrost not working (simple mech fix)
rear windows intermittent (likely broken wires at door jamb)
intermittent rattle in exhaust (probably loose cat internals – it has a lifetime warranty though 😉 or you can just remove the loose parts… )
minor dent in left front fender where some jack@ss "rubbed" it with his giant suv in a parking lot
crack in right headlight – sealed up and been like that for over 9 years

Here's the big plus – this car comes with my 15 year collection of spare parts. I stripped several 4000 and coupe GT cars over the years, and kept everything. There are: doors, hoods, trunk lids, bumper covers, engine, trans, rear diff, driveshaft, entire suspension, many sets of headlights and instrument clusters, grilles and small ext trim, rear windows, and many many boxes of small parts. At least 3 pickup truck loads full. You could easily keep this car running for another 10 years with this stuff.

For the car and all the parts I am asking $2750 or bo. Price is flexible to a point, but the parts are probably worth what I'm asking. Hopefully this will go to someone who will love it as much as I have.
It's obvious that the seller is an enthusiast, and the list of enhancements to this car are pretty stellar. The wheels are a perfect upgrade, and as a former 4000CS Quattro owner with Stebro exhaust, the sound that produces is so enjoyable. The Euro lights are a necessary upgrade if you'd like to drive at night, and the seller states the car comes with enough spares – 3 trucks worth – to keep you busy for a long time. Last week's 1987 4000CS Quattro I wrote up sold fairly quickly for most of it's asking price at $3,250. In comparison to that car, the general exterior condition isn't as good – specifically, the rust creeping through some panels would need to be addressed fairly quickly to avoid further problems. Despite that, I think this 4000 is fairly close to the mark for what it is; a well modified, older car that you can have some fun tinkering with.
-Carter