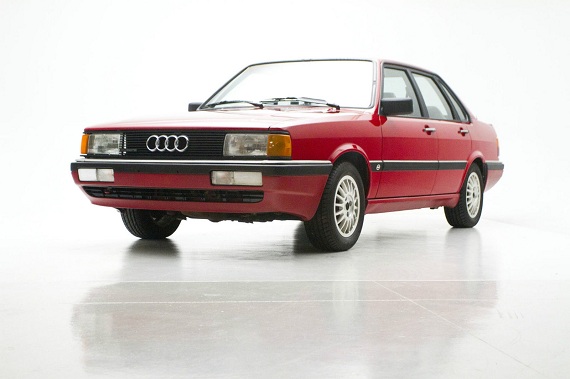 "It was bound to happen". Over the past few months we've seen a spike in Audi 4000 Quattro prices, and with the spike the nice examples have started to come out of the woodwork. As a $2,500 car, you keep it until it dies. As a $5,000 car, you treat it well and it changes hands from time to time. Once prices crest $10,000 – prices that 4000s haven't brought since the 1990 – people start flipping them. It makes sense; the 4000 Quattro is a great car but for $13,000 you can get many nicer, faster cars. Last week I wrote up a Tornado Red 1985 4000S Quattro that had reported fresh paint and seemed to be a good example, but failed to push a price as high as I expect the owner was looking for. Today's example is arguably a bit nicer, but shown in the same shade – will you be seeing red?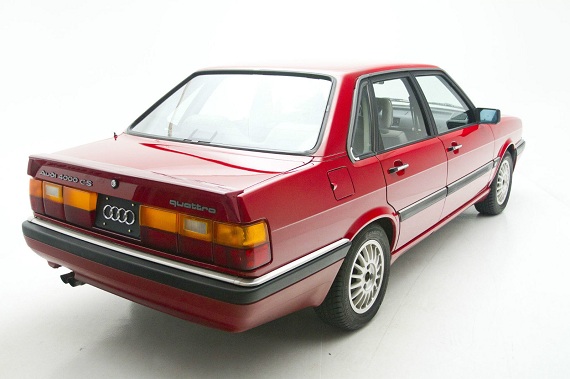 Year: 1987
Model: 4000CS Quattro
Engine: 2.2 liter inline-5
Transmission: 5-speed manual
Mileage: 70,000 mi (TMU)
Price: Reserve Auction ($11,000 on Craigslist)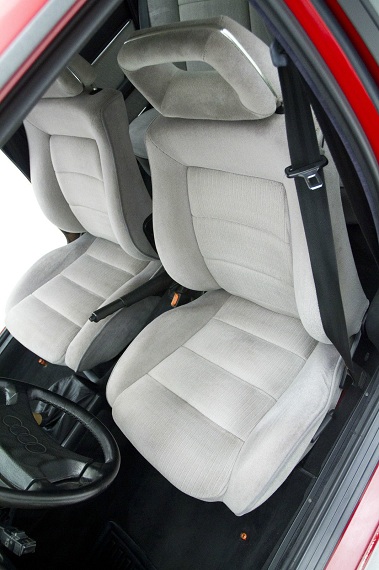 1987 Audi 4000 CS Quattro

Tornado Red over Quartz Grey Velour and Black Interior.

This is a rare non-sunroof car and has been in Washington state for most of its life. Never exposed to salt, which is evident with no visible rust. This is a low mileage, all original example in great shape and functionality. I am an avid Audi enthusiast as well as a self-admitted car hoarder. This car is truly a timecapsule /survivor car of which I still worship due to its unrivaled condition and unmolested nature. I have owned over 17 Audis so far and this is one of the nicest original examples I have ever owned and rivals show winners I have seen recently at related Audi events. What tickles me most is the cars originality and you can really tell that this car has never been abused or mistreated in its 27 years. It has been in good care while its time with me but its time we part ways and I hope this vehicle creates as much enjoyment for its new owner as it did me.

The single stage Tornado Red has just been professionally detailed and coated with a crystal lacquer paint coating to resist oxidation which tends to be a problem on the Audi reds of the era. The paint shines incredibly and what chips have occurred, were already touched up and the paint is nearly perfect with a couple thin spots like on the rocker panel from feet rubbing. The rear spoiler is original paint, which isn't the best of match and does have some bubbling. The trims and badges on the vehicle also received reconditioning at that time as well. The body is straight and true with only one visible dent and otherwise great fitting body gaps. The stainless trim is in great shape and complete. All glass on the vehicle is original, including the seals and the windshield has one small (1") crack. . The wheels (and 4 caps) are still original and due suffer from flaking clearcoat on the centercaps and a couple scratches on the wheels. At the buyers discretion, I am happy to have them refinished (with a full cash price offer) and it would be your choice of silver or white, if that's your hang-up. I like the look without centercaps and the wheels scratches never really bothered me personally.

The quartz grey velour is in great shape overall with small blemishes around the piping on the drivers side due to the years which is to be expected for an original condition vehicle. Headliner is without flaw. The interior was recently cleaned and this was never smoked in (no burn holes) and has no musty odors, as it smells like an Audi. The carpets are all in great condition as well as the rear deck carpeting. The dash remains non-cracked as its been garaged for most all of its life. The vehicle comes with the never used original spare, unscathed tool kit as well as the jack. I will also throw in what spare parts I have for the vehicle on hand as well as an indoor car cover.

Clutch engages low to the floor with good feel and runs great both at idle and under load while traveling down the road. The lack of engine noise as well as creaks and rattles, one would expect an older vehicle to have, is quite amazing. Always have run premium gas and synthetic oil in the vehicle. Recently the vehicle has received numerous preventative maintenance items; Thousands spent in the past 10K miles including timing belt and waterpump. Fresh full tuneup, fuel filters, fuel pump, recoated gas tank, coolant temp sensor, thermostat, Radiator hoses, CIS intake hose, CIS rebuild, Fuel Pressure Regulator ($$$), ISV cleaning, plugs, wires, cap, rotor, coolant flush (green stuff), K&N air filter, oil cap, valve cover gasket and tires. Tread is great at 90% life left on the tires. All the original door handles still work a feat not many can admit. Factory exhaust had been replaced with OEM several years ago. It's in fantastic, near-new shape throughout, both mechanically and cosmetically. It's currently 100% sorted, completely rust-free, and ready to go for the new owner.

I am selling this vehicle as I don't tend to drive it in bad weather, snow etc. and it should really go to someone who can enjoy it. I have another Audi 4000, which is better suited to regular use, over this museum-worthy example. This is a great start for someone interested in restoring every little piece on the car and creating a car worthy of future concourse invitations. It's not perfect, but it's the best original 4000 I have ever seen.

The vehicle is currently licensed, registered and insured for $15K, which was an agreed value assessment through my insurance company. The title is free and clear and ready for me to reassign to its new owner. The vehicle currently resides in a climate controlled secured storage when I am not driving it on sunny days. I am in no real need to sell the vehicle other than finding it a better home. I am not interested in trades or low balling. These 4000's have been fetching 10-13K recently and I believe this is nicer than those that have been offered but for a reasonable asking price. No risk of bidding war, as you either, offer me what I'm asking or someone else will! Best of luck.

The pros:

– Both original keys with return postage guaranteed Audi tag from new. Ignition/locks have never given up.

-The nicest Audi 4000 I have ever seen and most quiet example I have ever driven.

-A/C blows cold and the heater works almost too good.

-quattro rear defroster works great.

-Center and rear locking differentials work on the fly in case you need to use it.

-It would cost you more than this to restore one to this condition.

-Detailed and ready to go!

The cons:

-Odometer and Speedometer don't currently work, reads 68xxx miles. Trip computer display is flawless and fully functioning when speedo/odo are working. I've been told its likely the speedometer cable although I have had difficulty sourcing an NOS OEM unit.

-The Audi factory AM/FM Cassette radio has been removed, but factory harness remains intact. Stereo was sent out, to be rebuilt and resulted in a shipping claim. Speakers and harness remain all original and could be upgraded if you see fit.

-Dash illumination, powerlocks and gas float are intermittent.

-Its old and I am sure I might be forgetting something. If you are worried about it, I would suggest having a pre-purchase inspection done at your expense.

I have more photos if necessary on a photobucket account. Contact me if you need to see more photos.

VIN# WAUFB0853HA020296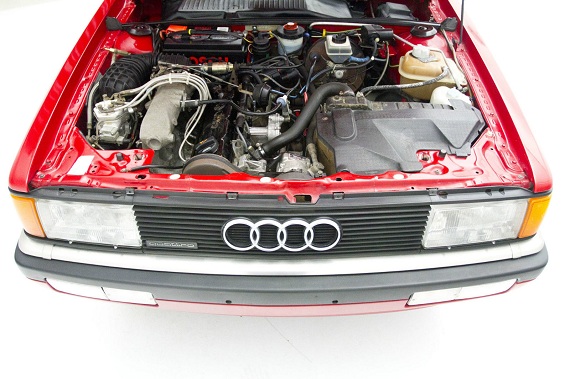 Make no mistake; this car is clean. It's also well photographed, unlike many of the examples we see. The photos tell part of the story, showing a clean engine bay with relatively corrosion free raw aluminum components like last week's example. That's good news for those looking for one of these cars for the long haul. Tornado Red is probably the most popular color on the 4KQs, another bonus. Unlike nearly all of these cars that you see for sale these days, the interior is clean and looks quite good. There's also a fair amount of recent maintenance outlined, again a plus. Right down to the correct "brushed" look badges, this car is presented as a top condition car. Perhaps the most rare option is the lack of sunroof, a detail few had as most 4KQs were brought in fully loaded.
But the price is one of the highest out there at a requested ask of $11,000 (on Craigslist), making the list of things wrong frankly unreasonable. There's the partially functional speedometer/odometer, leaving total mileage unknown – though it's probably as low as quoted. There's the non-functional radio, fuel gauge, locks, and dash lights. The centercaps have clearcoat failure and aren't pictured. Heck, it even bothers me in one photo that you can see wheel weight sticker remnants. I mean, if you went through the effort to get all of this done and you want to ask over "Condition 1" money, break the WD40 and an old credit card out and get the sticker off there. It's not hard and should have been done. The shift knob has also lost its OEM leather to expose the wood underneath. That's not a bad thing, but they're easy enough to refinish and look really nice in an afternoon – again, small details make the difference. I'm also weary of the clearcoat that has been applied to the polished Tornado Red paint. Now that it's sealed it should remain nice and shiny, but it's not by the books right. I'm not sure if that change is a benefit in maintenance-free exterior cleaning to the new owner or not, but were I buying I think I'd rather be expecting the OEM paint in pretty pristine state for this money. It may be nit-picking, but again if you're asking top money for the car it should be the best example out there, and while this one is certainly one of the best we've seen of late I can't say it's better than the white 1985 I wrote up a few months back that established this trend.
-Carter