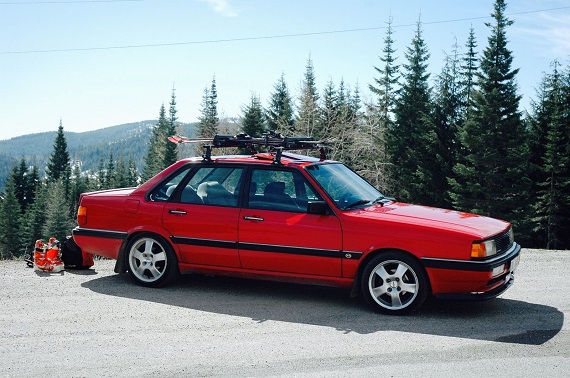 The shining Tornado Red 1987 4000CS quattro I took a look at back in early February has appeared on eBay this week. The seller has not changed the price – $4,750 – from the earlier advertisement, but has added some more information including maintenance and modifications. Unfortunately, those disclosures also include that the car was totaled at one point. Previously the owner had stated it was simply repainted – not unusual for the single-stage red from Volkswagen/Audi if it was not maintained. While this car looks pretty nice, do you think the branded title hurts the value or does it simply not matter on this old warhorse?
The below post originally appeared on our site February 11, 2016: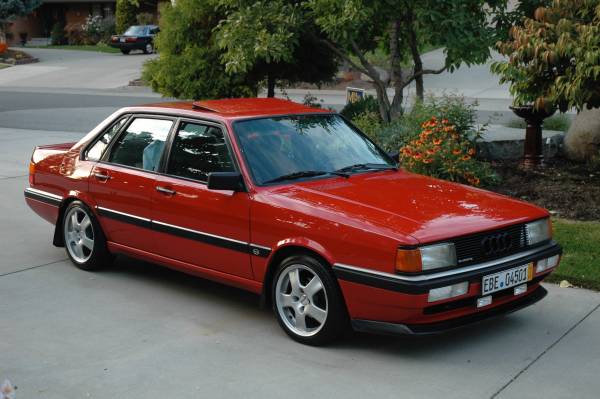 I've taken a fair amount of heat over the past few weeks for posting front drive B2 models. But, in fairness, there was reasoning behind it; several of the examples were far above average, if not the best examples for sale anywhere today, and the fact of the matter is that the front drive Audi B2s are really fun to drive. "Quattro" becomes this obsession that overshadows the rest of the model run to the point that even Audi fans dismiss the two wheel drive variants as worthless. However, the much larger issue is finding good examples of 1980s quattros for sale. They do pop up from time to time, but largely what comes to market is used – and used hard. However, I came across one that appears to be in above average shape, so let's take a look at it: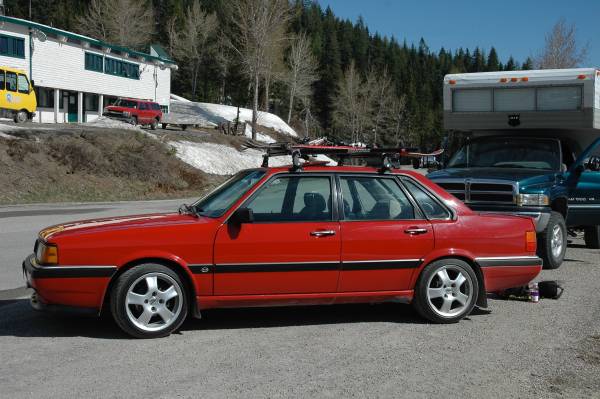 Year: 1987
Model: 4000CS quattro
Engine: 2.2 liter inline-5
Transmission: 5-speed manual
Mileage: 237,899 mi
Price: $4,750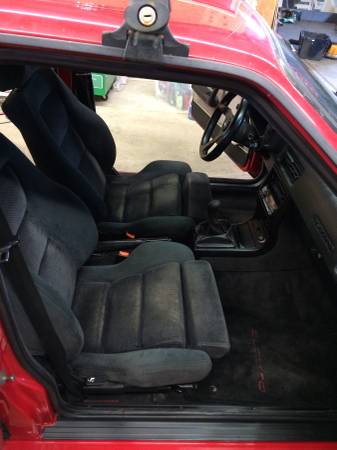 1987 4000CS Quattro.

Tornado red. Stock. No rust. Quattro system functions flawlessly. Flofit seats, momo wheel, pedals, and shift knob with boot. Two sets of Borbet wheels and tires. All major work done as needed, including clutch, brakes, brake master, rotors, pads, braided lines, slave cylinder, new struts and bushings with new front drive axles, balanced drive axle and timing belt and water pump a few years ago. Wiring in good order. Sunroof works.

To Note:
1) 250K on the motor and body.
2) The interior is near perfect for 1987. No rips in any seat. No dash cracks.
3) The only pieces not in the car are the door pockets in the front but door panels are in good order.
4) The motor is unmolested. No upgrades. Not raced. Family owned for 25 of its 29 years. I drove this to my high school prom in 1998 (no joke).
5) Salvage title. Wrecked, as the title report will show, but all work done by J and A auto in Spokane, Washington. Car looks great and the paint quality is terrific as the photos indicate.
6) Comes with the desirable original front air dam
7) Power locks work
8) Front passenger window regulator (motor) needs to be replaced. Back windows need switches which are included.
9) All maintenance records since 1996. All work done at European AutoHaus and Sutherland Motors in Spokane, WA.
10) Alpine Deck, 2 amps, Infinity speakers.
11) Good set of winter and summer tires with rims.
12) Radiator leaks but does not overheat, its old, fix it or not, still performs great
13) Seats are super comfy, they're kinda like recaro knock-offs, high bolster and adjustable
14) Animal in the snow, fully lockered differential.
15) Cruise control does not work but trip computer does. Odometer stopped at 237K however title report shows correct year-over-year mileage.

A true Audi enthusiast's car. Timeless body style. The most desirable quattro system of any Audi w/ functioning locker. If you know 4K's, then you will love this car and you know how rare these cars are becoming, especially in this good of shape.This car could be a daily driver, 20vT project, or rally conversion. Considering it has not be restored and has been a family driven car for 86.2% of its life I am confident in saying it is one of the nicest I have ever seen and I have driven it for many years to many places. The 5 cylinder is known to roll to 500,000. Some extra parts, extra manual, odds & ends, ski and bike rack included.

It has been a great car for many years and I will throw in the old prom pictures for fun. It was way cooler than a limo.

Reasonable reserve.

Thanks for looking.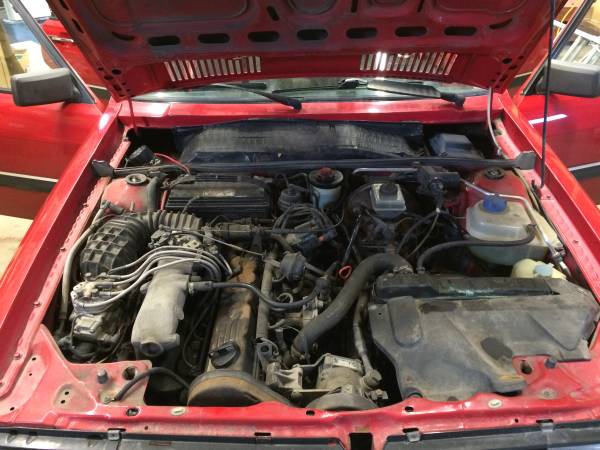 Is this one of the nicest 4000s around? It does appear so at first glance, with what was clearly dedicated ownership. There are, of course, some shortcomings. First off, there are plenty of modifications from stock. The steering wheel, shift knob, wheels, and grill rings are easily remedied with some used parts. The foglights and European plate on the front are generally tasteful, as is the mega-rare Votex front spoiler. And, generally speaking, the seats look okay even though they don't match the original gray velour. But the radio is, to me, probably the biggest detraction; aside from the head unit not integrating well into the 1980s interior, the speakers look garish and have really marred the door cards. You'll need replacement units to undo that, though they can be found. Then, there's the quarter million miles accrued and the ensuing respray, though the car does appear to hide those miles very well overall. The price is, I'd argue, high for such a higher mile example – especially with multiple non-functional items, though at least they're disclosed. There have been cars with less mileage and more originality on the market for lower asking prices. But, I do have to give a positive nod to the great presentation, careful ownership and enthusiastic nature of the seller. And, he has a V8 quattro, good for huge amounts of bonus points in my book. It even looks like it might run! If you like the look and the mods, perhaps it makes sense to you, but the flip side is that the car appears to present so much better than an average 4000 quattro these days that the pricing likely reflects that alone.
-Carter