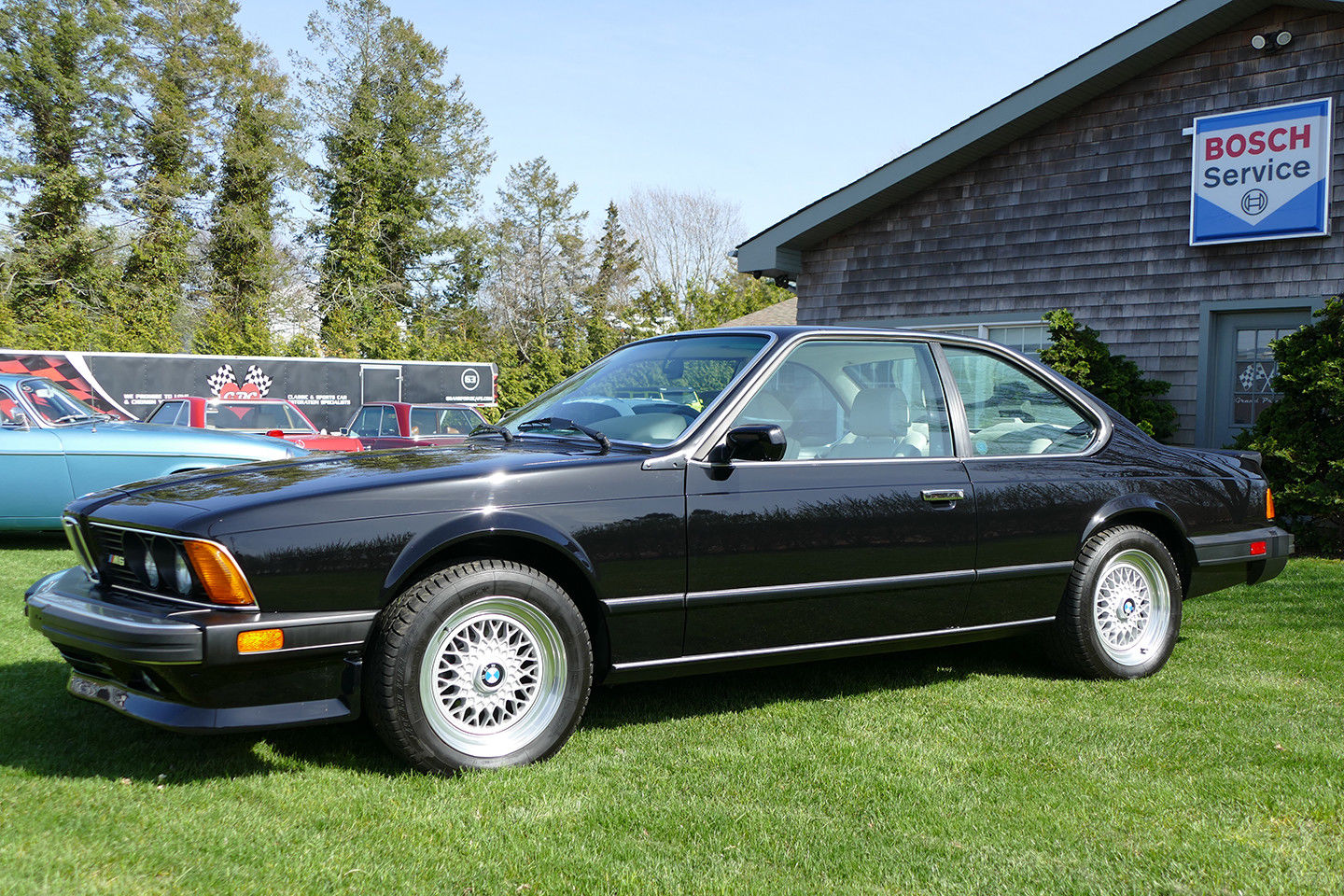 If you aren't in the know, this weekend was pretty special for BMW folks in Asheville, North Carolina – the site of 'The Vintage'. My Instagram and Facebook feeds were flooded with images of all the best of Bavaria heading towards the quaint western North Carolina city. It got me thinking – what was the best way to make a splash at such an event?
Of course, showing up in a fresh Euro 1983 635CSi surely would do it, and it'd be the perfect car for the roughly 14 hour drive for me to get there, too. When I wrote that 635 up, the competition that I suggested should be considered wasn't the U.S. spec 635, though, it was the M6. The big 'bahn stormer had the chops to overcome the weight of the large 2-door Coupe with the 256 horsepower S38 under the hood. It also has enough luxury to make the half-day drive feel like a blink of an eye.
Some considered the Euro car to be a bit on the pricey side. But when I came across this equally restored U.S. spec M6, it was a good thing I was sitting down. Suggestion: move the coffee away from your electronic device!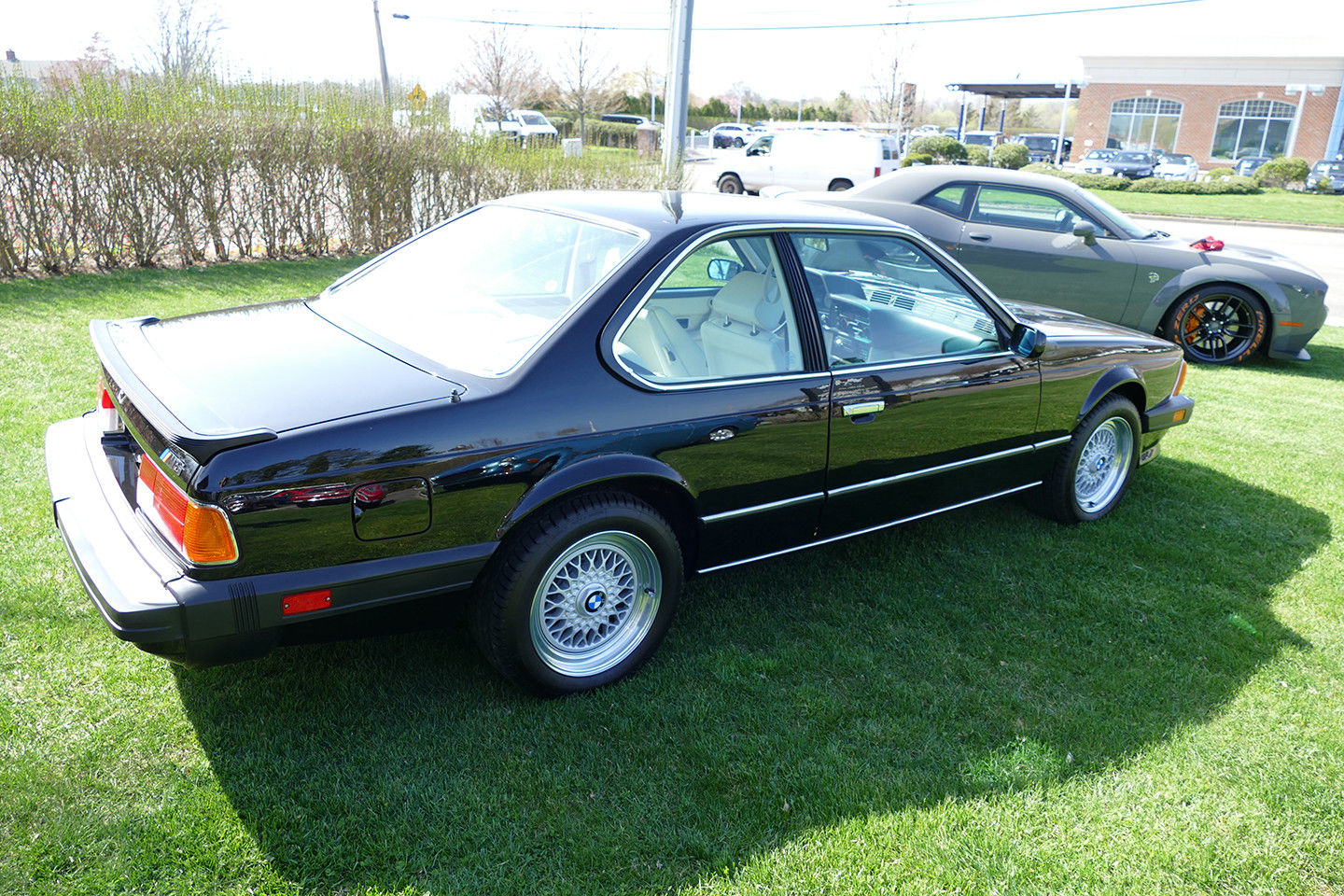 Year: 1987
Model: M6
Engine: 3.5 liter inline-6
Transmission: 5-speed manual
Mileage: 86,889 mi
Price: $139,000 Buy It Now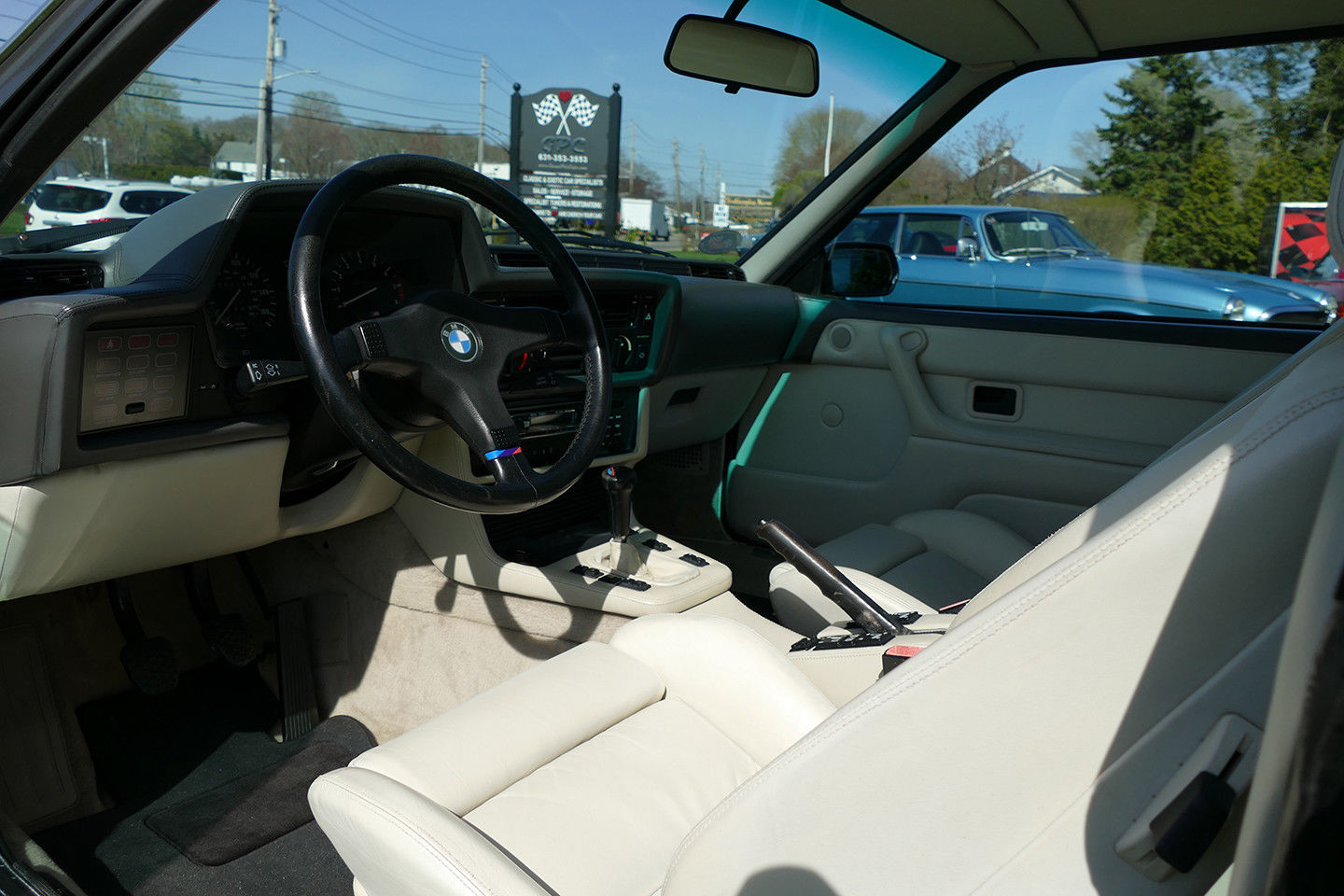 This beautiful BMW M6 coupe has had a full nut and bolt restoration. She was completely dismantled every part was graded, refurbished or replaced with BMW OEM parts. This is a rust free body which was striped back to bare metal and repainted. The interior underwent a sympathetic restoration as it was in fairly good condition which did not require a full retrim. The engine and transmission where completely overhauled as where the rest of the mechanicals and electric systems. All new suspension, brakes and hydraulic system. Hundreds of hours and ten of thousands of dollars have been invested with the net result of this M6 potentially being one of the finest in the world. Extensive documentation of all work carried out will accompany the car.

Stunning original interior. BBS wheels.

Model history
The BMW 6-Series coupe had the rather unenviable task of following up on the Wilhelm Hofmeister-designed 2000CS, 2800CS and 3.0CS coupes, whose production ran from 1967-75 and was capped by the outrageous competition lightweight CSL "Batmobile."

The new model range had to combine world-class performance with stunning elegance, and Paul Bracq was tasked with re-thinking BMW's top-line car. The result was a squarer, more aggressive "shark-nosed" coupe, which would be built in various forms to 1989, culminating in the blisteringly fast M 635 CSi, which used the 24-valve M88 motor from the M1 and could hit 158 mph in European tune.

Bracq followed the design cues from the previous BMW coupe, with a divided kidney grille, large greenhouse and broad hood and trunk, but the 6-Series had thin B-pillars, and the bodies were assembled by BMW at Dingolfing instead of Karmann's Osnabruck works.

Handling remained by all-round coil springs and McPherson strut front suspension, semi-trailing rear links, and recirculating ball steering. New to the 6-Series was speed-sensitive power steering, four-wheel disc brakes, and a complete warning light system to alert the driver about engine and electrical systems. The 2+2 seating saw a driver-angled dash flow down to a console that also separated the rear bucket seats.

The first 6-Series cars were launched in Europe as the 630CS, with the 3.0-liter six-cylinder engine, and a four-sped Getrag gearbox or three-speed ZF automatic transmission. The first U.S. cars of 1977 were badged 630CSi, with Bosch L-Jetronic injection after grumbles about the modest performance.

Engine sizes gradually increased to 3.2-liters then 3.5-liters, but the 6-Series really hit a bullseye with the M635CSi, which appeared at Frankfurt in 1983. Apart from the 282-bhp M1 engine, it had a limited-slip differential and the "track link" suspension from the big 7-Series sedans, which was designed to reduce oversteer. ABS brakes arrived at the same time, along with a five-speed manual gearbox or a four-speed ZF automatic.

Badged simply as the BMW M6, the 635CSi finally reach the U.S. in 1987, lavishly equipped with twin air-conditioners (and a beverage chiller in the rear), hand-stitched Nappa leather interior with eight-way power front seats, and an eight-speaker sound system. Distinctive M6 details included M badges front and rear, a larger front air dam and rear spoiler, matching color side mirrors and BBS wheels. The cars were fitted with new ellipsoid headlights, which directed a more precise beam onto the road.

The M6 could manage 0-60 mph in 6.1 seconds, a quarter mile in 14.7 seconds and cruised easily at 140 mph. It retailed for $55,950 but if you wanted the same look with more modest performance, the identical appearing L6 model was $6,000 less, though only available with an automatic transmission.

BMW electronically limited even its sportiest models to 155 mph in the U.S., but Rug Cunninham BMW ran a de-limited M6 in the 1989 La Carrera Pan American race in Mexico and reported a top speed of 176 mph. In all 5,859 M 635 CSi cars were built between 1983 and 1989, with 1,787 of those being the slightly detuned U.S. model BMW M6.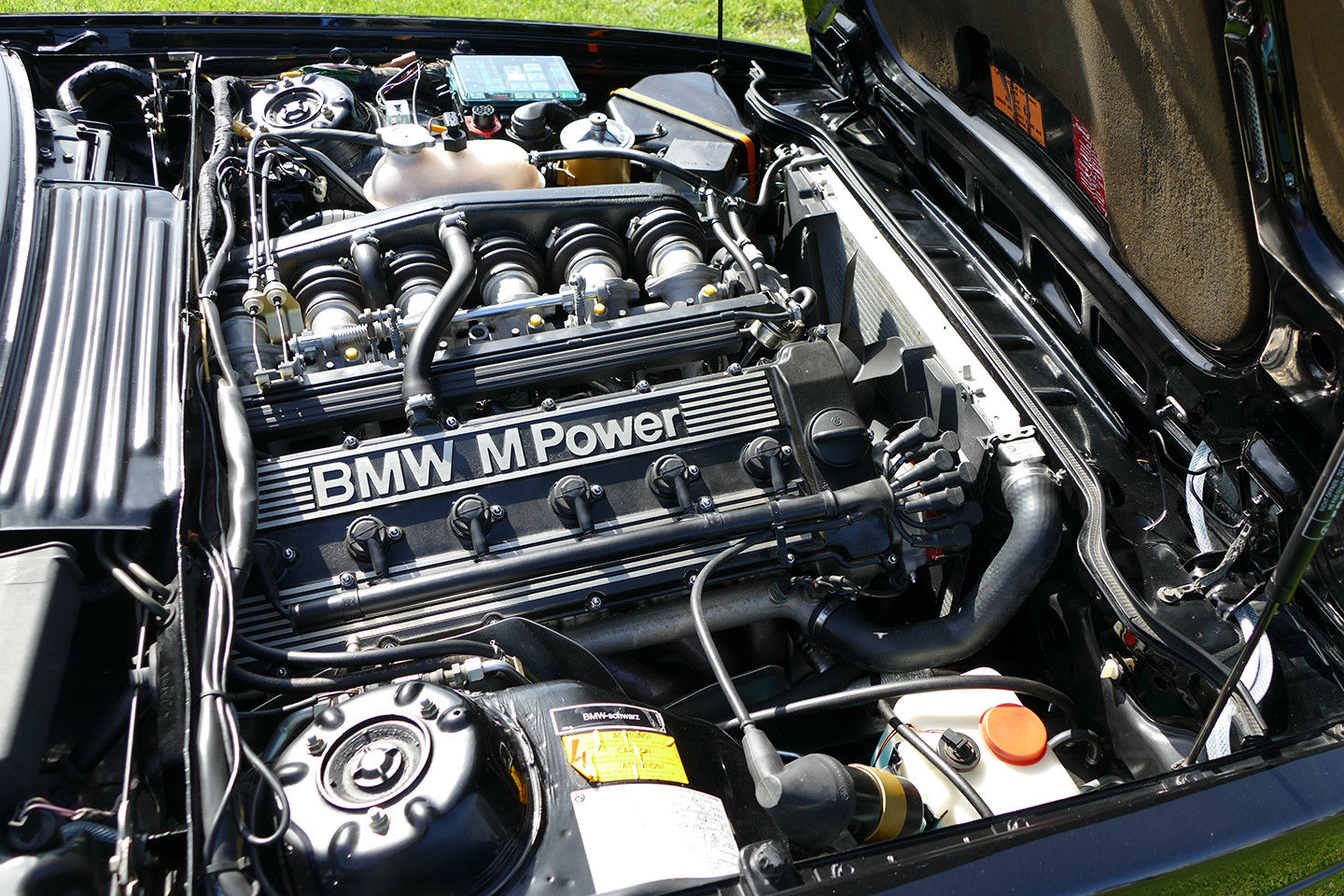 On one hand, I can't fault the seller for their claim that this might be one of the best M6s out there. It certainly looks the part from what's shown – the paint, trim, wheels, interior, under the hood – all pretty spotless. What's disappointing is that we don't learn much more specific about how the car got to this point. Unlike the Euro 635CSi seller, the actual detail about this car is left out while generic information is included that anyone could steal from another advertisement. The VIN decoder confirms the car was originally 086 Schwarz with 0199 Lotus White Nappa leather and was built in December 1986, making it one of the earliest M6s brought here. It was originally equipped with rear air conditioning.
As the condition is pretty spectacular and the car is reportedly mechanically fresh too, how does this all play out in the pricing? Well, it's one of the most expensive road-going E24s I've seen for sale, but amazingly not the most expensive. However, generally this price range has equated with very low mileage original examples like the 12,000 mile I looked at last year. Does originality trump restoration? When you're talking $130,000 6-series, I think if I had to choose I'd probably prefer the completely original one. But in all honesty, I'd probably take a lesser example in a more fun color combination like the M635CSi I looked at recently:
Or, heck – for about 1/7th of the price, you can have most of that experience in the exceptional Euro 635CSi.
-Carter