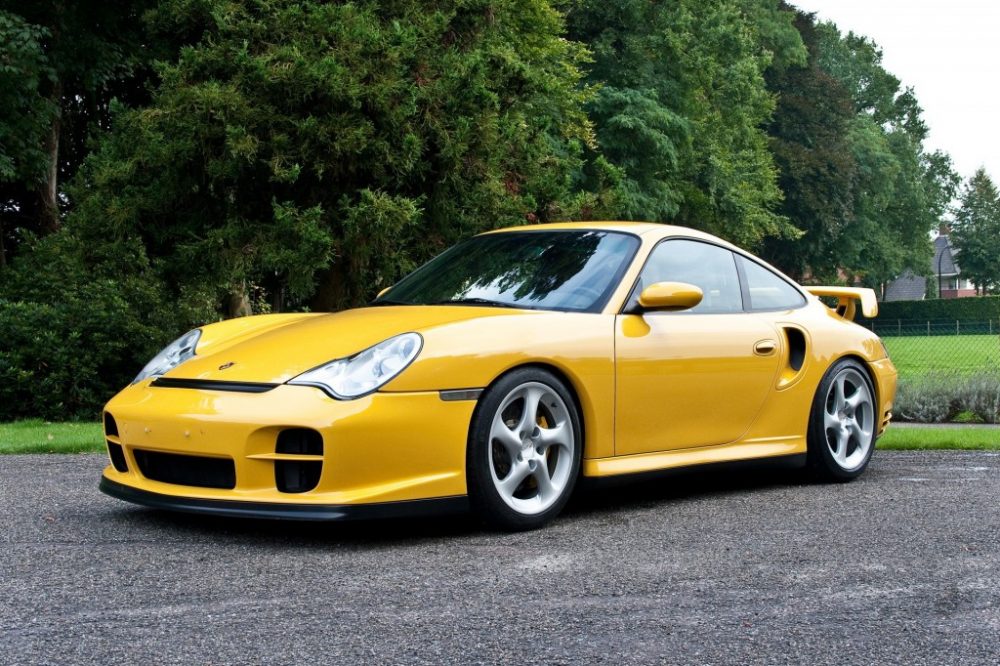 This GT2 reminds me very much of the Speed Yellow GT3 I featured last year. That GT3 remains one of my favorite cars I have posted here at GCFSB. It doesn't possess the insane rarity of other models I've posted, but perhaps that's part of its allure. While certainly not inexpensive it actually was attainable. And with 50K miles it also was driveable – in the sense that you don't have to worry about that extra mileage harming its value.
This Speed Yellow 2001 Porsche 911 GT2, for sale in the Netherlands, with the factory-optioned Clubsport package ups the ante quite a bit in most of those regards. We're taking a swift step upward in cost, but there's also a significant upgrade in performance and rarity. That means it isn't as attainable for most of us as the GT3 might have been. However, for those capable of shopping at these prices I do think it presents an alternative that should be equally as alluring as, if not more so, plenty of other options – some of which might themselves cost significantly more. It's a simply wonderful machine.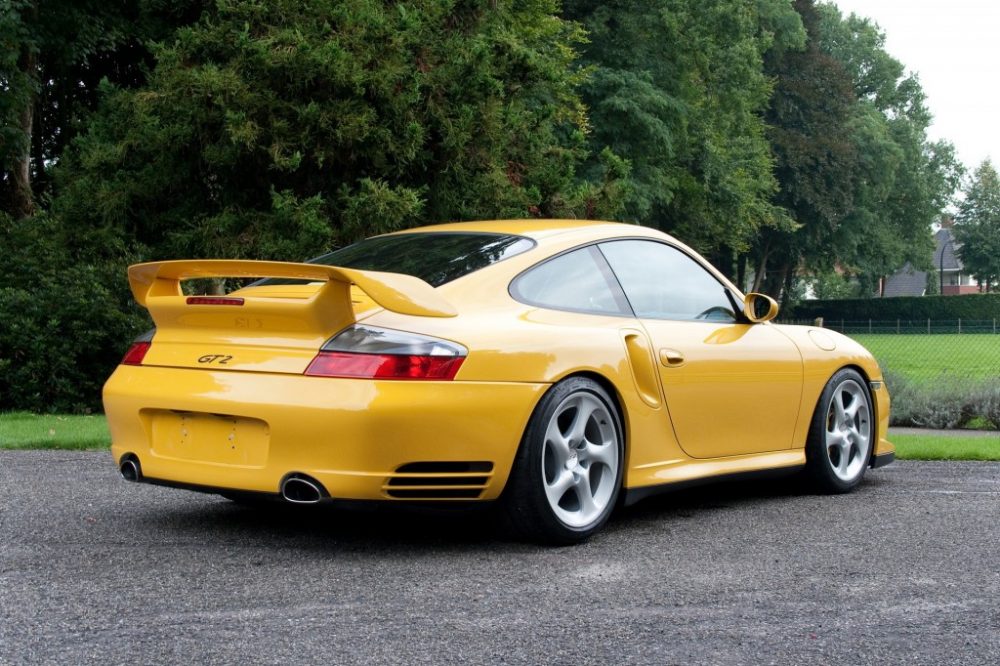 Year: 2001
Model: 911 GT2 Clubsport
Engine: 3.6 liter twin-turbocharged flat-6
Transmission: 6-speed manual
Mileage: 17,950 km (11,153 mi)
Price: € 219,500 ($258,460)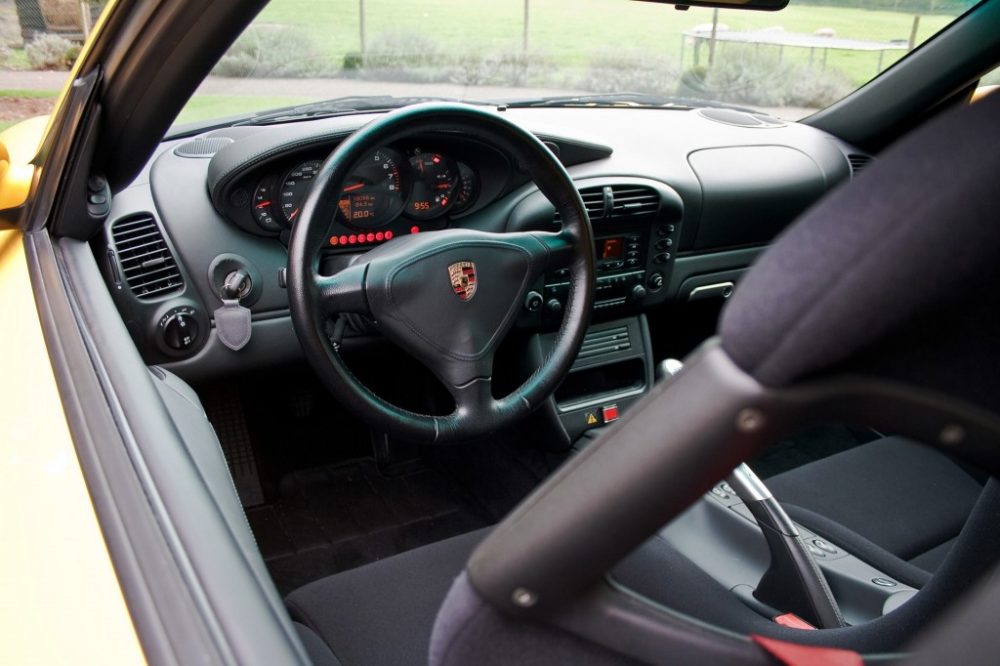 Rare and original 996 GT2 Clubsport with only 17.950 km
Rare and special Porsche 996 GT2 Clubsport in mint condition, with only 17950 km
One of just a few 996 GT2 that left the factory as an original Clubsport
Equipped with a 460 BHP (340 kW) 3.6 bi-turbo M96/70S Mezger engine
All matching numbers and matching paint
This car was built in December 2001 and is fully documented since new
Car is inspected and approved by dealer Porsche Centrum Twente
All manuals and service booklet available, including spare keys
100% damage free and never used on a track
Original Europe spec with first registration in Germany
100% first paint Speed yellow (Speedgelb), with leather interior and black Recaro's with racing cloth (Polsterstoff) upholstery
This thoroughbred has the following additional options:
003 Clubsport package
220 LSD Limited Slip Differential
415 18 inch Turbo-Look 2 wheels
424 CD compartment
436 3-spoke steering wheel with airbag
450 PCCB Porsche Ceramic Composite Brakes
567 Top-tinted windscreen
573 Climate control
581 Front center console
601 Xenon headlights
695 CD-Radio Becker Porsche CDR 22
721 Rollcage including original front section
981 Leather interior (without seat upholstery)
990 Racing cloth Recaro seats (XSE / XSF)
E74 Leather package
XSJ 6-point harness race seatbelts
XSM Full roll cage
XSX Seatbelts in indy red
XX2 Illuminated footwell
Various Exclusive leather options
Also a 996 GT2 in silver metallic for sale (last picture)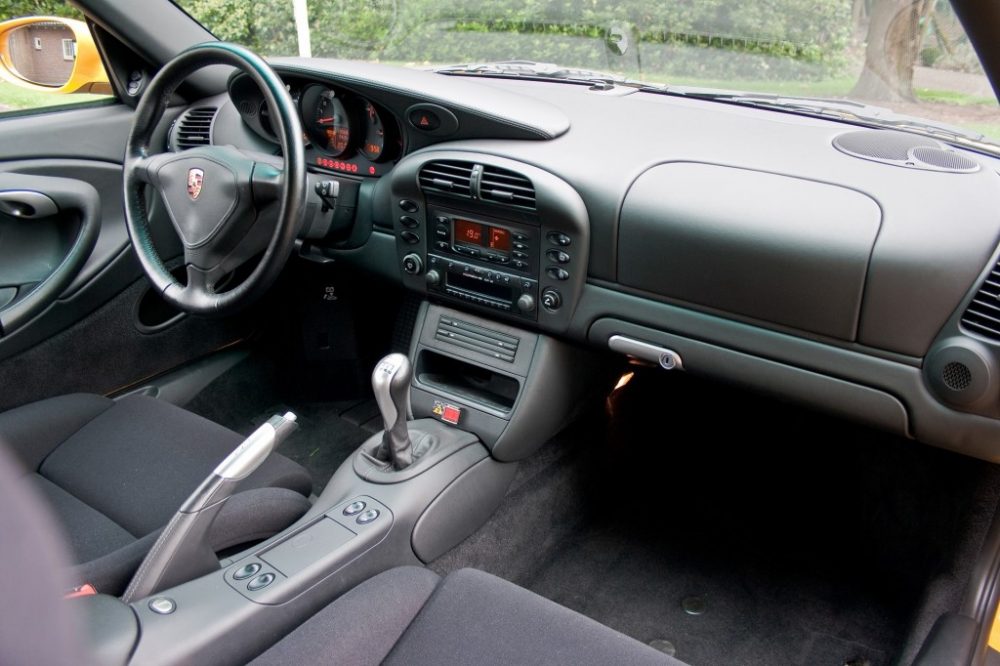 The GT2 Clubsport is not technically a distinct model, but rather an option package that included a rollcage, Ricarco seats, 6-point harnesses, and fire extinguisher. The package was not available to US buyers though the various options could be purchased and added separately. That's what the owner of the GT3 did to produce that Clubsport. There weren't many in total produced by the factory and this is said to be one of those very rare examples.
The asking price for this GT2 appears in line with other auctions for a factory Clubsport. For a comparison with a non-Clubsport GT2, this GT2, which I wrote up last year, currently is on BaT with bidding at $127,500. We'll see where it sells, but it should be clear the price difference is significant. So purely on cost, you're likely better off sourcing the various Clubsport options and adding them to a GT2 yourself. That may not be easy, especially finding a set of the seats, but if you're patient it's probably doable. You wouldn't have a factory example and that certainly has to be considered, but I'm sure many won't mind that distinction once cost is factored. I also am not well versed enough to know the legality of importing a GT2 such as this one into the US.
Overall, this is a stunning car. There also is a Silver Metallic GT2 Clubsport for sale from the same seller if that's more your thing. It's a good bit less expensive though has quite a few more miles. This Speed Yellow one would be the one for me though. I don't know if I'll look back at the end of the year and remember this as my favorite car, but if it isn't, then I really look forward to what the rest of the year brings!
-Rob